Participants from around the world convened to talk tech at the LEAP 2023 expo in Riyadh, Saudi Arabia, shown here in front of the booth hosted by King Abdullah University of Science and Technology. Photo: KAUST
​King Abdullah University of Science and Technology (KAUST) participated in the second edition of LEAP 2023, an annual global platform for future technologies where professionals worldwide convene to network and share pioneering innovations. The four-day conference (Feb 6–9) was hosted in Riyadh, Saudi Arabia. The theme of LEAP 2023, Into New Worlds, called for trailblazing technological innovations and actions aimed to transform society.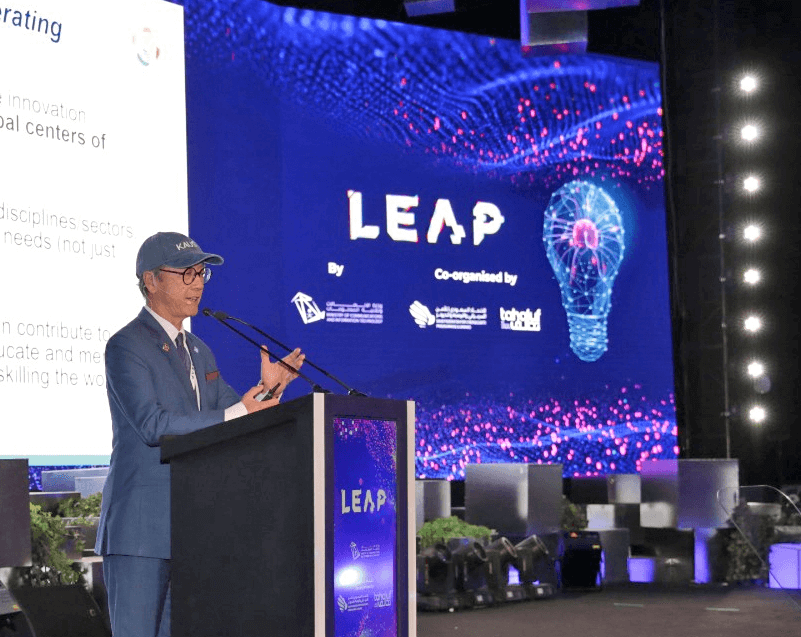 KAUST President Tony Chan engaged with diverse audiences and stakeholders at LEAP 2023 in Riyadh, from delivering a keynote lecture, Global Competition in Technology Innovation (shown here), to signing new partnership agreements. Photo: KAUST

KAUST President Dr. Tony Chan was one of the top speakers at the event. In his keynote lecture, "Global Competition in Technology Innovation," he emphasized the importance of universities being critical drivers for building sustainable innovation ecosystems that, in turn, serve as the basis for national and global centers of excellence. In addition, KAUST Chief Information Officer Jason Roos gave a lecture on "The Impact of AI on Cybersecurity," explaining how artificial intelligence can improve this crucial field.
The KAUST booth at the conference met with a huge turnout. Visitors had the opportunity to learn about the University's role in promoting ecosystems for research, development and innovation in Saudi Arabia. The booth displayed several research projects and initiatives, including the KAUST Artificial Intelligence Initiative, KAUST-SDAIA Center of Excellence, and Smart-Health Initiative.
Furthermore, it showcased the latest in the technological infrastructure of the university, including the latest upgrades to the data centers and supercomputer (Shaheen III), as well as network connectivity links and scientific data storage solutions. Visitors could also interact with several prototypes for smart city solutions, such as drone delivery, smart life, autonomous vehicles and a fully immersive digital twin of KAUST.

AI- based automated system developed by KAUST Professors Khaled Salama (electrical and computer Engineering) and Raquel Peixoto (marine science) uses sensor technology to deliver probiotics to corals in the sea. Photo: KAUST
KAUST took this opportunity to promote 17 training and educational development programs in the fields of technology and research that are offered by the university to a wide range of audiences, from middle school to post graduate ages, and also promote the university's support for entepreneurs and startups through its accelerators and training programs.
KAUST Innovation participated in various workshops led by Hattan Ahmed, Head of the KAUST Entrepreneurship Center, and served as a sponsor to the startup competition"Rocket Fuel," joining a world-class panel of judges comprised of seasoned investors to decide which of the hundreds of hopeful entrepreneurs should receive $1 million in cash prizes.
Vice President of KAUST Innovation Kevin Cullen said, "KAUST is excited to join a world-class conference that is focusing on attracting deep tech startups and engaging with powerful international speakers discussing solutions to the world most pressing challenges."
The KAUST booth also hosted a video launch, "Cisco Country Digital Acceleration", demonstrating the deep partnership between KAUST and Cisco Saudi Arabia in using transformative technologies to advance digital innovation for the future.

New partnerships
KAUST signed seven strategic agreements and Memorandums of Understandings (MoUs) at LEAP to spur collaborations across research, innovation, education, and infrastructure. Pioneering technology is the driver behind these agreements, with KAUST bringing a track record of global excellence in both fundamental and applied research, a network of subject experts, and cutting-edge facilities to the collaborations.
KAUST President Tony Chan said, "In collaborating, our institutions leverage our best technological strengths to accelerate pioneering achievements of impact to vital sectors of the Kingdom. This year, for example, KAUST will see the introduction of Shaheen III on campus, a new supercomputer built by Hewlett Packard Enterprise that will be the most powerful in the Middle East. Shaheen III will enable more effective research that will support these agreements."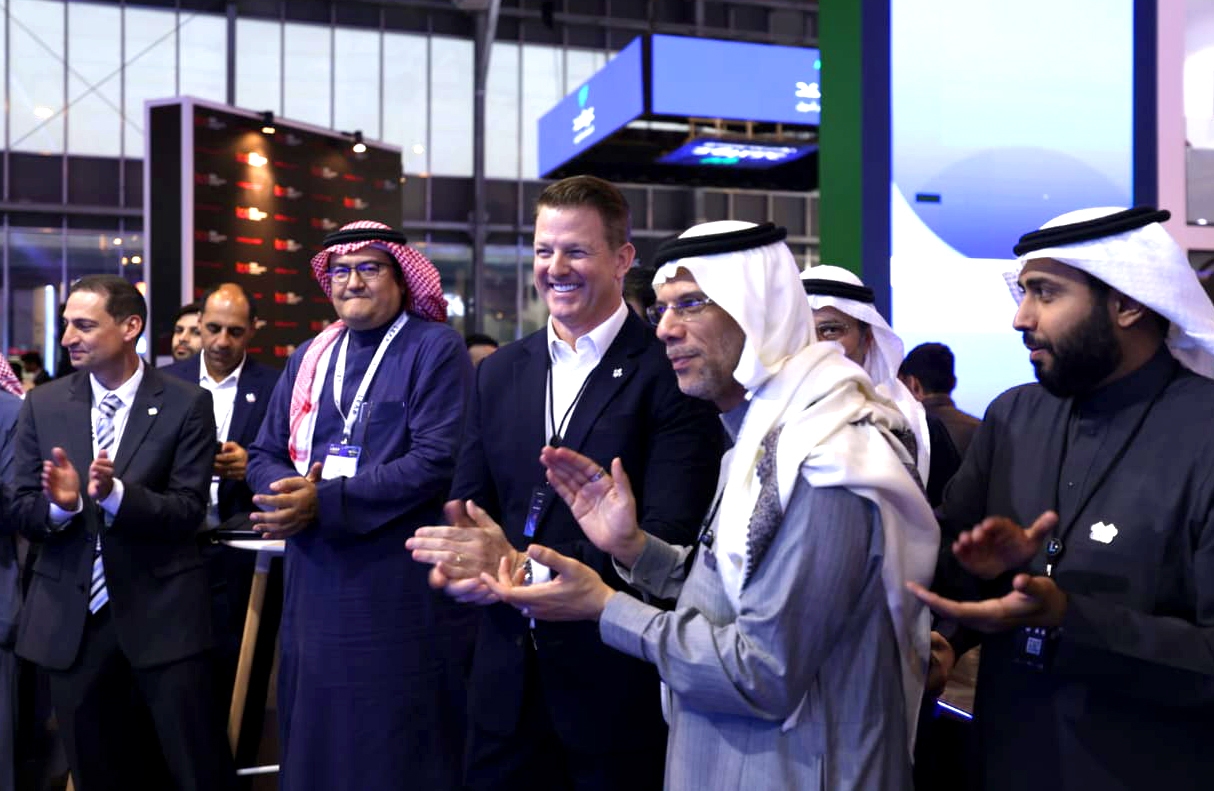 At the LEAP 2023 tech expo in Riyadh, KAUST Chief Information Officer Jason Roos (middle; third from right) presented a lecture, The Impact of AI on Cybersecurity, and officiated new partnerships agreements with stakeholders; shown here applauding after a presentation. Photo: KAUST
The University's first agreement with the Ministry of Communications and Information Technology aims to achieve fruitful cooperation between the two parties to support research and development in communication and information technology such as 5G and 6G, and various other applications, including smart solutions, the Internet of Things (IoT) and online education.
An MoU with King Abdulaziz City for Science and Technology (KACST) intends to advance collaboration programs in research, innovation and education to meet national challenges in energy, life sciences, desert agriculture, semiconductors and water.

A Connectivity agreement with KACST was followed by a Service Launch of a high-speed dedicated research and education network connection to Maeen sponsored by Mobily. This data link will enable the transfer of large amounts of data and the use of advanced technologies, such as High-Performance Computing (HPC).
KAUST also signed a strategic partnership with TAWAL to enable telecommunications infrastructure and support research and innovation on emerging technologies including IoT, edge computing, and beyond 5G.

KAUST's agreement with ENOWA – NEOM will integrate AI-led technologies into the energy sector of the Kingdom. The initiatives will include computational modeling and high-performance computing frameworks to develop smart energy systems and ecosystems.
The University signed an MoU with Microsoft to develop the capabilities necessary to access world-class research and technologies and accelerate innovation.
Finally, KAUST signed an MoU with the Saudi Telecom Company (STC) to develop a fruitful strategic research partnership that will enable the institutes to leverage KAUST's global research excellence in advanced communication technologies, AI and emerging technologies to transform how Saudi society communicates and does business — goals that support Saudi Vision 2030 through innovation and research in technical fields