The Red Sea Research Center during the afternoon workshops.
​-By Annie Parenteau, KAUST News
For the second year in a row, the University and The KAUST School (TKS), with the support of the Biological and Environment Science and Engineering Division (BESE), put in a joint effort to organize "Promoting Super Women in Science." On February 17, 79 girls from the fourth to eighth grade at TKS gathered at the University Library for a one-day science extravaganza.
The event was a unique opportunity to encourage and inspire girls to pursue education in science, technology, engineering and math (the STEM fields) and to facilitate relationships with professional women in these scientific disciplines. "Promoting Super Girls in Science" strives to abolish negative and fearful attitudes about math and science, empowering young women in both their femininity and intellect.
There was a special vibe in the University Library as the girls arrived, took their seats and chatted with their schoolmates about the exciting day of events. Elementary school teacher Deanna Mydland and KAUST Assistant Professor of Bioscience
Jasmeen Merzaban
greeted the girls and thanked them for giving up their Saturday for the sake of science.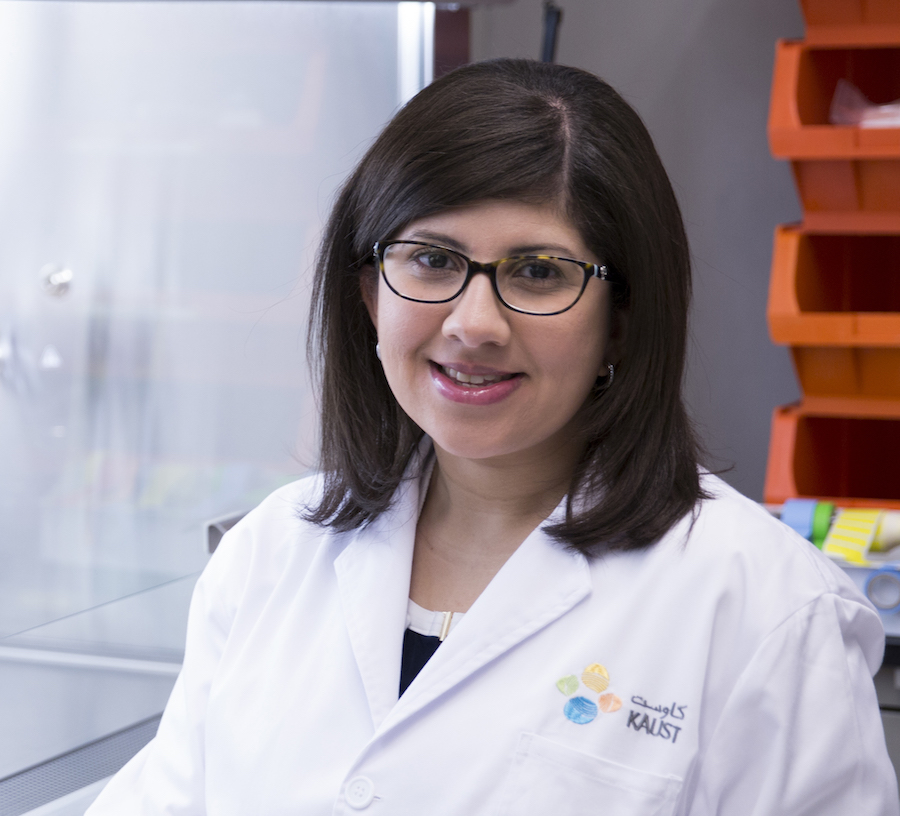 Jasmeen Merzaban, KAUST assistant professor of bioscience, spoke during the on campus "Promoting Super Women in Science" event on February 17. File photo.


​
"If you are passionate about science, you should believe in yourself and find the support of a mentor to encourage and motivate you to push your limits," Merzaban said.
She also mentioned that while 66 percent of fourth grade girls show interest in science, this inevitably decreases as women move into higher level positions in STEM.
"I hope the stories from superwomen Niveen Khashab, Charlotte Hauser and Ikram Blilou will be a source of inspiration and might even lead you to pursue a bright career in STEM," Merzaban told the girls.
A love story of science
The first superwoman to tell the young girls her story was Associate Professor Niveen Khashab, winner of the prestigious L'Oréal-UNESCO For Women in Science Award in the field of physical science for her research in organic chemistry. Khashab came a long way before becoming the woman she is today—both of her parents dropped out of high school and she lived in a crowded house, where she took care of her grandmother.
As a child, she wondered how the pills her grandmother took made her feel better. This was the start of a love story with science.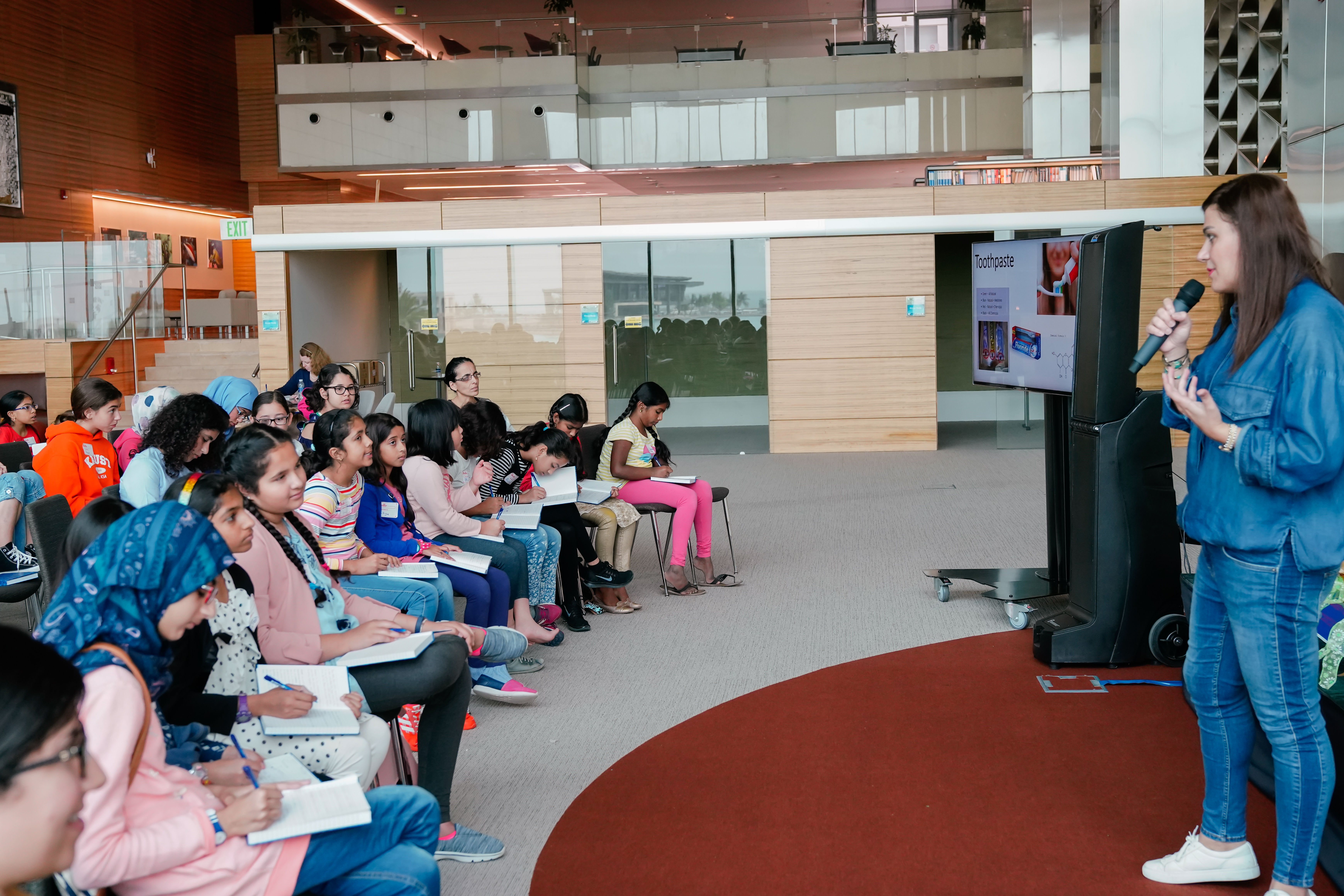 Niveen Khashab, KAUST associate professor of chemical science, speaks during the on campus "Promoting Super Women in Science" event on February 17. File photo.


​
"If you are passionate about science, go down that road. What do you do when you wake up? You breathe science. Science is in the water you drink, in your toothpaste, in the soap you use in the shower, in the cereal you have for breakfast—you cannot avoid it," Khashab said.
"I want to work with nanotechnologies to find cures for diseases," Abbie from grade eight said after the lecture.
An amazing opportunity
KAUST Professor of Bioscience Charlotte Hauser was the second superwoman to share her story. Hauser's research interests lie at the interface between chemistry, biomedicine, bioengineering and nanotechnology. Inspired by famous scientist Marie Curie at a young age, she became fascinated by science. As her passion grew and her skills and knowledge sharpened, she wanted to combine disciplines and find cures for diseases.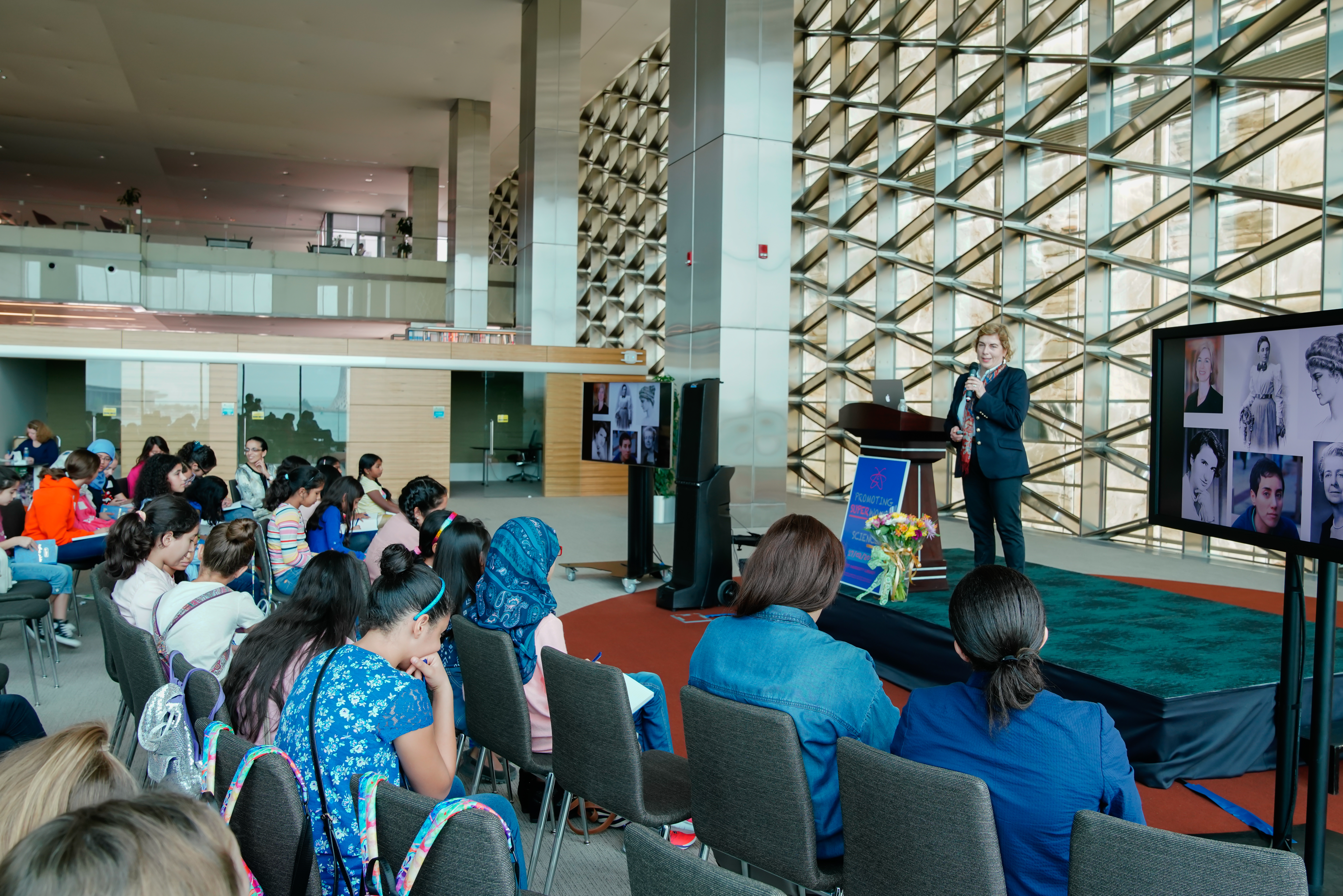 Charlotte Hauser, KAUST professor of bioscience, speaks during the on campus "Promoting Super Women in Science" event on February 17. File photo.


​
Hauser's research on Alzheimer's disease and her work on peptides made her famous in her field. She mentioned that to become who she is today, she can only provide some ingredients of the recipe: self-confidence, passion and perseverance.


For the love of plants
Superwoman Ikram Blilou, KAUST associate professor of plant developmental biology, runs a research group that aims to understand the molecular mechanisms of growth and defense in plants and study their defense mechanisms under stress conditions. Her team also intends to understand adaptive strategies used by desert plants to survive in hostile conditions, and uses date palms as a model.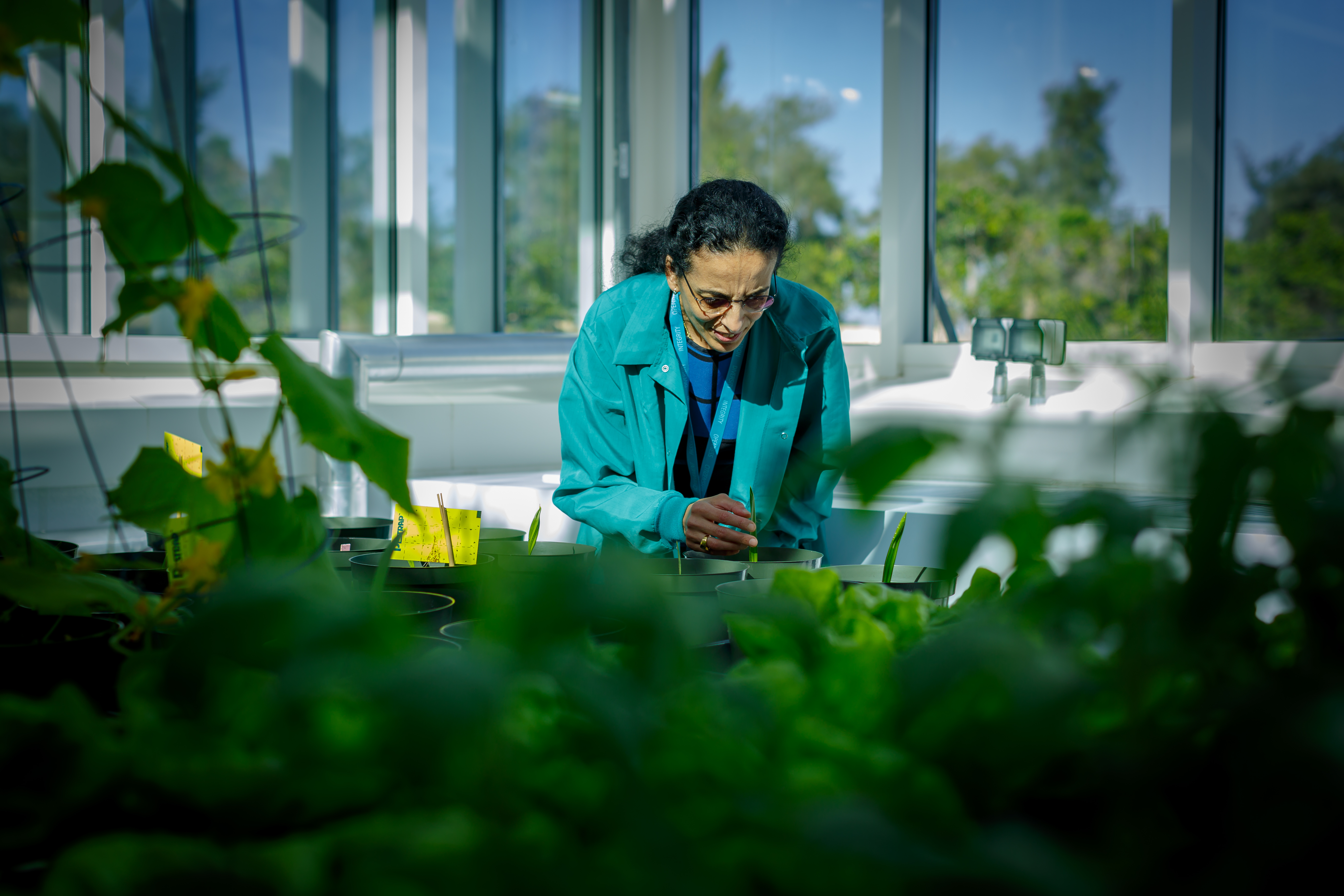 Ikram Blilou, KAUST associate professor of plant developmental biology, spoke during the on campus "Promoting Super Women in Science" event on February 17. File photo.


​
Brought up in Tangier, Morocco, Blilou wanted to become an animal scientist until she had to dissect a mouse in biology class. After that, she decided to study plants instead, moving to Spain to complete her Ph.D. and then to Utrecht in the Netherlands to be a postdoctoral fellow. For Blilou, studying abroad was an eye-opening experience.
"You make a new family and get to know people from all around the world. You also learn to become independent, and the city you live in becomes your second home," she said.
The support and encouragement she had from her family was very important to her—it helped her push boundaries and broaden her vision of the world. Blilou shared some useful tips she learned along the way with the young girls.
"Have faith in yourself, ask the right questions to have a strong hypothesis, enjoy the small victories, work hard—and most of all, have fun experimenting!" she said.
Getting their hands on science

In the afternoon, the girls participated in hands-on sessions with KAUST researchers and postdoctoral fellows who showcased research being done at the University. The girls took part in experiments, manipulating laboratory equipment, micro sensors, simulating processes and results with pipettes and Petri dishes in hand.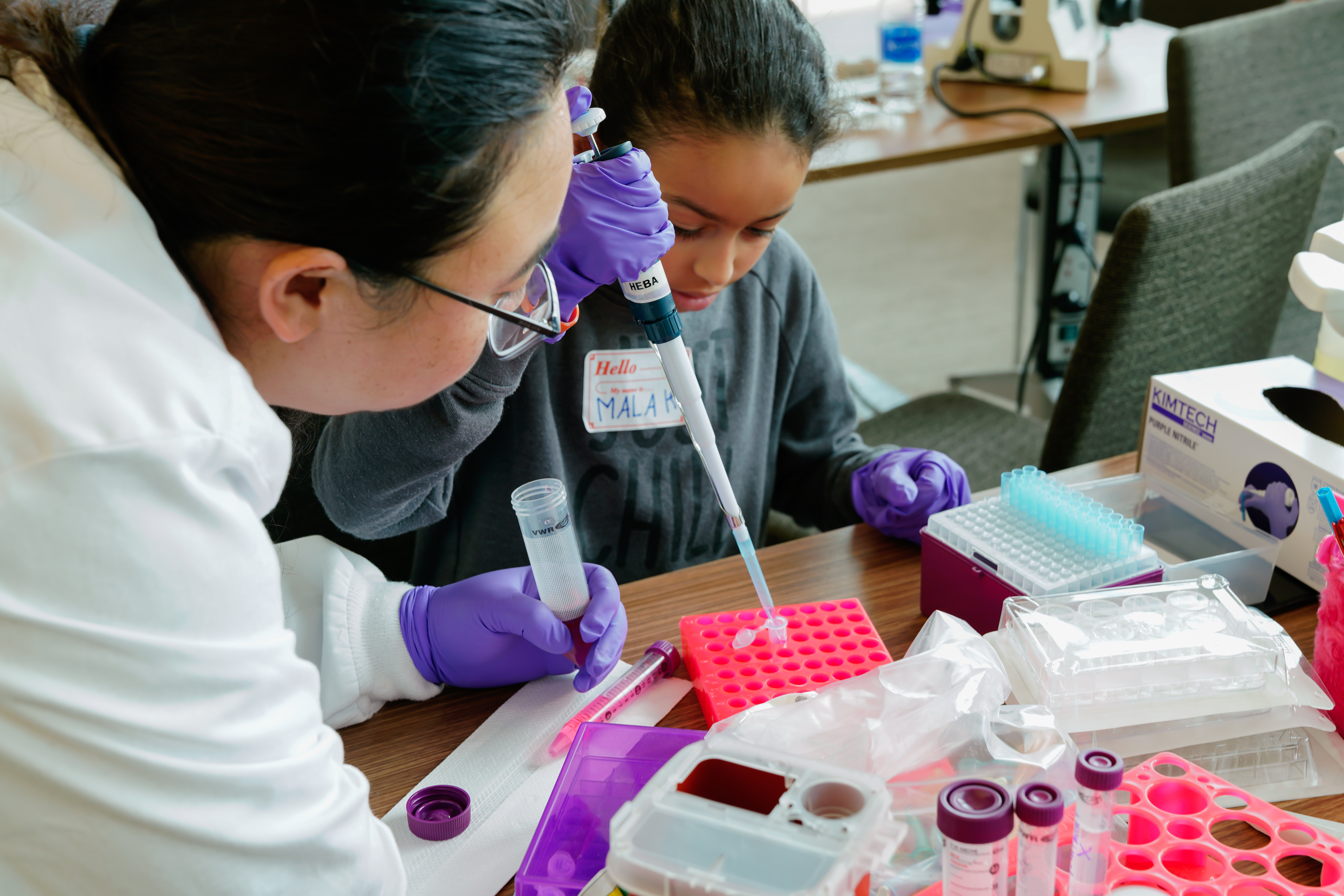 KAUST School students learn how to use pipettes and Petri dishes during the on campus "Promoting Super Women in Science" event on February 17. Photo by Andrea Bachofen-Echt.


​
The most popular workshop was undoubtedly the "slime workshop" with TKS student Sofia Barhoumi, grade three, and Dr. Samah Zeineb Gadhoum, an instructor in the Molecular and Cellular Biology Lab. With their hands in the viscous mixture, the schoolgirls learned about non-Newtonian fluids.
"I like mixing stuff. I would like to find a cure for rare diseases," Ines from grade five noted.
The Red Sea Research Center (RSRC) provided an opportunity to have a closer look at fish samples and skeletons, while the TKS students also experimented with changing a fluid to a solid state by adding chemicals to a solution. The workshops were a great way to spark a passion for science.
TKS on campus
"Promoting 'Super Women in Science' is a unique opportunity to bring the KAUST school students together with the University and expose them to hands-on, minds-on inspiration in the STEM field," TKS Primary School Principal Jeff Woodcock said.
"The KAUST School is always looking for ways to strengthen our partnership with the University to support learning. We know that authentic opportunities provide much more meaningful and lasting learning experiences, and we seek out any connections the University or the community can offer. This might mean field trips to labs or research centers or bringing in local experts to classrooms to share their knowledge and experiences with the hopes of inspiring a new generation of scientists," he added.
"Promoting 'Super Women in Science' is a very important initiative that the BESE division supports with enthusiasm. There is a need for a continuous and sustained encouragement for young girls to enter science and technology studies and careers. In order to give confidence to those girls who are hesitating, examples of successful women scientists are of prime importance. My personal thanks go to Jasmeen, Charlotte, Niveen and Ikram for taking the time and providing inspiring examples of successful women scientists," said BESE Dean Pierre Magistretti.
"My girls had a wonderful experienced and came full of knowledge and curiosity. Thank you for your efforts—we are lucky to have many women in the University to be great examples to our young ones," said the mother of a TKS student at the event.
"The event was such an amazing opportunity for the girls to meet so many scientists, hear their stories and see their work. My daughters were inspired," another mother of a TKS student attending the activities noted.

"My role model is my mom, and I go sometimes to her lab to learn about her research. I also want to be a scientist because science is fun and it helps people, animals and plants," said sixth grade student Karen.


Related stories: