KAUST startup Quantum Solutions manufactures quantum dots—semiconducting nanoparticles—that are luminescent, with scientists able to tune the energy of their emitted light through controlling their size and composition. File photo.
By Tanya Petersen, KAUST News

You will never see one with your naked eye or through a conventional optical microscope, but quantum dots are changing the world. Thanks to their remarkable superpower properties, scientists think they will soon be used in everything from light bulbs to the imaging of cancer cells and in the design of next-generation ultra-efficient solar cells.
Miniscule in size, quantum dots are small semiconducting nanoparticles just several nanometers in length—or 10,000 times narrower than a strand of human hair. Each dot is a tiny man-made crystal, and one of their most intriguing properties is their luminescence. Quantum dots can absorb high energy—short wavelength—radiation in the form of light, or be electrically excited and, as a result, emit light at lower energy—that is, at a longer wavelength. The energy of the emitted light can be precisely tuned by controlling the quantum dot's size and composition.
Working in this sub-microscopic world is Quantum Solutions, a KAUST-incubated developer and manufacturer of quantum dot materials launched in 2017. The startup originated out of the KAUST Hikma Accelerator and has gone on to receive seed funding from KAUST's venture capital arm, the KAUST Innovation Fund.
As one the first manufacturers worldwide to commercialize perovskite quantum dots, the company's materials are used in different optoelectronic devices, including displays, photodetectors and solar cells.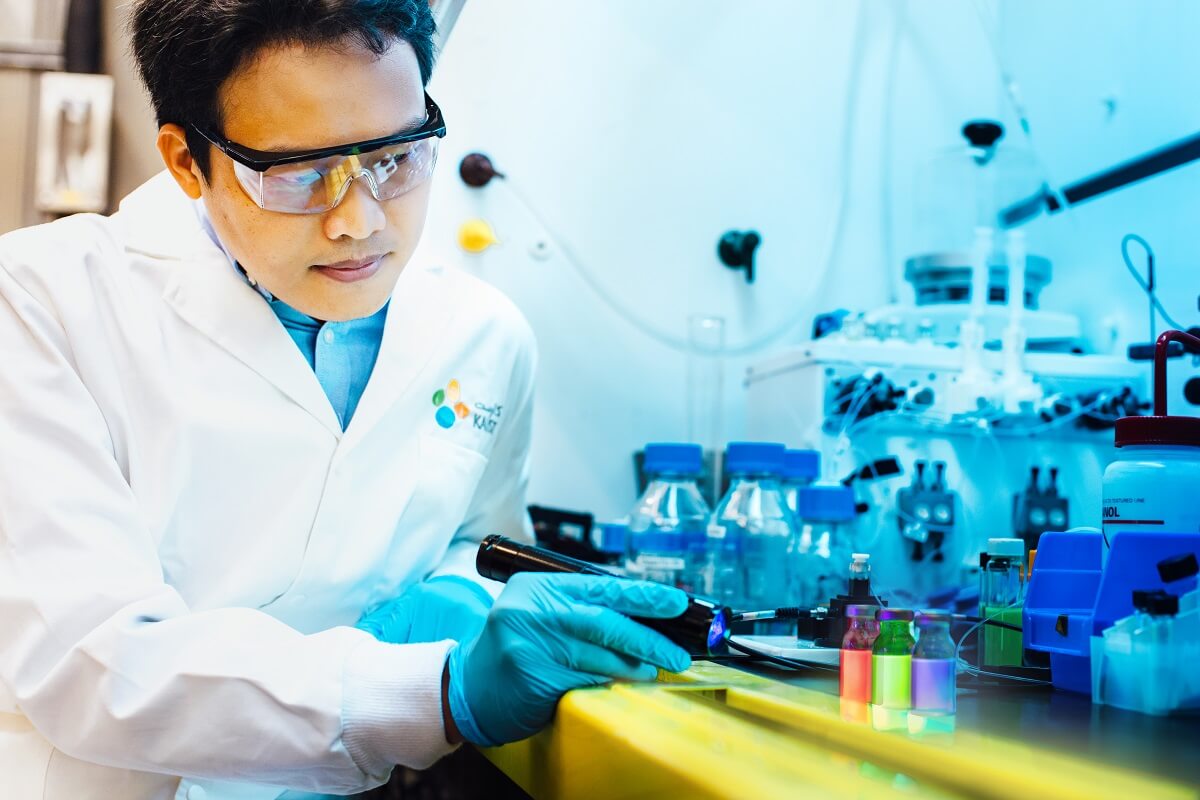 Quantum Solutions co-founder Lutfan Sinatra works in the startup's lab on quantum dot materials. File photo.
Osman Bakr
, one of Quantum Solution's founders and KAUST professor of
material science and engineering
, noted that perovskite quantum dots are highly sought after because of their stunning properties.
"In displays, quantum dots absorb blue light and emit green or red light. Properly combining red-green-blue colors generates the display image with different shades: orange, yellow, pink, red, cyan and so on," he explained. "Because quantum dots can generate highly pure green and red lights, they can extend the color gamut and make the display images appear with more contrast and vibrant colors."
"There are also major applications for quantum dots in photodetectors...in augmented reality glasses and autonomous cars [and] in solar cells, where quantum dots can enhance the efficiency of silicon solar panels by absorbing the infrared light that silicon can't capture," he continued.

Bakr's research interests center around the physics and chemistry of hybrid materials, and his KAUST Functional Nanomaterials Lab research group studies the synthesis and assembly of organic–inorganic hybrid materials and nanomaterials of novel optical and electronic properties. Their work aims to generate breakthrough applications for these materials in solar cells and optoelectronic devices.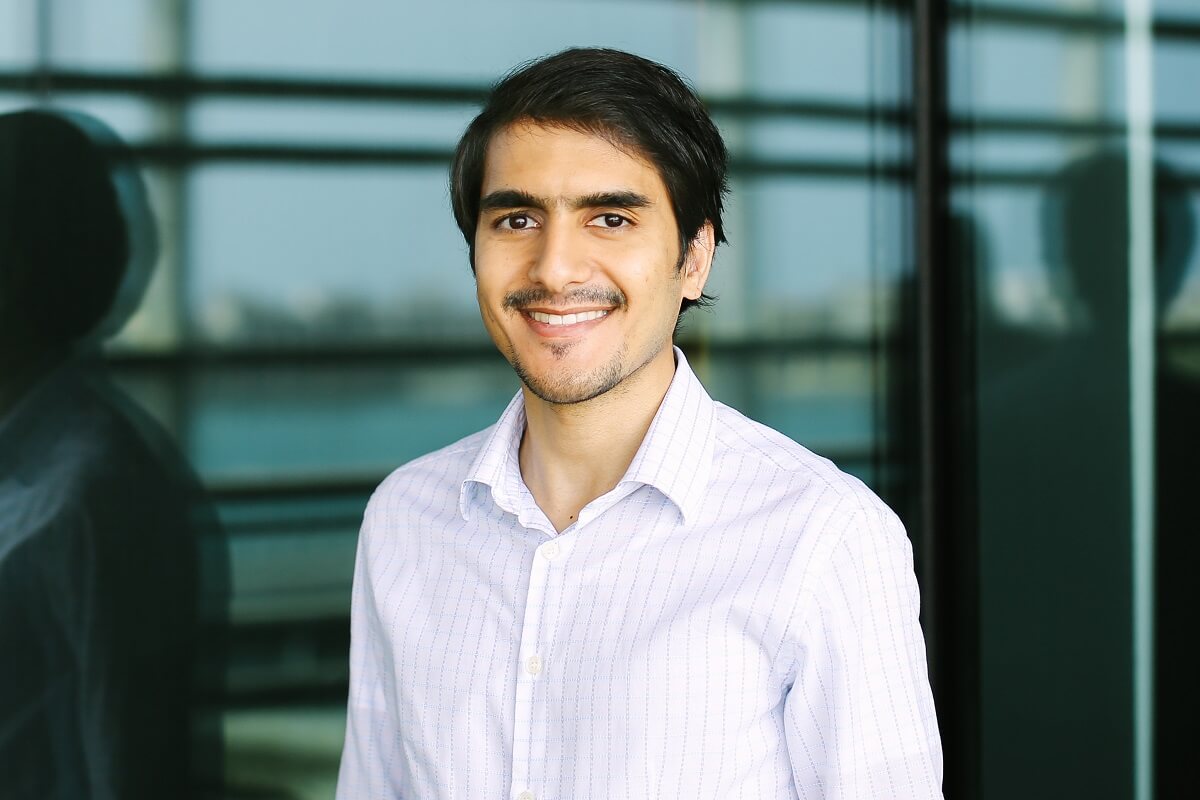 Osman Bakr, KAUST professor of material science and engineering and a Quantum Solutions co-founder, noted the startup 'aim[s] to become the world's leading manufacturer of quantum dot materials.' File photo.

The idea of Quantum Solutions was born in order to translate these materials' technologies into commercially viable products.
"Since our lab develops a wide array of materials that may have commercial potential, we spent a lot of time testing, prototyping [and] reaching out to potential customers and [carrying out] market research analysis before deciding to focus on a narrow set of materials," Bakr said. "We selected certain classes of quantum dots that we developed because we concluded that they address the acute needs of the display, photodetector and solar cell industries."
Quantum Solutions is one of the startups showing potential in the KAUST Innovation Fund portfolio. Francois Pichot, an investment principal in the Fund, is optimistic about the startup's future.
"Professor Bakr assembled a really strong team led by CEO Marat Lutfullin," Pichot said. "They are a great example of a startup that has set up a lab at KAUST, and they are working to deploy a market-driven product with great results."
Since its launch, Quantum Solutions has enjoyed a growing stream of customers representing major electronics and chemical manufacturers and research institutions from 15 countries, including organizations from Japan, Korea, Taiwan, China, Singapore, the U.K., the U.S., Canada, Belgium, Sweden, Denmark and Australia. Some of these include the Los Alamos National Laboratory, the University of Oxford, RIKEN, Merck/Sigma Aldrich and Cambridge Display Technology. At the same time, the company is running joint projects with several multinational corporations to develop quantum dot materials for next-generation consumer electronics.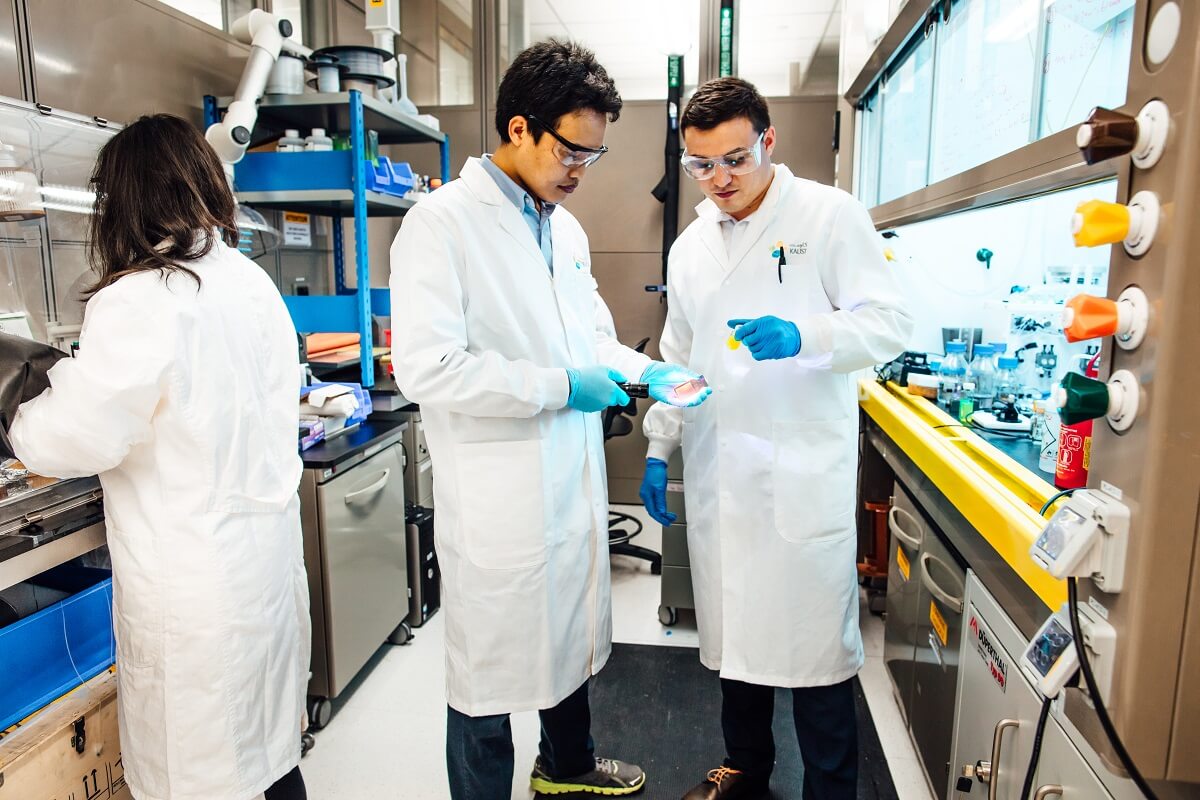 The Quantum Solutions team works in the lab at the University's Research and Technology Park. File photo.
However, building a manufacturing startup from scratch in a fledgling industry just beginning to emerge from an academic and research environment has had—and continues to have—its challenges.
"My advice before launching or investing too deeply in a product is to first find the potential customers and gauge their interest in your technology," noted Bakr. "We realized early on that by listening carefully to our customers, we were able to discover the most pressing niches for our products and avoid directions that—although [they] seemed lucrative initially—would not have found traction in the market."
"With the hard work of our talented team members and the consistent support given to us by KAUST Innovation & Economic Development...we were able to overcome these and other challenges and reach the point of where we are at today," he continued.

"Our challenge now is building a leadership position in a market that is expected to go through a rapid expansion over the next two years...With that, we aim to become the world's leading manufacturer of quantum dot materials," Bakr concluded.

Related stories: