Nada Aljassim becomes first KGSP student to earn Ph.D. at KAUST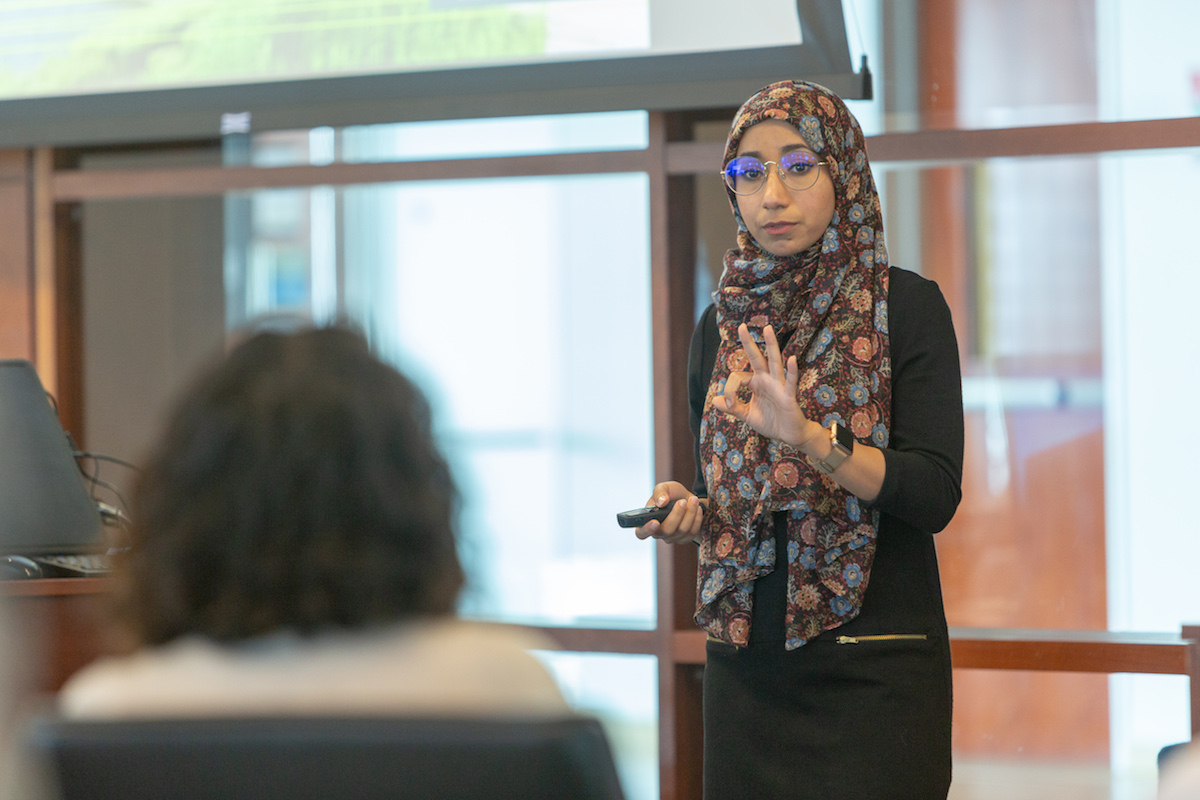 Nada Aljassim is the University's first KAUST Gifted Student Program participant to complete her doctoral degree at the University. File photo.
Nada Aljassim fondly remembers the earliest days of her KAUST experience, which began as a member of the founding cohort of the KAUST Gifted Student Program (KGSP).
"[In 2008], the University invited KGSP students and our parents to meet in Jeddah," she recalled. "They told us about the research university they were building. It was going to change the Kingdom and the world and become a beacon of knowledge. People from all over the world were coming [to KAUST]...I was immediately sold on the idea."
Almost 10 years later and after an international journey that included a foundation year at the University of Warwick and an undergraduate degree from University College London (UCL), Aljassim has become the program's first student to earn her Ph.D. at KAUST.
"The KGSP changed my life," she said, crediting the program with providing her a transformational opportunity for study abroad. Already an excellent student, the KGSP gave her the chance to challenge herself more than ever before and gave her the foundation to flourish in her graduate studies at KAUST.

Preparing the next generation
The KGSP was established before KAUST officially opened, a recognition that building a strong talent pipeline for the University and for the nation would be a top priority. The program supports top Saudi students in science, technology, engineering and math as they earn undergraduates abroad—now exclusively at leading institutions in the U.S. After their undergraduate study abroad, they return to KAUST for graduate study.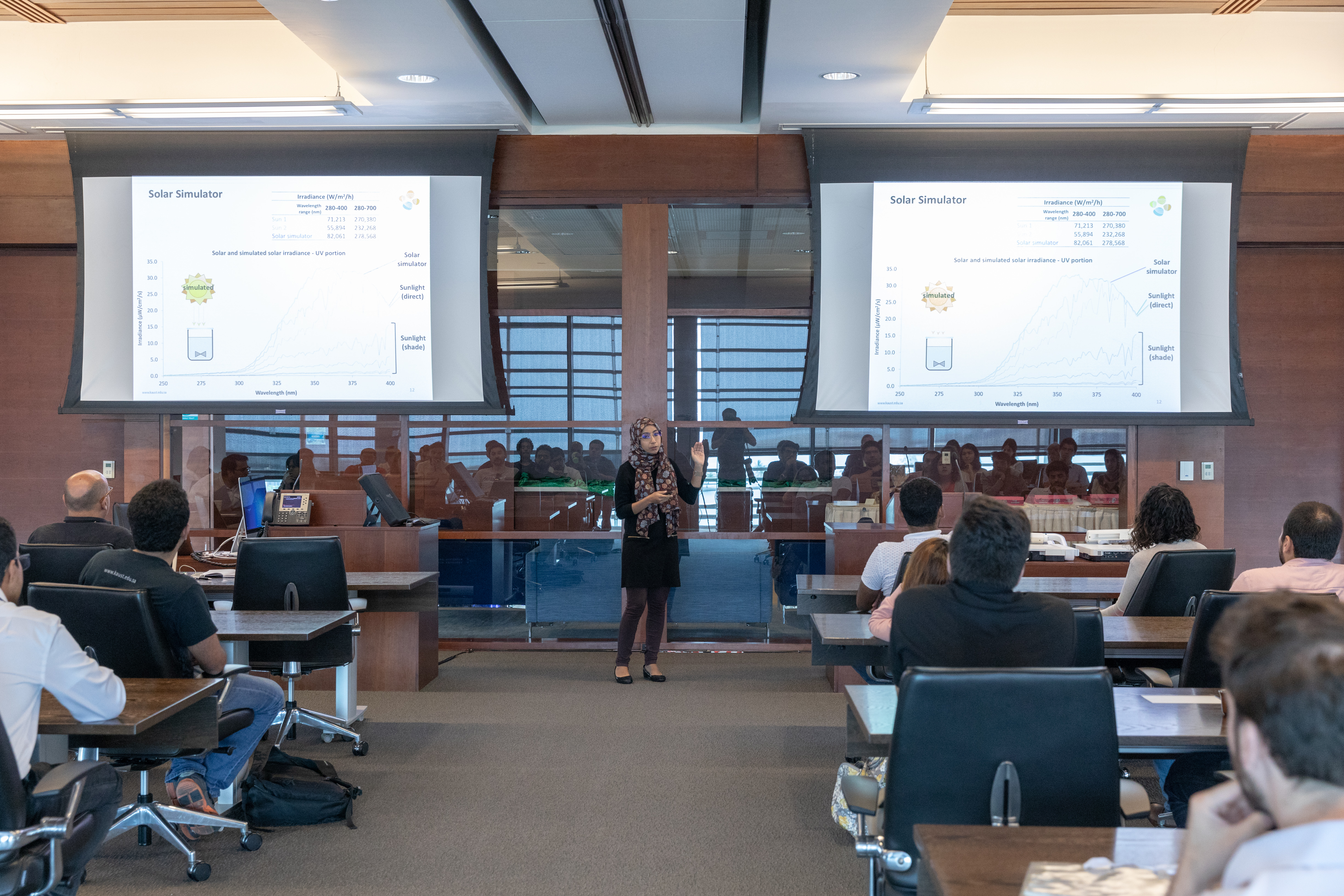 Nada Aljassim, the the University's first KAUST Gifted Student Program participant to complete her doctoral degree at KAUST, defends her Ph.D. thesis in this photo. File photo.

​
The program has become Saudi Arabia's preeminent STEM scholarship and is attracting ambitious students who want to contribute to innovation and development in the Kingdom. The program now supports nearly 500 students in the U.S. As the KGSP matures, students are completing their undergraduate studies and joining KAUST in larger numbers each year, with 90 currently at KAUST working towards their M.S. and Ph.D. degrees.
Aljassim is honored to be the first of the group to reach this milestone, and she is well aware of the important role she can play in the Kingdom's future knowledge economy.
"I care about helping Saudi Arabia grow, develop and be better, so I would like to be connected to science because it's my personal passion," said Aljassim. "I want to give back to my country because it invested a lot in my education and supported me for all these years."

Discovering new horizons
Before she had heard of the KGSP, Aljassim planned to pursue studies in medicine in Dammam and was accepted to a program. However, after learning about the KGSP and applying to it—as encouraged by her father—she changed course.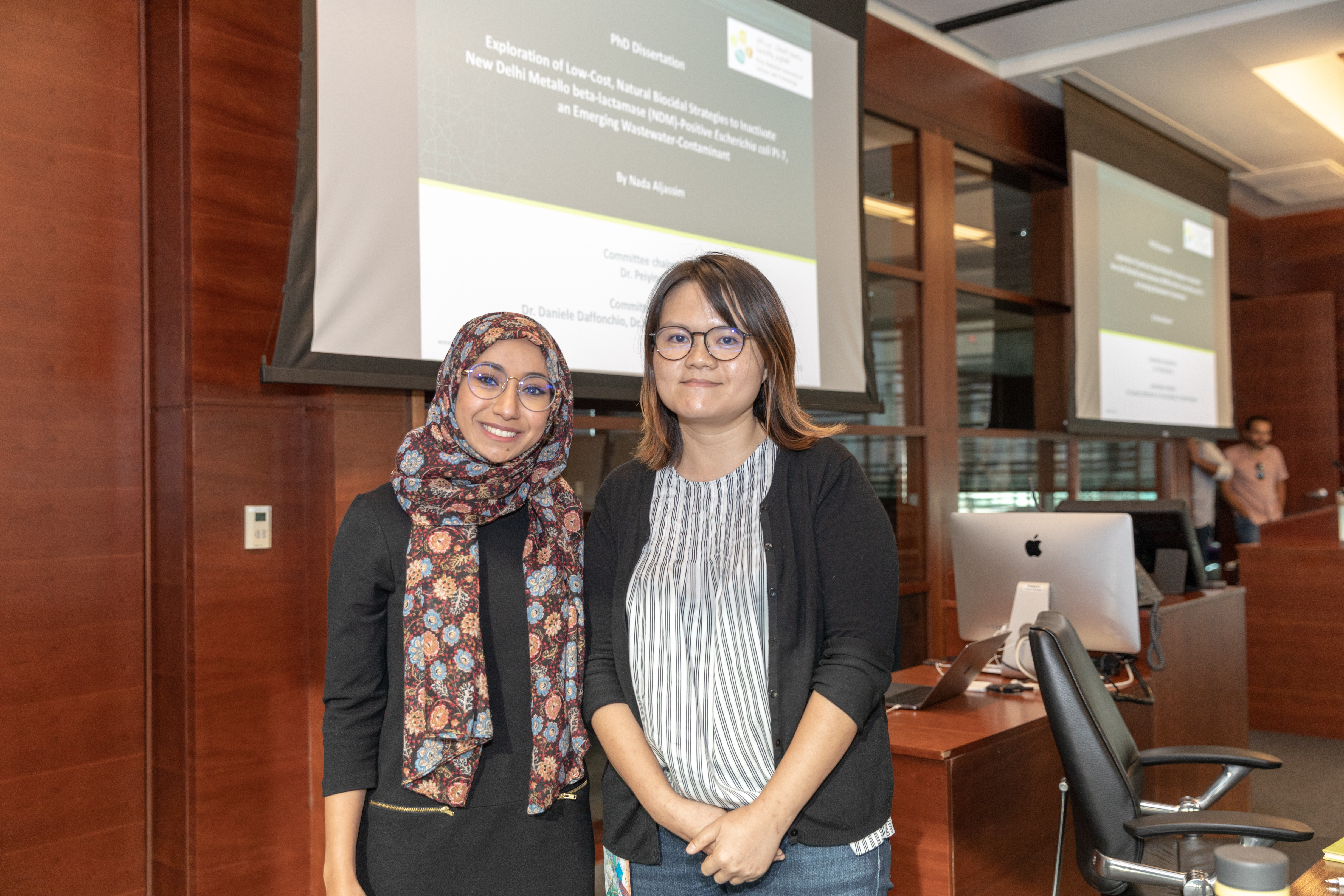 Nada Aljassim (left), the University's first KAUST Gifted Student Program participant to complete her doctoral degree at KAUST, stands in this photo with her Ph.D. advisor Associate Professor Peiying Hong. File photo.

​
In addition to the scientific and research experience she gained in the U.K., where she earned her bachelor's degree in bioscience with a focus on human genetics, Aljassim also developed the academic and personal skills that are central to the program's mission. She drastically improved her English language ability, gained greater confidence in writing essays, gave presentations and became comfortable with public speaking. She even won an award at a conference for being the best speaker.
"For all of us KGSP students, I think the program pushed us to achieve higher goals. We had to maintain a high academic standard, and we always used our summers for either research or industry-based internships," she explained.
Her journey at KAUST
Aljassim began her studies at KAUST in 2012 for her master's degree. From the first day, she was struck by the acceptance she felt after finally joining the KAUST community on campus.
"I never made such great friends so fast in my life," she recalled. "I met such open-minded people. London is a very multicultural and diverse city, but it's also less personal. KAUST is a very warm community."

Both her master's degree and PhD research focused on the process of wastewater treatment. Under the guidance of Associate Professor Peiying Hong, Aljassim examined water safety levels in terms of total bacterial—and specifically fecal bacterial—numbers.
Her research assessed the threat posed by antibiotic-resistant bacteria that can come out of wastewater treatment plants. She also looked at cost-effective and environmentally friendly ways of controlling the bacteria—such as using sunlight or viruses that can specifically attack and kill bacteria.
Aljassim's research has particular significance for her because water-related problems are extremely relevant for Saudi Arabia, and water is one of the main research focus areas of the University.

"I [feel] that my technical experience could make a real difference—not only in the world, but for something that is personally and directly connected to me—for the country of Saudi Arabia," she said.

Related stories: