Date palm groves, Medina Province, Saudi Arabia. Photo: J. West / KAUST
KAUST researchers Dr. Islam Ashry, Dr. Chun Hong Kang and Professor Boon S. Ooi were part of a team that recently won the 2022 International Date Palm Innovative Technology Excellence Prize from the National Center for Palm and Dates (NCPD). The KAUST Photonics Laboratory researchers won the award with their colleagues, Dr. Yousef Alfehaid and Eng. Abdulmonem Alshawaf from the Palms and Dates Center in Al-Ahsa, Ministry of Environment, Water and Agriculture (MEWA).The KAUS-MEWA team was shortlisted as finalists of the prestigious award from a pool of sixty-six initial submissions. They were announced as prize winners during the 3rd International Dates Conference and Exhibition, held from December 7-10, 2022, in Riyadh. The prize comes with a SAR 200,000 reward.
According to the NCPD, the event provided "a unique combination of scientific research and commercial strategy to exchange scientific knowledge and innovative technologies to enhance the safe production and commercialization of these extraordinary super-fruits."
"We are very honored to receive such a prestigious international award. We are grateful to all our colleagues from the Photonics Laboratory and the Palms and Dates Center in Al-Ahsa,who participated in developing, testing and deploying the technology. This recognition motivates us to continue improving, optimizing and advancing this technology to a new level," Ashry said.
First-of-its-kind technology to combat red palm weevil infestations

The 2022 International Date Palm Innovative Technology Excellence Prize recognizes the team's novel fiber-optic distributed acoustic sensor used for the early detection of red palm weevils in date palm trees. Red palm weevil (RPW) infestation has been a long-standing problem affecting palm trees in the Middle East, Southeast Asia, Europe and many other regions globally.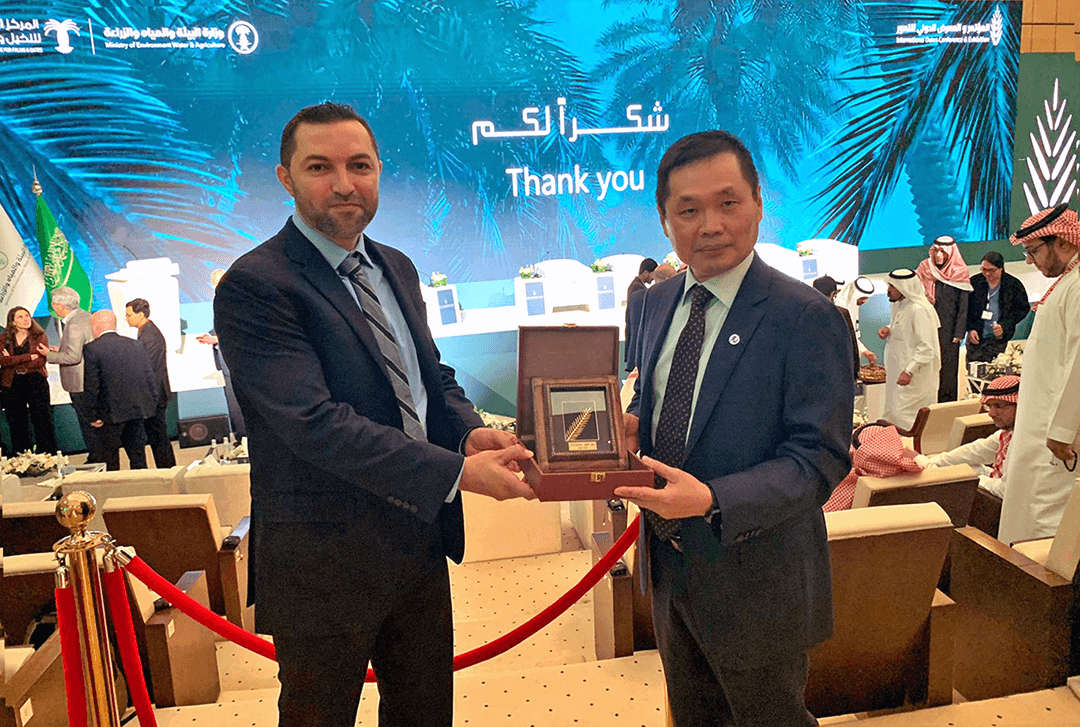 Left to right: KAUST Research Scientist Dr. Islam Ashry and Professor Boon S. Ooi receive the 2022 International Date Palm Innovative Technology Excellence Prize from the National Center for Palm and Dates (NCPD) on behalf of their team. Photo courtesy of Professor Boon S. Ooi.

Approximately 33 million date palm trees are located throughout the Kingdom, producing about one million tons of dates annually, accounting for about 20% of world production. Across the Middle East region, it is estimated that approximately $8 million is spent every year to mitigate the infested palm trees.
"Our RPW-detecting technology uses a fiber-optic distributed acoustic sensor. It is the first-of-its-kind and offers a more scalable approach [than] other detection methods, such as microphone probe, computer-based tomography and visual inspection," Ashry explained.
"In our methodology, a single fiber-optic cable can be wound around individual tree trunks. Acoustic signals generated by the weevil larvae inside a trunk can be picked up by the cable and transmitted back to an interrogator system. The collected signals are then analyzed and processed through a machine-learning algorithm to identify each tree's infestation status," Kang added.
A research alignment with in-Kingdom drives
Ashry's research interests include fiber optical sensors, plasmon sensing, fluorescence dynamics, computational electrodynamics, nanomaterials and optical communications. Before joining KAUST, he worked at Virginia Tech's Center for Photonics Technology, developing large-scale, high-sensitivity fiber optic sensing networks.
Kang's research interests include optoelectronics materials and devices, optical sensing and optical wireless communication . He obtained his B.Eng. ('14) and M.Sc. ('17) in Electrical and Electronics Engineering from Universiti Teknologi PETRONAS, Malaysia and a Ph.D. ('21) from KAUST. His current research focuses on developing distributed fiber optical sensors for oil and gas and agricultural sectors.
As part of their efforts to deploy their technology in various in-Kingdom locations, both researchers are working with multiple establishments within the Kingdom, including the Palms and Dates Center in Al-Ahsa, MEWA, NEOM, the Royal Commission for AlUla and the Tabuk Agricultural Development Company. These field deployments aim to validate, improve, and enhance the sensitivity of their sensor systems in large-scale open-air farms.
"Our research efforts align well with the in-Kingdom drives for Saudi Vision 2030 in terms of diversifying the economy, especially for the date palm sector in the Kingdom," Ashry emphasized.
"The date palm is an important fruit crop in Saudi Arabia that currently produces almost 1.5 million tons of dates annually or almost 20% of the global date production. Our technology offers a unique and low-cost solution to protect the large number of date palm trees in the country through early infestation detection. At the same time, it ensures high production efficiency and product quality of local dates," Ooi concluded.
Related links