KAUST agreement targets pressing healthcare issues, bolsters biotech and pharma sector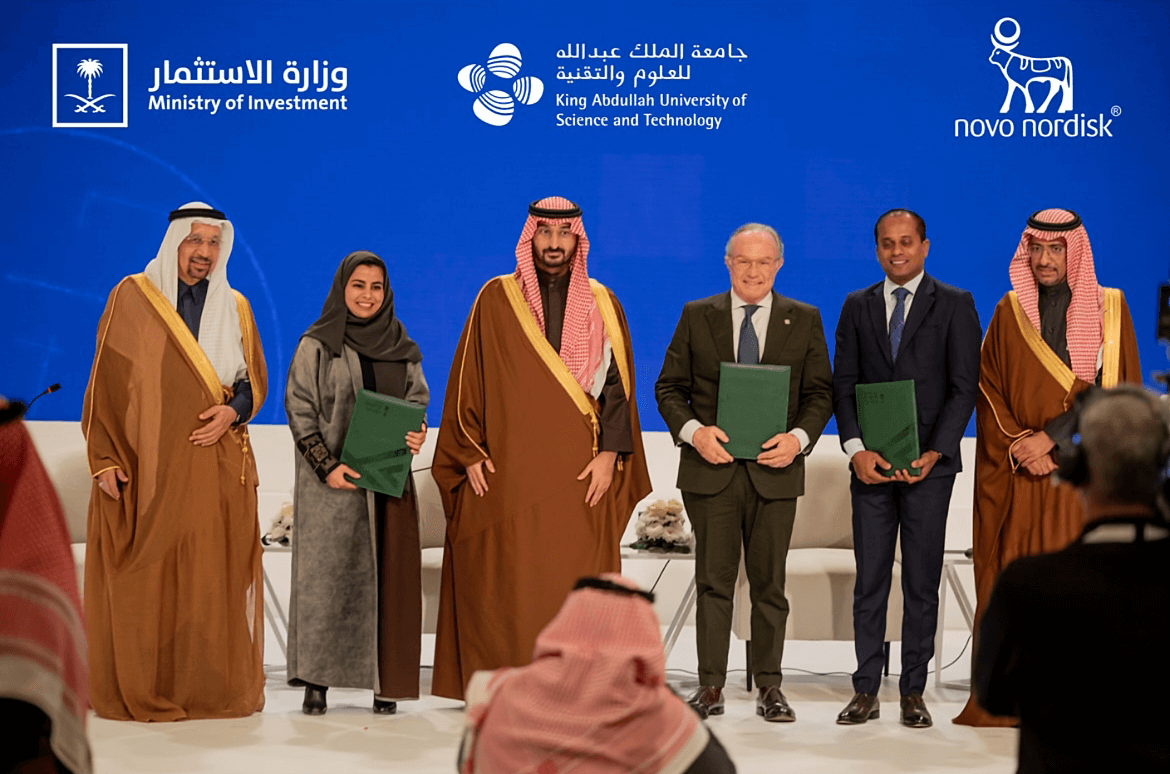 From left to right: H.E. Khalid Alfalih, Minister of Investment; Dr. Sara Althari, Managing Director, and Adviser to the Minister; H.R.H Prince Abdullah Bin Bandar Al Saud, Minister of National Guard; Pierre Magistretti, Vice President for Research at KAUST; Melvin D'Souza, CVP and General Manager, Novo Nordisk for trading Saudi Arabia; H.E. Mr. Bandar Alkhorayef, Minister of Industry And Mineral Resources. Photo courtesy MISA
​King Abdullah University of Science and Technology (KAUST) signed a Memorandum of Understanding (MoU) with the Ministry of Investment of Saudi Arabia (MISA) and Novo Nordisk during the Riyadh Global Medical Biotechnology Summit 2023, organized by the Ministry of National Guard Health Affairs of Saudi Arabia.
The agreement is designed to help tackle some of the most pressing healthcare issues that the Kingdom faces, while also developing the potential of Saudi Arabia's biotech and pharma sector by supporting knowledge transfer, product localization and medical biotechnology research.
A central goal of the agreement is to increase the understanding and awareness of obesity and metabolic disorders, with the parties working to establish a Novo Nordisk Center of Excellence focusing on obesity and metabolic research, and enhance the current services provided in the areas of obesity and metabolic disorder treatments by creating a framework model reflecting global best practice.
KAUST Vice President for Research Pierre Magistretti, Distinguished Professor of Bioscience and the director of the KAUST Smart-Health Initiative (KSHI), said, "Our signed agreement, under the patronage of MISA, gives KAUST the unique opportunity to partner with Novo Nordisk, a world-class pharmaceutical company, to establish a center of excellence to study obesity and its prevalence in KSA and the region. The objective of this center is to understand the causes of the prevalence of obesity in the country and devise strategies to prevent and treat this condition as well as find novel ways to encourage and promote healthier lifestyles."
The Riyadh Global Medical Biotechnology Summit is a hub for international speakers and guests from global biotechnology organizations to discuss innovation in the sector while exploring investment opportunities in Saudi Arabia.
The biotechnology sector is key to supporting Saudi Arabia's Vision 2030's goal to generate technology-driven and growth industries, high-tech jobs and tech transfer, and improve health outcomes. Saudi Arabia's unique patient population, genomic architecture, disease registries and world-class academic research infrastructure position it as a leader in biotech.
Related links