World leaders in oceanography, including professors and researchers from KAUST and other international universities, assembled at the University for the International Conference on the Marine Environment of the Red Sea on November 14-16.
​​​​​​​​​​​​​The University hosted the International Conference on the Marine Environment of the Red Sea (ICMERS) ​November 14 to 16. The opening panel session assessed the state of research in the Red Sea region and determined combined priorities going forward, with the overarching aim to share knowledge, stimulate debate, encourage new thinking and develop a regional Red Sea research map that generates new networks and partnerships.
The three-day event included six keynote speakers, six regional speakers and 100 oral presentations, along with a 75-person strong poster session. Those in attendance shared state-of-the-art science on the Red Sea; provided a regional assessment of Red Sea research and determined gaps and opportunities for research; established mechanisms and platforms for data sharing; and laid the foundation for scientific representation with international frameworks.
With each keynote presentation and parallel session, researchers shared their research insights. These included Red Sea related topics such as climate change, marine protected areas, oceanography, mangroves, contaminants, fisheries, coral reefs, primary production, the blue economy and marine spatial planning.
Collaborate and exchange ideas
In his opening remarks, Burt Jones, professor of marine science and head of the Saudi Aramco-KAUST Marine Environmental Research Center, highlighted his and the University's desire to host an international conference about the Red Sea. ​

"We wanted to have an international conference to bring people together to collaborate and exchange ideas—a conference to unify our governments, our science and our education to work together for the environment of the Red Sea," he said.

Saudi Aramco, a co-sponsor of ICMERS, was represented by

Dr. Omar S. Abdul-Hamid

from the

Saudi Aramco Environmental Protection Department

, who spoke of the ongoing collaboration between Saudi Aramco, KAUST and their regional partners in the study and protection of the Red Sea.

"It is in our interest to contribute to the sustainable development of the Red Sea. Understanding this environment is essential to understanding global responses to climate change. Saudi Aramco has partnered with KAUST and King Fahd University of Petroleum and Minerals (

KFUPM

) to carry out sustained studies of the Red Sea and to conduct baseline studies that provide a foundation to characterize the Red Sea's environment as it now exists. However, we cannot protect something we don't know, and a considerable gap remains in our knowledge of the chemical and physical properties of the Red Sea. The research undertaken here can be of benefit to the the Kingdom as a whole. We want to use this symposium to establish a foundation for the sustainability of the Red Sea for us and the generations that come after us," he noted.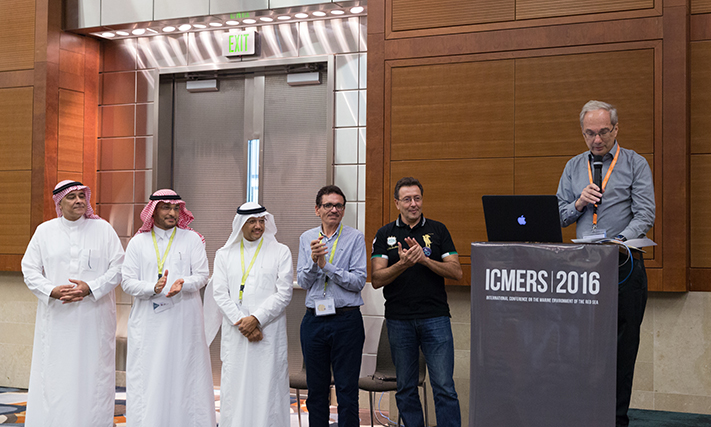 Burt Jones (podium), professor of marine science and head of the Saudi Aramco-KAUST Marine Environmental Research Center gives his closing remarks. Photos by Lilit Hovhannisyan.​​
'The marine environment connects all of us'
In his invited keynote lecture,
Dr. Michael Crosby
, president and CEO of the
Mote Marine Laboratory and Aquarium
, a non-governmental agency based in Florida, U.S., discussed his company's background and mission statement before noting the need for continued worldwide collaboration in order to sustain marine life in our oceans and seas.
"The marine environment connects all of us. In order to deal with these grand challenges, we have to partner together—as is the goal of this conference. We need to share knowledge and learn from each other, and we must identify priorities to establish a follow-on for future partnerships." he said.
Khalid Zubier​
from
King Abdulaziz University​
(KAU) highlighted in his keynote presentation the ongoing collaboration and project work carried out by KAUST, KAU, King Abdulaziz City for Science and Technology (
KACST
) and
Saudi Aramco
, and discussed the need for collaboration on a national and international level.
"We have to collaborate at a national level and we also have to collaborate with the international community," he stated.
Carlos Duarte
, the
Tarek Ahmed Juffali Research Chair in Red Sea Ecology and KAUST professor of marine science, and
Michael Berumen,​
associate professor of marine science, touched on the unique and diverse ecosystem of the Red Sea that borders KAUST. During their keynote addresses, they spoke of the ongoing need to protect the unique body of water.
"A sustainable, blue economy is an important focus... The ocean is, as is the case of arid nations with limited freshwater and arable land—like Saudi Arabia and Egypt—the only possible source to ensure food security. Developing sustainable aquaculture should be, therefore, a priority," said Duarte.
"The Red Sea is a very unique environment. From a biodiversity standpoint, the Red Sea should not be considered as an offshoot of the west Indian Ocean," said Berumen. "Currently there are not strong coordinated efforts for genetics studies in the Red Sea, but there need to be efforts to standardize these approaches so we end up with information that can be used and combined."
Future research and collaboration
A recurring theme during the conference was the need for greater collaboration at both local, national and global levels. Jones, who also heads the
KAUST/Aramco Red Sea glider program
, which aims to understand the processes that drive the physics, biology and chemistry of the Red Sea through autonomous underwater robotic divers, spoke about the difficulties in observing the Red Sea and its coral reefs.
"Observing systems for the Red Sea are not cookie-cutter systems—each is different. At KAUST we have some local glider monitoring studies associated with the reefs. We need to develop collaborative studies and data sharing and a data sharing database, and we need to find a common problem of interest and develop a collaborative monitoring system. We would use this as a building block for future efforts," he noted.
He also addressed the challenges preventing future research and collaboration, stating, "Challenges to this research include funding—monitoring is a way to measure change, but you have to be able to sustain the measurements. This takes time and money and currently data sharing is a difficult thing in the region."
Importance of the Red Sea
On the final day of the conference,
Zdenka Willis, director of the
U.S. Integrated Ocean Observing System (IOOS) Program
, drew attention to the fact that the Red Sea and seas like it worldwide are the main source of income and resources from many nations worldwide.
​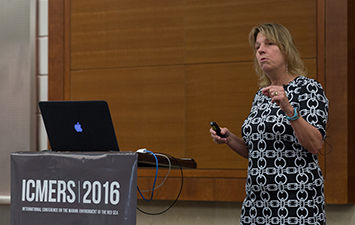 ​
​Zdenka Willis, director of the U.S. Integrated Ocean Observing System (IOOS®) Program gives her keynote address.
​
"The U.S. is a maritime nation—without shipping we wouldn't have about 97 percent of our shoes and clothes and electronics. Increasing ocean-based activities adds to already existing pressures on the health of the marine ecosystems. That is why it is vital to maintain ocean-observing capabilities," she said.
In his keynote address,
Professor Raleigh Hood
from the
University of Maryland Center for Environmental Science
said that many questions remain unanswered when it comes to the environmental impacts of human interaction with the Red Sea.
"A lot of work has been done on the eddies of the Red Sea, but it is clear that more work needs to be done. We still don't fully understand the impact that man has on the Red Sea," he said.
A graduate student poster session held on November 15 as part of the conference provided an opportunity for researchers and students to present their work to the KAUST community and international marine science delegates in attendance. The poster competition was won by
Carol Nathaly
Buitrago López, a Ph.D. student in the Red Sea Research Center. Her winning poster was entitled: "Adaptive potential of Red Sea corals: Insights from a high-resolution molecular marker approach."
"I was delighted with the poster session—it was noisy and people were talking to each other and making connections, and that's what this is all about," Jones said.
In his closing remarks, Jones thanked all those who had attended ICMERS, and also thanked the ICMERS Conference Steering Committee.
"Over the past few days, our working groups came to a lot of good conclusions and had good discussions. This meeting points at how we can all collaborate together," he said.
ICMERS was organized by the
KAUST Red Sea Research Center (RSRC)
, with financial support from the
KAUST Office of Sponsored Research (OSR)
. It was co-sponsored by
Saudi Aramco
and the
KAUST Industry Collaboration Program (KICP)
and the
Industry Engagement Office
.