"You would not believe how many amazingly talented people there are in the world, but they often are just not exposed to opportunities," noted Muhammad Mustafa Hussain, KAUST professor of electrical engineering and currently a visiting professor at the University of California, Berkeley. He is determined to try and change this—one step at a time.

Research at KAUST
In 2009, he became a KAUST founding faculty member, focusing his work on two key aims. The first was to build electronics for applications that don't exist today or that are simply not possible; and to take these applications to people who don't have access to them for various reasons—perhaps their cost, their complexity or their accessibility. The second was to democratize electronics to empower humanity.
Within Hussain's first aim, he concentrates on electronics in areas where they are not currently broadly used, because, he explained, existing infrastructures are bulky, expensive and complex. His team takes these electronics and tries to make them physically flexible, stretchable and reconfigurable, attempting to minimize the cost and make them easy to understand, simple to deploy and convenient to use.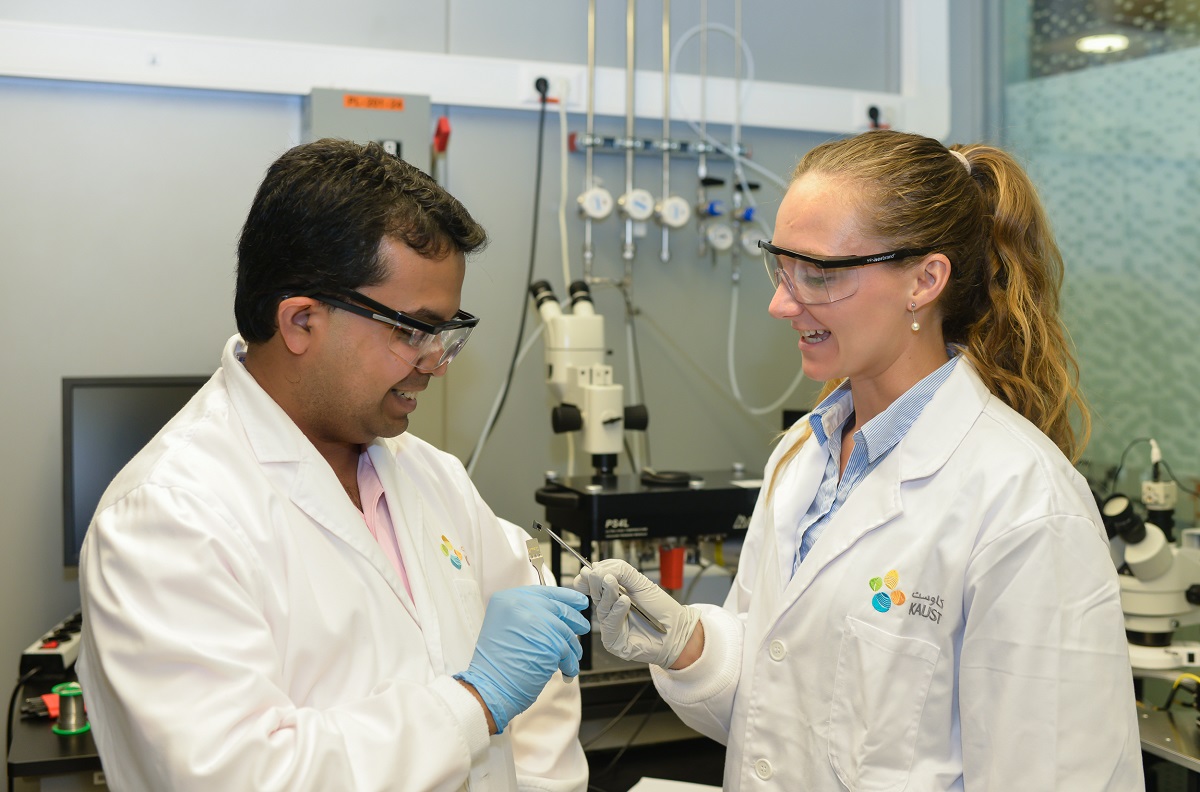 KAUST Professor Muhammad Mustafa Hussain works with former KAUST Ph.D. student Justine Mink (M.S. '10, Ph.D. '13) in his Integrated Nanotechnology Lab on campus. Photo by Marina Kochetyga.




One recent breakthrough was a low-cost, wearable stethoscope made with recyclable materials that generates signals if a child is wheezing or coughing. It takes a minimalist and pragmatic design approach.
"This is not going to replace existing professional stethoscopes, but it can actually collect information to understand when wheezing starts, how long it continues and how intense it is," Hussain said.
Democratizing electronics

Working towards his vision of democratizing electronics, a few years ago, Hussain started teaching a course at KAUST, deciding to apply a new methodology in which he asked students to follow seven steps—somewhat resembling workplace project management—in order to come up with electronics solutions to everyday problems.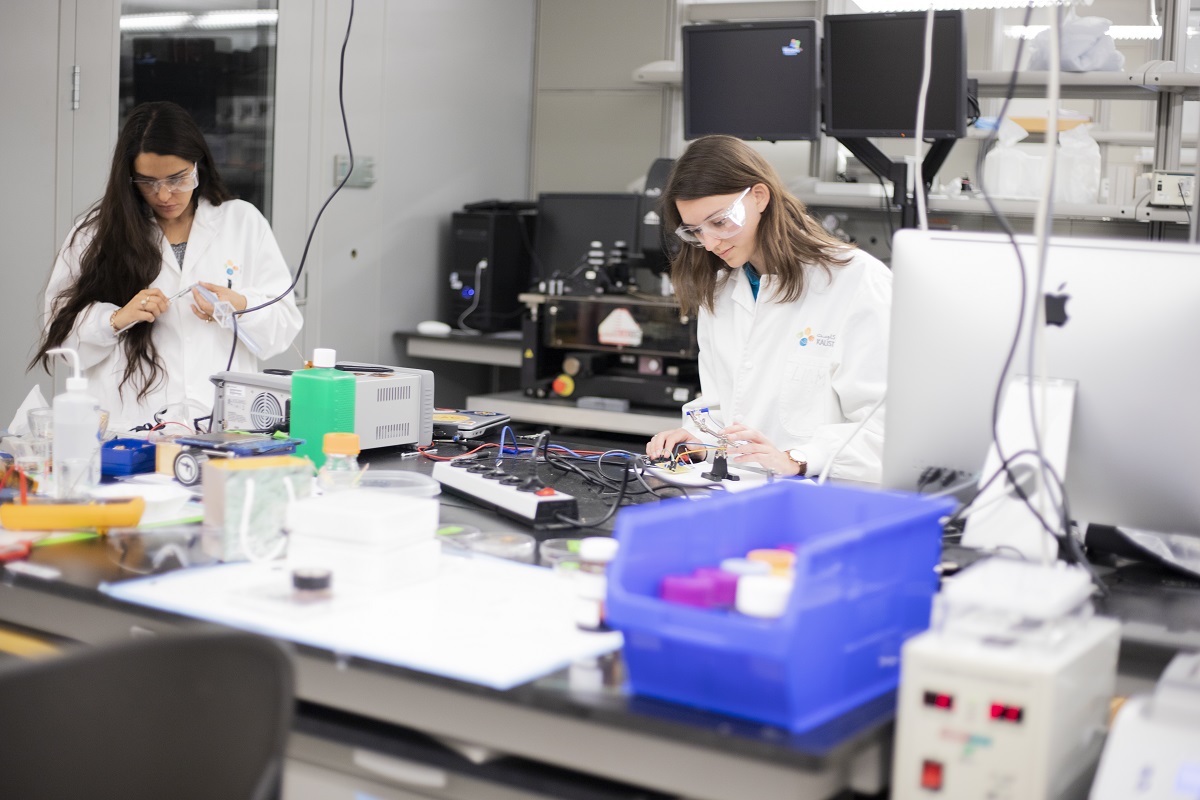 Students create devices in the lab of KAUST Associate Professor Jurgen Kosel as part of the Microelectronics Winter Camp 2019. File photo.
"First, we build a team, then we do a lot of brainstorming to understand and define interesting challenges that we need to address," Hussain said. "We do a survey as to what is happening, why it's happening and what solutions exist today. Then we look at the pros and cons of each of these and, within the skills that we have and the resources available, including time, we 'ideate.' We go through the development process, we test our solution out, we reach out to the folks who are not involved in the project to get feedback from them and then optimize it."
One group of students made a medicinal organizer. Last year, participants came up with a design for the same organizer for patients who have neurological disorders and for the elderly, who may fall. If there is a fall, a small, low-cost, simple device sends a message to caregivers that an incident has taken place.
A unique winter camp

This success of this approach led Hussain to develop more specific workshops using the same methodology. In February 2019—along with Electrical Engineering colleagues Professors Jurgen Kosel, Atif Shamim and Xiaohang Li—he organized the "Microelectronics Winter Camp 2019."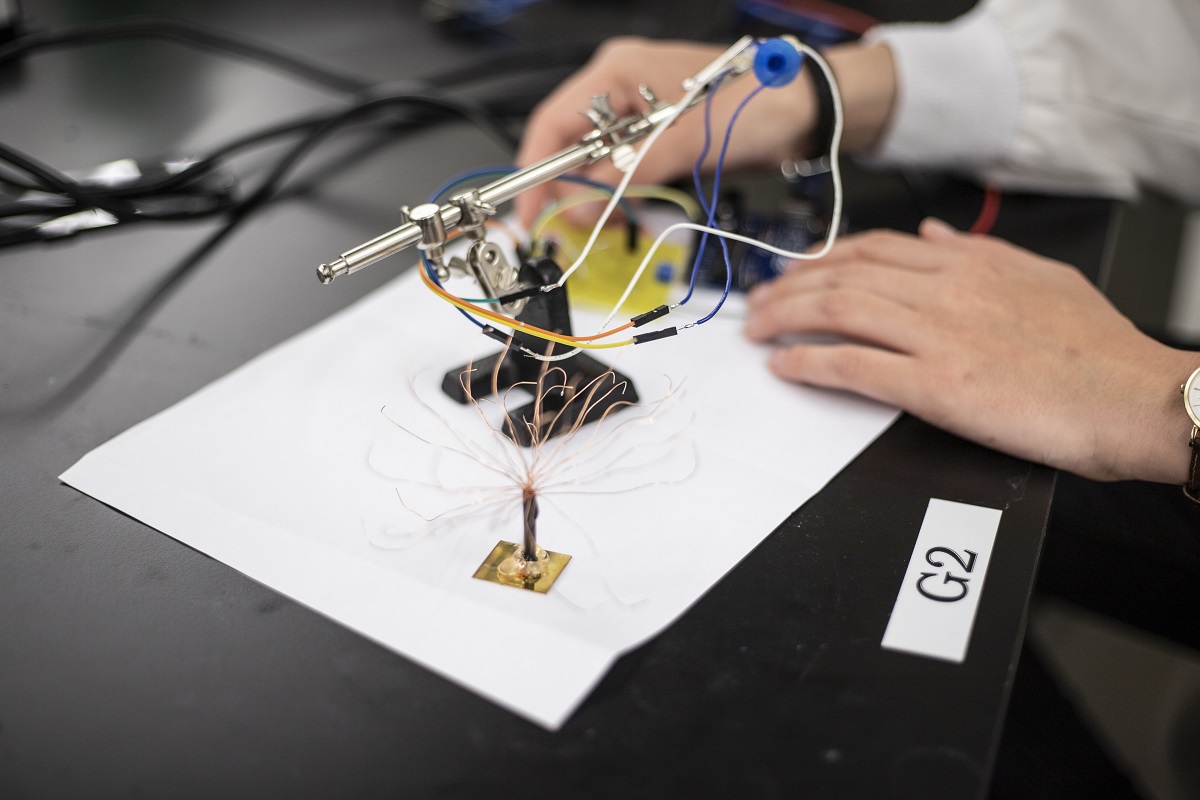 Students create devices in the lab of KAUST Associate Professor Jurgen Kosel as part of the Microelectronics Winter Camp 2019. File photo.
Fifteen students from 12 countries participated in the month-long workshop, with students mentored by Hussain demonstrating an automated single recycle bin. The bin is able to differentiate among different recyclable materials, putting them into assigned portions of the bin's inside, greatly reducing the burden of complex recycling processes.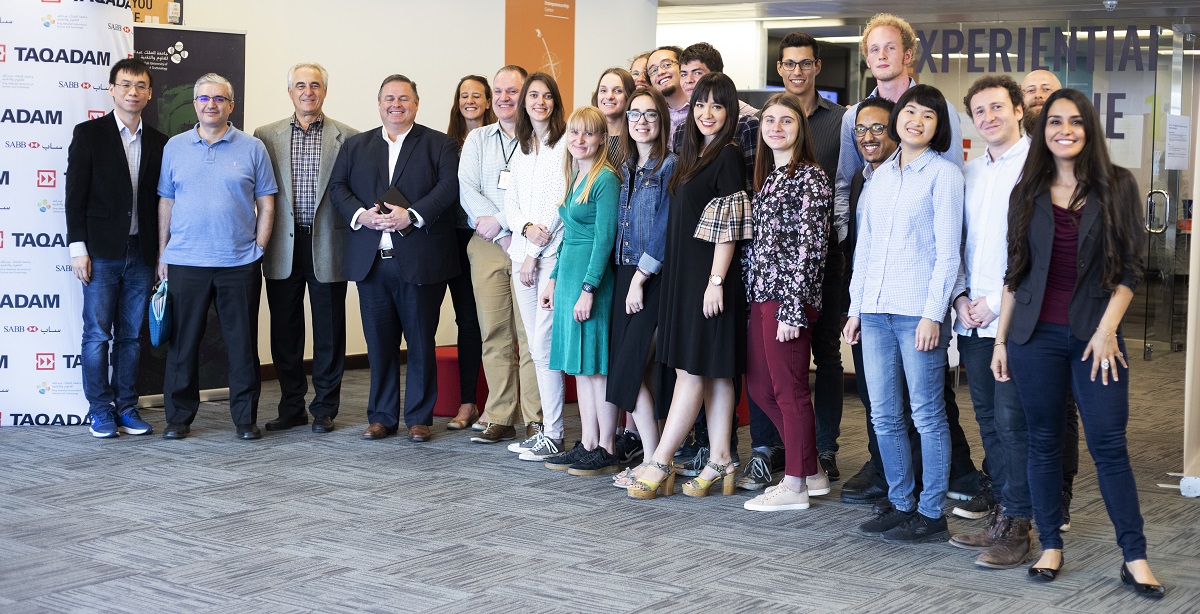 Students from the University's Microelectronics Winter Camp pose at the end of their program. File photo.
Brazilian participant João Pedro Tiol noted, "Especially remarkable was the entrepreneurial aspect, where we learned that entrepreneurship is a skill that can be exercised and that new ideas can be found and developed through a systematic methodology...[W]e were encouraged to come up with our own idea and develop it from scratch. Although the time was very short, we felt confident and capable of doing so."
Team building to prototypes

In a follow-up workshop called "Berkeley Engineering Innovates," another group of undergraduate students demonstrated an electronics aid to support people after a natural disaster such as an earthquake or wildfire.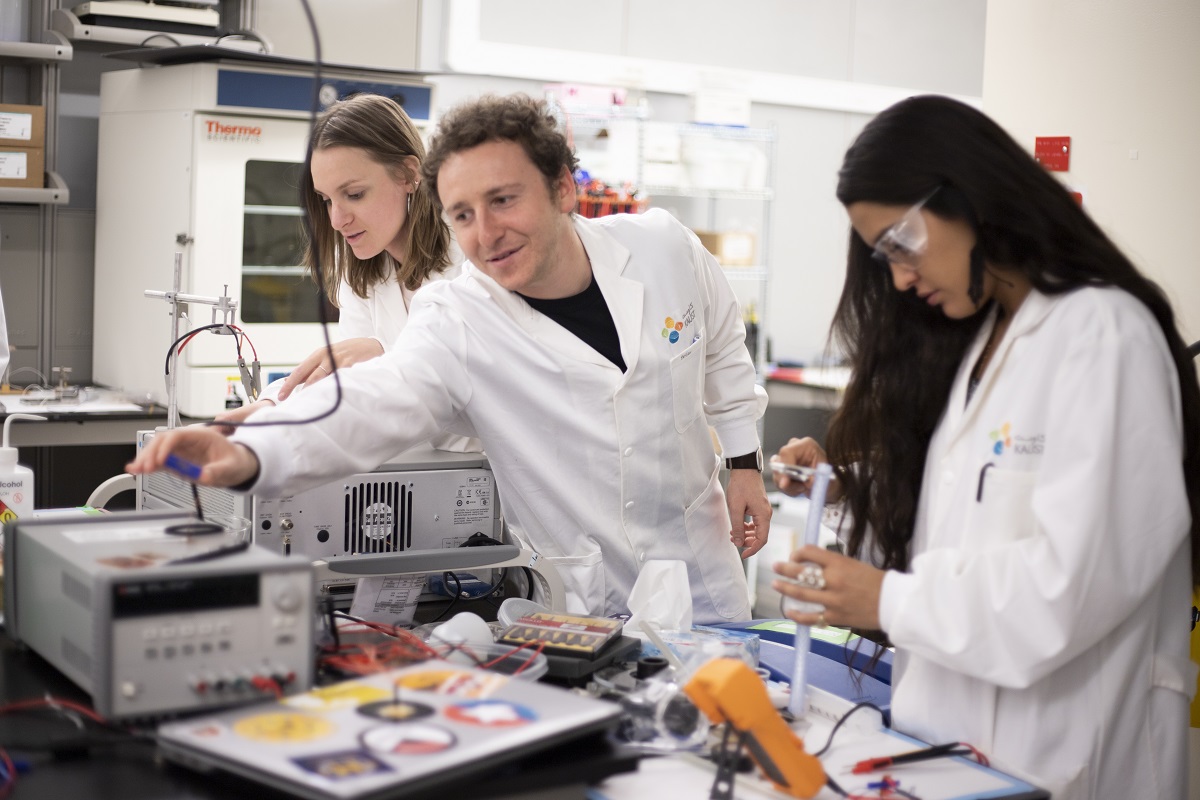 Students finish prototypes in the lab of KAUST Associate Professor Jurgen Kosel during the Microelectronics Winter Camp program. File photo.
"We developed different sensors and put them in different corners of a home, as destruction is not uniform when that kind of calamity happens," Hussain said. "Based on the intensity of the damage, different lights turn on so an unmanned aerial vehicle can take aerial images and understand the magnitude of the damage. Light, heat and humidity sensors can potentially detect human life and send signals that say this is where, under the rubble, someone is [located], so please try to work in this area."
By using 120 or so hours of class time, Hussain noted it is wonderful that students can go from team building to finished prototypes. As a result of their work, they have exhibited at the Consumer Electronics Show in Las Vegas and the well-know fair South by Southwest in Austin, Texas. The prototypes were well-received and are currently under commercialization.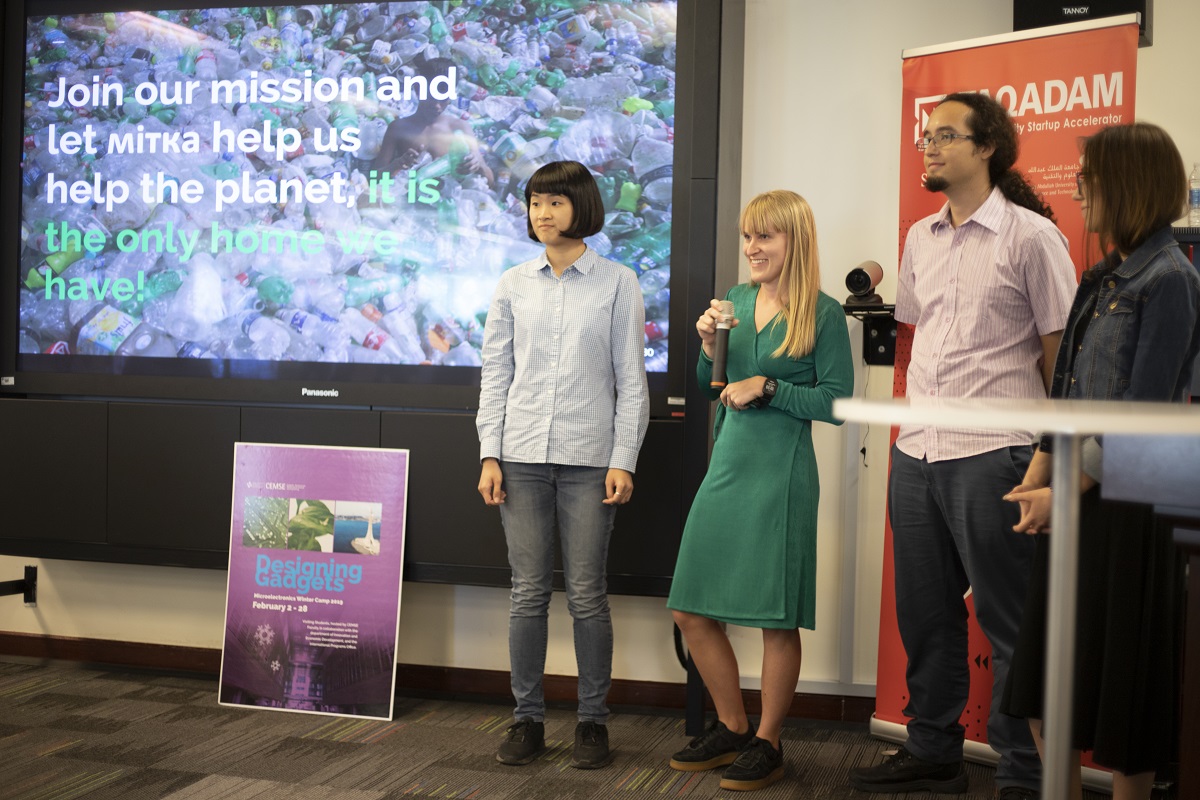 Four students who worked in KAUST Professor Muhammad Mustafa Hussain's lab during the University's recent Microelectronics Winter Camp present their prototype at the end of the program. File photo.
A diversity of ideas

Hussain believes there is huge value in the thousands of cultural differences that exist around the world and how these allow people to approach problem solving and generate innovative ideas from different perspectives. He is planning a Saudi-specific workshop at KAUST to focus on local challenges and problem solving—and, to grow the rich tapestry of global thinking, he dreams of rolling out his Schools for Microelectronics, Gadget and Widget Design around the world.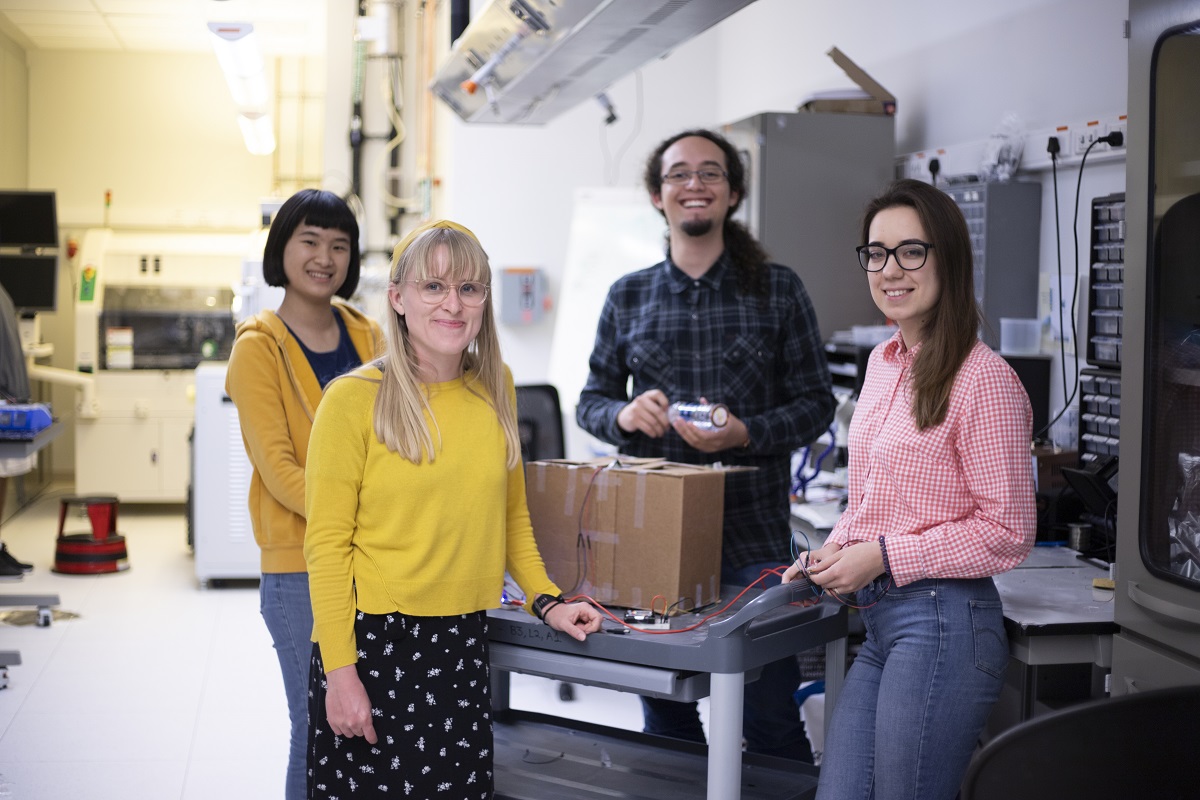 Students from around the world worked in KAUST Professor Muhammad Mustafa Hussain's lab during the University's Microelectronics Winter Camp 2019. File photo
"I have graduated 14 Ph.D. students, and they represent most continents of the world. Some of them are already professors in their respective countries, and my objective is to take this approach to them—especially in developing economies," Hussain said. "This is part of my vision to democratize electronics and empower humanity and to see other folks somewhere else with the opportunity to come up with amazing new ideas."