In her talk, Human and AI: changing the narrative from competition to collaboration, luminary Lama Nachman, director of Human and AI Systems at Intel, painted a future where the best strengths of humans and machines achieve integrative solutions for smart applications in areas such as manufacturing, education, computing and homes. Among her accolades, Nachman is known for her work with physicist Stephen Hawking, having outfitted him with AI-devices that enabled him to continue his work and communicate with the world. Photo: JWest / KAUST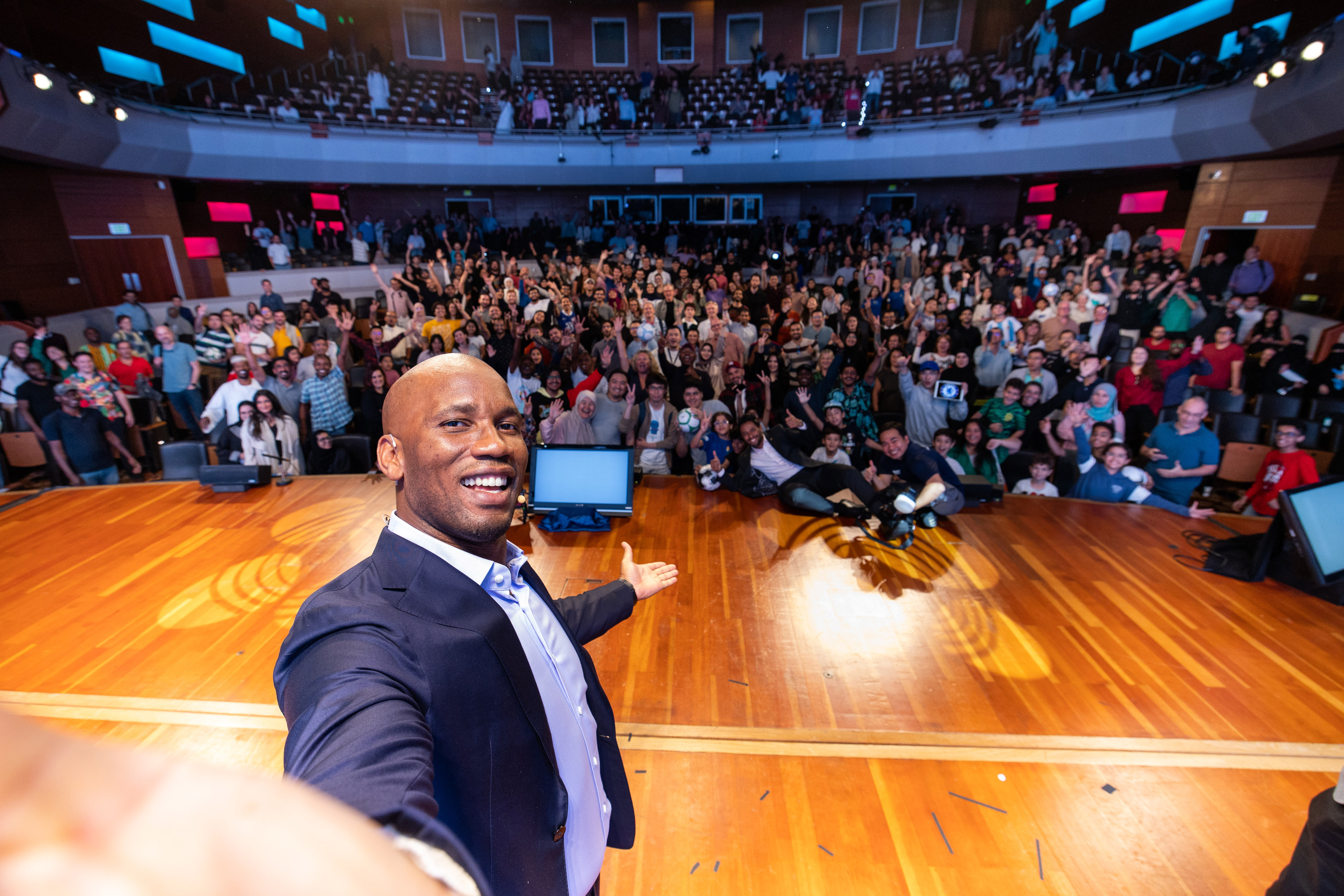 Professional retired footballer Didier Drogba snaps a selfie with the KAUST audience at WEP23. Photo: KAUST

Professional retired footballer Didier Drogba wowed crowds with charisma and inspiration. Considered to be a "Champion for Peace" in his native Côte d'Ivoire, the top scoring, former captain of the Ivory Coast national football team spoke from personal experience about how he was able to push the physical boundaries of success and overcome obstacles and hardships to become one of the most famous and respected footballers in the world. The athlete went on to form the Didier Drogba Foundation, a charity in Africa that facilitates resources such as healthcare and education to underserved populations.

Seeing Didier Drogba was a highlight for Mahdi Alshoyokh, a PhD student studying bioscience in Jesper Tegner's Living Systems Laboratory who said he had been a Chelsea football fan. "I like Didier's approach in life of using what he accomplished in his career to help people," he said. "I didn't know that he started a charity until I saw him here at KAUST. Hearing this confirmed my respect."

This was the fourth WEP that Alshoyokh attended. When asked how he chose which events to attend given the incredible diversity of offerings, he said, "I wanted to branch out and choose topics that weren't necessarily science focused," adding that a 3D printing food workshop and talk by freediver Sofia Gomez Uribe were also standout experiences.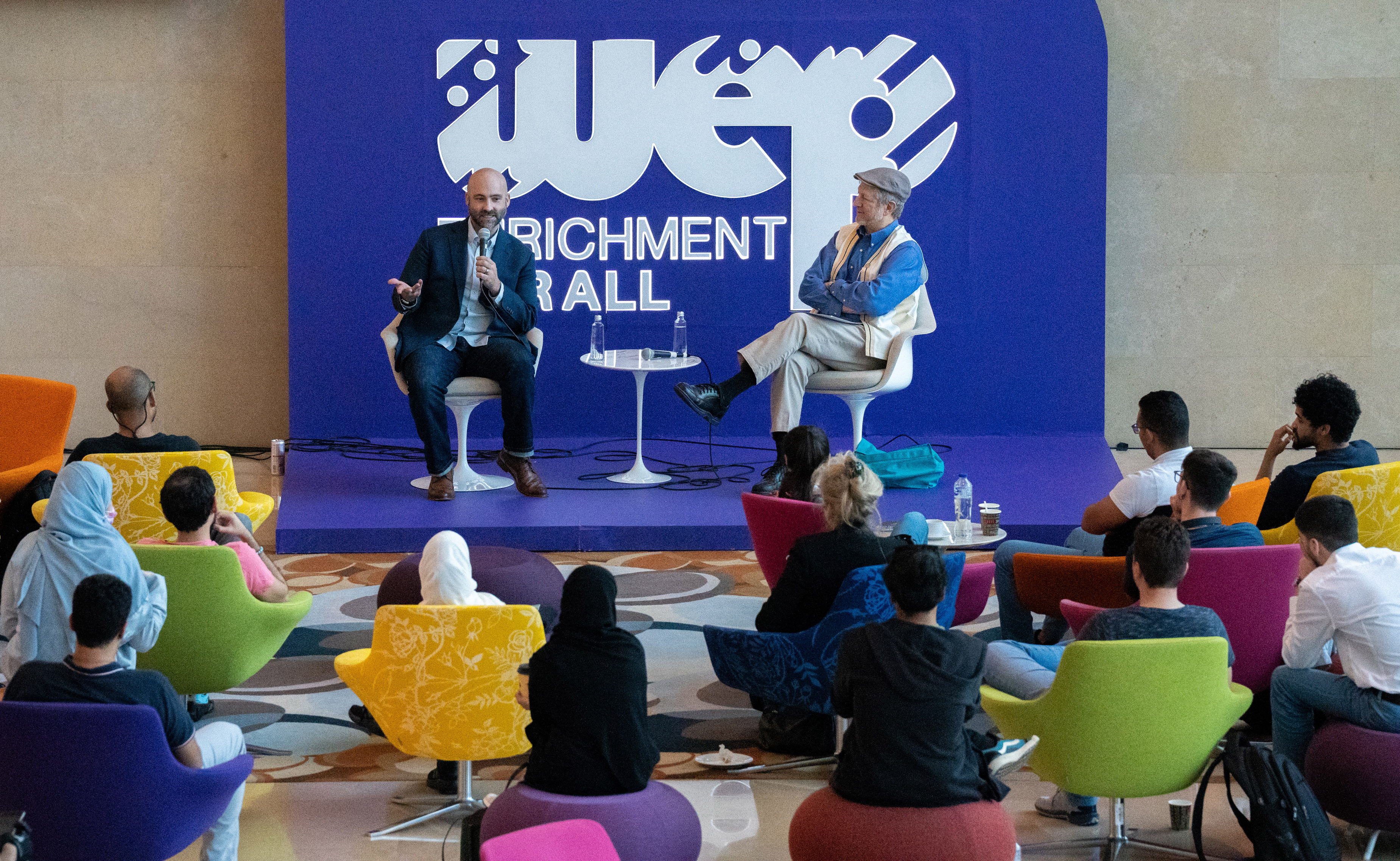 Theoretical cosmologist Paul Sutter (left), researcher at Stony Brook University, New York and host of the podcast, Ask a Spaceman, shown here with KAUST Professor and WEP Moderator David Keyes (right), expanded minds in a presentation and Q&A covering topics such as anti-gravity, the metaverse, dark energy and the edge of the universe. Spoiler alert: "As far as scientists can tell, the universe is going to rip itself apart." Photo: KAUST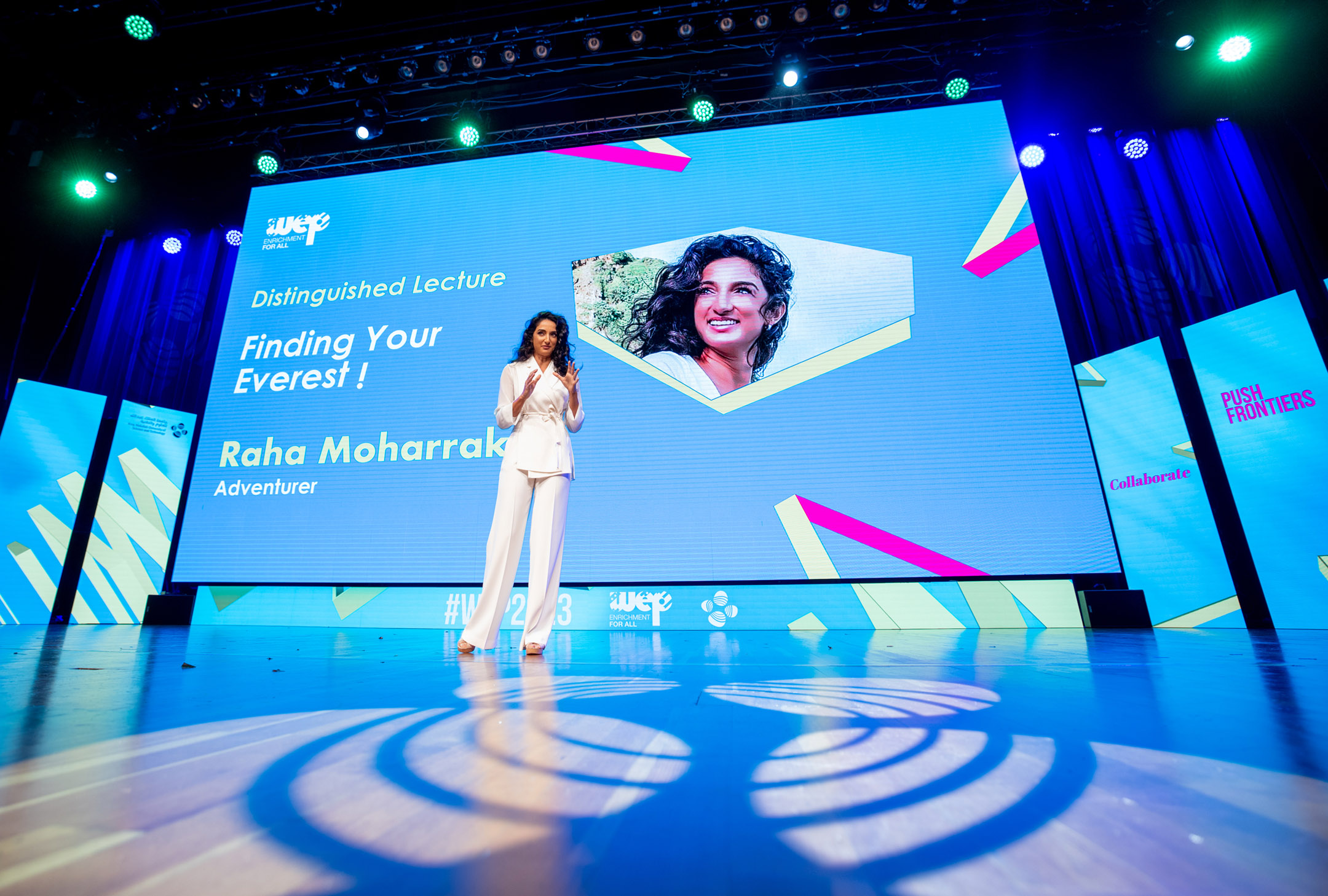 Raha Muharraq, the first Saudi woman and youngest Arab to reach the summit of Mount Everest, uplifted WEP23 participants with her lecture. Photo: KAUST

Female adventurers impressed audiences with their perseverance to tackle the impossible, including Jeddah-born Raha Muharraq for being the first Saudi woman and youngest Arab to reach the summit of Mount Everest, and achieve the "Seven Summits Challenge" for climbing the highest mountain on each continent; and Norwegians Hilde Fålun Strøm and Sunniva Sorby for being the first women in history to over-winter solo in Svalbard, Norway. The Arctic Archipelago is the northernmost inhabited area in the world, known for extreme temperatures, snow and wind, and for being a destination for outdoor adventurers seeking a wilderness challenge.
Chief Executive Officer and Chief Technology Officer Peter Rawlinson of Lucid, a leader in the electric vehicle manufacturing industry, spoke about the future of sustainable mobility. "We owe it to this generation and future generations in terms of the impact upon global warming to explore the possible, the art of the possible. How far can we take the electric car?" He said that this technology has come alive thanks to Lucid's partnership with the Kingdom of Saudi Arabia and in particular the Public Investment Fund (PIF). "We would not be here today without that realization of that dream that we're in together, so hats off, thank you."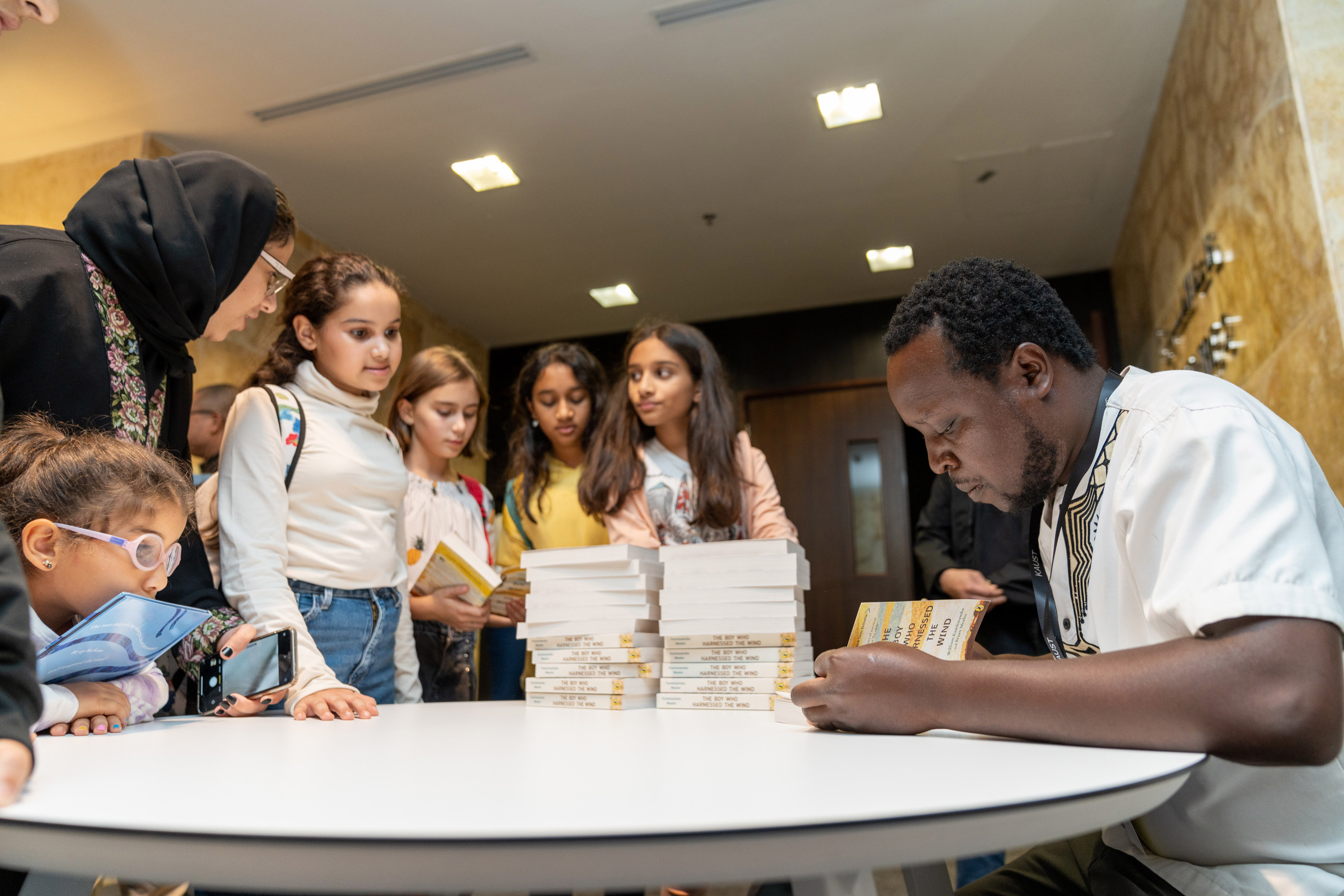 William Kamkwamba (right), author and subject of the film, The Boy who Harnessed the Wind, autographs books for eagerly waiting KAUST TKS students. Photo: KAUST

The film The Boy who Harnessed the Wind amazed audiences in an altogether different way for the real-life childhood story of Malawian William Kamkwamba, who at the age of 13 built a wind turbine to save his African village from drought and famine, determined to succeed despite extreme hurdles such as poverty, lack of food, money and education. Now an author and environmental engineer, Kamkwamba attended the event, signing books for adults and children. He especially made a profound impression on the children in the audience, evidenced by their enthusiastic questions to the author in the Q&A after the film.
Two TKS (The KAUST School) siblings in the audience had this to say about Kamkwamba and the film:
"If William was able to help his village with the limited resources that he had access to, couldn't we help more people around us with the many resources we are blessed with?"
— Pablo Finkbeiner Rivera (grade 7)
"I liked how he sneaked into the library and was able to learn just from books without going to school. And then he was able to build something so important for his village."
— Katerina Finkbeiner Rivera (grade 3)

Translating ideas into action
Provost Lawrence Carin reflected that the ideas explored throughout WEP, though not all studied in the classroom, reflect things happening in the world today that are on the edge —revolutionary ideas being translated into actions that will define the future of the world and transform lives.

As Dr. Rafic Makki of Mubadala Capital said in the deep tech panel discussion (January 12),

"If you can dream it, if you can think it — you can make it. The future is bright when it comes to science and technology. Never doubt. Solutions will be there."

A WEP after-party capped the event with good food and music, and gave everyone an opportunity to catch up on conversation and celebrate the start of the semester. Enrichment for all. The full WEP2023 program and archived WEP content is available online.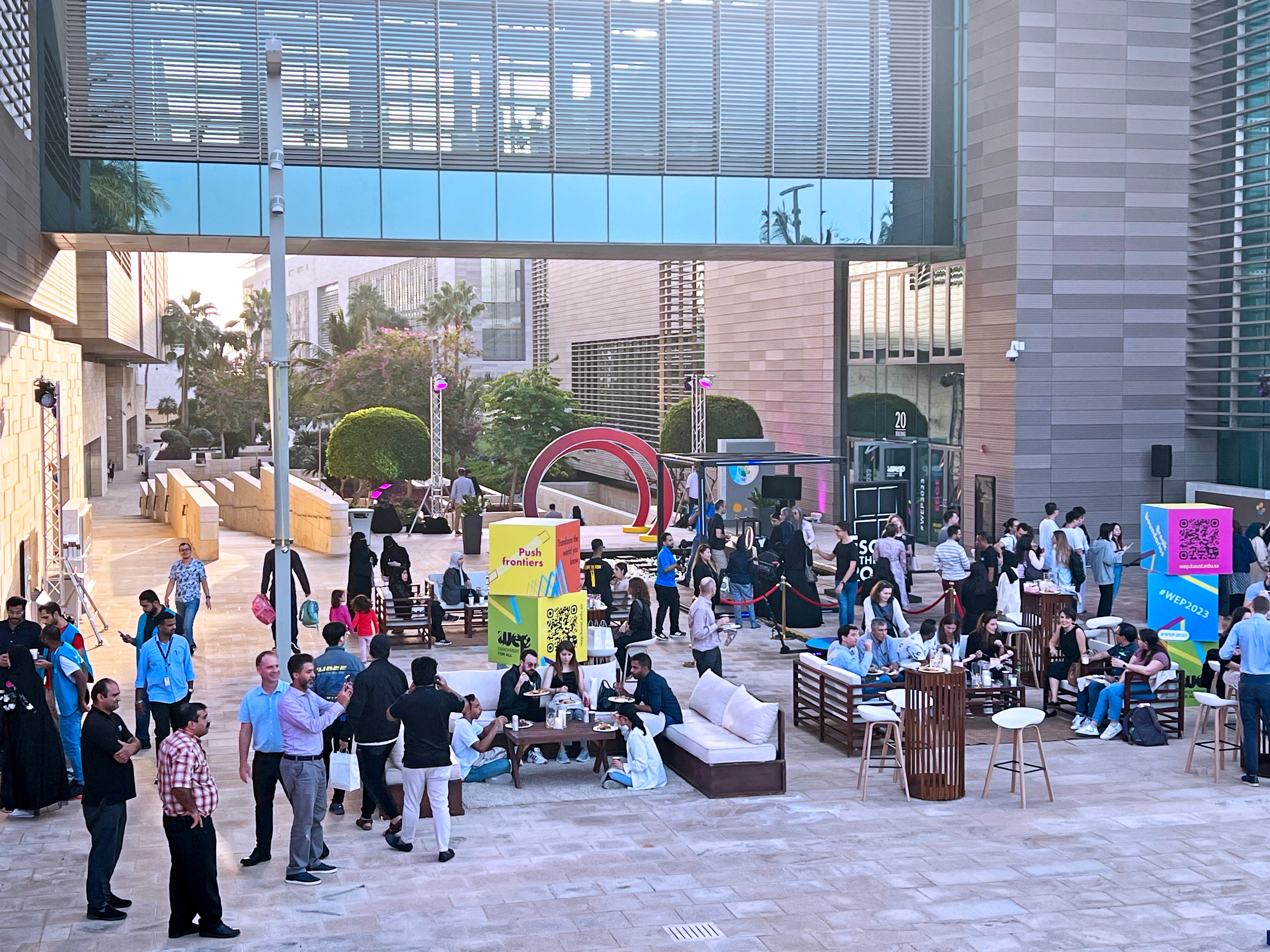 WEP23 participants celebrated the conclusion of the near two-week extravaganza at the WEP after party. Photo: JWest/KAUST