CES Innovation Awardee trophy received by KAUST alumna Asrar Damdam in the category of food security. Photo courtesy Asrar Damdam.
The King Abdullah University of Science and Technology startup Uvera, founded by CEO and KAUST alumna Asrar Damdam (MS 2018; Electrical and Computer Engineering), has been named a CES® 2023 Innovation Awards Honoree for its product Aurora, a patent-pending smart AIoT (Artificial intelligence of Things) device that can increase the shelf-life of fresh foods by up to 97 percent on average, within only 30-seconds and without any use of chemicals. The Consumer Electronic Show, owned and produced by the Consumer Technology Association (CTA), is the largest technology event in the world, held every January in Las Vegas, Nevada.

The annual competition honors outstanding design and engineering in 28 consumer technology product categories, including gaming, cybersecurity, robotics, smart cities and more. Those with the highest rating receive the "Best of Innovation" distinction. An elite panel of industry expert judges, including members of the media, designers, engineers and more, reviewed submissions based on innovation, engineering and functionality, aesthetic and design. This year's CES Innovation Awards program received a record high number of more than 2100 submissions.

Aurora comes with an AI-powered app that can track the food inventory of households, predict the spoilage occurrence of the stored ingredients, and send spoilage proximity notifications to users. The mission of Uvera is to contribute to reducing food waste by 50 percent by the year 2030 (SDG 12.3) and spread environmental awareness and sustainability at consumer and retailer levels.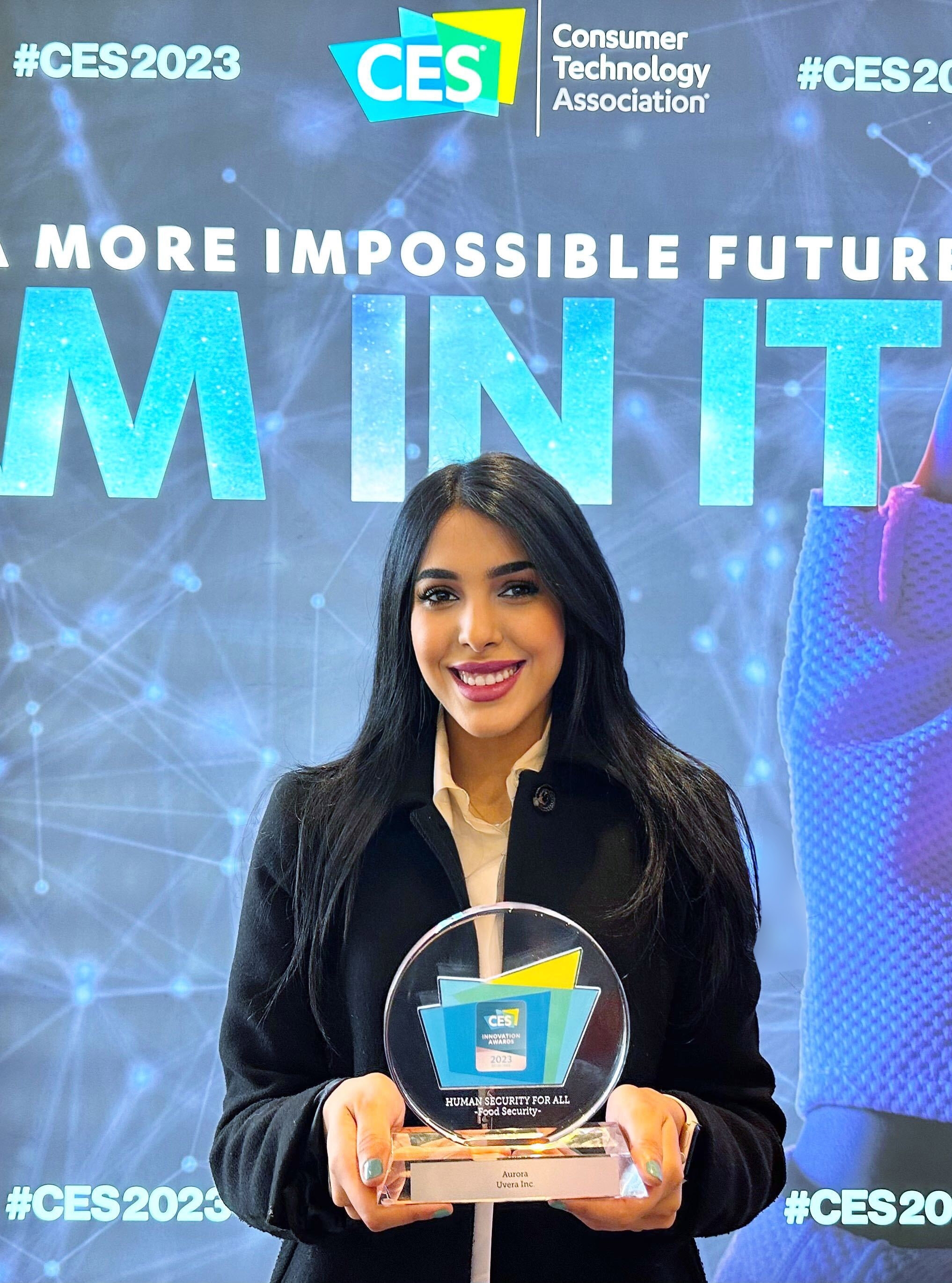 Uvera CEO and KAUST alumna Asrar Damdam proudly displays her CES trophy. Photo courtesy Asrar Damdam

"Aurora received the innovation award under the category of 'Human Security for All', which is a new category that was established this year to promote a campaign organized by the United Nations Trust Fund for Human Security (UNTFHS), Consumer Technology Association (CTA) and The World Academy of Art and Science (WAAS) for the aim of enhancing the human experience and promoting collaboration and innovation across industries and countries," said CEO Damdam,who is currently pursuing her PhD at KAUST in the Computer, Electrical and Mathematical Sciences and Engineering (CEMSE) Division.

The "Human Security for All" recognizes cutting-edge innovations that can create positive impact, improve personal well-being, and have the potential to reach all humanity. Due to its significance, this category was chosen to be the theme for CES 2023.
"I'm extremely honoured to have won the innovation award under such a special category in the largest tech show in the world. It validates the exceptional engineering and design skills of the Uvera team and motivates us to keep innovating," Damdam said.

The founder highlighted the support she received from KAUST: "Uvera has received substantial support from KAUST, beginning with tenancy at KAUST Research and Technology Park and getting access to KAUST core labs and facilities, followed by the mentorship and funding through Taqadam accelerator and venture capital funding from KAUST Innovation Ventures."

"As KAUST Innovation Ventures and the KAUST Entrepreneurship Center continue to support the progress of KAUST entrepreneurs, startups' potential will grow substantially, especially given the vast resources made available by the KAUST Research & Technology Park," she added.
Related links