Topping out a superstructure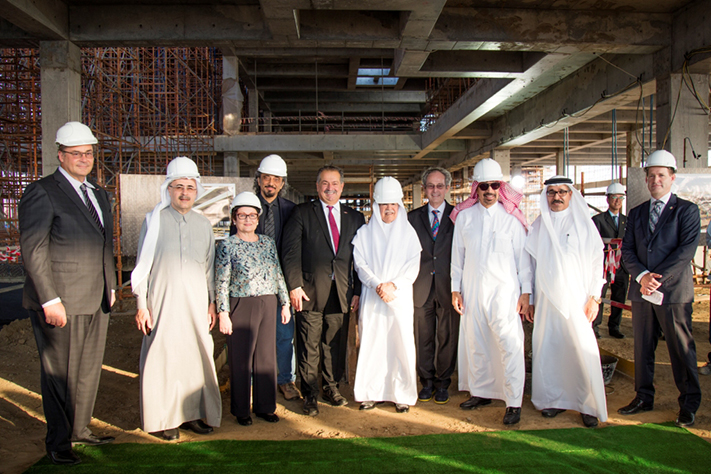 A joint delegation of KAUST and Dow officials took part in a "topping out" ceremony at the Middle East Innovation Center on KAUST campus.
​​​​​
​​Dow Chairman and CEO Andrew Liveris officiated at the "Topping Out" ceremony for the Dow Middle East Innovation Center (MEIC) at King Abdullah University of Science & Technology (KAUST) in Saudi Arabia, marking an important milestone for the completion of the superstructure of the dedicated MEIC building, which is expected to be operational in the second half of 2018.
​
The ceremony was attended by members of the Board of Trustees of KAUST including Ali I. Al-Naimi, Chairman of the Board of Trustees of KAUST; Khalid Al-Falih, Minister of Energy, Industry & Mineral Resources; Amin Nasser, President and CEO of Saudi Aramco; and Jean-Lou Chameau, President of KAUST.

"KAUST is a long standing partner of Dow and provides multicultural diversity, inclusion and creativity at the intersection of sciences, which would foster innovation for human kind. When the new Dow Innovation Center opens in 2018, state-of-the-art technologies such as reverse osmosis, ultrafiltration, energy efficient systems and infrastructure, and roofing systems will be developed by leading Dow researchers right here in the Kingdom and help to solve some of the world's biggest global challenges. I am proud of the future that Dow and KAUST are building together," said Liveris.

Dow is a founding member of the KAUST Industrial Collaboration Program, which aims to commercialize research into practical applications. As part of the 2009 collaboration agreement with KAUST, Dow has implemented multiple programs to invest in the University's faculty and students.

"Our collaboration with Dow continues to be driven by innovative research for the creation of new knowledge and technology," said Chameau. "The high-risk, high-reward culture at KAUST empowers our leading scientists to partner with industry in order to remain at the forefront of new discoveries in technology and science. We look forward to the research outputs that will help propel further economic development in Saudi Arabia."

With a floor space of 13,500 m², the new Dow Middle East Innovation Center will be the second largest building in KAUST when completed. Dow currently has an R&D Center at the KAUST Innovation Cluster, focusing on themes such as water, energy efficiency, and environmental footprint reduction that address critical needs in the Kingdom and the broader Middle East region.