​​​​​​KAUST welcomed 181 graduates into its
global alumni community
at the University's seventh Commencement ceremony on December 16, 2016.
​
Attended by members of the University's
board of trustees
, senior leadership, faculty, students and the KAUST community, the ceremony saw 87
Ph.D.
graduates and 94
master's degree
graduates receive their diplomas and congratulations from KAUST President
Jean-Lou
Chameau and other distinguished guests, including His Excellency Ali Ibrahim Al-Naimi, chairman of the KAUST board of trustees, and Commencement speaker
Andrew N.
Liveris, chairman and chief executive officer of
The Dow Chemical Company
.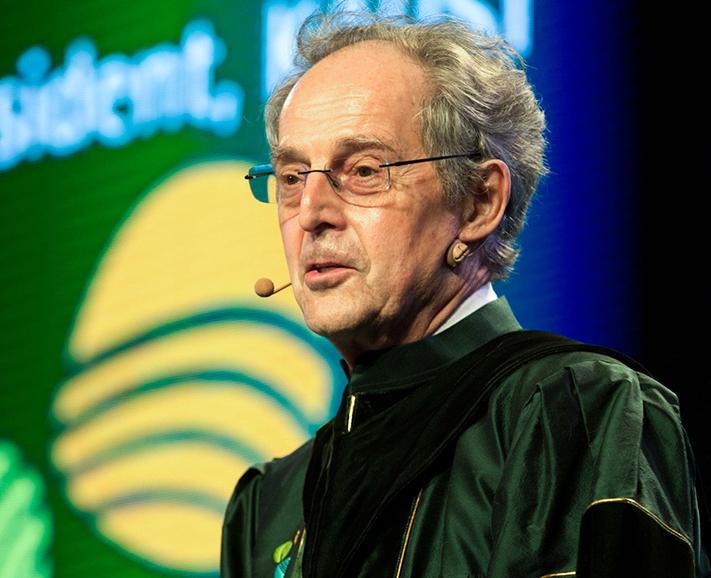 President Jean-Lou Chameau speaks during the 2016 Commencement ceremony. ​
​
Liveris, a 40-year veteran of Dow, has served in diverse roles in marketing, manufacturing, engineering, sales and management in the company around the world, and helped orchestrate the creation of the
Sadara Chemical Company, a joint venture between Dow and
Saudi Aramco
. He has also been part of KAUST since its inception, partnering with the University to invest in local talent and develop solutions to regional and global challenges, for example through Dow's
expanding facilities
at the
KAUST Research & Technology Park
.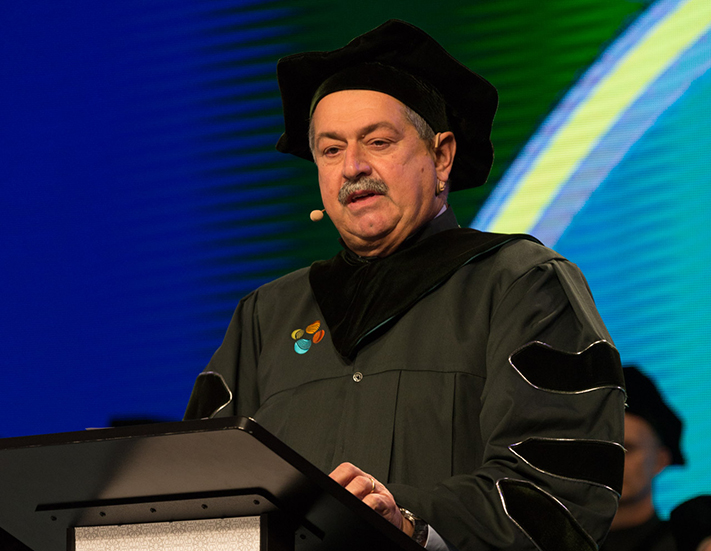 Andrew N. Liveris, CEO of The Dow Chemical Company, speaks during the 2016 Commencement ceremony.​
Find your 'North Star'
"I can tell you from experience—40 years of experience—that your path forward from here will not be direct," Liveris told the graduates. "I am a great believer in seeking, as I have come to call it, your North Star, and really looking for a purpose that will motivate you, guide you and give your career and life a sense of direction.
"Perhaps some of you already have a North Star in sight, but for most of you, be confident that it may take some time to find. As you seek it—and once you find it—it will be your lifetime pursuit to navigate towards it. You won't find it in a straight line, for there will be choppy waters, but if you have that purpose and you fulfill it, you will achieve your amazing potential."
"KAUST was founded on the understanding that humans are at our best when we innovate together towards a better world for everyone, a
vision of the honorable King Abdullah
whose name KAUST bears," he continued. "As you search for your North Star even in the dark of night, that philosophy is going to point you in the right way."
'Develop resilience'
Class of 2016 student speaker
Hessa Al-Quwaiee, a Ph.D. graduate in
electrical engineering
, echoed Liveris' words in her remarks.
"If KAUST has taught us one thing, it is to develop resilience," she said. "As students, we have been through challenges like paper rejections and failed experiments, and we've learned to be strong, keep going and to persevere."
Al-Quwaiee shared a personal story with the audience of her brother's death in 2015, just 10 days before her Ph.D. proposal.
"At that time, I felt the world had ended. I wanted to quit everything," she said. "But after three days of the loss, I had a serious self talk. In short, if I quit, he would not be happy. With support from my family, my professor Mohamed-Slim Alouini and my committee members, I did the proposal and attended two international conferences abroad to present my research work."
​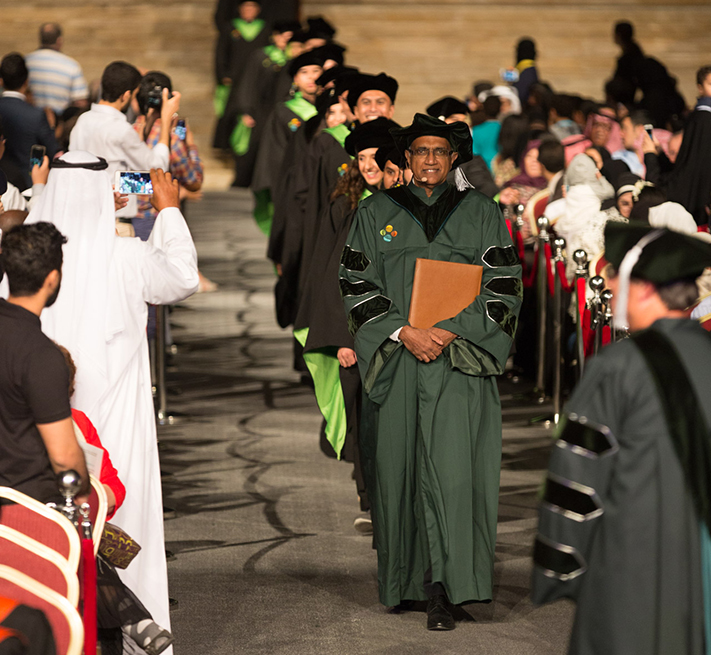 Dean of the Physical Science and Engineering Division, Yves Gnanou, leads his division's graduates during the opening of the 2016 Commencement ceremony.​
Life lessons learned
"I'm not sharing this story of loss with you to make you sad," Al-Quwaiee said. "I share it because the loss taught me three life lessons the hard way. First, never leave work to the last minute. Second, express gratitude to family, friends, faculty members and colleagues—to everyone who supported you to reach this point. Finally, life goes on—maybe not the way you hoped or planned, but tomorrow will come, and with it a new set of challenges and opportunities.
"As we graduate, we head into a new chapter of our own lives. There will be a lot of happy moments, and when a challenge strikes, we should be prepared. Before we leave this place, I would like to remind you to stay inspired, stay curious and stay strong."
'Be a force for unity'
In his closing remarks, Liveris told the graduates to "continue to collaborate as you have done here at KAUST. Break out of silos and work together across the boundaries of cultures, languages and disciplines—be a force for unity, not for division. Don't belong to one tribe, be a member of 'team Earth.'
"You can do well by doing good and do good by doing well," he said. "You have incredible tools at hand through the education you've gained here by keeping your eye on the big picture. Now search for your North Star, but search for it on the global stage. Take yourself through laboratories, board rooms and government offices—set yourself no boundaries—and pursue it with zeal and enthusiasm, but make sure you are not the only one who benefits. Make sure all of us benefit."
​​​
'Build bridges between people and cultures'
In his charge to the Class of 2016, Chameau encouraged graduates to carry the KAUST culture of excellence with them in everything they do.
"Graduates, as you leave here to join the influencers, thinkers and innovators around the Kingdom and the world, I encourage you to remember the leadership lessons you have learned at KAUST," he said. "Use your ideas, talents and compassion for others to build bridges between people and cultures—always look for opportunities to apply what you have learned to the benefit of society and the world…and most importantly, stay humble."



Related stories