King Abdullah University of Science and Technology (KAUST) was the launching pad for the Kingdom's inaugural Space 2101, Feb. 5-9, 2023, bringing together some 200 Saudi youth, ages 12-15, for a science, technology, engineering, arts and mathematics (STEAM) camp featuring world-renowned educators and five astronauts.
Along with Space 2101 founding partner, the Saudi Space Commission (SSC), KAUST presented this globally-recognized educational program, challenging and inspiring students towards STEAM-related career paths, while also showcasing the University's distinguished laboratories, faculty and ground-breaking research. The program culminated with a competition in which teams used STEAM tools to design habitats that could function in space or on Mars.
His Royal Highness, Prince Sultan ibn Salman Abd al-Aziz Al Saud, who was the first Saudi, Arab and Muslim in space, joined fellow astronauts Susan Kilrain, Charles "Sam" Gemar, Daniel M. Tani and Sian Proctor in motivating program participants. The prince said many, if not all, of Space 2101 attendees would one day become accomplished scientists. He said Arabs and Muslims are "very well deserved" to be involved in the space program.
(From right to left) The first Saudi in space, His Royal Highness Prince Sultan ibn Salman Abd al-Aziz Al Saud accompanied KAUST President Tony Chan, fellow astronauts Daniel M. Tani and Charles "Sam" Gemar, and KAUST Vice President for Strategic National Advancement Dr. Najah Ashry on the final day of Space 2101 at KAUST on Feb. 9, 2023. Photo: KAUST

"Every respectable scientist in the world will tell you: This part of the world has done so much for knowledge and science, and this university is a good example," he said, adding KAUST and the Saudi government are focused on the Kingdom reclaiming its position as a scientific leader, in line with Vision 2030. "If you are in the country where Islam was born, you're destined to be involved in these issues of astronomy, space and even the future of this universe."
Frank Salzgeber, acting vice-governor for Space, Communications, Space and Technology Commission (the SSC regulator), said Space 2101 helps inspire Saudis youth towards STEAM-focused careers — something that is vital for ensuring that the Kingdom has the next generation of engineers and scientists to take the country into a prosperous future. "When we want to raise the innovators and researchers of the future, curiosity is a very strong element into that."
KAUST Vice President for Strategic National Advancement Dr. Najah Ashry said that Space 2101 represented a chance to showcase opportunities available at KAUST, and to highlight the Kingdom's talented STEAM-focused youth. "What we have is really a very ambitious nation with ambitious people who really want to reach to the stars and beyond."
Working together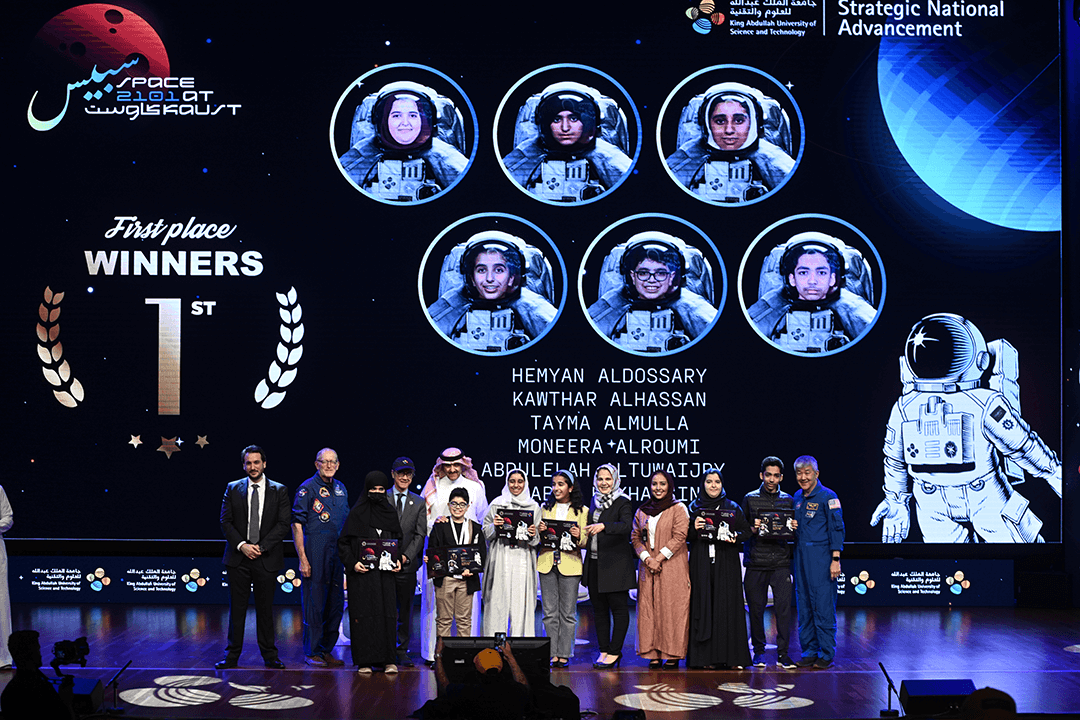 KAUST Space 2101 culminated with a competition whereby teams used STEAM tools and concepts from the five-day space and science camp, Feb. 5-9, 2023, to design habitats for use in space or on Mars. The 'First Place' winners will travel to the U.S. Kennedy Space Center to see a live rocket launch. Photo: KAUST

For the Space 2101 competition 'First Place' winners, Grade 9 student and team leader Moneera Alroumi, 14, from Dhahran Ahliyya Schools, said that collaborating new design ideas as a team was central to their success. "We all had different opinions, but we were able to merge them in a way so that we had a great outcome."
Fellow 'First Place' winners included Kawthar Alhassan, Al-Anjal National Schools, Abdulelah Twaijry, Riyadh Schools, Hemyan Aldossary, At-Faisaliah Islamic Schools, Tayma Almulla, Riyadh Al-Islam Quranic Intermediate Private School, and Habib Bokhamsin, a Grade 7 student from Dammam's Admire International Academy.
"I've learned one important thing: Teamwork makes dreamwork," Bokhamsin, 12, said shortly after his team's win. The prize: A trip to the U.S. Kennedy Space Center to see a live rocket launch. "We worked as one, we built as one, we did as one, and we won as one."
Dr. Matthew McCabe, professor of remote sensing and water security and the director of the KAUST Climate and Livability Initiative, told program participants that KAUST's planned CubeSat launch in April 2023 will not merely be a triumph for science, but for logistics management as well. The university has worked with many global partners to see this project take off.
"The CubeSat that we're launching has a camera from South Africa. It has an onboard computer from Sweden. It's being launched by a company that's located in Luxenberg. The equipment is being sent to Glasgow for integration onto a CubeSat platform. And then it'll be shipped to Florida to be launched on a SpaceX [rocket]."
Likewise, with robots, teamwork is key for them to perform missions on Mars, noted Dr. Eric Feron, director of the Robotics, Intelligent Systems and Control Laboratory. "It doesn't take a single machine to do the missions that you'll need to do. Some will be higher up, some will be a little bit above the surface of Mars, and some will be on the ground. All of them are useful," he said. "You need a team of robots, and they need to collaborate."
Engaging with Astronauts
Important as teamwork might be, the value of STEAM took center stage throughout the space camp. Gemar, who is an engineer as well as a former astronaut, said mathematics is simply the "price of admission" for going into space. "You can't get a master's degree in astronaut. You can't get a PhD in astronaut. But you can get PhDs and master's degrees and basic bachelor's degrees in science and engineering."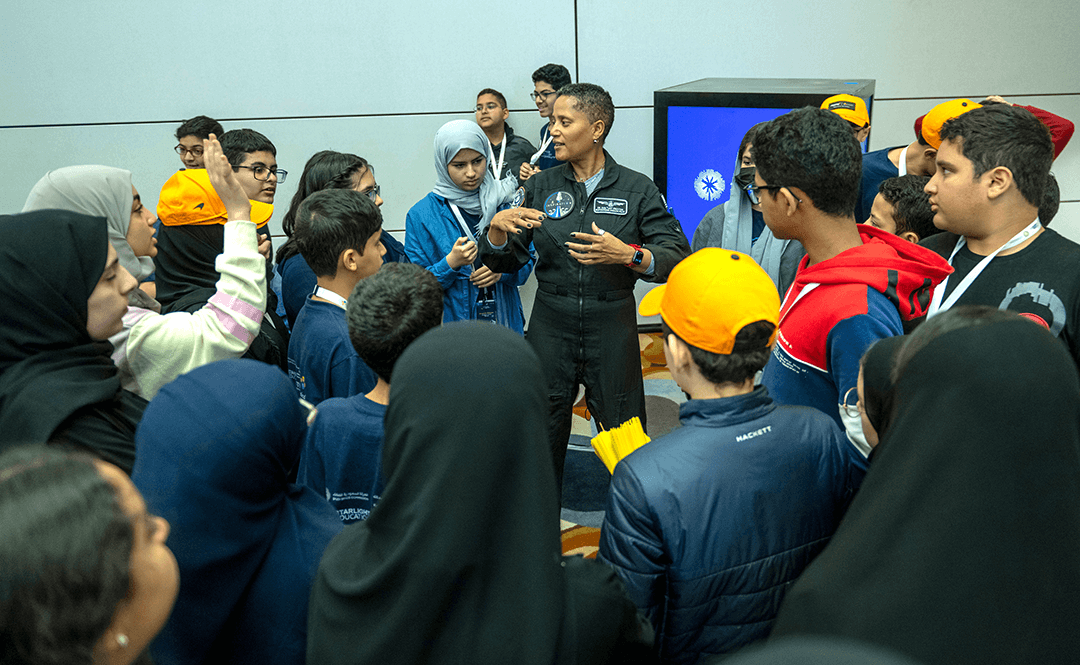 Sian Proctor, a commercial astronaut who piloted SpaceX's Crew Dragon space capsule during the 2021 Inspiration4 mission, lead her 'team' during a STEAM-focused exercise as part of the holistic education at KAUST Space 2101, Feb. 5-9, 2023. Photo: KAUST

Crucial to innovation and advancement is imagination, said Proctor, a geology professor and commercial astronaut who piloted SpaceX's Crew Dragon space capsule during the 2021 Inspiration4 mission. Space 2101 engages students at a young age, she added, sparking their curiosity and encouraging them to envision new possibilities. "The ultimate goal is that these kids become the future leaders of the [SSC] and the future of where this nation will be in 2101."
Astronauts are an integral part of Space 2101, said Kilrain, an aerospace engineer and former NASA space shuttle pilot. Not only are they a draw for youth to the program, she added, but astronauts can inspire STEAM-focused individuals. "We're all about having a dream, enjoying the journey to that dream, and we can speak to that personally."
While Saudi Arabia might not be seen as a "space country" traditionally, Tani said the interest and talent is clearly within the Kingdom. The engineer and retired astronaut sees Space 2101 as a program that engages students "obviously hungry" to learn about space, as well as science, technology, engineering and mathematics more broadly. "It does us well to make learning [STEAM] as interesting and accessible as possible."
Discovering KAUST


While her team might not have won first place in the competition, Khadijah Almayman, 15, nonetheless learned many valuable STEAM tools during Space 2101, such as coding and 3-D design. The Grade 9 Riyadh Schools student said her team's project also incorporated insights from KAUST presentations and tours. "Through visiting the many labs throughout KAUST, I was able to enhance my performance with more details. Those were very useful."
Throughout the five-day program, youth received informative, guided tours of such KAUST facilities as the
Clean Combustion Research Center
, KAUST Greenhouse and
Solar Center
, the
Visualization Core Lab
and the astrobiology laboratory, as well as
KAUST Smart Home
and the
Museum of Science and Technology in Islam
. Further, the students heard diverse lectures from faculty — with each professor's expertise helping in the habitat competition designs.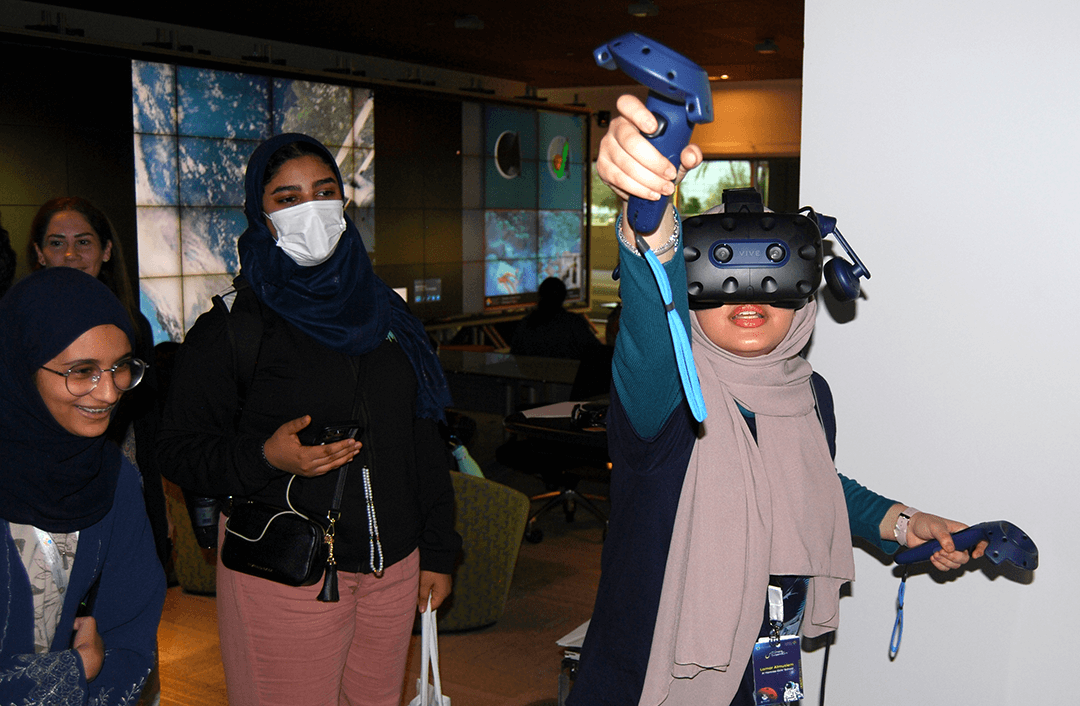 Discovering KAUST was a central component of the Kingdom's inaugural Space 2101, with program participants exploring the University's various research centers, including the Visualization Core Lab. Photo: KAUST

For example, Dr. Alexandre Rosado, a bioscience professor and environmental microbiologist, highlighted projects to produce mycelium compatible as 3-D printer material to produce habitats. "Microbes, I'm 100 percent sure, can be the link between space exploration and space colonization. We will need the microbes to grow plants, to produce food and to process garbage — all those are processes we'll need to have in a sustainable way."
Dr. Xiaohang Li, associate professor of electrical and computer engineering, said his lab is developing electronics that can operate at the extreme temperatures found in outer space and on other planets. His team has developed a complementary metal-oxide-semiconductor that can operate at up to 300 C, as well as a process pressure sensor that can operate at up to 900 C.
"If we leave the earth, then most of the electronics on the earth today will not work, including your smartphone, tablets and computers," Li told Space 2101 participants. "The question is, how can we design electronics that can withstand these kinds of extreme temperatures?"

For Tala Alomran, a 13-year-old Grade 8 student from Alafaq School in Riyadh, Space 2101 was the climax to a competitive application process and months of anticipation. After finally arriving, she said, the space program, and KAUST, seemed to present "endless possibilities" for her future and for all Space 2101 participants:
"I have always had a passion for space," Alomran said. "It is really interesting to discover the unknown and everything that you haven't seen before. [Space 2101] is a new experience for KAUST and for us, because we've never encountered this kind of experience here in Saudi."
Related links