KAUST Ph.D. student Sara Abbas won a poster award at the Royal Society of Chemistry's 13th International Conference on Materials Chemistry in July. Photo by Meres J. Weche.
​
KAUST Ph.D. student Sara Abbas won a poster award at the
Royal Society of Chemistry's
(RSC)
13th International Conference on Materials Chemistry (MC13)
in Liverpool, U.K. This year's conference, which was held from July 10 to 13, focused on the themes of energy and environment, magnetic, electronic and optical materials, materials design, nanomaterials and soft materials and biomaterials.
The conference has provided a showcase for materials chemistry for two decades and is the flagship event of the RSC's Materials Chemistry Division.
Proud to represent
Abbas, a Ph.D. candidate in material science and a member of the
Organic Electronics & Photovoltaics Group
, won a Materials Horizons and Nanoscale Horizons prize for her poster entitled "Solution-Processed Smart Window Platform Based on Plasmonic Electrochromic and Photonic Coatings." The Organic Electronics & Photovoltaics group, headed by
Professor Aram Amassian
, seeks to enable low-cost, large-area, plastic-based electronic and photovoltaic technologies by contributing fundamental and applied knowledge to ink-based manufacturing of organic, inorganic and hybrid semiconductors.
"Being the poster winner out of 400 worldwide candidates makes me so happy and proud, especially as there were no other posters representing the same area of research," Abbas said.
Upon finishing her master's degree in chemical science at
Laurentian University
in Canada, Abbas has been working as a research chemist at the
Saudi Basic Industries Corporation
(SABIC).
"Representing SABIC and KAUST at a global level was a big achievement for me, moreover; this was a great platform to advertise my research. I was very excited to be a part of it," she said.
Current Research
The smart window is an emerging technology that is able to change its appearance in the visible spectrum as well as its transmittance in the near infrared (NIR) spectrum in response to electrical voltage application, making it suitable for light and heat management applications in sunny and warm climate regions. This effect is known as electrochromism (EC).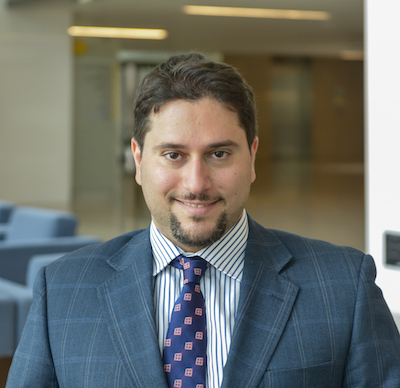 "EC smart windows have been successfully applied in building, automotive and aerospace applications. However, conventional EC materials do not allow independent control over the NIR and visible spectra. In addition, the cost of EC windows is currently prohibitive, limiting their use to high end applications. These two challenges prohibit the large-scale deployment of smart windows including in critical areas such as desert agriculture, where the ability to transmit visible sunlight while blocking all or part of the NIR responsible for solar heating would be ideal," KAUST Associate Professor
Aram Amassian
said.
A new generation of metal oxide EC materials working on the principle of plasmonics and known as plasmonic electrochromics (PEC) has been shown to achieve fast switching in the NIR spectrum while remaining transparent in the visible spectrum.
"At KAUST, Sara worked with my team to develop a fully solution-processed and low temperature PEC platform based on plasmonic metal oxide nanocrystals. The devices successfully block the NIR solar heat with the simple application of a voltage while remaining transparent in the visible. Sara is now working on integrating PEC devices with solution-processed photonic crystals that can provide permanent coloration and is also working on a self-powered smart window platform
in combination with printed solar cells," Amassian added.