​If a picture is worth a thousand words, as the saying goes, then the photographs of KAUST alumnus Morgan Bennett-Smith (M.S., '20) communicate volumes about the Red Sea. The marine scientist has been bringing the stories of the sea to life through photography since he started his journey at King Abdullah University of Science and Technology — first, as a participant in the KAUST Red Sea Research Center's (RSRC) summer program in 2016, and then as a graduate student of marine science in the Reef Ecology Lab of RSRC in 2018, where he studied with Professor of Marine Science Michael Berumen, director of the Red Sed Research Center. As Bennett-Smith's knowledge about coral reefs grew, so, too, did his passion for documenting the complex and colorful habitats and marine life unique to the Red Sea.
One underwater photograph that Bennett-Smith took captured the attention of judges for the journal Nature's "Scientist at Work" photo competition. His winning image of KAUST Professor of Marine Science Raquel Peixoto — shot with a Canon R5 and RF 15-35mm lens inside of a Nauticam underwater housing — is among those selected for the series, showcased in the December 7, 2022 issue. The photograph was shot in October 2021 after his graduation from KAUST, when he worked with Peixoto's group in the Marine Microbiomes Lab as an underwater media and communications specialist.
Peixoto examines the symbiotic relationships between marine hosts and their associated microbes. She applies a probiotic formula ofbeneficial microbes derived from and administered back to the corals to boost their health and resilienceand help them adapt in a climate of increasing environmental stressors such as rising sea temperatures. The photo shows the scientist inoculating corals at an underwater reef near KAUST that is part of a Coral Probiotics Village —complete with street signs and other landmarks — wherethe probiotics are applied and the corals are monitored and evaluated in different seasons and conditions. If successful, the goal is to eventually scale the technology to other locations.
Peixoto commented on Bennett-Smith's contributions to her group. "Morgan is unique in terms of the sensibility and talent he has, as both a marine biologist and photographer-videographer," she said. "He captures the essence of the work we do, and this has been key for us to communicate the urgency of the coral crisis. People get attracted to our research through Morgan's photos, and as a result, they get engaged with the science."
Connecting with the sea
In the following Q&A with KAUST, the photographer waxes about his love of the sea, and how his work with Peixoto and other University scientists have helped shape his knowledge and career.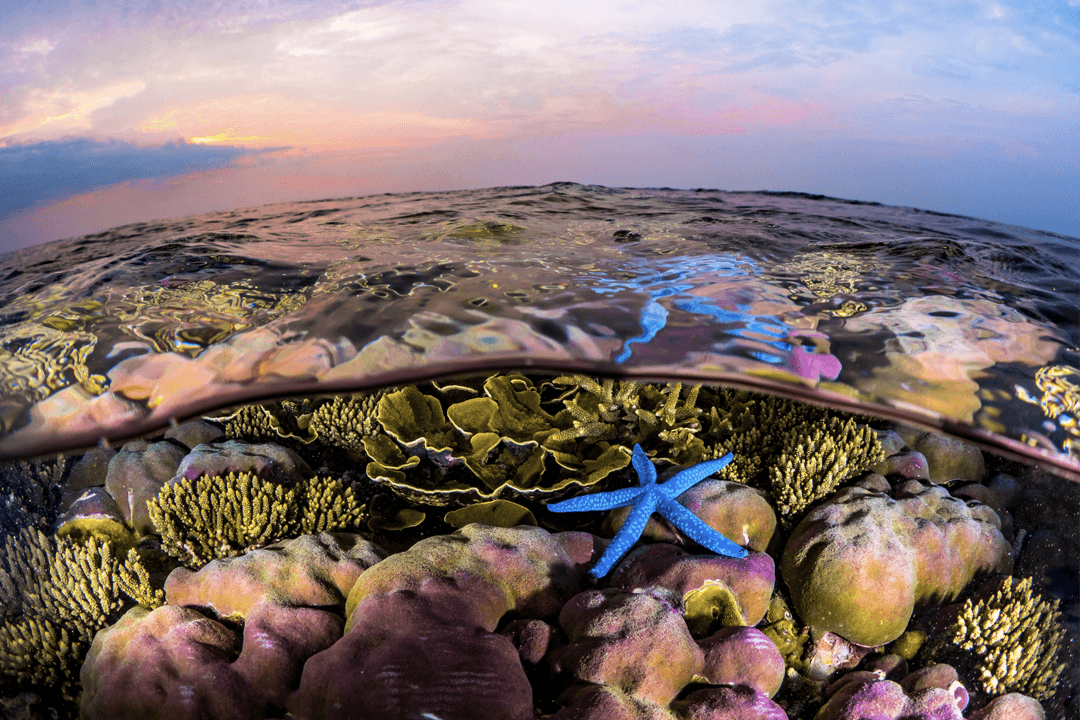 The Red Sea hosts an incredible biodiversity of marine life, which KAUST alumnus Morgan Bennett-Smith captures with his camera. Photo: Morgan Bennett-Smith

What do you most love about research in the Red Sea, and how is this body of water unique from other places you have studied?
The most exciting part about working in the Red Sea is that, with each dive, it's possible to see things — species, behaviors, patterns — that no one has ever seen before. These are features that are becoming almost impossible to find in other places; there aren't many coral reef ecosystems that haven't been recreationally or scientifically observed before. In the eastern Red Sea, these places still exist, a fact we're reminded of at KAUST all the time when RSRC students and faculty document ocean species observed for the first time. It also helps that the Red Sea is an incredibly beautiful and unique place; many species live here, and only here.
What are some behind-the-scenes details involved with this winning photo and the underwater shoot.
This day was one of many "inoculation days" that we had in the field this past summer. Our day started early, around 6 a.m., when we prepared the sampling equipment to take to the field site. Though the Coral Probiotics Village is only a 20-minute boat ride from KAUST, it's still a process to collect the equipment, i.e., probiotics from the lab, syringes, bags, gloves, liquid nitrogen, etc., and take it to the dock. Once at the reef and underwater, one critical principal guiding the shoot was to be as close as possible to the subject. The more water there is between me and the subject, the less light I'll have to work with, and the less clear the image will be. It's kind of like taking pictures in fog. Then it was a matter of finding the right coral colony and setting up the shot before Raquel started inoculating. By now, I've spent enough time with Raquel and her team to know what works well for these types of images, and I have a few favorite spots around the village that I'll head for to create them.
How are new generation cameras aiding scientists with underwater research?
Camera technology today is incredible. The pace at which consumer cameras are being upgraded is overwhelming; new cameras that push the boundaries of the previous years' models are released every few months. The ways in which we can use this technology to study the ocean are only limited by our creativity. My favorite recent example of innovative camera tech comes from National Geographic Explorer David Gruber, who modified off-the-shelf camera technology to record the bright green biofluorescence that catsharks produce. He basically installed a filter on the camera and used UV lights to show how catsharks see, dubbing it the "shark-eye camera." The resulting images are amazing.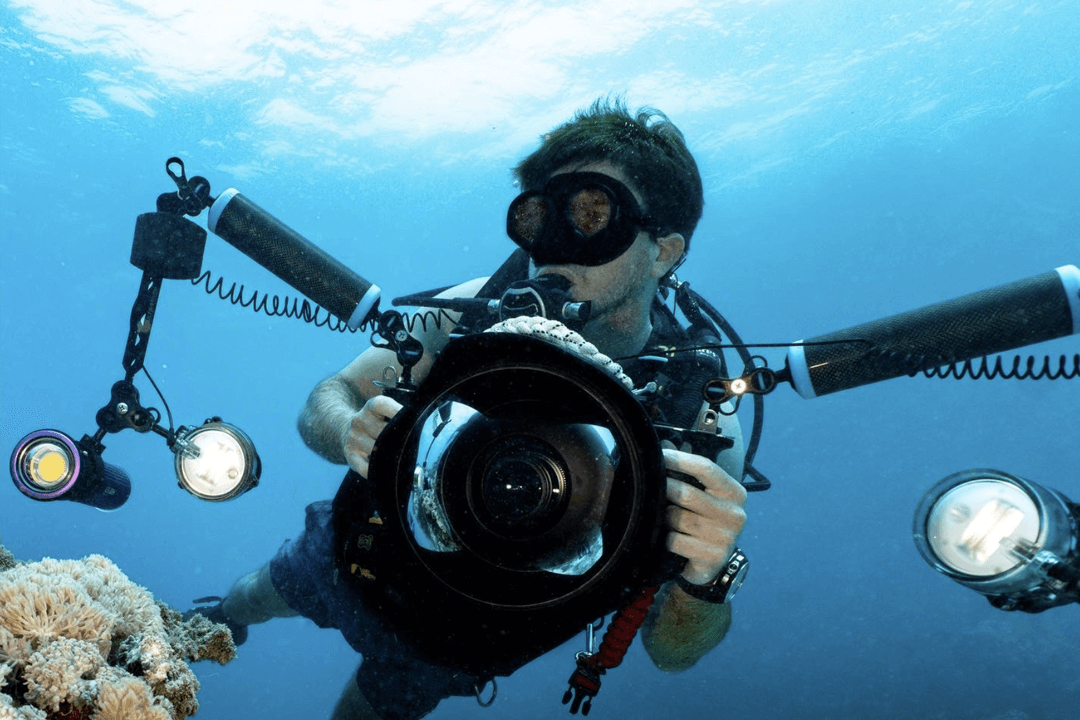 KAUST alumnus Morgan Bennett-Smith as seen in his element, the Red Sea, as both a marine scientist and photographer. Photo courtesy Morgan Bennett-Smith

More commonly, underwater cameras are being used to model reefs in 3D. Researchers in KAUST Professor Francesca Benzoni's lab, for example, are doing some really cool work on this. Basically, you take thousands of photos underwater on a series of overlapping transects, and then use software to stitch them together into a 3D model. As cameras and software improve, so do these models, creating interactive images that are both beautiful and incredibly useful for monitoring and other forms of research.
When did your love for photography begin, and how does the camera connect you to the world around you?
I got into terrestrial photography with the aim of one day doing it underwater. My participation in a summer program at KAUST in 2016 planted that seed. One of the students in Mike Berumen's course had a pretty cool underwater camera rig. I thought, "I'm going to do that, too." And now, full circle, it's through my work at KAUST in the Red Sea that I have evolved my passion for underwater imaging and marine science into a career. I can't remember the last time I've been on a reef underwater without one in my hands. After hundreds of dives in the ocean with all kinds of different cameras, it feels wrong to not have one in my hands underwater. I see the reef through the viewfinder now, whether I want to or not. I want to immerse people in the same habitats we are lucky enough to spend time in, no matter where they are in the world, and the camera allows me to do that.
What are one or two highlight experiences from your studies at KAUST that were pivotal to your growth and development as a marine scientist?
Many of the unique opportunities I've had in the Red Sea recently have involved Raquel and her work in the Coral Probiotics Village. It's fulfilling to be a part of a team that aims to help preserve coral reefs. Raquel is a passionate science communicator, a terrific group leader, and an overall inspiration in the world of coral reef science and conservation!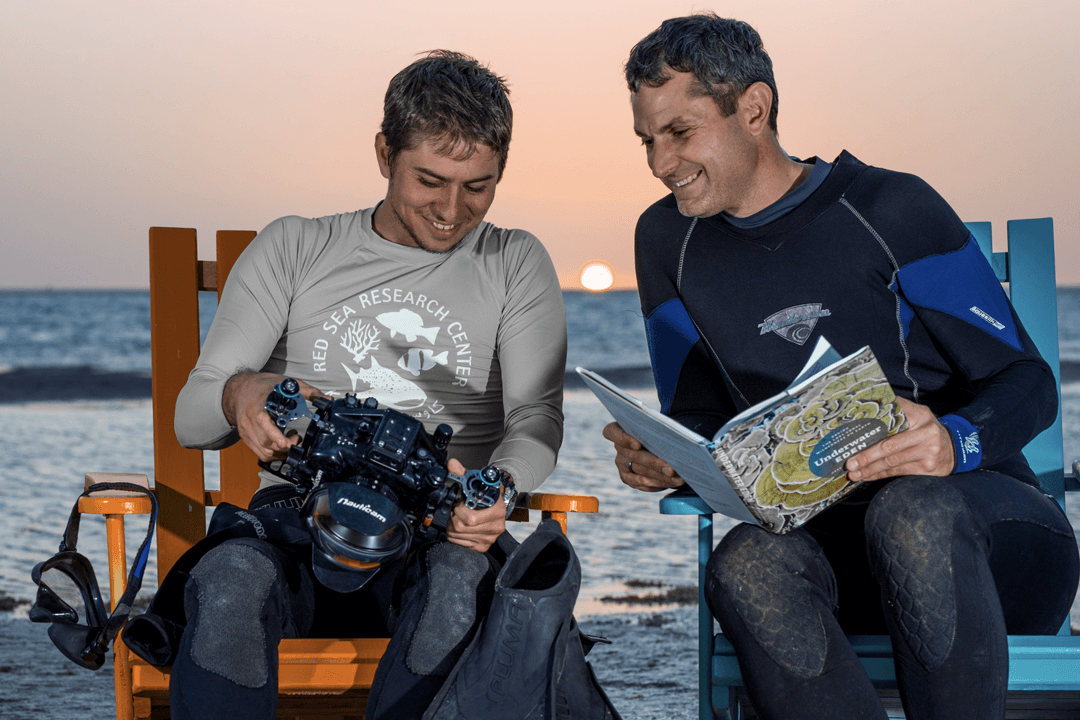 KAUST alumnus Morgan Bennett-Smith (left) reviews recently captured photos of the sea with his mentor, KAUST Professor of Marine Science Michael Berumen (right). Photo courtesy Morgan Bennett-Smith

Professor Michael Berumen has been instrumental to my growth and development. The first week or so of being at KAUST in Mike's lab, we had a research cruise on local KAUST reefs. I brought my camera, and Mike gave me full license to photograph whatever I wanted. That was the first of many exampleswherehelet me explore my own photographic pursuits underwater, knowing that I would be able to handle my academic work as well. Not only did he allow it, but he supported me with camera equipment consumables and strongly encouraged me to pursue these interests. The crown jewel moment came toward the end of my thesis, when Mike and I wrote, Into the Red Sea: Images from a Living Laboratory. That book combined my two symbiotic pursuits: photography and marine science. In the end, that book took me a lot longer to create than my MSc thesis, and it's certainly been seen by more people.
Professor Berumen said, "As a student, Morgan was a pleasure to work with. His understanding of nature and wildlife helps him to capture more than just beautiful images; the images reflect scientific insight. Award-winning photographers commonly have high technical ability and creative vision, but not all have the scientific background that lead to final products useful in a research context."
Berumen added that Bennett-Smith's images are used frequently by KAUST researchers to illustrate talks, presentations, social media posts, scientific publications and many other communications content, and that his eye for detail has contributed directly to scientific findings and publications, including resolving a decades-long confusion over the distribution of some anemone species, distinguishable only by the smallest visible differences.
You are now a doctoral student in the Marine Evolutionary Ecology Lab at Boston University, studying clownfish and sea anemones. What is it about these two organisms that draws you to study them, and what do they indicate about coral health?
My doctoral work on the ecology of sea anemones and clownfish continues research begun at KAUST in the Red Sea. Clownfish and sea anemones are my favorite organisms in the ocean. The way they rely on each other is intricate and beautiful. For example, clownfish use anemones for protection and shelter via their tentacles; anemones get food scraps from clownfish meals and protection from anemone predators. The societies that clownfish form are fascinating and complex, as well. Although they're not coral, sea anemones are closely related to coral and, like coral, can expel their algal symbionts and bleach. In the case of a clownfish-host anemone bleaching, there can be immediate and drastic consequences for the resident fish. I think this is a powerful case study in communicating the negative impacts of climate change and ocean warming. Plus, people connect to the charismatic clownfish living in their home anemones.
The Red Sea: home away from home
In addition to his studies at Boston University, Bennett-Smith is involved in his underwater media business, which he started after graduating from KAUST. New collaborations with Professor Peixoto continue to engage him in Saudi Arabia, and he currently serves as an underwater cinematographer for a film series being produced by OR Media. He said he looks forward to these and other opportunities to return to the Kingdom and continue his work in the Red Sea — "my home away from home."
As for the Coral Probiotics Village, Peixoto said the results so far are promising. The work has evolved to include several new developments, such as the use of robotics and technologies to deploy the probiotics. She is most excited to understand how other organisms are responding to the inoculations.
"We are using the one-health concept," Peixoto said. "Humans, plants and animals on the planet are all connected, so if you have a healthy environment, then you have healthy organisms and humans. We want to know how healthy corals might contribute to the health of other organisms like sponges, algae and fish; so we are testing these concepts on the reef."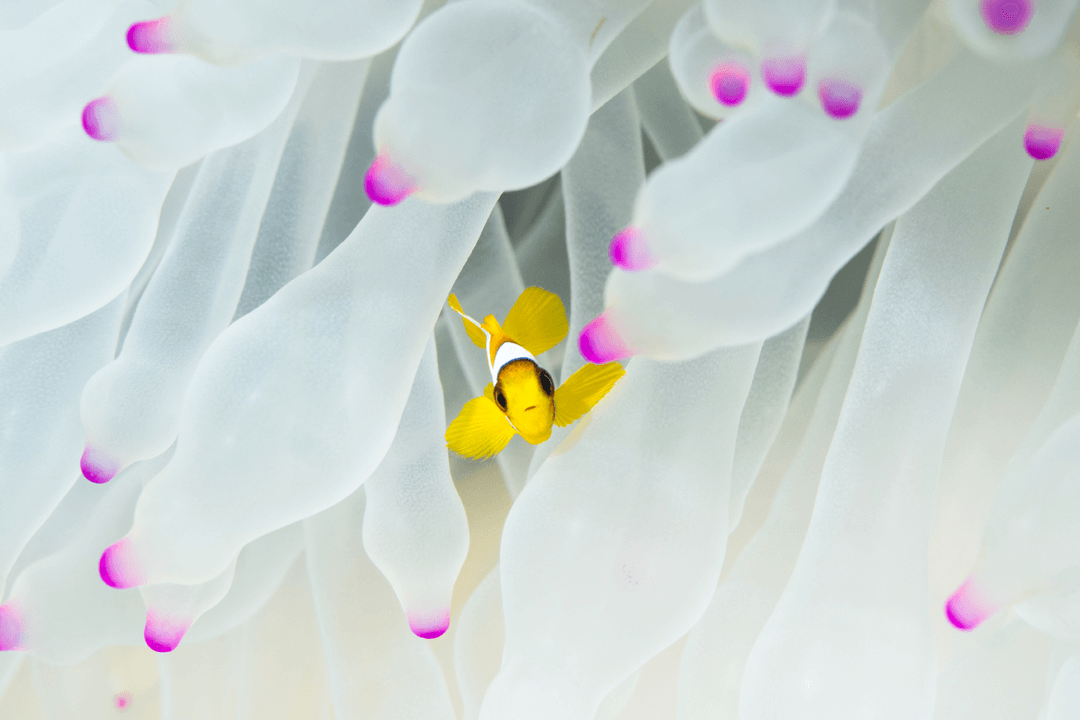 A clownfish in the Red Sea peers out from within its home habitat in an anemone. Photo: Morgan Bennett-Smith

This is Bennett-Smith's third recognition from Nature for photos captured in the Red Sea. A photo of a KAUST clownfish that he took in 2019 was also one of Nature's best Science Photos of the Year and Science Photos of the Month. That same photo also won the Royale Society Publishing Photography Competition. And one of his photos from a 2020 KAUST research trip with Professor Berumen to Papua New Guinea was selected for the Mangrove Action Project competition, featured on the BBC News site.
Related links