was held on the KAUST campus Wednesday, February 8 through Friday, February 10. The event was headlined by three high-profile keynote speakers: Dr. Khaled Biyari, group CEO at the Saudi Telecom Company (STC); Dr. Thomas Sterling, director and professor of informatics and computing at Indiana University; and Charles Araujo, principal analyst at Intellyx and founder of the Institute for Digital Transformation.
The summit brought together CIOs, CTOs and IT thought leaders to evaluate the University's current state of IT and benchmarked it against peers and global industry standards. The summit was also held to contribute to a strategic roadmap focused on providing academics, researchers and University administration with advanced, progressive IT resources.
"We try to motivate creative research from very smart and intellectual people who come here to focus on their research and teaching. We want to continue this as we move towards a knowledge-based economy," said KAUST CIO John Larson, during the Global IT Summit opening ceremonies.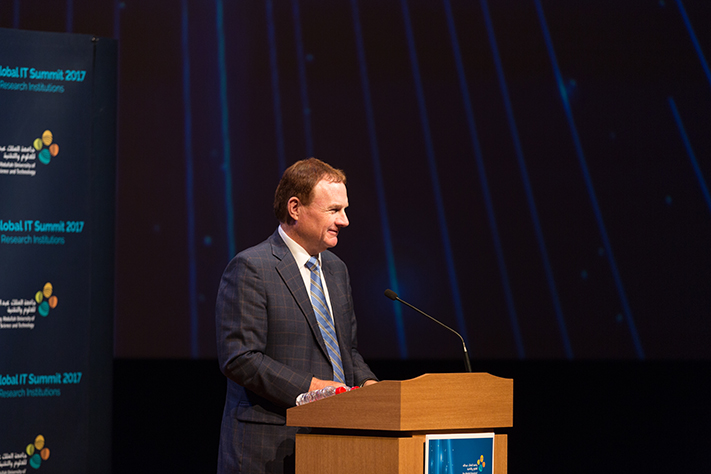 KAUST Chief Information Officer John Larson speaks during the KAUST IT Summit. By Lilit Hovhannisyan​
A who's who of IT celebrity
The event featured speakers, panelists and attendees from Cisco Systems, Dell EMC, Cray, GE Digital, Google, IBM, Georgia Tech, Intel, King Abdulaziz University (KAU), King Fahd University of Petroleum and Minerals (KFUPM), King Saud University (KSU), Microsoft, NVIDIA, the Saudi Basic Industries Corporation (SABIC), Saudi Aramco, Siemens, UC San Diego and Yale University, among others.
"KAUST helps to shape the digital agenda of the Kingdom. Academia is being heavily impacted by the digitalization phenomenon that is taking place. The heart of digitalization is innovation, and innovation comes from the labs and research of places like KAUST," said Biyari during his keynote address.
​
A dedication to IT excellence
In 2007, the University invited global IT thought leaders and researchers to help define the tools needed to turn a fledgling institution into a tier 1 research university. The Global IT Summit was intended to be a thorough review and planning opportunity for the next five-year IT Strategic Plan.
"Connect things that are not connected today and make them smart for humans—make them function in a smart way. This is where the IT world is going in the next five to 10 years," said Lakshmi Talluru, director of IOT Solutions at Intel.
Along with panels, workshops and keynotes, the IT Summit also included an Innovation Fair, where IT and tech-related startups got the chance to show off their products and services. Notable startup teams included FalconViz, the Saudi Aramco inspection robots team, Sadeem, NOMADD and Visual Experience.
"We need to bring in new technologies to test and use as our scientists continue to push the boundaries of what we already have," said Larson.
Visit the KAUST official YouTube Channel to watch interviews from the KAUST Global IT Summit.
By Nicholas Demille