KAUST Associate Professor Andrea Fratalocchi recently received a Fellowship of the Institute of Physics. File photo.
​By David Murphy, KAUST News
Andrea Fratalocchi, associate professor in the University's Computer, Electrical and Mathematical Science and Engineering (CEMSE) division, was recently granted a Fellowship of the Institute of Physics (FInstP) by the Institute of Physics (IOP). Fratalocchi was awarded the IOP's highest level of membership in recognition of his outstanding accomplishments in physics.
"I am really honored by this Fellowship. The IOP is a very prestigious institute, and their recognition of the importance of my results is a significant achievement for the research that I carry out," Fratalocchi said.

The key to great scientific advance
After joining KAUST in 2011 from his role as a postdoctoral fellow at the Sapienza University of Rome, Italy, Fratalocchi set about pioneering a new research field in applied complexity. This novel form of research tries to understand complex physical systems (regulated by a large number of interacting degrees of freedom) and transform them into different technologies.
"This [research] is a completely new path that was not investigated beforehand. [Over] the past few years, I have demonstrated experimentally this idea into a series of generationally new systems for different purposes, [including] clean energy harvesting, bio-imaging, smart materials, artificial intelligent design and so on," he explained.

"All the devices I have designed with this approach show world record values of efficiencies and are ready for large-scale integration and industrial applications. These results were made possible [through] using radically new concepts in the study and understanding of the physics of complex systems," Fratalocchi continued.
The aforementioned complex systems are considered extremely challenging—to the point that almost no current technology is exploiting them for potential real-world applications.
"I like to think the main point of this research is to demonstrate that—through understanding the physics of complex systems—lies the key to performing a great leap in advance[ment] for the development of future technologies in many different fields," Fratalocchi added.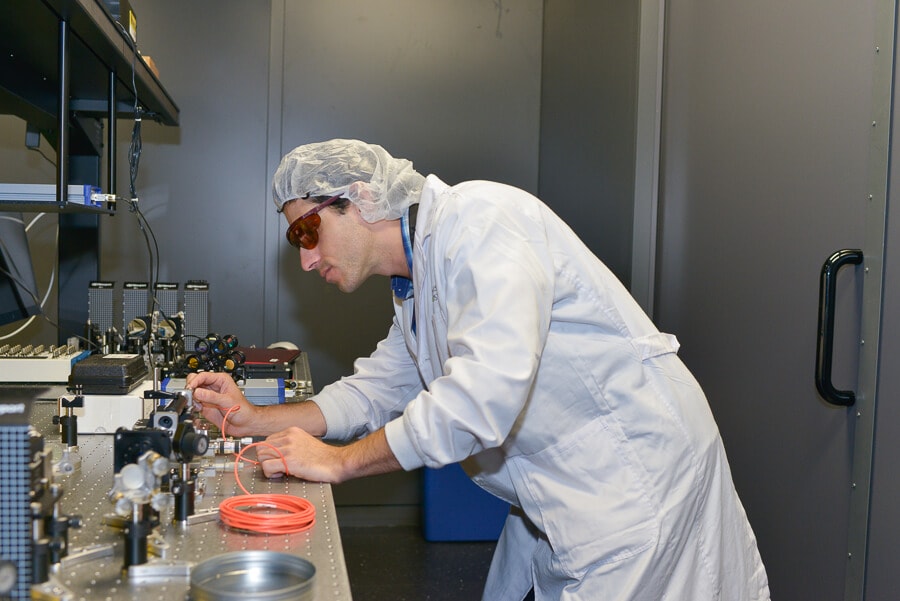 KAUST Associate Professor Andrea Fratalocchi is pictured here working on campus in his KAUST laboratory. He attributes his successful research to the state-of-the-art facilities at the University. File photo.

Creating inconceivable research
Thanks to his role as a highly regarded referee of prestigious scientific journals, Fratalocchi was appointed as editor of Nature Scientific Reports (the newest journal of Nature Publishing Group) in 2012. A year later, he led an international team of physicists from KAUST and several European universities and research centers in the development of a nano-optical chip that makes it possible to generate and control nanoscale rogue waves.
Outside of his role as the principal investigator of the KAUST Primalight Lab, Fratalocchi is busy developing a neurophotonic nano-chip that offers a pioneering way to generate optical neural networks by using visible light pulses.
"This is an extremely exciting project, and I look forward to seeing it demonstrated and characterized," he explained.
Fratalocchi noted he believes that the field of electrical engineering is evolving towards diversification. Due to innovative research and flexible expertise, more and more electrical engineers are finding themselves working in extended ranges of scientific application.
"In many universities, we [have] start[ed] to have electrical engineering departments with almost no boundaries between fundamental disciplines such as mathematics, physics, chemistry [and] biology and applied research fields such as electronics, photonics, material science and energy," he stated. "Electrical engineers are now permeating many branches of scientific research."
"My access to the state-of-the-art facilities at KAUST—and in particular the cleanroom of the Nanofabrication Core Lab—have allowed me to demonstrate my ideas with solid experiments. Without this level of access to such premier facilities, probably no one would have ever believed my research was even possible," Fratalocchi said.

Related stories: