Riyadh, October 25, 2023,
In the presence of Prince Abdulaziz bin Salman, Minister of Energy, Princess Reema Bandar Al Saud, Ambassador of the Custodian of the Two Holy Mosques to the United States, and member of the Board of Trustees of the FII Institute, announced today the launch of the WAVE initiative by FII Institute in partnership with the Ministry of Energy and its ecosystem. The WAVE Initiative aims to coordinate efforts to accelerate ocean regeneration and restore its environmental and ecological balance. The announcement took place during the 7th edition of the Future Investment Initiative conference, held in Riyadh during October 24-26, 2023.
The WAVE Initiative aims to support international efforts on ocean regeneration and preserving ocean sustainability, considering its vital importance in maintaining environmental and climate balance and its significant impact on the global economy.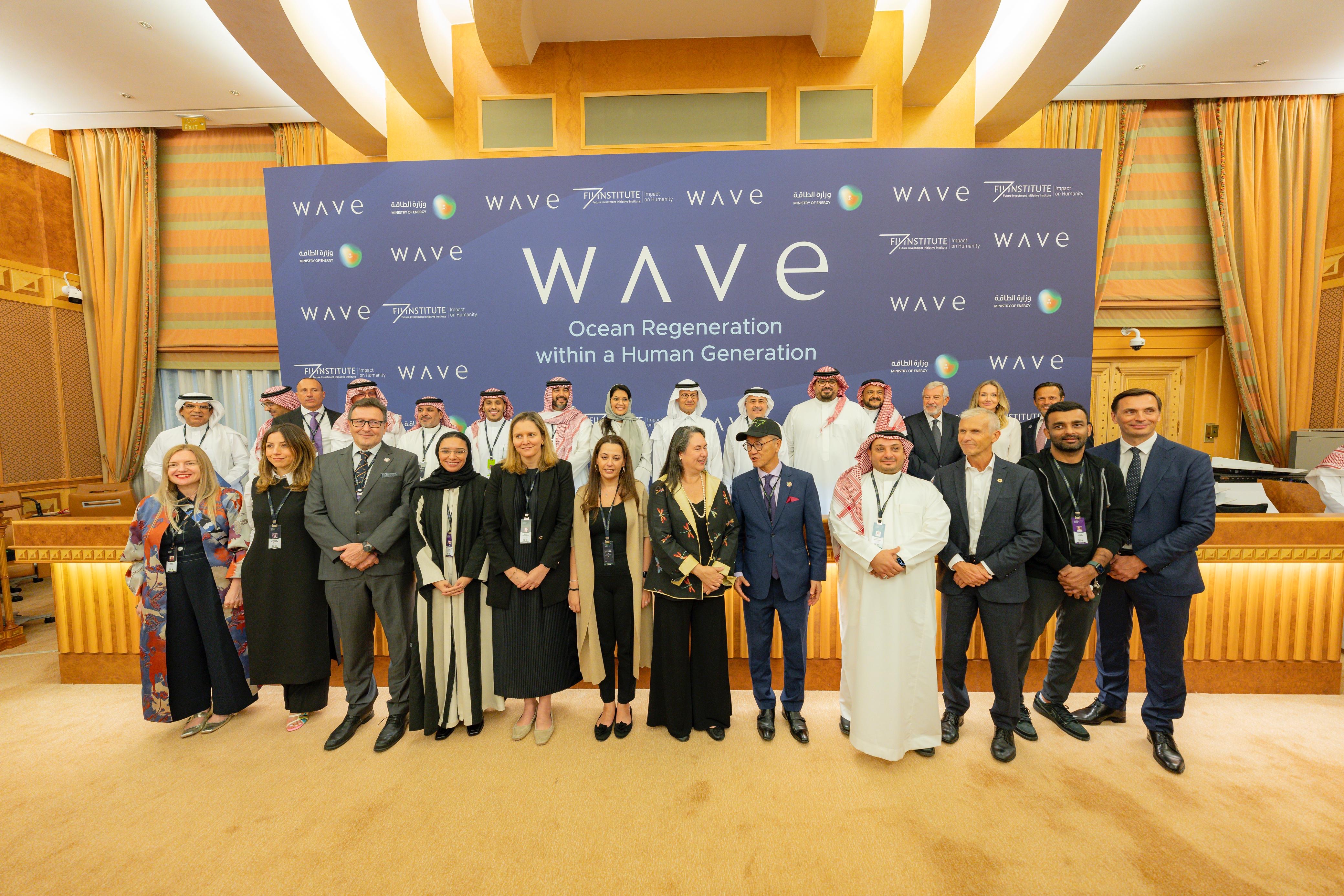 WAVE will serve as a platform, connecting diverse stakeholders across geographies, industries, and sectors, to amplify their collective efforts. It will launch a set of programs to raise awareness, establish a digital information hub, accelerate innovations, support scientific efforts, and build partnerships to find solutions for pollution and achieve environmental balance in oceans.
Prince Abdulaziz bin Salman, Minister of Energy, affirmed that the partnership of the energy ecosystem with the institute stems from its commitment to supporting all environmental solutions, reflecting the Kingdom's ongoing commitment to supporting efforts in addressing climate change challenges. HRH also pointed out that the energy sector prioritizes environmental commitments and implements the highest global standards in this field.
On this regard, Princess Reema bint Bandar stated, "Oceans and seas play a crucial role in the lives, health, and well-being of humanity, directly impacting the overall health, well-being, and economy of the world. This initiative seeks to build connections and harmony among various international efforts, aiming to achieve its ambitious and yet attainable goal of environmentally regenerating the oceans within one generation."
She also noted that this initiative is launched with the support from FII Institute and the energy ecosystem, and it is in line with the United Nations Sustainable Development Goals and the Kingdom's ambitious environmental efforts under Saudi Vision 2030 initiatives and related projects.
Princess Reema pointed out that WAVE aspires to become a global initiative gathering all stakeholders across the world since the challenges that the oceans face today are not confined to one geography but present a collective global challenges. She also expressed her gratitude for the partnerships between WAVE and various Saudi and international entities and welcomed other entities to "Join the WAVE" adding that "We are especially proud of the radical collaboration across industries as it highlights the intentional efforts to transform how organizations are prioritizing the health of our planet."
Princess Reema further added that the "number of signed partnerships in the first phase of WAVE reflects the interest in finding solutions for the challenges the oceans face today due to its direct economic impact," further stressing that "we need global awareness to balance between the development needs of various countries and ocean sustainability, as is clear in the example of recycling waste instead of ocean and river dumping that severely harms the environment and causes imbalance in oceans."
It is noteworthy that the WAVE initiative was announced during a partnership signing ceremony in the presence of HRH Prince Abdulaziz bin Salman, Minister of Energy, Richard Attias, FII Institute CEO, H.E Faisal Al Ibrahim, Minister of Economy and Planning, and H.E Dr. Munir Eldesouki, President of King Abdulaziz City for Science and Technology (KACST).
The 22 partnerships are with: the Ministry of Economy and Planning, Saudi Aramco, SABIC, MA'ADEN, NEOM, and Red Sea Global as Anchor partners. The King Abdulaziz City for Science and Technology, Environment Fund, King Abdullah University for Science and Technology, the Alliance to End Plastic Waste and OceanX as Strategic partners. In addition, the partnerships included the Saudi Electric Company, the Saudi Water Sports and Diving Federation, the Saudi Esports Federation, the Saudi Premier League, Mukatafa, CORDAP, Oceans 2050 and Noon as Initiative partners. Also, Tonomous by NEOM, the Arab National Bank, and WEConnect International as program partners.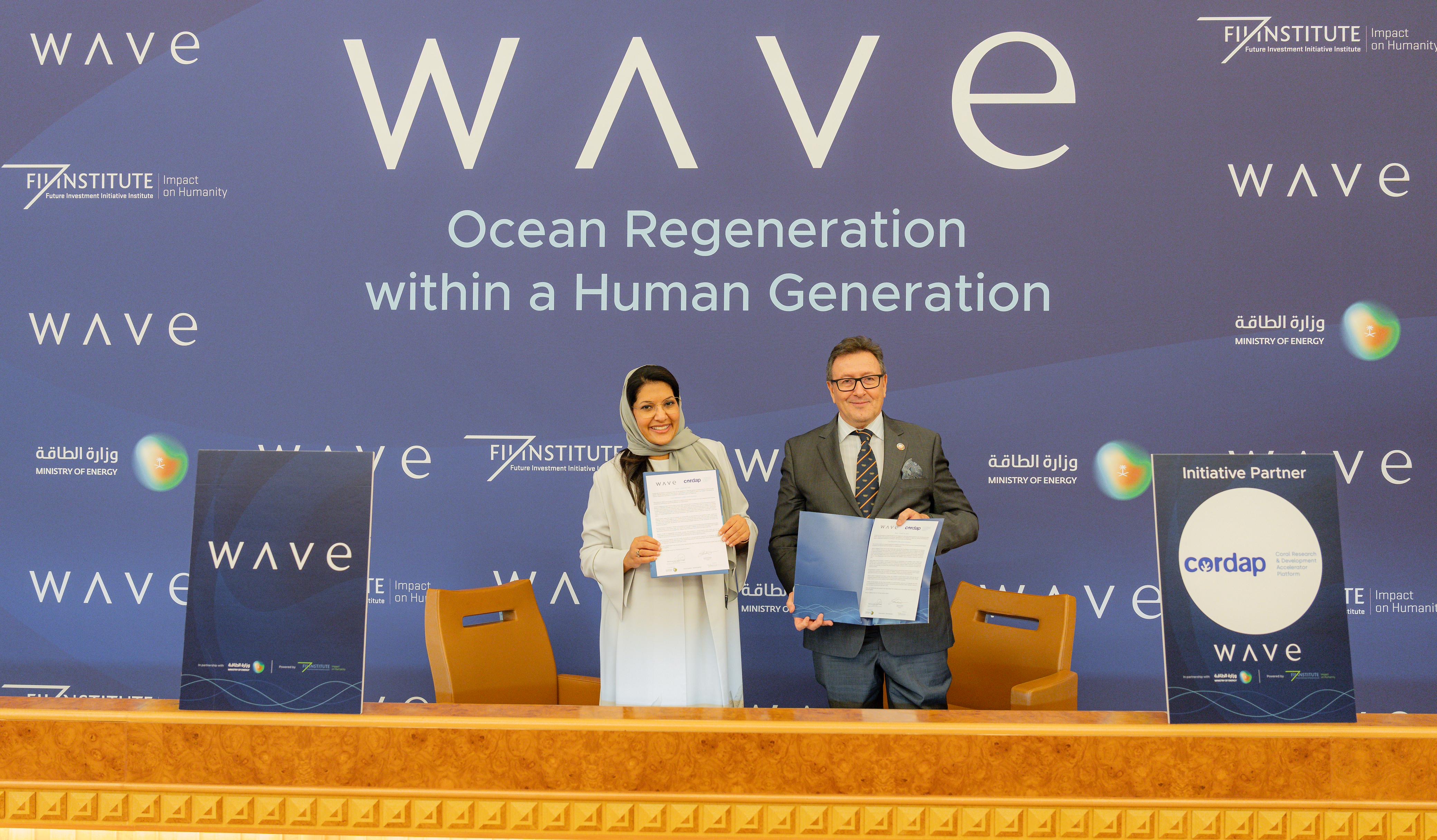 Richard Attias, CEO of FII Institute, said "Our oceans, the heartbeats of our planet, are gasping under unparalleled threats. As a scuba diver, I can tell that every moment we delay, a piece of our marine soul withers. Yet, in these dire times lies a chance – not just to shield the intricate dance of marine life, but to embrace the vast promise of a harmonious blue economy. It's more than an obligation; it's our legacy for the children of tomorrow."
The WAVE initiative will be guided by a council including HRH Prince Sultan bin Fahd bin Salman Al Saud, President of the Saudi Watersports and Diving Federation, Professor Carlos Duarte, an international expert in biological oceanography and marine ecology, and Alexandra Cousteau, an expert and global advocate for ocean restoration.
WAVE will strive to achieve its objectives through various programs under 5 pillars which are:
Insights, building a global digital information hub that will facilitate scientific research and bridge the data gap in this field.
Engagement, launching circular campaigns to raise awareness and mobilize efforts to tackle the challenges that impact the ocean and seas.
Innovation, driving technological efforts and startup support to find solutions addressing ocean-related challenges, which would drive clean technology innovation and adoption.
Thought Leadership, fostering global connections among thought leaders and strengthen partnership frameworks by organizing meetings and conferences.
Resources, facilitating access to resources and establish connections between relevant entities and individuals through a digital hub.