Dust and air pollution are factors that affect respiratory health in Saudi Arabia; shown here above Riyadh, Saudi Arabia. Photo courtesy Junfeng Zhang
​The KAUST Smart-Health Initiative has been honored to host Junfeng (Jim) Zhang, a professor of environmental and global health at Duke University in the Nicholas School of the Environment and Duke Global Health Institute. At KAUST on sabbatical, Zhang has been developing several air pollution studies in collaboration with KAUST faculty and staff.
As an environmental health scientist, Zhang uses epidemiology and toxicology approaches to assess the health impacts of environmental stressors and exposure. Heat is one such environmental stress that can exacerbate air pollution.
"With my expertise, I use toxicology, which is lab-based, and also epidemiology, which is field-based," Zhang said. "I integrate the two approaches to understand how people respond to environmental stressors or risk factors at the clinical outcome and molecular levels."
Health impacts of air pollution
According to a Global Burden of Disease report published in The Lancet, 2020, outdoor air pollution is known to be responsible for 4.5 million annual premature deaths globally, of which 274,000 occur in the Middle East and 18,600 in the Kingdom of Saudi Arabia (KSA). Outdoor air pollution is responsible for 2.34 years loss of life expectancy in Middle East, and 2.04 years in the Kingdom.
The latest Intergovernmental Panel on Climate Change (IPCC) report predicts that the warming effect is 30% greater in the Kingdom and region than the global average effect. Further, a warming climate promotes heat wave and other extreme weather events, which may propel dust storms and exacerbate air quality.
"Understanding the health impact helps with evidence-based policies and practices to mitigate health risk," Zhang said. "I am excited to be collaborating with esteemed KAUST faculty on some of the first-ever studies in the Kingdom."

Associate Director and Chief Operating Officer of the KAUST Smart-Health Initiative Dr. Imed Gallouzi, professor of bioscience, said that Zhang's work assessing the impact of air pollution on population health is highly relevant to the KAUST Smart-Health mission and vision, and will shed light on the way air pollution impacts the health of the Saudi population.
"Dr. Zhang's work will help identify the impact of air pollution on the prevalence of respiratory diseases in the country as well as determine the way by which these health hazards promote their progression and severity," Gallouzi said. "Filling this gap in knowledge will represent a fundamental step towards designing effective and personalized treatment strategies to combat these respiratory illnesses in KSA and the region."
Saudi indoor air quality
In collaboration with Dr. Georgiy Stenchikov, KAUST professor of earth science and engineering, Dr. Ana Costa, head of KAUST Sustainability, and Erik Tally, director of KAUST Health, Safety and Environment, Zhang plans to conduct a study to characterize indoor air quality that is affected by desert dust, anthropogenic air pollution, intensive sunlight and high outdoor temperature.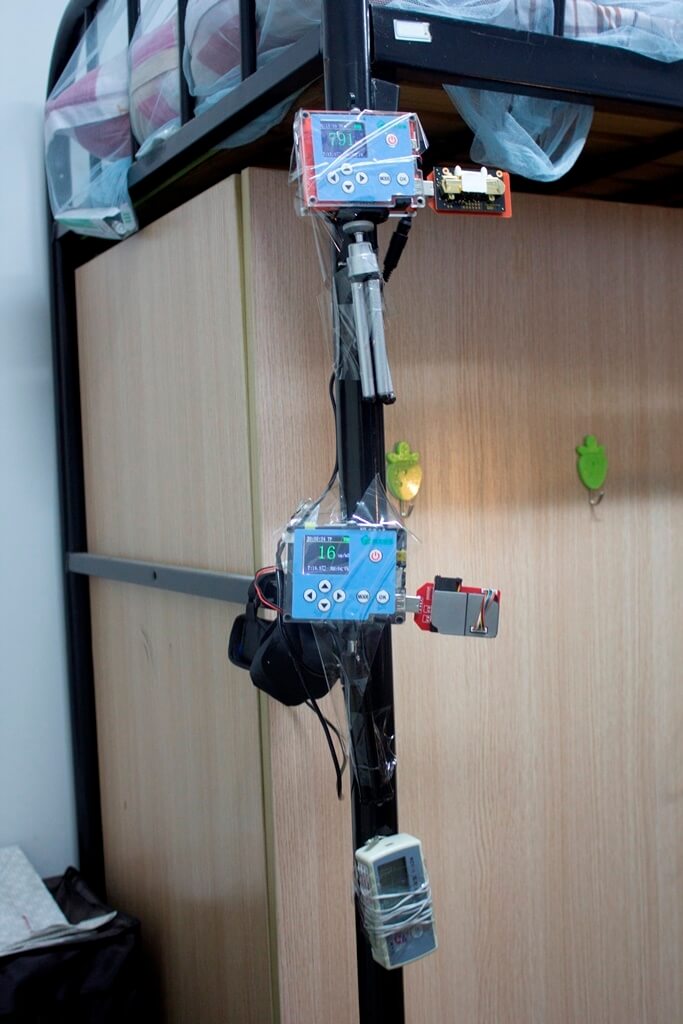 Photo courtesy Xiaoxing Cui, former PhD student of Dr. Junfeng Zhang

Low-cost air quality sensors are increasingly used by academic researchers and citizen science participants to monitor air pollutant concentrations in indoor and outdoor locations. Some of these can be conveniently worn by people to monitor personal exposure. Shown in the photo is a college dormitory room where a set of the devices are placed, including particulate matter and gas monitors incorporating temperature and relative humidity sensors. Similar sensors will be used in the studies described in this article.

This will be the first indoor chemical study in KSA and a region with a desert climate. The pilot study is expected to generate publishable results that can be used to support a larger-scale study to characterize population-based exposure to air pollution in the Kingdom. The study findings will provide critical data to support a future health study linking individual-level health outcomes (e.g., respiratory symptoms, blood pressure and pathophysiologic biomarkers) with pollutants and factors identified.

Ozone reactions
Ozone is a common air pollutant regulated in many countries, including the Kingdom. Although the biological effects of ozone have been studied for decades, few studies have investigated the chemical reactions of ozone with biologically relevant molecules. Dr. Himanshu Mishra, KAUST associate professor of environmental science and engineering, has been studying surface-catalyzed chemistry of water droplets and ozone.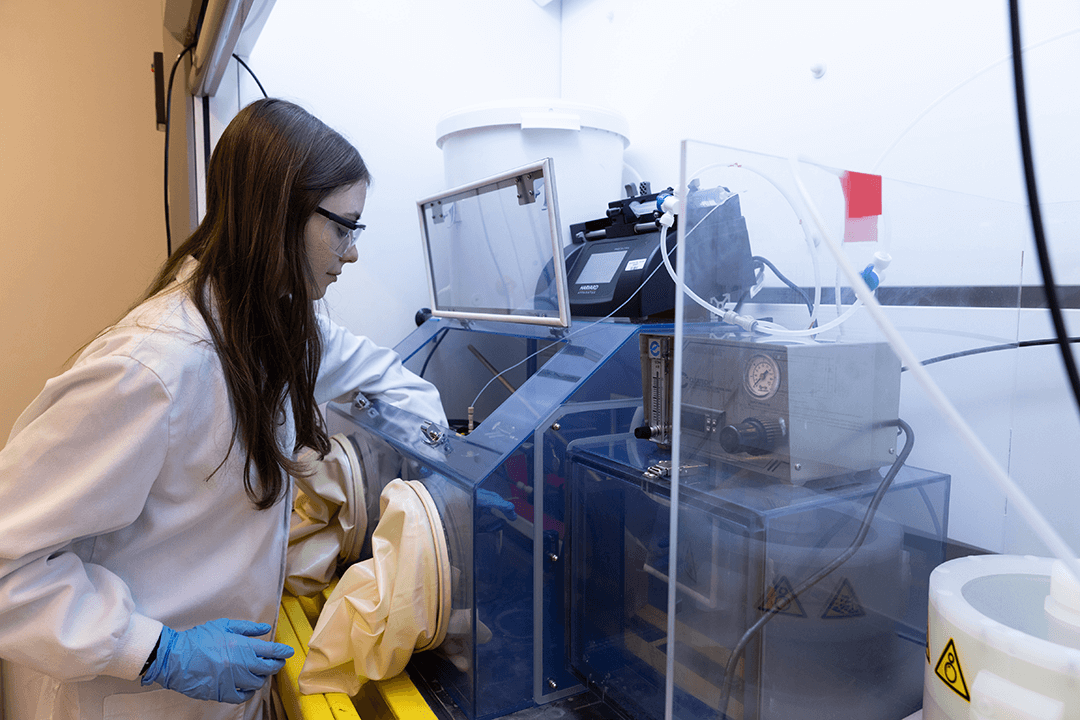 Nayara Musskopf, a scientist in the lab of KAUST Professor Himanshu Mishra, works with a glove box (or a controlled-environment chamber), where gas compositions can be varied to simulate pollution and study chemical reactions on the water surfaces of environmental or built-environment systems. Photo: KAUST

Mishra and Zhang plan to conduct experiments in Mishra's laboratory to study the reaction of ozone and a major constituent of human pulmonary surfactant. Understanding this reaction is important because surfactants in the human respiratory tract play a critical role in maintaining smooth breathing, and because the reaction products may be potentially more harmful than ozone itself. The results can help ascertain some hard-to-explain biological effects of ozone that have been reported in the literature.
Air purifiers in relation to diabetes

Zhang will also collaborate on an important air purifier study with Dr. Paula Morago, KAUST assistant professor of statistics, and Dr. Alyaa Farouk Ibrahim, assistant professor of community health nursing in affiliation with King Abdullah International Medical Research Center and King Saud Bin Abdulaziz University for Health Sciences. This study will be the first-ever study in the Kingdom and Middle East to evaluate whether using low-cost portable air purifiers in Saudi homes can result in measurable improvements in cardiometabolic outcomes in adults with a higher risk of developing type 2 diabetes.

In another study using hospital records from the Kingdom, the same team plans to examine potential associations between daily air pollutant concentrations and daily rates of mortality and morbidity across the Kingdom.

Smart-Health sensors and molecular biomarkers
For the ozone and air purifier studies, Zhang and collaborators plan to use low-cost sensors to monitor air pollution, temperature and humidity levels inside and outside of homes and buildings, which will assess exposure at a personal level.
The teams will also conduct clinical assessments, measure blood pressure and pulmonary function, and collect biological samples such as blood and urine. The biological samples will be used to measure molecular biomarkers of pathophysiology, including metabolic and epigenetic profiling.
"These measurements fall in the framework of precision health, or smart health," Zhang commented. "The data will help understand individual susceptibility to air pollution exposure. Ultimately, the work can help with the development of individualized prevention strategies to reduce the risk of disease, which is a core principle of smart health."