​A bubbling cocktail of carbon dioxide, nitrogen and phosphorus flows into dozens of one-liter jugs containing different strains of algae at a newly opened facility on the grounds of King Abdullah University of Science and Technology (KAUST). Project director and algae expert Dr. Claudio Grünewald with KAUST Beacon Development will use the green primordial juice as starter culture to grow large quantities of algal biomass in a system of outdoor ponds (raceways) and closed tubes (photobioreactors).
The pilot algae facility is one outcome of the Development of Algal Biotechnology in the Kingdom (DAB-KSA) project, and the first phase toward building an infrastructure capable of benchmarking and producing high-protein algae for agriculture at scales to feed animals such as fish and poultry in the Kingdom of Saudi Arabia (KSA).
The animal feed industry is a billion-dollar global enterprise. Replacing even a fraction of the Kingdom's imports with homegrown feed would represent massive savings and a big step toward food security. DAB-KSA is a collaboration between KAUST Beacon Development and the Ministry of Environment, Water and Agriculture (MEWA), and is overseen by MEWA's National Fisheries Development Program (NFDP). Beacon Development is KAUST's consultancy arm, located in the KAUST Research and Technology Park.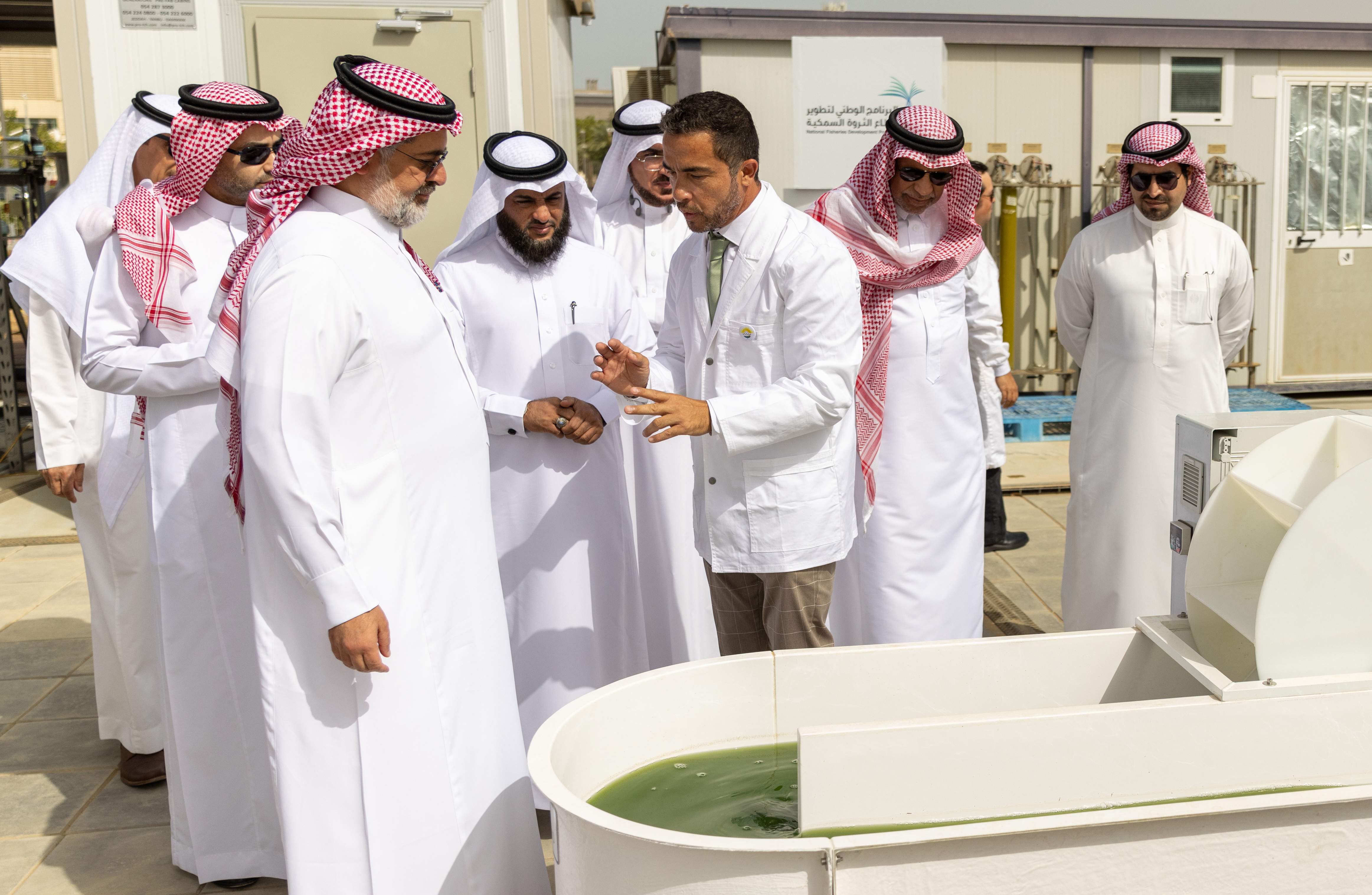 Representatives with the Ministry of Environment, Water and Agriculture (MEWA) in Saudi Arabia tour the newly opened Development of Algal Biotechnology in the Kingdom (DAB-KSA) project lab at KAUST, directed by algae expert Dr. Claudio Grünewald. KAUST Photo: KAUST

Vice President of KAUST InnovationDr. Kevin Cullen said, "We're extremely proud to announce the partnership between MEWA and KAUST that targets the localization of algae production in the Kingdom. This collaboration will result in major progress in this field, further delivering Saudi Arabia's food security and sustainable future for generations to come."
A green future

Algae could be a metabolic treasure trove for the Kingdom of Saudi Arabia. The ancient hybrid organisms, which come in various forms of seaweed and microalgae, bring incredible potential to source different products for high-value applications across multiple technology realms, including animal feed, crop fertilizers, carbon reuse, waste remediation, packaging plastics and medicines.
Algae make these products with minimal inputs; they use sunlight, nitrogen, phosphorus and carbon dioxide to build their biomass, and can grow in saltwater and/or non-potable freshwater environments — resources the Kingdom has in abundance. The Kingdom also has a robust infrastructure of ports, highways and airports, and thousands of kilometers of flat Red Sea coastline to accommodate future facilities.
For these reasons, KAUST is being primed as a center for algal research in the Kingdom. In the last two years, the university has secured the principal talent and initial equipment needed to accelerate the animal feed venture and related food security initiatives in alignment with Vision 2030 and global circular economy goals.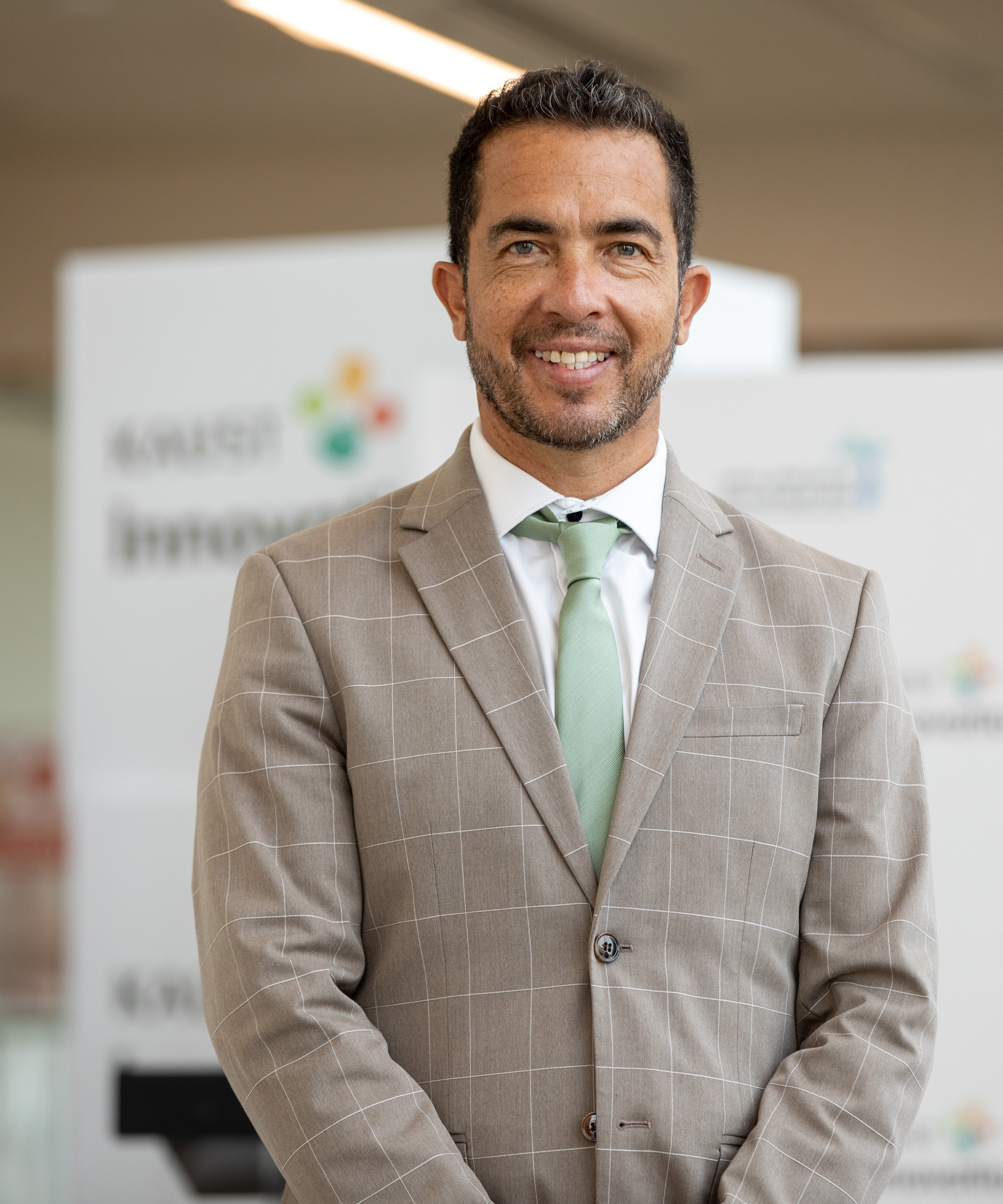 Portrait of Dr. Claudio Grünewald, project director and algae expert with KAUST Beacon Development. Photo: KAUST

Grünewald, a native Chilean who joined KAUST in October 2021 from Swansea University in Wales, brings extensive experience in marine microalgal production, with the engineering expertise needed to design, build and operate high-scale aquaculture installations. Grünewald has delivered several microalgae industrial size projects in different countries such as Spain, Chile, Japan and the United Kingdom.
"I truly believe that the Kingdom has a competitive advantage to run industrial algal cultivation along the Red Sea coast with its flat land, CO2 sources, year-round solar irradiation and pristine seawater," Grünewald said. "For all of these reasons, plus the established technology in filtration systems, plastic and refineries, among other technologies, it's clear that the potential of KSA to produce biomass from microalgae is massive, and the country could lead the algae worldwide production in coming years."
KAUST is also home to the only dedicated applied algal biotechnology lab on the Arabian Peninsula, which boasts a suite of specialized technologies unrivaled in other algae research labs around the globe. Created in 2021, the Sustainable & Synthetic Biotechnology (SSB) group is under the direction of KAUST Assistant Professor Dr. Kyle Lauersen, among a handful of scientists in the world with expertise in algal synthetic biology and metabolic engineering. Examples of current projects include engineering algae to produce specialty chemicals called terpenoids with a broad range of applications, from rubber to fragrances to medicines.
Lauersen's team supports DAB-KSA by bioprospecting new species toward the goal of building a living library of local strains of commercial value to the Kingdom. The SSB team is benchmarking these strains in bioreactors programmed with local weather data to predict how different algae strains will behave and tolerate outdoor conditions in the Kingdom. The collaboration is under the umbrella of the KAUST Circular Carbon Initiative.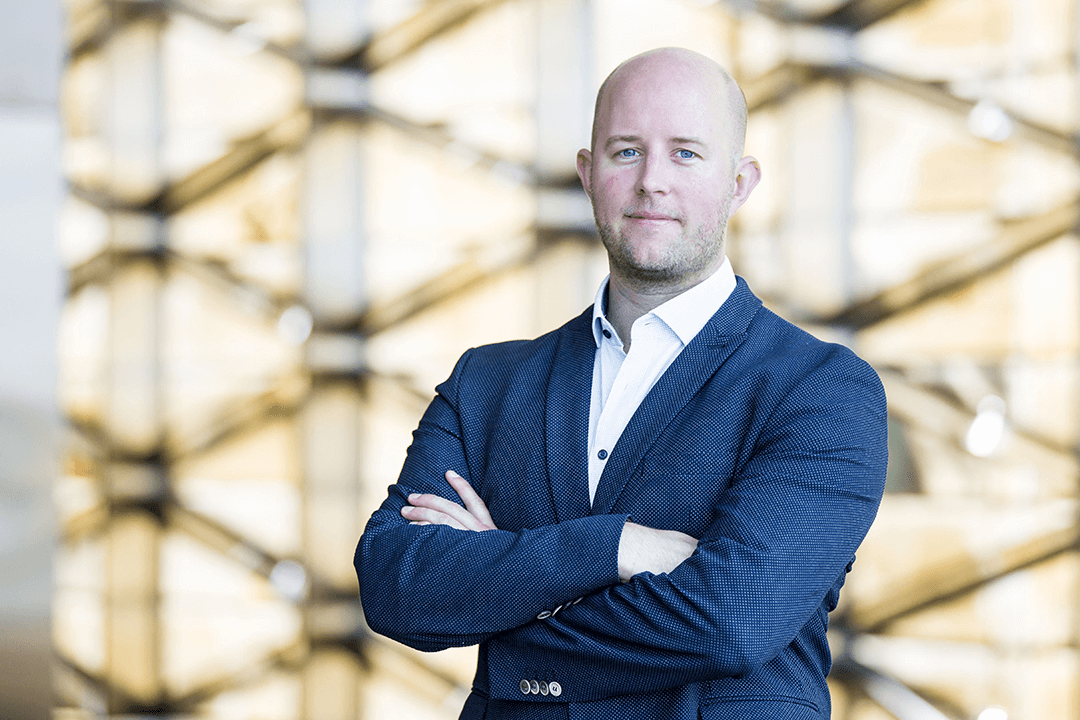 Portrait of Dr. Kyle Lauersen, KAUST assistant professor and director of the Sustainable & Synthetic Biotechnology Group. Photo: KAUST

"Algae are at the start of the agrarian revolution in terms of their tapped potential for phenotypes and what you can get from them," Lauersen said. "My lab represents one part of the value chain of sourcing strains local to the region, which will be grown in the infrastructure that Claudio is building. I'm very excited to work in synergy with his team so that we can together act as a nucleus for algal technologies in the Kingdom and be a center for algal excellence. That's the goal."
The combined strengths of Grünewald and Lauersen bring complementary skills in both lab and field approaches aimed to advance KAUST research projects and shape the future of the algal biotech industry in Saudi Arabia.
Bioprospecting for local species
The DAB-KSA pilot plant grows both freshwater and saltwater species of algae, including Nannochloropsis and Spirulina, microalgae rich in protein; seawater species that produce oils, the fatty acids needed for animal feed; and seaweed, algae that will provide carbohydrates.
The combined biomass of protein, oils and carbohydrates constitute the primary nutrients needed for quality animal feed. The ponds are open systems, exposing the algae to the air and local climate conditions for acclimation; the photobioreactors are closed to better control parameters like temperature and pH levels. In the last stage of the process — downstream processing — algae are harvested from the liquid culture to make a concentrated paste using either centrifugation, filtration or precipitation, and then freeze dried to make the powdered biomass that will be included in feed for animals such as poultry and fish, and in accordance with specific nutritional requirements.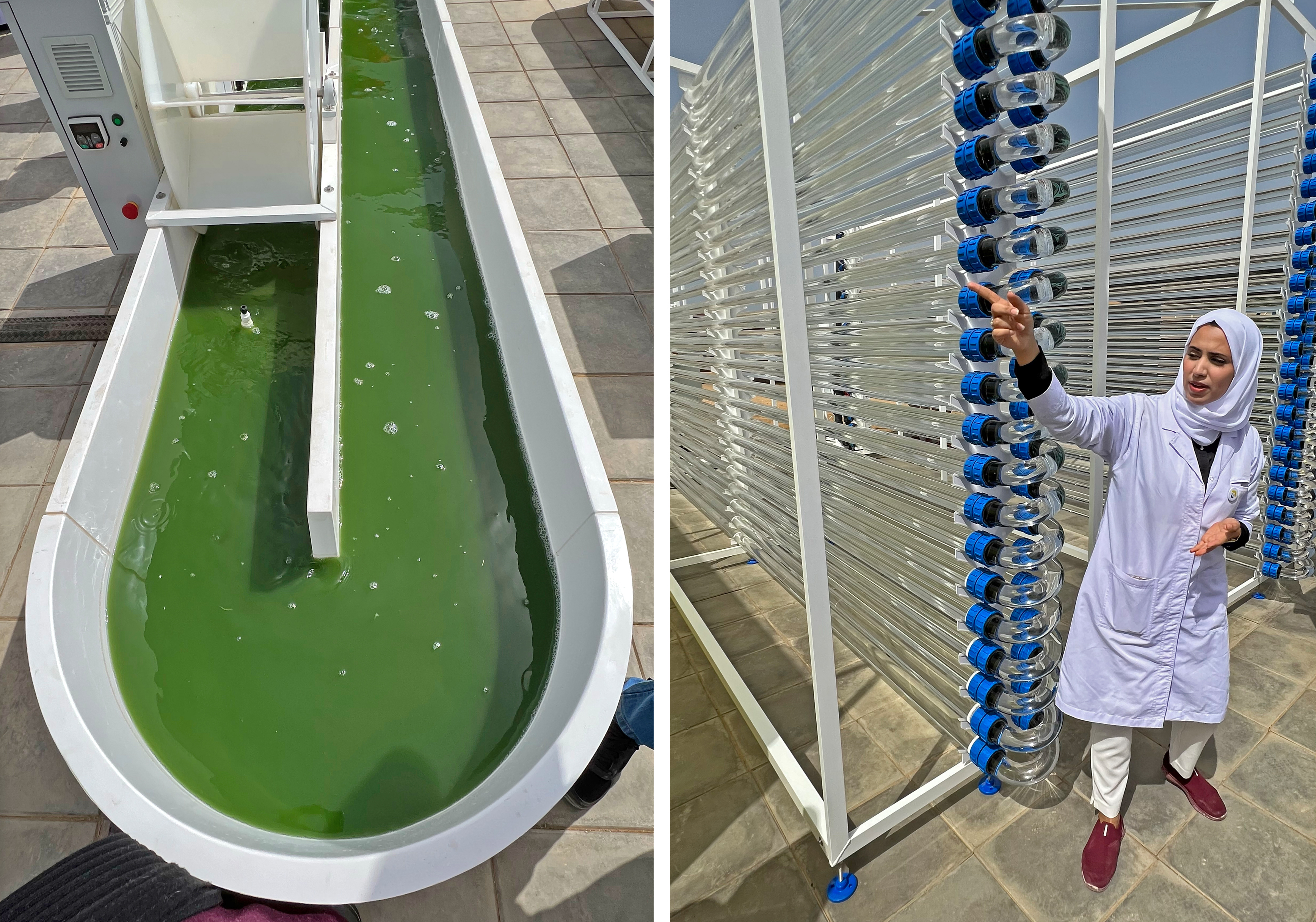 A research scientist affiliated with the DAB-KSA algae facility explains the role of photobioreactors (right) — closed systems for growing algae under control conditions — and algae ponds, or raceways (left) — open systems for acclimatizing algae to local climate conditions. Photo composite: KAUST / JKWest

Grünewald and his team currently use a commercial species of algae from culture collections outside Saudi Arabia in countries such as the United Kingdom (UK) and the United States. These microbial strains bring the advantage of being certified and readily available; however, they are not adapted to the local Saudi context. For example, algae grown in cold UK waters have different requirements from those that have evolved in the Red Sea, Saudi desert and other in-Kingdom locations. Consequently, they must be acclimated to survive the heat, sand and other conditions, which takes additional research, time and effort.
The end goal is to build the Kingdom's bioresources with local strains, from plentiful saltwater seaweeds to microalgae from the sea and freshwater.

"The Sustainable & Synthetic Biotechnology Group is involved in bioprospecting, which means isolating, screening and characterizing local algal strains from the Arabian Peninsula," Lauersen said. "These efforts are supported by the KAUST Circular Carbon Initiative and led by Postdoctoral Researcher Barbara de Freitas (SSB) with the aid of Gabriel Renato Castro (DAB-KSA). The local strains, considered noninvasive for the Kingdom, will be developed as a specialized KSA algal collection, or bank, that will serve as a national resource."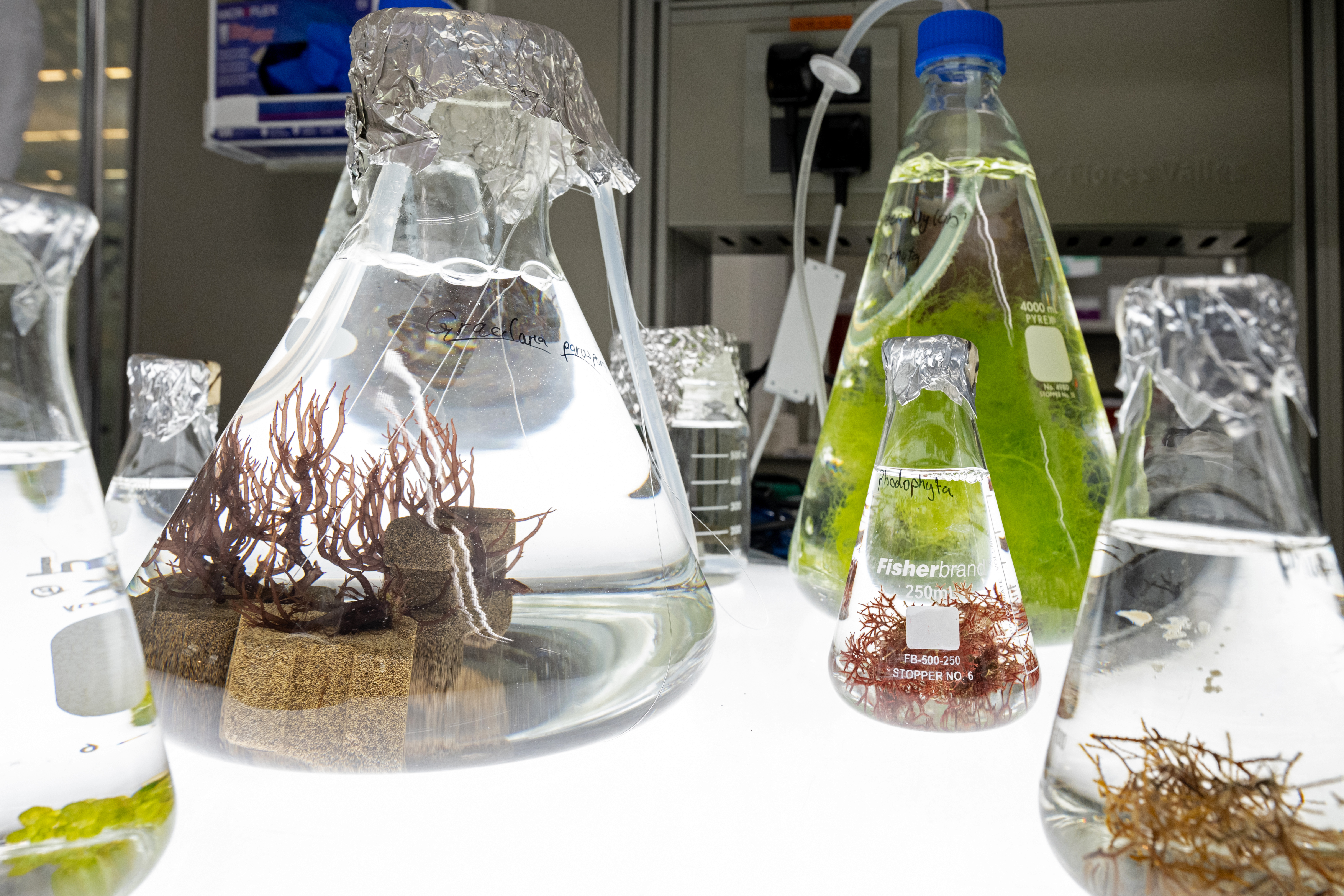 Scientists in the Sustainable & Synthetic Biotechnology Group are using various species of algae to develop a specialized algal collection, or bank, that will serve as a national resource for the Kingdom of Saudi Arabia. Photo: KAUST

Algal species are everywhere — from desert sand to palm trees to sea water. The SSB group isolates and tests these strains in freshwater and saltwater and in simulated weather conditions in specialized bioreactors to assess strain vigor. Species are identified using a microscope and genome sequencing. Strains that show tolerance to the extremes of Saudi summer heat are passed to DABKSA to grow and test productivity in outdoor conditions — Grünewald's specialty domain.

The target tonnage of dry weight biomass that Grünewald expects the plant will reach in the first year is approximately 1.5 – 2 tons, or 1,500 kilograms. He expects a larger yield in Phase II (late 2023-24) — between 50 and 100 tons, or 50,000 to 100,000 kilograms when the plant expands to a four-hectare facility.
"If we can produce 50-100 tons in one year, this is 20% of the entire annual European algae biomass production," Grunewald said. "But we cannot make it alone. All stakeholders must be involved, from government to businesses to startups to academia. It must be a common effort."
Integrated multi-trophic aquaculture
Once feasibility is demonstrated in Phase I, the Algal Biotechnology project will proceed to Phase II, which involves designing and building a larger aquaculture and algae plant, run in agreement with another MEWA program called ADP — Aquaculture Development Program, led by Dr. Asaad Mohamed.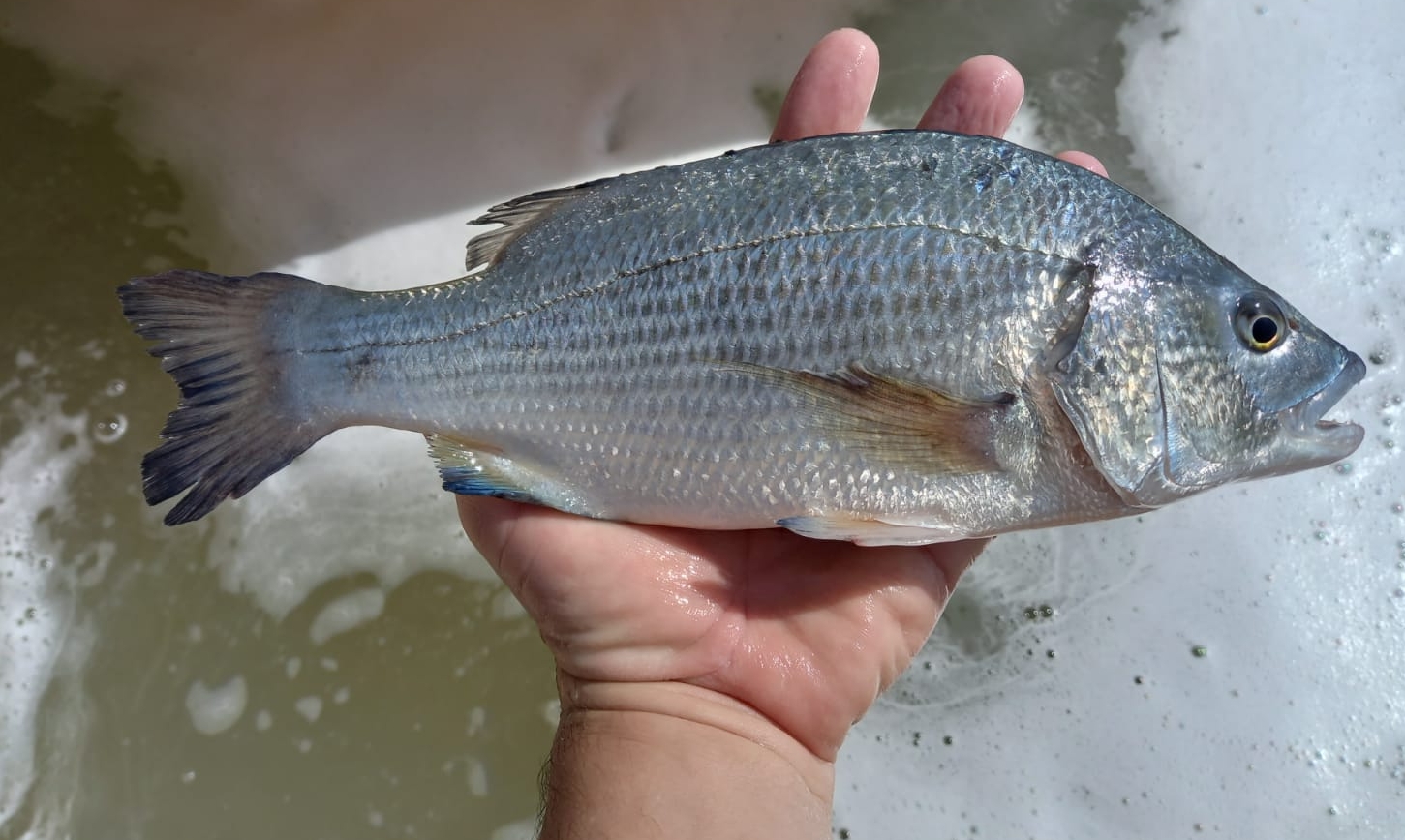 The sobaity bream fish is among the Red Sea fish species for which protocols are being developed for an Integrated Multi-trophic Aquaculture farm as part of the KAUST-MEWA Development of Algal Biotechnology in the Kingdom (DAB-KSA) project. Photo: KAUST

ADP plans to adapt local Red Sea fish species to aquaculture activities, which involves catching and spawning wild stock, and using the fish eggs to grow larger fish in tanks. Grünewald's team would close the cycle using a method called Integrated Multi-Trophic Aquaculture (IMTA), where waste in one context is a nutrient in another. Fish bio-wastes are removed from the water, and the nitrogen and phosphorus byproducts are extracted to feed the algae.
"The idea is to feed the fish the algae-based food that we've produced, and then reuse the water from the tanks used to grow the fish to grow more algae," Grünewald said. "By using waste from one trophic level to fuel the next trophic level, the process comes full circle. It's circular economy-ecology. That is the way to do sustainable aquaculture."
A future goal of DAB-KSA is to apply multi-trophic aquaculture approaches to the Red Sea Project and NEOM, among other in-Kingdom projects.
CEO of National Fisheries Development Program, Dr. Ali Al Shaiki, stated, "This project is an extension of the concerted efforts undertaken by the Ministry in this field; starting with the algae roadmap developed by several local and international experts. The Ministry aligned with the major players in this field and financial resources were allocated to this project, a real turning point in algae production in Saudi Arabia."
Circular carbon reuse
Carbon dioxide (CO2) reuse is another example of how the algal facility intends to use a low-value waste byproduct for a high-value need — either from a pure source for animal-grade feed, or a secondary source for fertilizers.

Carbon that would otherwise be released into the atmosphere from industrial sources such as thermoelectrical power plants, oil refineries and desalination plants can be reused as food for algae, offsetting production costs and greenhouse gas emissions. Algae, like all organisms, are about one-half carbon, so their ability to use CO2 for growth means their biomass is a place to collect and reuse waste carbon. For a country that is the 11th largest producer of carbon dioxide globally, a shift toward biologically sourced products will make a difference in the bioeconomy.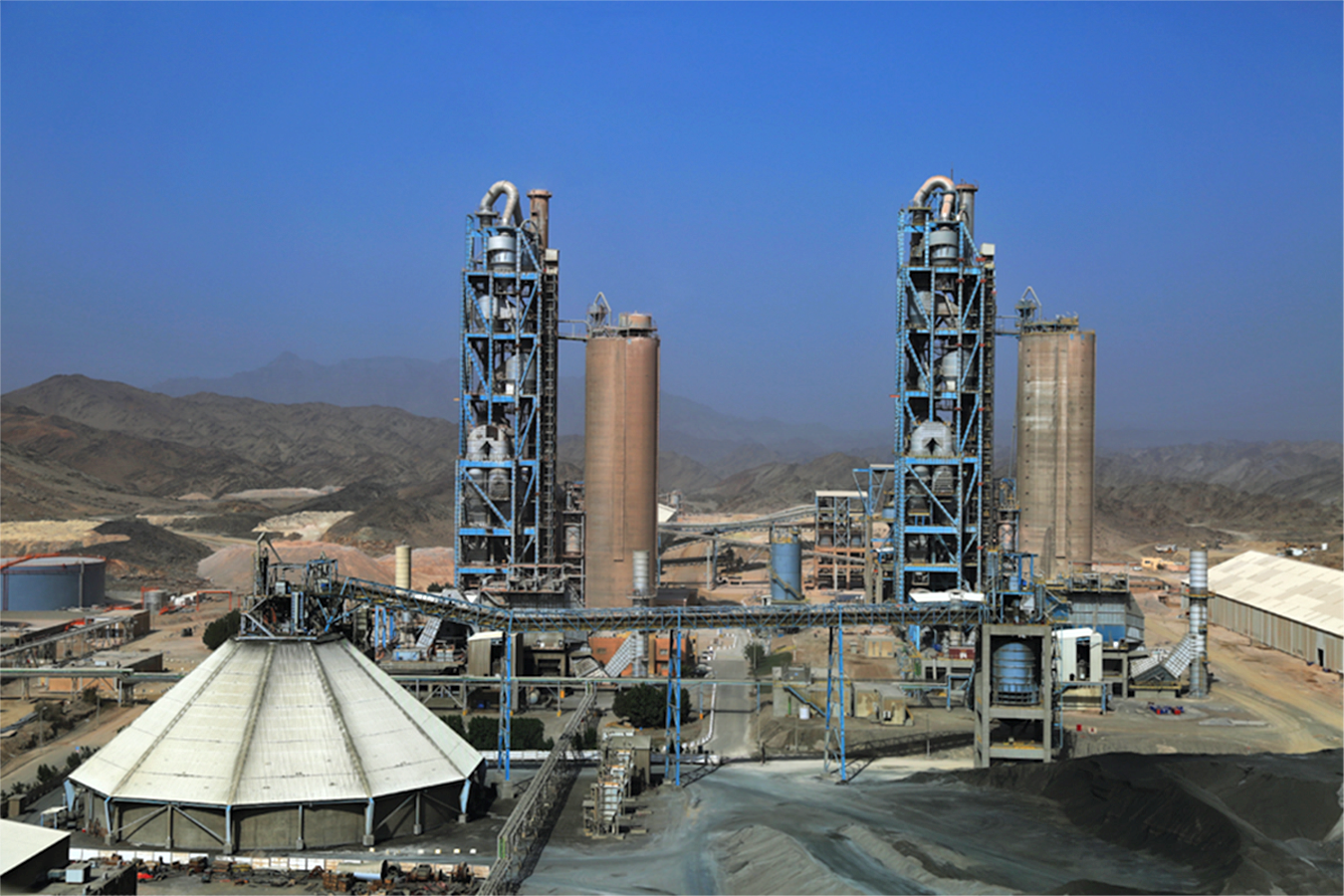 The Al Safwa Cement Company, a cement supplier located in the western region of the Kingdom of Saudi Arabia. Photo courtesy Al Safwa Cement Company

A KAUST startup, Desert Microalgae Technology, took this idea to a cement factory in Rabigh, Saudi Arabia, where the team proposed to build a small-scale, on-site algal pilot plant using seawater and captured CO2 for fertilizer. The factory agreed. The student-initiated project was awarded a KAUST TAQADAM prize in 2019 for their proposal. The startup predates the DAB-KSA project, and both Grünewald and Lauersen serve as advisors. The Desert Microalgae Technology team is in the process of building its cultivation units in Rabigh.
Startup project manager Wejdan Al Ghamdi, a KAUST Ph.D. student in the Material Science and Engineering Program is involved in the project. She commented, "Our goal is to help reduce CO2 emissions using this technology. Of course, we'll also have a product to sell, but our focus is going green. It's exciting to have KAUST algae experts here now to guide us and pave the way with support from the Ministry of Environment, Water, and Agriculture."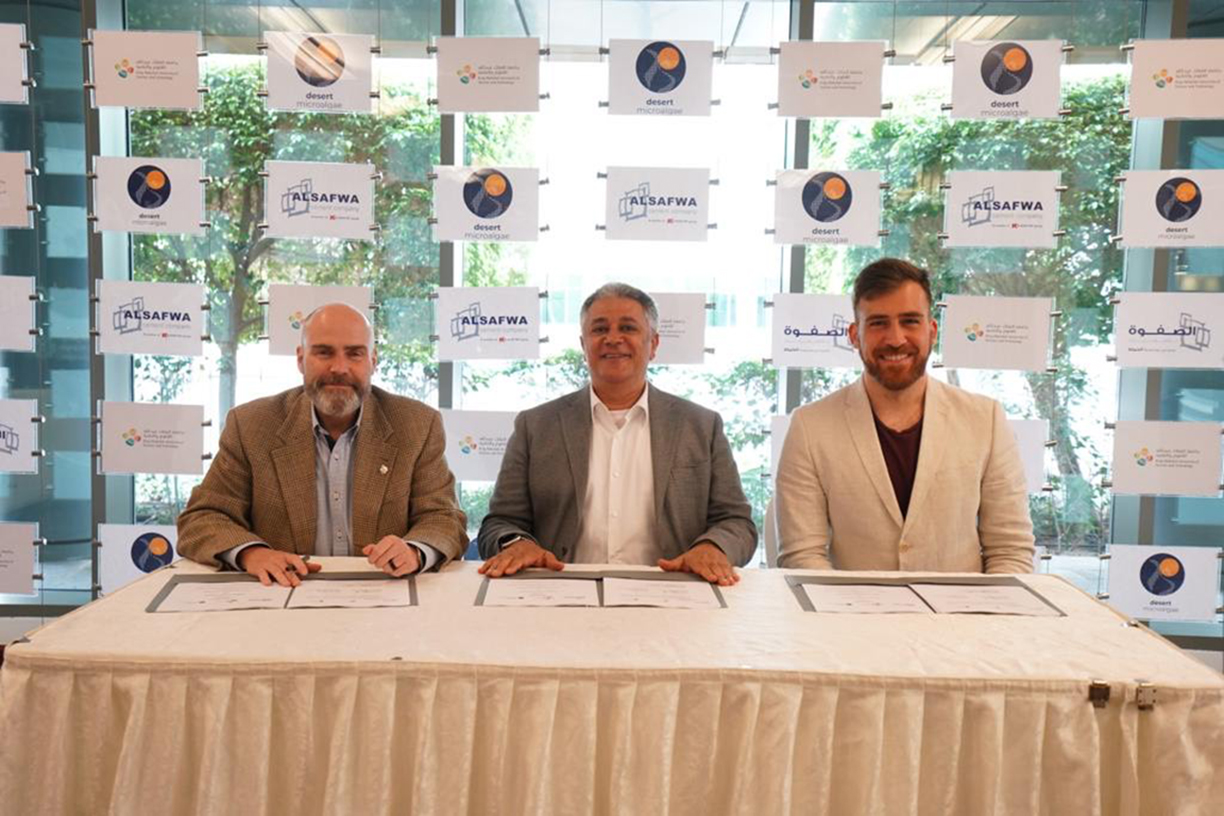 Desert Microalgae Technology Co-founder Paolo Guida (right), Yasser Zayed, CEO of Al Safwa Cement Company (middle), and William Roberts (left), director of the KAUST Clean Combustion Research Center, signed an agreement for the KAUST startup to build an on-site algal pilot plant using seawater and captured carbon dioxide emissions from the cement factory.



Downstream applications
Once operations are up and running, representatives from MEWA, industry and academia will meet quarterly to monitor and assess the strengths and weaknesses of the facility. Deputy Minister of MEWA, Dr. Mansour Bin Hilal Al Mushait, will steer the committee.
An ultimate goal of DAB-KSA and the SSB Group is to train the next generation of algal technologists who can help implement this technology across the Kingdom. KAUST will be a center for training different stakeholders from industries, private companies, the aquaculture and agriculture sectors, food industry, universities and government. Lauersen plans to create a study program specifically for this field and harmonize it to international standards in algal technology and education.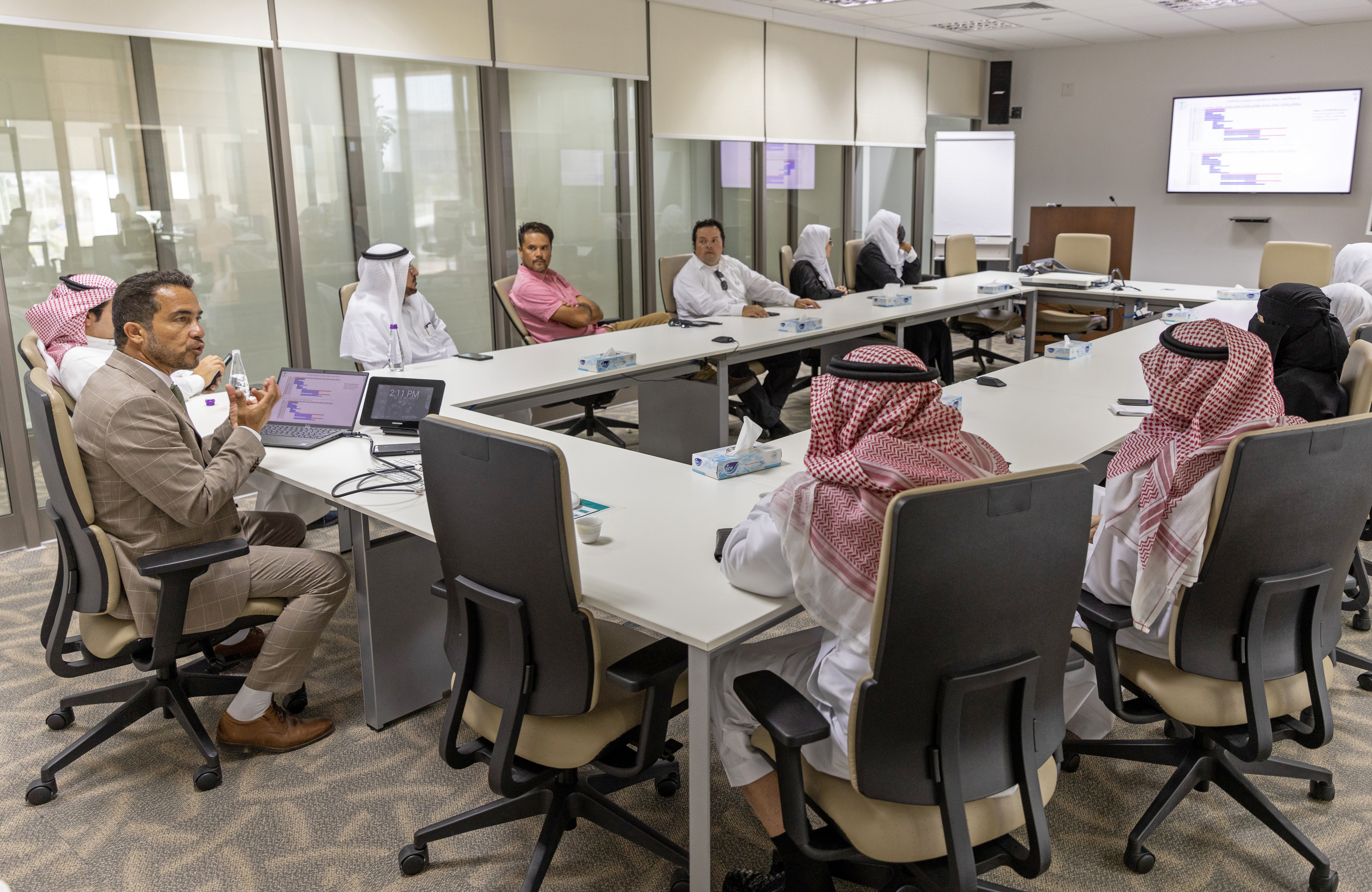 Different stakeholders involved in the KAUST-MEWA Development of Algal Biotechnology in the Kingdom (DAB-KSA) project will contribute expertise toward training next-generation algal technologists in Saudi Arabia. Photo: KAUST

Contributing to the Kingdom's sustainable food production is a central pillar of the KAUST vision. The university has long incorporated a holistic cycle of aquaculture and agriculture in its ongoing efforts to find solutions for the pressing issue of food security in Saudi Arabia and beyond.
Achieving a greater degree of food security will result in a more green and sustainable economy for the next generations. KAUST is proud to partner with MEWA to promote advanced technology that will lead to a better future for the world.
Related links