Planetary scientist delivering her WEP 2018 keynote talk.
- By Meres J. Weche, KAUST News

Among the 2018 Winter Enrichment Program (WEP) keynote speakers was American planetary scientist and UC Berkeley visiting scholar Carolyn Porco. After working on the imaging team for the Voyager missions to Jupiter, Saturn, Uranus and Neptune in the 1980s, she was appointed the imaging science team lead for the Cassini mission to Saturn. The Cassini spacecraft was launched in 1997 following seven years of development after her appointment, and it spent the next seven years trekking to Saturn until finally entering the planet's orbit in the summer of 2004.

Named by Time magazine as one of the 25 most influential people in space, Porco has also been recognized for her science communications efforts. Processing images from Cassini's journey to Saturn for the public was important to her.

"It was like running a news magazine," she said. From selecting images and producing captions, Porco felt it was demanding work but an entirely worthwhile endeavor.

An important goal Porco set out for herself was to recreate—in a better way and at higher resolution—the famous Pale Blue Dot photograph of planet Earth taken from outer space by the Voyager 1 space probe on February 14, 1990, from a record distance of 6 billion kilometers. In the photo, the Earth appeared as a tiny white dot in a grainy background darted by a ray of light.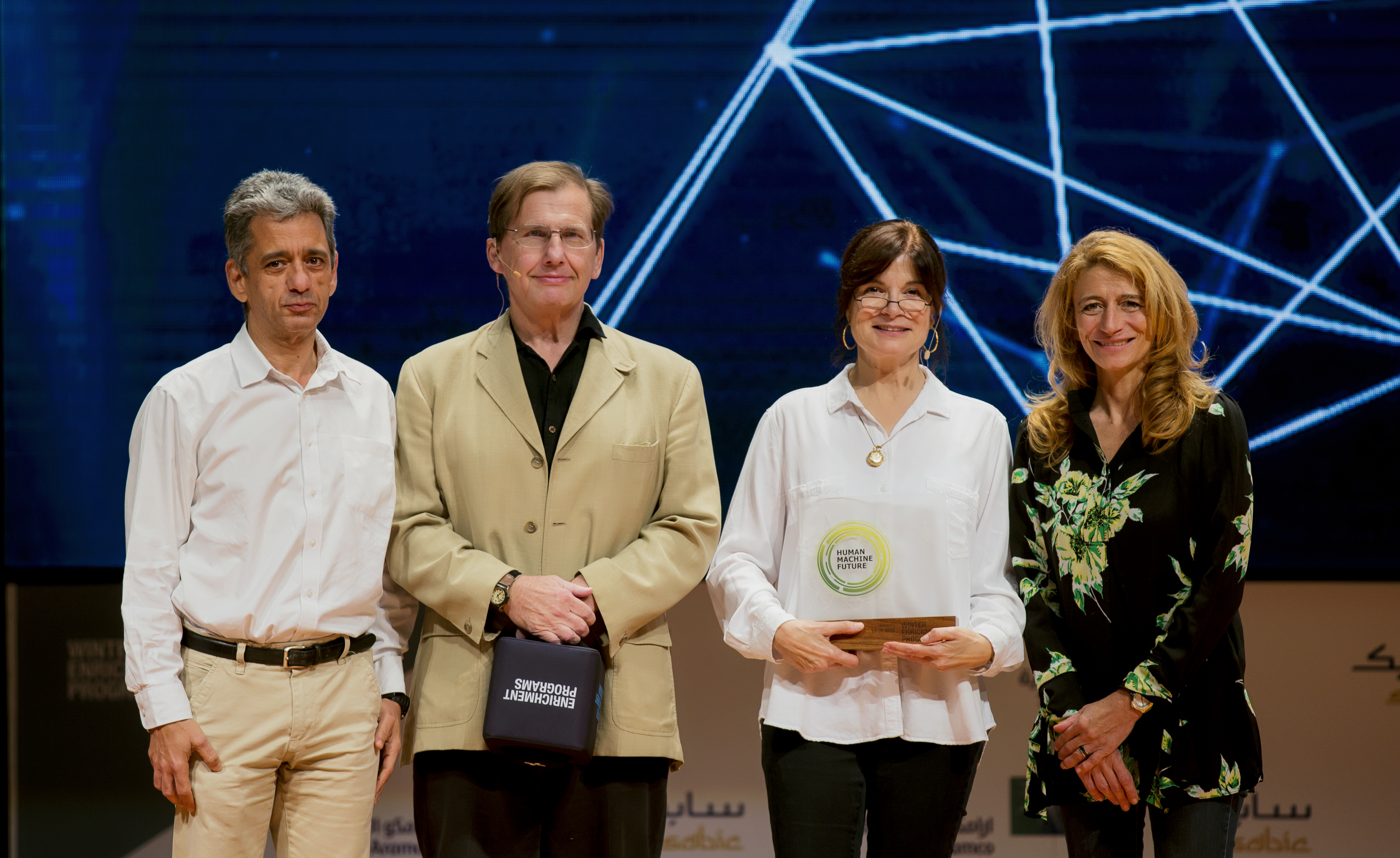 Carolyn Porco receiving her WEP 2018 participation award from the Enrichment Office team.

It occurred to Porco that an interesting way to differentiate the latest family portrait of the solar system from the one previously taken by Voyager (and every other mission since) would be to build up the public's anticipation. Instead of publishing a picture of Earth from the surface of Mars, from an orbit around Mars or on the way to Jupiter and then publishing it two weeks or a month later, her idea was to tell the world ahead of time that "at such and such a time, at such and such a date, your picture is going to be taken from Saturn," she said.
"People responded how I had hope," said Porco. A website was set up to allow people from all over the world to write in and share their experiences contemplating—at the appropriate time—"the utter isolation of the Earth in the blackness of space," she described.

On July 19, 2013, Cassini's cameras were turned to look at Saturn when Saturn eclipsed the Sun to take another Pale Blue Dot image of Earth. On the right-hand side, below the shoulder of Saturn in that now famous picture, one can observe a billion miles in the distance the Pale Blue Dot of planet Earth.

"When examined closer with Cassini's high resolution cameras, the Earth and its moon could be seen for the first time as distinct objects from the outer solar system," Porco said.

"There's something very powerful that we feel when we see our own small, fragile blue ocean planet as it would be seen by others in the skies of other worlds," she added. "It's a picture that I called: The Day the Earth Smiled."

Related stories: