KAUST faculty members participated at the 26th Conference of the Parties to the UNFCCC (COP26) held in Glasgow, UK, from Oct. 31 – Nov. 12, 2021.
​The recently concluded COP26 UN Climate Change Conference in Glasgow, UK, brought global governmental signatories of the United Nations Framework Convention on Climate Change (UNFCCC) together to negotiate the establishment and monitoring of accepted environmental standards to improve the future of the planet. The 26th Conference of the Parties to the UNFCCC (Oct. 31 – Nov. 12, 2021) was attended by senior world leaders, scientists, policymakers and activists from around the globe.
In light of the inescapable effects of climate change, causing an increasingly devastating impact on natural ecosystems and the resources they provide, humanity demands advanced scientific solutions, cross-sector innovation and a serious global commitment to tangible, immediate action.
One of these critical standards was the pledge agreed to at the COP21 conference in Paris in 2015 to limit global warming to 1.5 degrees Celsius and build the financial and human capital required to achieve this goal. Known as Nationally Determined Contributions, or 'NDCs,' these national commitments born out of the Paris Agreement were reaffirmed at COP26, as the goal of 1.5 degrees was maintained.
Scientists agree that allowing carbon emissions to rise to a level of two degrees would cause the widespread devastation of the globe's coral reef ecosystems and severely impact the human population and nature.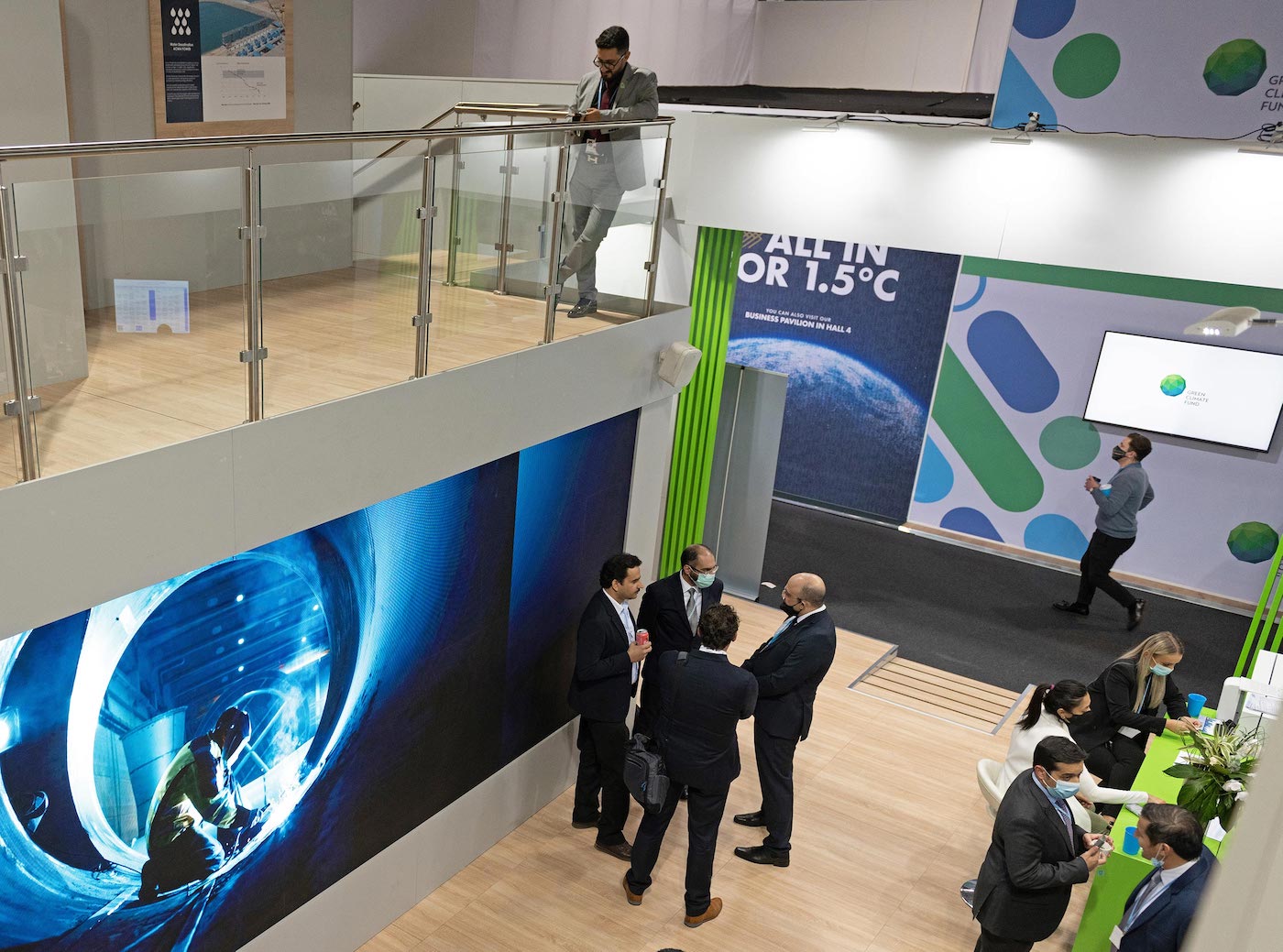 COP26 was attended by senior world leaders, scientists, policymakers and activists from around the globe. One of the major commitments was to work on making resources available to limit global warming to 1.5 degrees Celsius.


​
Several KAUST faculty members were invited to COP26 via various bodies, including the
Saudi Ministry of Energy
,
International Coral Reef Society
(ICRS) and
AEON Collective
, to help bring attention to the widespread social and economic consequences caused by the world's warming climate.
KAUST's strategic initiatives — energy, water, food, climate and livability, and artificial intelligence, among others — place the University in a prime position to discuss and contribute to the important challenges tackled as part of the Conference of the Parties in Glasgow.

Safeguarding our ocean ecosystems

Dr. Michael Berumen, director of the KAUST Red Sea Research Center, and Dr. Raquel Peixoto, associate professor of marine science, helped underscore and advocate for the urgency to build robust science-based goals and targets for saving the world's coral reefs by limiting global warming to 1.5 degrees.

As the ICRS delegation outlined, coral reefs are uniquely high in biodiversity despite being geographically restricted. They provide enormous value to people, but the essential role they play in marine life has been severely degraded by human-caused climate change and coastal degradation.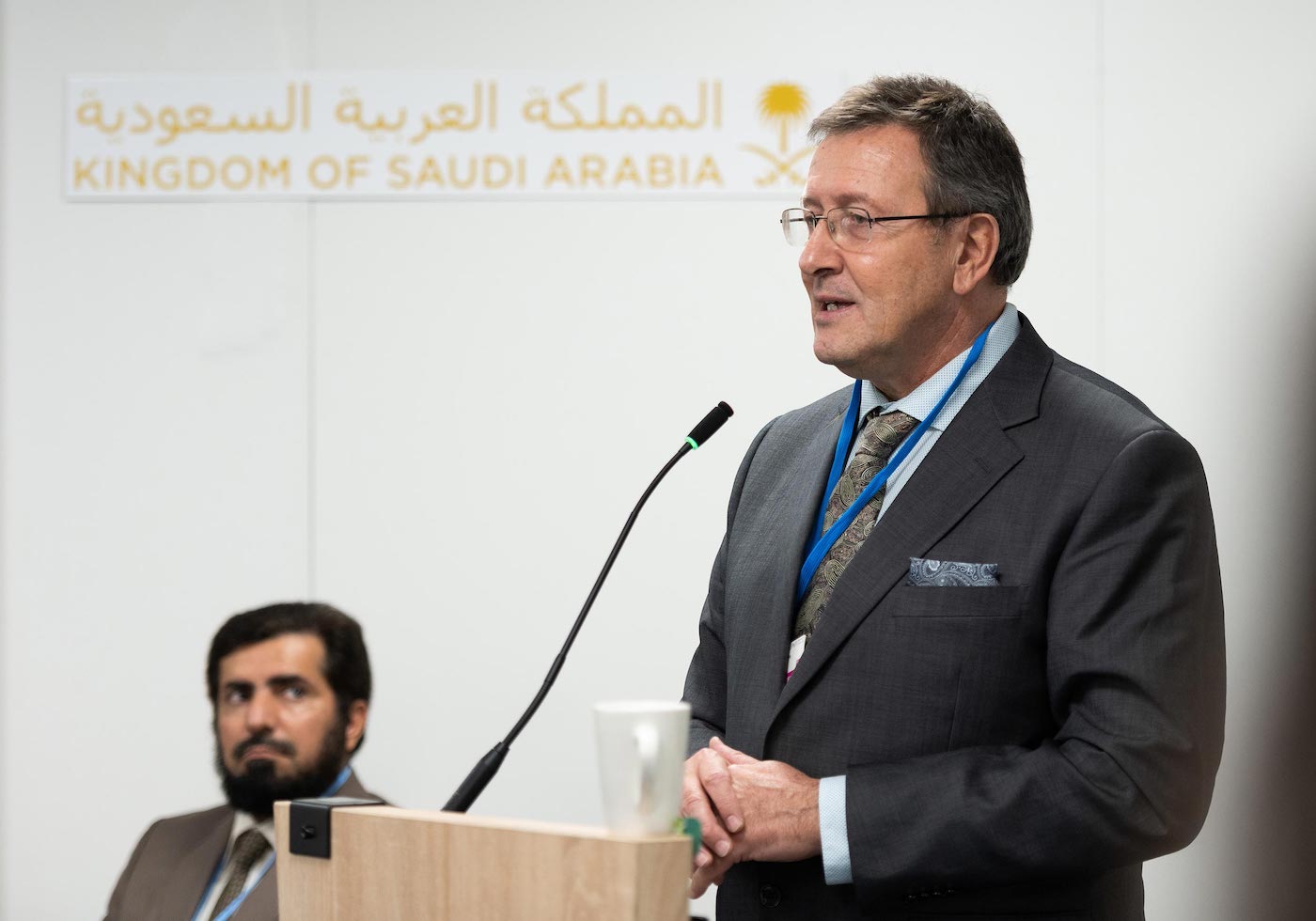 KAUST Distinguished Professor of marine science Dr. Carlos Duarte, speaking at a COP26 session.


​
As a guest of the Saudi Ministry of Energy, KAUST Distinguished Professor of marine science Dr.
Carlos Duarte
also provided some valuable context on nature-based solutions as a lever to climate change mitigation.
Protecting climate in the region
Dr. Rod A. Wing, director of the KAUST Center for Desert Agriculture, and Dr. Ibrahim Hoteit, professor of Earth Science and Engineering, were joined by KAUST Ph.D. candidate Natalia Odnoletkova on a panel discussion titled, 'Understanding and Employing Climate Change Science,' which focused on climate change and its impacts on the Kingdom, in addition to future impacts and adaptation measures and opportunities.
"The Kingdom of Saudi Arabia continues to play the role of a global leader in addressing the challenges of climate change. With the launch of the Saudi Green initiative and deployment of the circular carbon economy framework and other significant programs, Saudi Arabia has identified long-term, technology-driven, and multi-sector strategies that will result in meaningful impact while advancing the synergies between preserving the economy and protecting the environment. The contributions of institutions like KAUST are vital to the success of these efforts: Through scientific expertise, thought leadership, and commitment to innovation, KAUST accelerates research dialogue while producing in real-time effective and viable solutions.
As seen this past week during COP26, KAUST will remain a key national partner as we look to the future and begin applying these lessons to our ambitious national climate action agenda," said Khalìd M Abuleif, Sr. Sustainability Advisor to HRH the Minister of Energy and Chief Negotiator for Climate Agreements
Following the successful launch of the KAUST Climate and Livability Initiative, headed by Dr. Matthew McCabe, KAUST professor J. Carlos Santamarina contributed to the COP26 'Futures We Want' regional profile for the Arabian Peninsula. The report outlines evidence-based opportunities within the region to tackle climate change and promote a global transition to an inclusive, desirable and resilient net-zero future.

"The Saudi Arabian era of fossil fuels started with our students' grandparents and will end with their grandchildren. The Kingdom has gone through great efforts to grow and develop. Looking forward, Saudi Arabia's next transformation will be driven by changing climate conditions and increasing energy needs. The challenges are formidable; therefore, the strategic decisions made today will be of critical importance for the future," said Santamarina.

Cleaner energy for the future
Finding environmental-friendly solutions for cleaner energy sources for a more sustainable future was also at the center of the contributions of several other KAUST faculty attending COP26. Dr. Mani Sarathy, associate director of the KAUST Clean Combustion Research Center, discussed key pathways to produce and transport hydrogen. Sarathy elaborated on emerging trends in the global standards and certifications on different hydrogen production technologies that will help address climate change.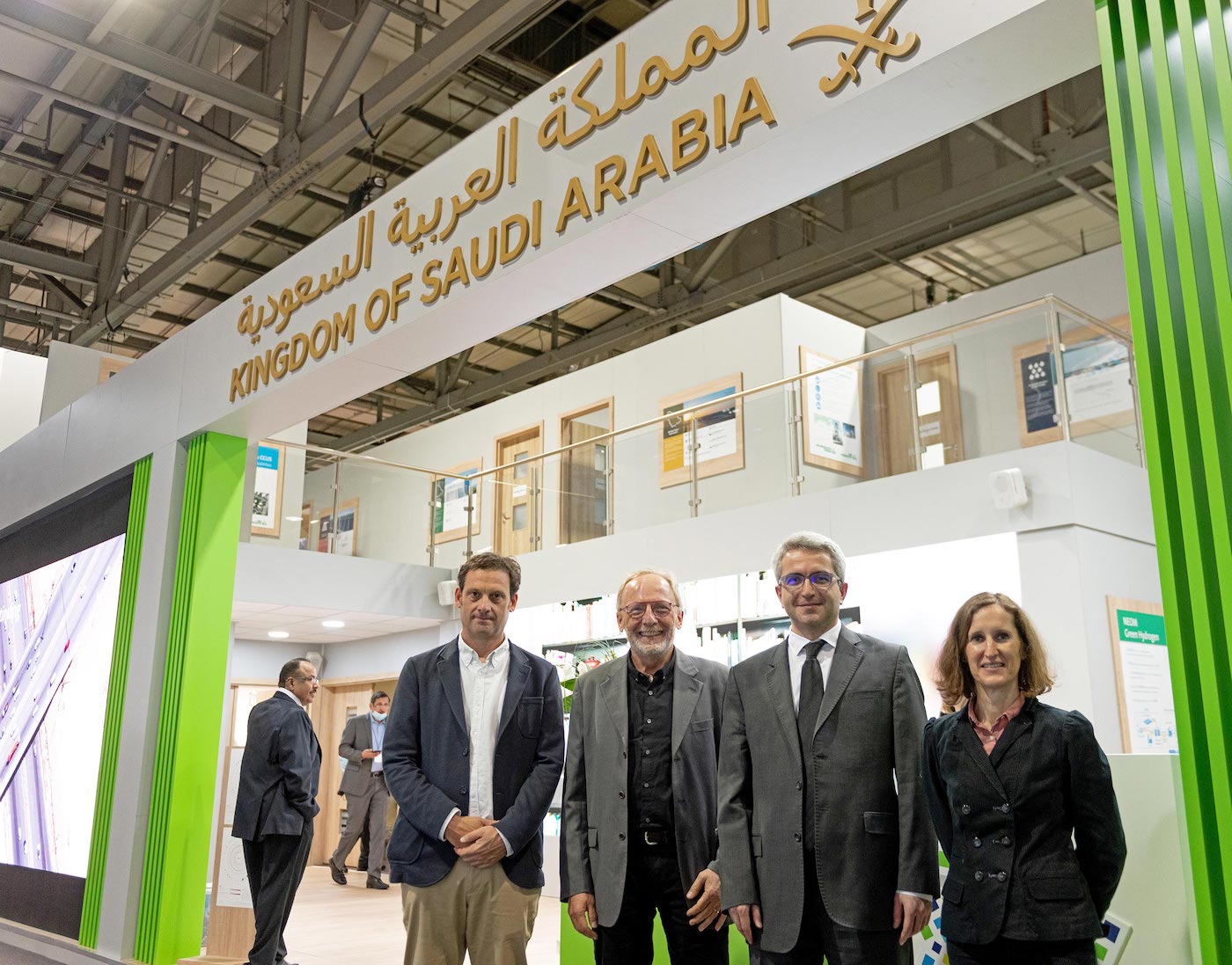 From left to right: Profs. Stefaan De Wolf, Volker Vahrenkamp, Cafer Yavuz, Deanna Lacoste were faculty panelists at a session hosted by the Saudi Ministry of Energy titled 'Sustainable Solutions for a Decarbonized Future.


​
A panel discussion titled 'Sustainable Solutions for a Decarbonized Future' featured four members of the KAUST faculty and provided insights on the University's research efforts contributing to the advancement of the Circular Carbon Economy (CCE).
Dr. Stefaan De Wolf, principal investigator of the KAUST Photovoltaics Laboratory, explored the potency of highly-efficient next-generation solar cell technology to efficiently reduce energy consumption. Dr. Deanna Lacoste, KAUST associate professor of mechanical engineering, spoke of the role of clean combustion in tomorrow's sustainable power and mobility systems. Dr. Volker Vahrenkamp, professor of energy resources and petroleum engineering, shed some light on blue hydrogen and CO2-enhanced geothermal energy — an innovative concept for the transformation of hydrocarbon-based economies. Finally, Dr. Cafer Yavuz, professor of chemical science, outlined the benefits of enabling an industrially and economically viable path for carbon reclamation through catalyst stability in dry methane reforming.

Sustainability goals
Sustainability is at the heart of global climate and health initiatives. Ana Margarida Costa, head of Sustainability at KAUST, participated in a COP26 panel discussion hosted by AEON Collective Aeon Strategy and Community Jameel in the Saudi Pavilion to highlight the collaborative research work between KAUST, the Max-planck-gesellschaft and the Universidade de Aveiro on the combined impacts of climate change and air pollution on human health in GCC countries.

With a concrete strategy to achieve net-zero by 2060, the Kingdom of Saudi Arabia has emerged on the world stage as a leader in accelerating energy sector transformation and comprehensive adaption of sustainability goals, spearheading the protection of future generations by increasing reliance on clean energy, offsetting the impact of fossil fuels and protecting the environment.
Globally recognized for science and engineering excellence, King Abdullah University of Science and Technology, or KAUST, is a key partner in delivering on this ambitious national strategy.
Related links