Pagano said the WEP 2022 theme of resilience is reflected by the Red Sea's marine ecosystem's ability to survive warmer sea temperatures and higher salinity.

In the early stages of The Red Sea Project, the team did extensive research on the ecosystem. In partnership with KAUST, they undertook one of the most comprehensive marine spatial planning simulations. Through this exercise, much was learned about the habitats and creatures that thrive there, including rare and endangered species. From this research, they worked out the number of guests that could be taken per year (one million visitors).
The Red Sea Project also decided to leave 75% of the islands untouched and designated nine conservation zones on the islands. Only 1% will be developed.
The biggest challenge is protecting the marine environment. So it is important to always prioritize care over speed. "The development and marine teams are aligned, working with KAUST as well to ensure construction progresses safely," said Pagano.
Pre-pandemic, global emissions of greenhouse gases from the tourism sector were at 5% and will grow by a further 25% by 2030. For this reason, both destinations are off-grid and powered by renewable energy, saving one million tonnes of carbon dioxide.
Manufacturing techniques being used include offsite building and having the work shipped in. This reduces the human impact onsite. Further, new innovations to enhance the environment are to be employed, including the use of thousands of sensors to monitor the ecosystems—so appropriate action can be taken if changes are detected.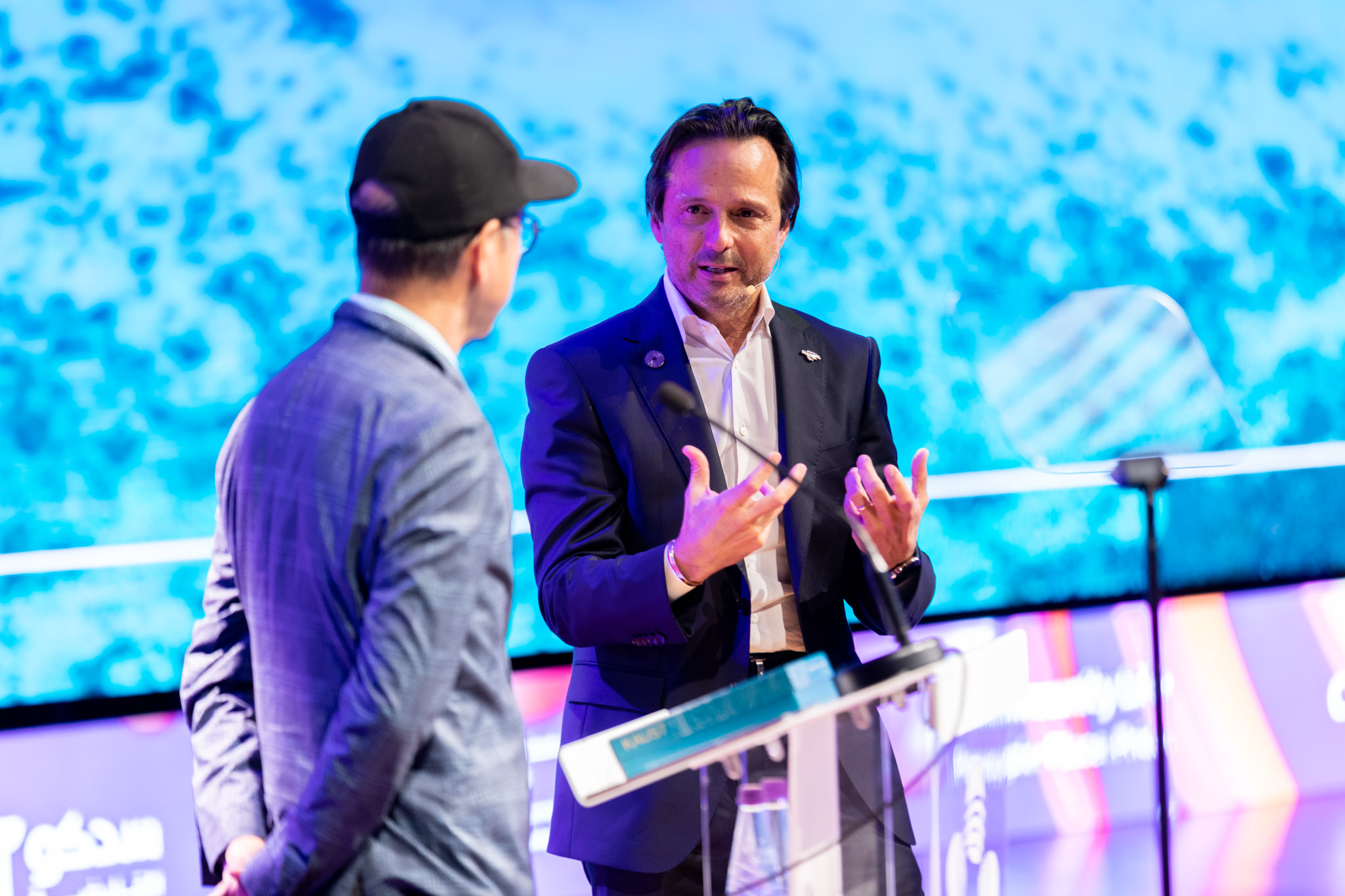 John Pagano with KAUST President Tony Chan, answering audience questions during WEP 2022.

There is also a zero waste to landfill policy; anything that can be recycled and reused is. Otherwise, it is incinerated, and the ashes are then used for landfill. Wastewater is also treated and used as landscaping. Further, materials suitable for composting go to landscape nurseries.
Energy and food security addressed in innovative ways The Red Sea Project is powered by off-grid renewable energy 24 hours a day, using the world's largest battery storage facility at 1,000 megawatt-hours.
To tackle food security, local farmers are being taught sustainable farming techniques. Further, Red Sea Farms are partnering with the development to build indoor farms using seawater to cool greenhouses and to grow crops, saving 300 liters of freshwater per kilo of food—a 95% saving compared with other food production methods. Further, vertical farming is showing impressive yields in small spaces and rainwater harvesting initiatives are being trialed.
Sustainable bottled water is being produced out of sunlight and air. Using hydro panels, vapor is drawn out of air and converted into drinking water at a plant, then served in glass bottles.
Economic targets with environmental protection
The Kingdom aims to raise tourism revenue GDP from 3% to 10% by 2030. The Red Sea Project and AMAALA are projected to generate 10 billion per year for the Kingdom's economy and create 60,000 jobs directly and 60,000 indirectly. "We will protect the environment and ecosystem, grow the economy and help social infrastructure," said Pagano.

Related stories