Faculty portrait of Dr. Peng Wang, KAUST professor of environmental science and engineering. Photo: KAUST
​Professor Peng Wang, an environmental scientist and engineer at King Abdullah University of Science and Technology (KAUST), has been honored with the Mohammed bin Rashid Al Maktoum Global Water Award for research that uses renewable energy to produce clean drinking water.
The award is given by Suqia UAE, a United Arab Emirates entity under the umbrella of the Mohammed bin Rashid Al Maktoum Global Initiatives foundation, for projects with sustainable solutions to water scarcity. The award focuses on new technologies that "produce, distribute, store, monitor, desalinate and purify water using renewable energy."
"I have always been passionate about using renewable energy to help solve water issues," Wang said. "I started working on water related issues during my PhD, and I have been in the field of water for around 17 years. Water is essential to everyone, yet there are still more than 800 million people in the world who don't have stable and reliable access to clean drinking water on daily basis. This is one of the reasons why I have been working on water related research topics."
Wang received the award in the category of Distinguished Researcher. At present, he is working to enhance the ways in which solar energy can be leveraged in developing inexpensive and low-carbon-footprint technologies for clean water production that are suitable for off-grid communities and those with low to medium populations.
Resultantly, much of his time at KAUST is spent in the University's Water Desalination and Reuse Center, a facility that supports him in achieving his wider goals.
"Our world has an ambitious plan to achieve the Sustainable Development Goals (SDGs) by 2030," Wang said. "SDG 6 is equitable water and sanitation for all, meaning leaving no one behind. We hope that our technologies can facilitate the achievement of SDGs by 2030."
Leveraging fully passive processes
Professor Wang is currently developing a two-part research project.
The first part involves applying the highly efficient use of low-grade waste heat produced by solar photovoltaic (PV) panels to produce drinking water from unconventional water sources, such as seawater and groundwater. In the second, he has been exploring solar-energy-driven, absorption-based atmospheric water harvesting to produce safe drinking water.
"These two processes share a common innovation, and neither consumes electricity at all," Wang said. "Our technology is aimed at producing freshwater from unconventional sources, such as seawater and atmospheric water, in a cost-effective manner. We design our processes to be fully passive, meaning water production does not consume electricity. Further, the process does not involve high pressure, which also reduces the system and maintenance cost."
The technology recycles latent heat, enabling the same energy to be used multiple times to improve energy efficiency and minimize cost. "We even ensured the water production part would enable the solar energy to produce more electricity by reducing the temperature of PV panels, which I consider as a technological breakthrough," Wang added.
The technology is presently being scaled up and demonstrated in Saudi Arabia.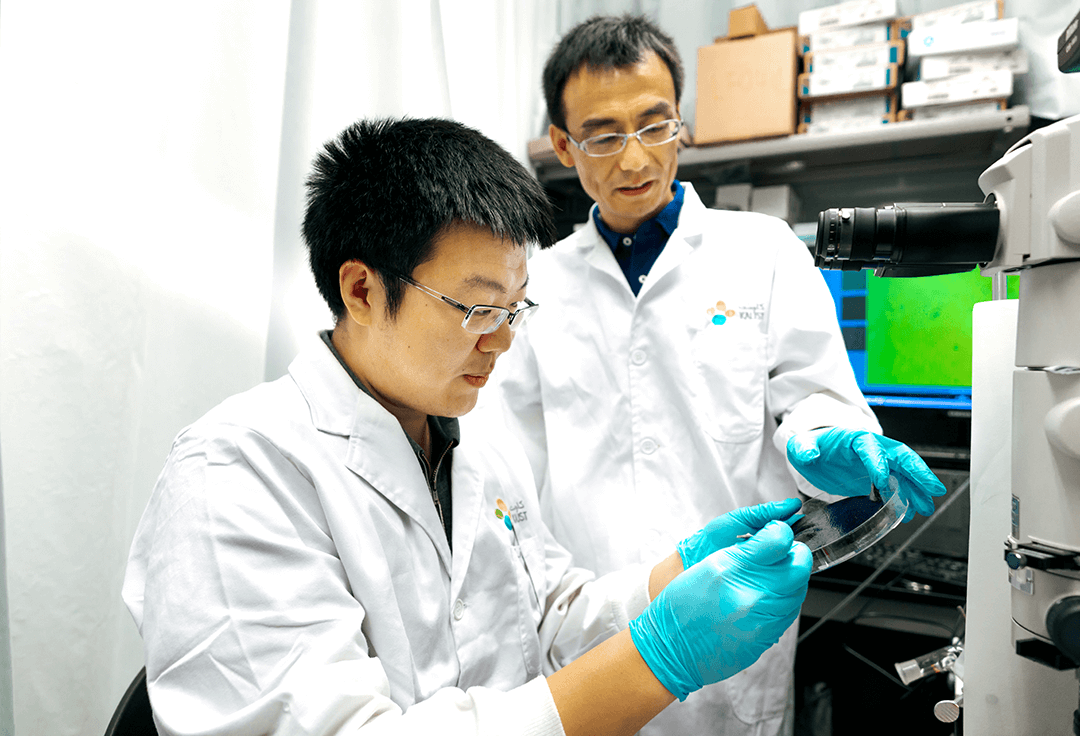 KAUST Professor of Environmental Science and Engineering Dr. Peng Wang (right) and postdoctoral researchers Renyuan Li (foreground) study atmospheric water harvesting material synthesized in the Water Desalination and Reuse Center. Photo: KAUST

The Mohammed bin Rashid Al Maktoum Global Water Award is one of several examples that show the extent to which the professor's research has become recognized on the international stage. In 2020 the professor was awarded the 2020 Prince Sultan Bin Abdulaziz International Prize for Water (PSIPW) for his work "at the forefront of the solar-water nexus."
"I am both humbled and overwhelmed to be awarded this prize. It is a great honor and privilege, and certainly a milestone of my career," Wang said. "I have a diverse and dynamic research group, with international team members of varied backgrounds and skills in fields such as chemistry, engineering, materials, and so on," he said. "Everyone has a great team spirit, and we've worked collaboratively to push the technology forward, and I would like to thank my group members for their team spirit, dedication and hard work."
Combatting global freshwater scarcity
Moving forward, Wang aims to work collaboratively with specialists to develop new technologies that would augment conventional water production approaches to ensure water security for all.
"There have been freshwater crises in many places across the globe in recent years, from Cape Town to Sydney to California," Wang said. "In my opinion, the water crisis will get worse before it gets better. By 2040, it is estimated that more than 80% of our global population will have a high possibility of experiencing freshwater scarcity to a greater degree."
Wang's invention offers a beacon of hope. Capable of producing both greater amounts of freshwater and more solar electricity simultaneously, such projects will be vital in addressing critical water-centric challenges.
The professor affirmed: "Renewable energy is unlimited in its amount and duration. The amount of solar energy the earth receives in one hour is already more than what is needed to power the world for an entire year. I am, therefore, confident that sustainable technologies can lead us out of the crisis of global warming and freshwater scarcity altogether."
Related links