Al-Balad's beauty and history is showcased in the WEP 2015 photography exhibition by Andrea Bachofen-Echt and Marina Kochetyga. [Photo credit: Andrea Bachofen-Echt]
Al-Balad, the historical heart of Jeddah, was the main attraction in a 2015 Winter Enrichment Program (WEP) photography exhibition by KAUST photographer Andrea Bachofen-Echt and guest photographer Marina Kochetyga.
In Arabic, Al-Balad translates as "the town." Built in the 7th century, the area flourished until the 1970s and 1980s, when Jeddah became wealthier due to the production of oil in the Kingdom.
In the 1990s, as Al-Balad continued to decline, Jeddah Municipality founded the Jeddah Historical Preservation Society to protect the centuries-old Hijaz region architecture found in Al-Balad. Today, Al-Balad's remaining 450 buildings are a UNESCO World Heritage Site.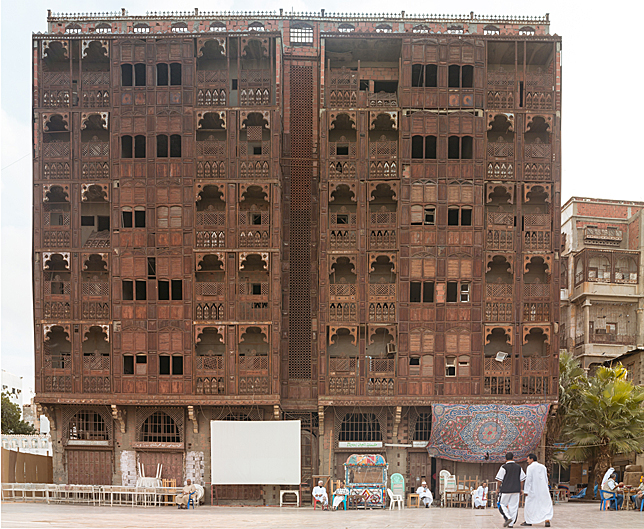 One of Al-Balad's most famous - and intricately designed - buildings is showcased during KAUST's WEP 2015 photography exhibition by photographers Andrea Bachofen-Echt and Marina Kochetyga. [Photo credit: Andrea Bachofen-Echt]
Photographing Saudi Arabia's History
Andrea and Marina worked together at KAUST as photographers for several years before deciding to jointly produce a photography exhibition focusing on the beauty and history of Al-Balad.
"I was in Al-Balad with my husband and a friend when we happened across an old building collapsing," Andrea said. "We took a video of it, and I later discussed the event with Marina. We wanted to create something together for some time, so we settled on an exhibition of photos of old Al-Balad."
Over the course of a month, Andrea and Marina journeyed to Al-Balad six times to take photos of the area. They walked together along the same route photographing the same streets and buildings, but each used her own unique perspective to get different views of the place.
"We spent the entire day photographing the buildings," said Andrea. "We arrived very early in the morning just after daybreak because we wanted the unique light at that time. We also waited until just after sunset to capture the buildings in that special light."
Al-Balad: Truly Unique
Both Andrea and Marina worked in photography before lending their talents to KAUST, but Andrea, who has traveled to many locations around the world to take photos, noted she has "never seen anything like Al-Balad anywhere else in the world."
"I am deeply impressed by it because it is a very unique place," she said. "What makes it so unique is that there is not a lot of tourism there, so it has been kept as it is. You can really see reality there – it wears no makeup, so to speak."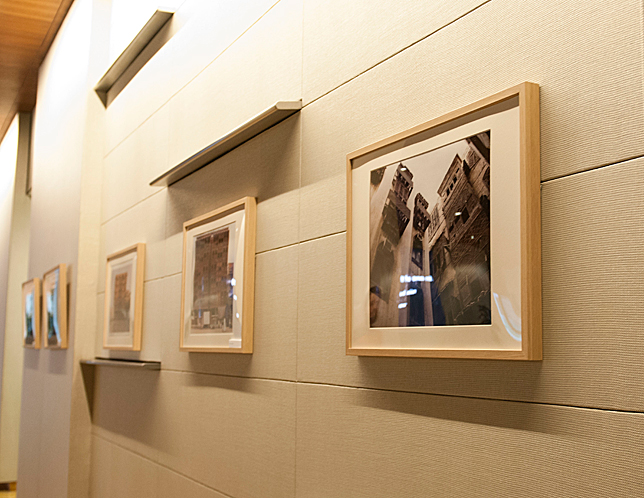 Photographs of historic Al-Balad taken by photographers Andrea Bachofen-Echt and Marina Kochetyga line the walls of KAUST's Administration Building for WEP 2015.
Bringing People Together with Art
Andrea was delighted with the reception of the photography exhibition by the KAUST community.
"When I walked by, people of all nationalities were discussing our photos together. You could hear Saudis telling stories of their families who once lived in Al-Balad, so I feel our exhibition really brought people together. I also hope it helped shed light on how it is essential to preserve this historic area for future generations," she said.
- by Caitlin Clark, KAUST News