(Left to Right) KAUST researchers Ahad Syed and Dr. Adnan Qamar demonstrate a prototype model of their invention, VENTIBAG, a mobile respiratory unit that uses artificial intelligence to deliver oxygen to support patients suffering from lung conditions.
​From the Apple computer to the Dyson vacuum to Disney cartoons, novel inventions are sometimes made, not in the lab or workplace, but the garage. Such was the case for King Abdullah University of Science and Technology (KAUST) researchers Dr. Adnan Qamar and Ahad Syed, whose backpack ventilator, VENTIBAG, was developed in Qamar's garage at the height of the pandemic in 2020. With the University labs in hibernation mode at that time, they shifted operations to the home in order to work on a novel ventilator design while adhering to safety measures and social distancing.
The mobile respiratory unit is designed to support patients suffering from lung conditions. It works by extracting and delivering pure oxygen from the atmosphere at levels customized to individuals' needs. It differs from other ventilators in that it is scaled to be portable, and uses real-time Artificial Intelligence (AI) technology and sensors to monitor physiological conditions and adjust support. Vital data are uploaded to the Cloud with live feeds to physicians who have access to perform real-time adjustments or provide feedback without actually being with the patient.
The prototype is the outcome of the KAUST COVID-19 Innovation Challenge — a $20,000 challenge offered in June of 2020 by KAUST Innovation for university community members to develop "innovative solutions to the challenges faced during the pandemic." Qamar and Syed's proposal was among six to receive the award.
With the deliverable completed and a patent pending, the researchers are now advancing the work to the testing stage for medical applications.
Filling a need
The complementary skillsets of the two collaborators give their invention the needed edge for success. Qamar has a background in biomedical and mechanical engineering and works as a system modeling and data specialist in the KAUST Water Desalination and Reuse Center. His expertise shaped the ventilator's system design, critical parameter data analytics and data patterns applied toward effective machine learning. Syed specializes in electronics and electrical systems, and is one of the team leads in the KAUST Nanofabrication Core Lab. He advanced the system's hardware while programming it for efficient gas extraction and re-distribution.
"We conceived this device to address a critical need in the pandemic challenge, which is the shortage of medical beds and overcrowding of hospitals," said Qamar. "We asked, 'Why should patients suffering from COVID-19 or lung diseases be in a crowded facility at all?' We envisioned a portable device that could provide quality care, but from the convenience of a patient's home."
In hospitals, oxygen is piped to patients through embedded ports in the building. Attendant physicians consistently monitor patients' physiological conditions and adjust the settings accordingly — an arrangement that Qamar said makes the patients dependent on both the facility and staff.
The first challenge toward developing an independent system was for Qamar and Syed to design a device that could produce oxygen by itself. For this, the pair customized a technology (Pressure Swing Absorption) that generates oxygen on site for commercial airlines, and is also used in other industrial processes.
A main component in the VENTIBAG's design is a natural material called zeolite, whose porous structure acts like a sieve to filter gases. When pressurized air is introduced into a cylinder, the zeolite absorbs the nitrogen. Qamar and Syed devised a way to flush out the nitrogen, leaving behind a compressed gas that is 95-96% oxygen. The result is a small unit that operates silently and delivers pure oxygen on location as needed.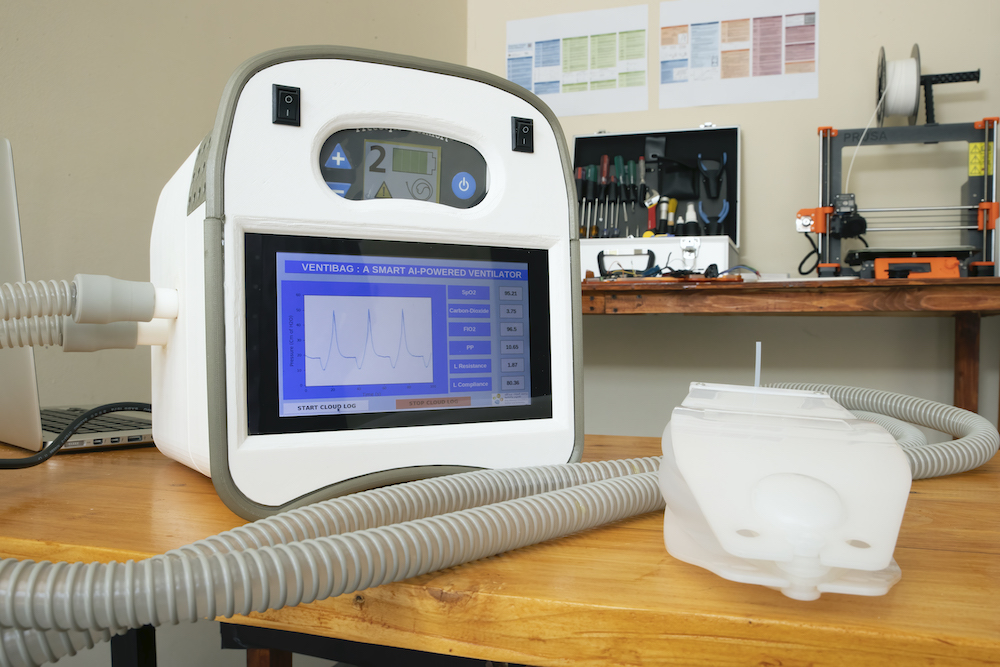 The VENTIBAG housing is divided into two compartments: The top holds the oxygen generation unit, which can also be manually operated through different levels of settings. The bottom encapsulates the electro-mechanical system that is controlled by a touch screen. On the right side of the touch screen the patient physiological conditions are monitored live through various installed sensors. The system also tracks all vital parameters in terms of visual graphs, indicative of AI- hardware control. All streaming data can be logged to the cloud for online training of deep neural networks.


​
Artificial intelligence is the novel addition. Machine learning was their solution to replacing an onsite physician with smart technology. They built an AI controller with two deep neural networks (DNN) — one for reading and interpreting data received from sensors on a patient; the second for managing the hardware settings.
Syed said, "AI technology is very smart. We train the system to detect the patient present basal levels. It calculates if levels are too high or low and adjusts the settings automatically. In this way, it acts like the doctor. The second network controls the VENTIBAG hardware settings, such as input voltage and currents of components based on patient conditions."
He contrasted this technology to other oxygen units that deliver pure oxygen, but indiscriminately, not based on need, and that, as a result, can inadvertently harm people. Further, the conventional cylinder tanks that many people use in their homes don't generate oxygen, and tanks must be replaced when the oxygen runs out. Lack of access to oxygen was one of the issues faced in India (Qamar and Syed's home country) during the second pandemic wave, when hundreds of affected patients died on the streets.
Lung disease is the third leading cause of death worldwide. In this light, Qamar and Syed see a need for their machine beyond the impact of COVID-19, especially in remote areas, such as rural communities or war zones where expertise and resources may not be readily available.
Biomedical initiatives
Completion of the housing and hardware was an important achievement for Qamar and Syed toward certification.
Syed reflected on their initial efforts. "Procurement of parts was a big obstacle in the beginning of the pandemic," he said. "If we ordered something from outside the country, it took ages to arrive, especially as most of the shipments from East Asia were blocked. We salvaged what we could from Jeddah."

Because VENTIBAG is a life-or-death machine, rigorous adherence to regulations is needed to ensure its safety and functionality. Acquiring patient data is an essential next step. To this end, they are working with physicians and doctors to get baseline data, which they'll use to refine the AI system's parameters.
"The prototype housing and software are ready for testing. Now we need the numbers to train the neural network. Once this happens, we can advance the work using lung calibrators and test subjects," said Syed.
Lung calibrators are machines that replicate human breathing. They'll start with calibrators then advance to animals and humans, a process that will require additional funding and time.
In thinking on the long journey ahead, Qamar said, "We have a small canoe that we're floating in, but it's the continued support we give to each other and the encouragement received from the President's Office and the economic development team that keeps us going."
Syed added, "The environment of innovation at KAUST has been very encouraging to us. KAUST staff who oversee IP (intellectual property) were like, 'Go! Go! You can do it!' They pushed us hard because they know we have a great product. Now we're ready to take it to the next level."