The academic adventure of a lifetime began for Saudi Arabia's highest-achieving, STEM-focused high school graduates during the KAUST Gifted Student Program (KGSP) Pre-Departure Orientation (PDO), July 31 to Aug. 2 — a three-day KAUST event to fully familiarize Cohort 15 with the flagship scholarship's expectations.
"You are about to embark on the most exciting journey of your lives. Take this opportunity to acquire skills, establish good habits, and form bonds with your colleagues and professors, as these will last a lifetime," Saham Al-Husseini, Director for Young Talent Development and KGSP at KAUST, said at the start of PDO, which introduced the young scholars to KAUST's world-class facilities and faculty, and facilitated networking with KGSP alumni.
"[PDO] is a great opportunity to immerse yourselves in this community, and really gain a support network unlike what any other program offers."
Founded in 2008, KGSP offers unmatched academic, developmental, pre-professional and financial supports for students to study in the U.S. All KGSP participants eventually apply for graduate studies at KAUST, returning to the Kingdom with new skills and perspectives that benefit the nation's vision.
Amirah Alshammari, 18, from Jubail Industrial City, is among many new KGSP students who will start undergraduate programs in the Fall. After studying aerospace engineering at the University of Southern California, Alshammari hopes to bring back what she learns to KAUST for graduate studies. "This place is the home of research, especially in Saudi."
Nour Jamjoom, 17, from Jeddah, is among the KGSP students participating in the pre-university 'Foundation Year' program. With aims to study material science and engineering, Jamjoom said that KAUST became "an essential part of [her] life" after attending the KAUST Saudi Research Science Institute (SRSI). This led to her applying for KGSP. "This is a great opportunity for students who have high hopes and want to get into good colleges."
Internship matters
Enrolled in the University of Wisconsin-Madison for computer sciences, Mohammad Niazy, 18, from Riyadh, said a main benefit KAUST brings to KGSP students isthe internship opportunities — namely the KAUST Summer Internship Program (KSIP). "Since KAUST already provides [an internship], it's almost a given that I'll be doing what I want to do at a good university."
For Maria Alkurdi, a KGSP alumna and research assistant in KAUST's Water Desalination and Reuse Department, the KAUST internship brought her networking opportunities and a chance to conduct research on campus. She told the KGSP PDO that this internship experience also helped shape her choice of graduate studies.
"Before the internship, I was in bioscience. Afterwards, I decided to do bioengineering, because I learned so much about it here and actually worked on it."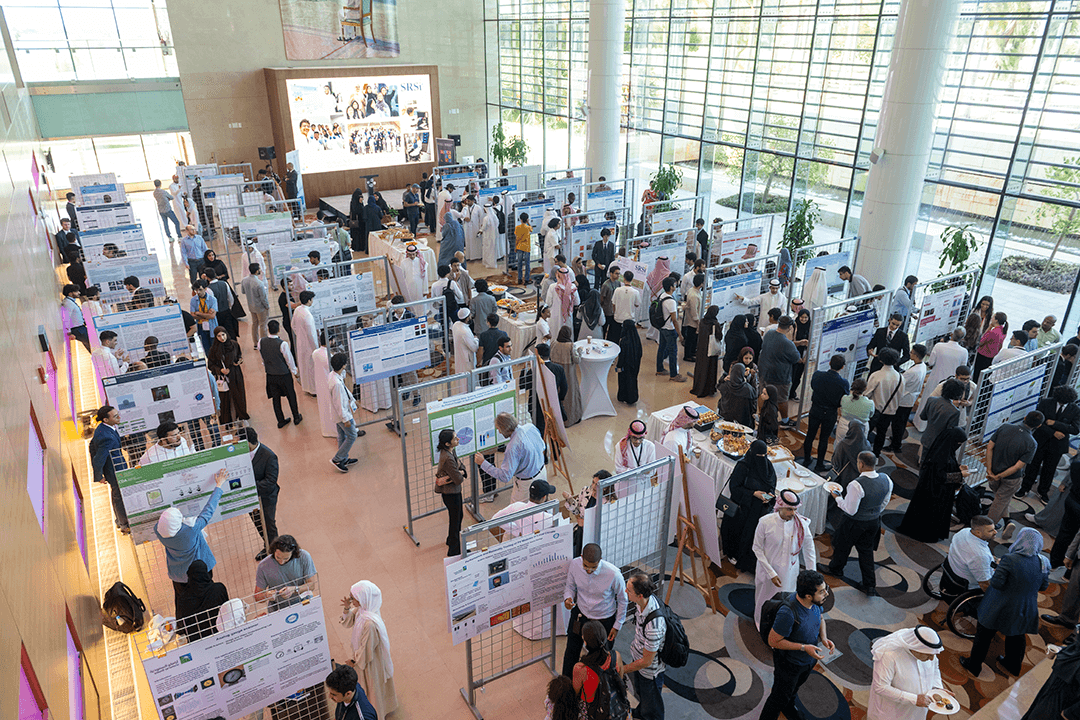 Poster session at the orientation
Meet the faculty
What distinguishes KGSP from any other scholarship program is that KGSP students have an entire university to support them, noted Dr. Najah Ashry, Vice President of KAUST for Strategic National Advancement (SNA). For KGSP students, she added, engaging with KAUST faculty whenever possible is important and helps ensure academic success. Faculty can share experiences, assist students in finding internships and career opportunities, as well as offer advice.
For example, during a faculty panel discussion at PDO, Sami Al-Ghamdi, associate professor of Sustainable Built Environment and Climate Change Resilient Infrastructure, advised the new cohort to focus on developing specialized skills while also learning to collaborate with a range of thinkers.
He added that KGSP students have a "huge potential" to positively influence the Kingdom upon returning to KAUST. "You'll have a significant impact in the society when you come back here."
Saudi Arabia is investing in its future, and KAUST is a "dream university" for any researcher wanting to develop and deploy meaningful innovations, said Jorge Gascon, professor of Chemical Engineering in the Physical Science and Engineering Division. He advised KGSP students to be passionate, but also to concentrate on the foundations of STEM during their undergrad studies. "That'll give you the tools to excel in whatever you want to do."
The KAUST family
Ian Campbell, Interim Vice-President of Innovation at KAUST, told KGSP participants they have incredible opportunities ahead. He reminded the students that they are now part of the supportive KAUST family. "You represent KAUST in everything you do. We want to hear of your journey. We want to hear of your successes."
When Abdullah AlGziwi, 18, from Eastern Province, found out he was accepted as a KGSP Foundation Year student, the aspiring computer scientist knew this was a "big step towards realizing [his] professional ambitions." With a goal of eventually attending MIT for his undergrad, AlGziwi said he appreciates just how key KAUST will be to his accomplishments. "KAUST is probably the best way that I could achieve those goals, especially here in Saudi Arabia."
The PDO also was an important opportunity for cohort members to meet one another. As this year's orientation ended, Jeff Mervosh, KGSP lead representative in the U.S., told the parting KGSP students not to be too sad. After all, they would soon reunite on campuses across the U.S. "This is the end of your Pre-Departure Orientation. But wait. There's more."