Maged Saad, lead researcher of Darwin21 research group and future CEO of GrowBioM
KAUST Professor of Plant Science Heribert Hirt named his research group Darwin21 in honor of English naturalist and biologist Charles Darwin, with a view to continue discovering to that level of scientific inquiry in the 21st century.

"The aim of setting up Darwin21 was to establish a global knowledge base of desert rhizosphere and plant endophyte microbes, and pioneer their use in re-establishing sustainable agricultural systems in arid lands," said Hirt.
The rhizosphere is the very thin layer of soil around a plant's root system. Endophytes are organisms, often fungi and bacteria, that live between living plant cells for at least part of their life cycle without causing apparent disease. The group has shown that microbes dictate how the plant grows in conditions of high salinity, lack of water and extreme heat, and that this is where the value of microbes lies.
The group spent the last eight years developing the biggest collection of plant endophyte microbes in the world. "We have been testing these different plant microbes inside the lab for some time, and have selected the elite strains that really do work," said Maged Saad, lead researcher with Darwin21.
After testing the microbes in the lab and recording the growth promotion of the plants under different conditions of heat, salt and limited water irrigation, the scientists took the most effective strains to be tested on a larger scale in the greenhouse and open field. Saudi Arabia has many types of climates and soils. They then formulated and validated their product in actual desert farming conditions, working with an established network of farms across the Kingdom. The research group saw very promising results with different crops.
"After this success, we needed to increase the awareness and validation of our biological solutions with a third party organization. For that we came to Estidamah," said Saad.
Validation of biostimulants: A vital step for Darwin21
In a new development, Estidamah, the National Research and Development Center for Sustainable Agriculture based in Riyadh, validated several of Darwin21's biological products shown to increase vegetable yield and quality under arid conditions.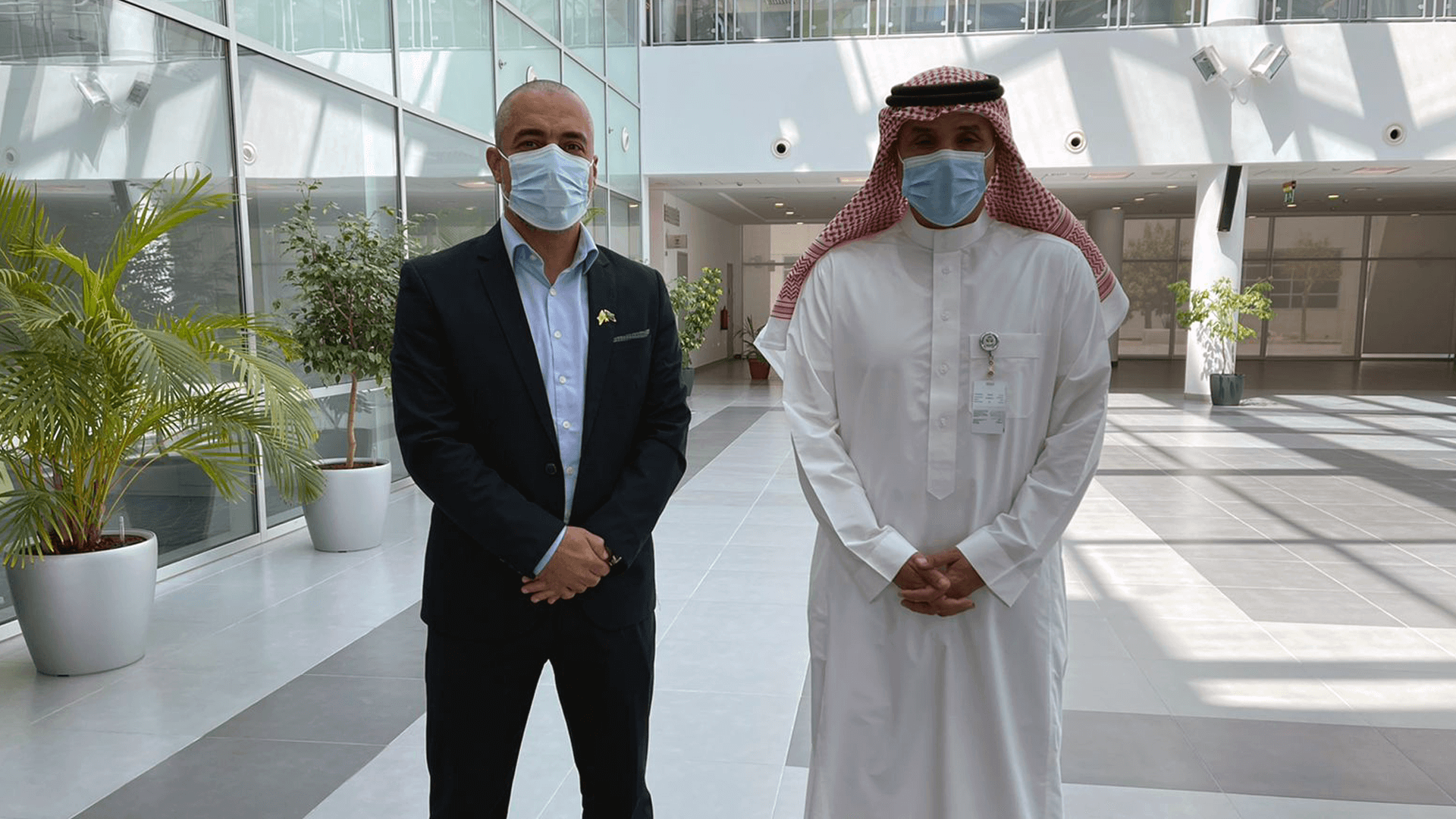 General Manager of Estidamah, Dr. Khalid Alassaf and Maged Saad, lead researcher of Darwin21 research group

"Our product has been validated by Estidamah, showing that by applying our microbes, a cucumber harvest requires only two-thirds of the water used with conventional practices," said Hirt. "This product is thereby contributing to two major aims of the 2030 Saudi Vision program in saving water and providing long-term food security for the Kingdom."
Estidamah's validation has been an invaluable step to moving their research forward to commercial application. Estidamah has set key strategic objectives to deliver on its mission, including applying and promoting innovative agri-technologies, improving agricultural sustainability, achieving greater impact through collaboration with local and international partners, and enhancing communication and knowledge sharing.
"This will achieve the desired positive impact to ensure sustainable agricultural development according to the latest global methods in the field," said General Manager of Estidamah, Dr. Khalid Alassaf.
Climate change makes water availability one of the biggest limiting factors in agricultural productivity. Estidamah Research Scientist Dr. Mohamed Ewis said, "Here, we see that Darwin21 biostimulants under a full agronomic cycle could be employed as a sustainable bridge to enhance commercial greenhouse production to enhance water use efficiency of irrigation water."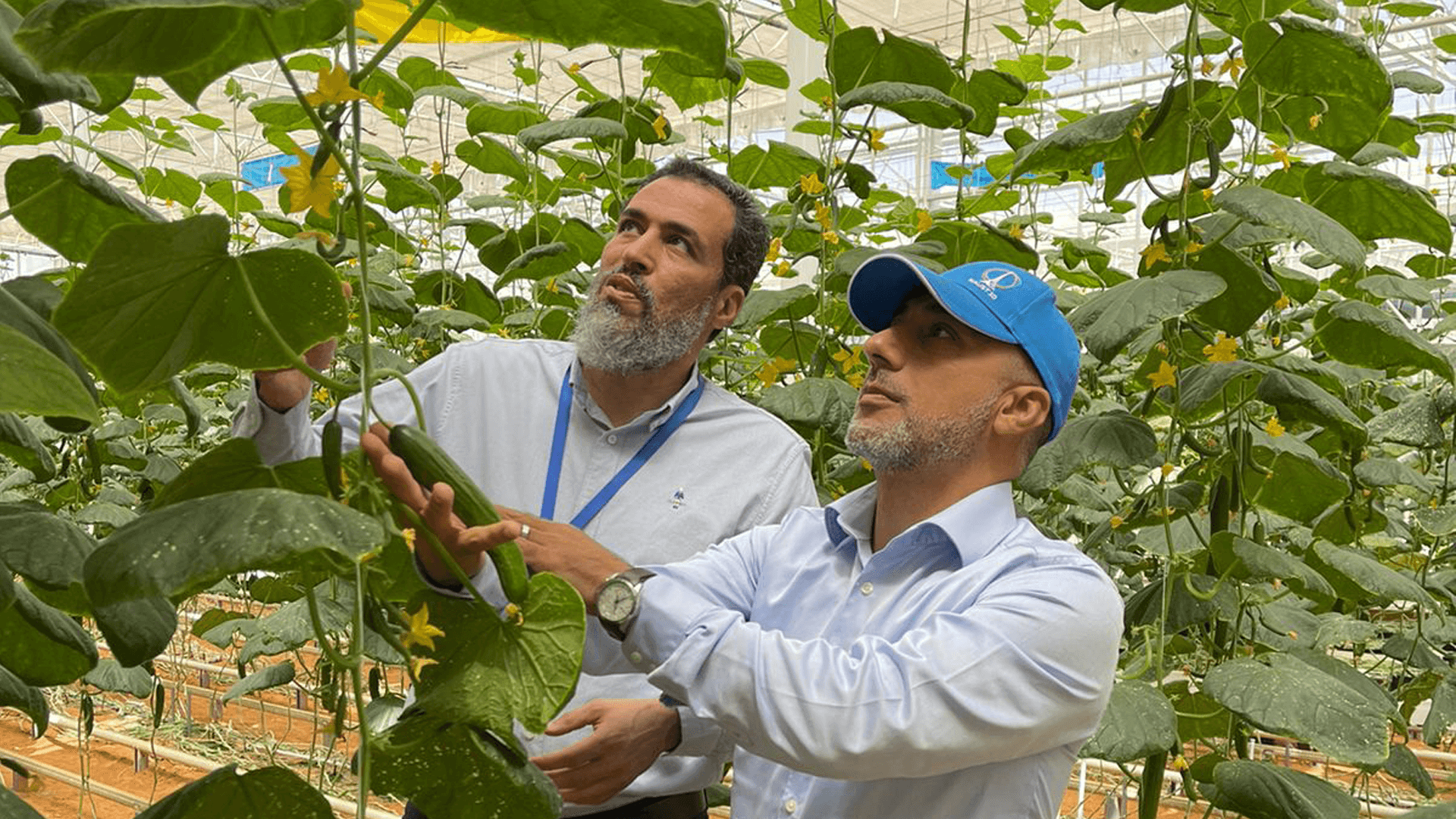 Estidamah Research Scientist Dr. Mohamed Ewis and Maged Saad, lead researcher of Darwin21 research group
Turning their innovation into a startup
Darwin21 is now turning their innovative microbe research into a commercial company as they progress through the intensive KAUST startup accelerator program, TAQADAM.
"Our new company GrowBioM (جروبيوم) will be emerging just as biostimulant products are becoming hot property on the international market," said Maged Saad, future CEO of GrowBioM. According to Market Intelligence, the biostimulants market is worth $2.6 billion and expected to grow to $4.9 billion.
KAUST has been providing ongoing support from various departments and offices as the team has progressed its product.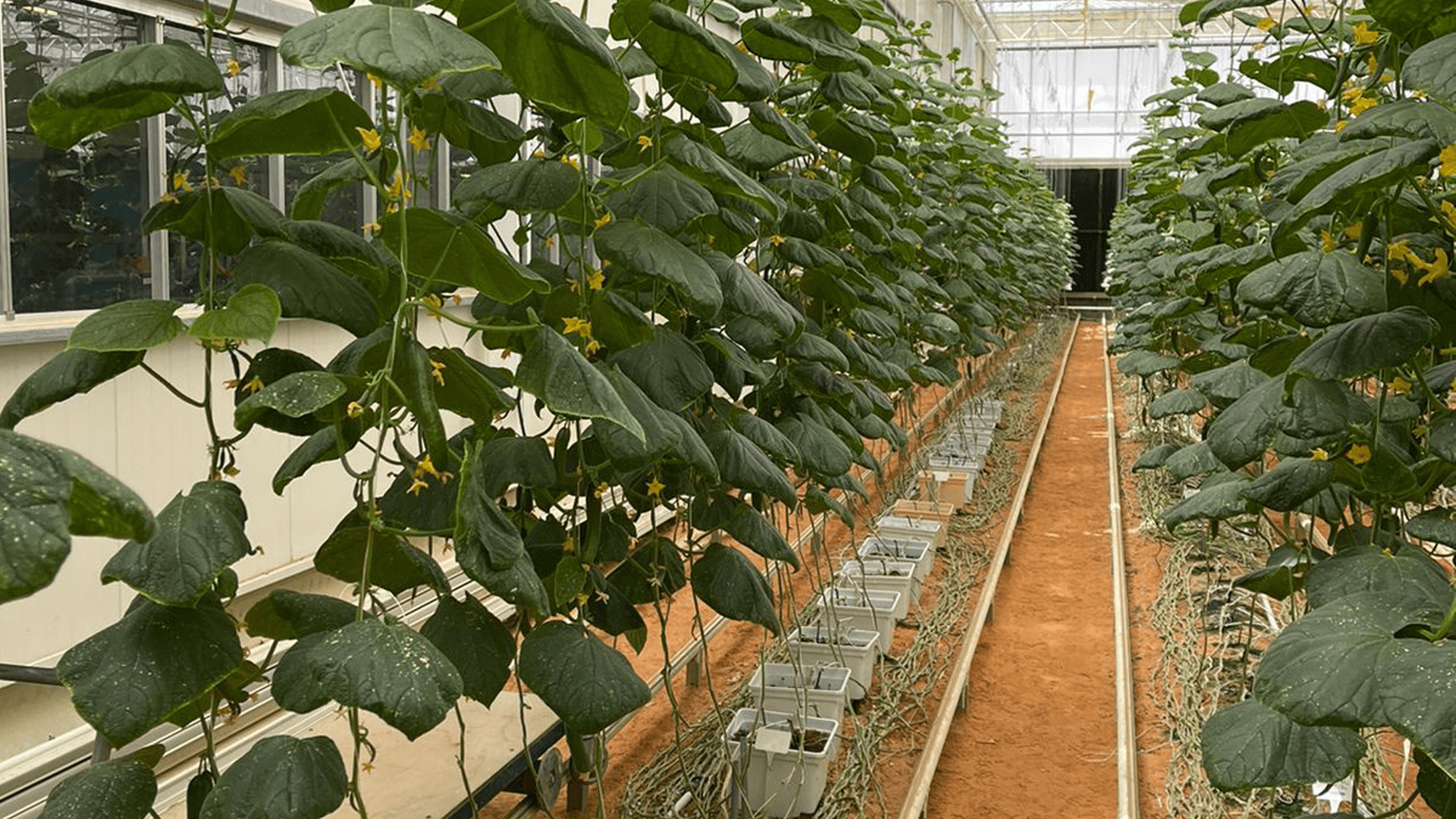 Cucumber crops in the Estidamah greenhouse

In March 2019, the group received KAUST Near-term Grand Challenge Fund 1.75 million USD from the Office of the President, Office of the Vice President for Research, and the Technology Transfer Office to build a research and development lab in the KAUST Innovation cluster to establish pilot produce lines at small to medium scales of their products, and validate several formulations in different places.
As part of their TAQADAM experience, the spin-off startup from Darwin21 also received 40,000 USD to accelerate the emergence of their startup. With the assistance of the Innovation Fund, the research group has two patents and a third in process.
Related