KAUST spinout WAYAKIT has announced that it is partnering with Saudi Ground Services (SGS) to provide sustainable cleaning solutions for the airline industry. The partnership will result in a significant reduction of hazardous and toxic materials used for hygiene maintenance and reinforces WAYAKIT's commitment to developing effective, ecological products that aid in achieving the goals of Saudi Vision 2030 and the Saudi Green Initiative.
Wayakit is applying biotechnology solutions to develop new cleaning disinfectant products that contain no toxic chemicals or oxidizers. SGS provides aircraft ground handling services for multiple Saudi airlines at more than two dozen airports, effectively putting Wayakit's products all across the nation.
Wayakit's founders, Dr. Sandra Medina and Dr. Luisa Javier, earned their doctorate degrees at KAUST in 2020 and 2021 under Prof. Noreddine Ghaffour and Prof. Johannes Vrouwenvelder, respectively. Javier, however, first earned her master's degree here in 2011 and then returned to her native land of Mexico, where she started Sin Aqua, another company developing cleaning products. Wayakit reflects the scientific and entrepreneurial education available at KAUST.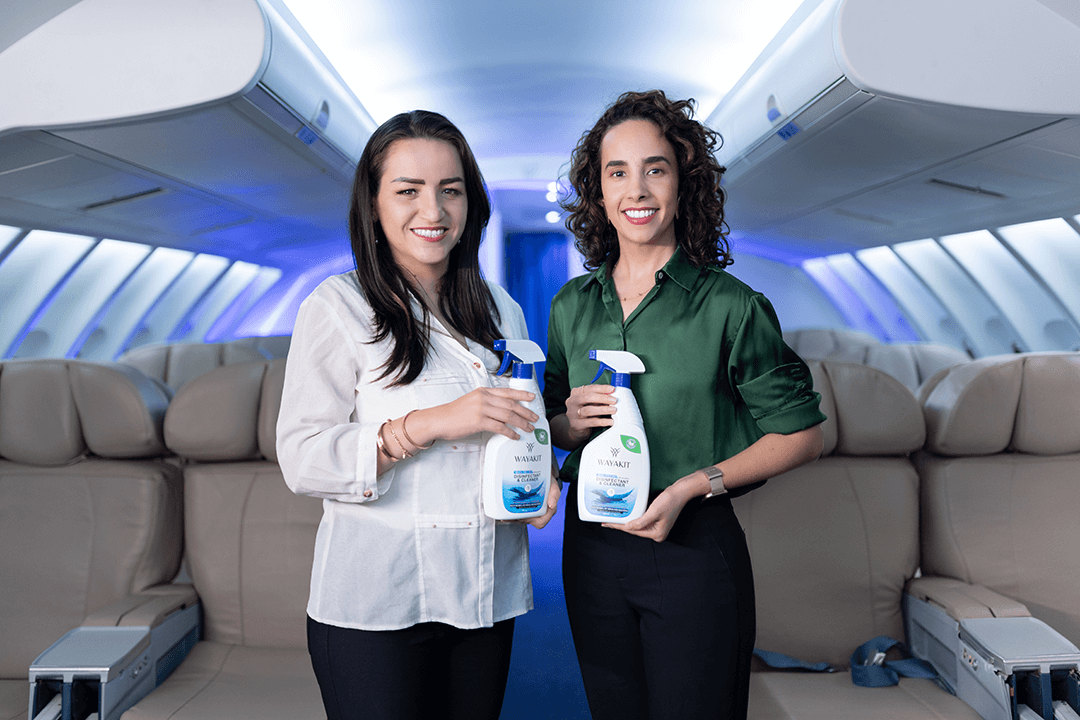 Luisa Javier (left) and Sandra Medina of Wayakit
"KAUST for us is a catalyst of entrepreneurship and has given us lot of room to grow Wayakit. We learned the importance of listening first to the customers before designing any product. The amazing facilities and labs in KAUST helped us speed up the creation of our first prototype," said Medina in Arab News about how KAUST has nurtured the company from its beginnings.
One of the biggest industries hit by the COVID-19 pandemic was airlines. The pandemic enabled startups like Wayakit to pivot and develop new solutions. In the airline industry, cleaning crews must disinfect the planes while also adhering to aviation safety all in the span of approximately 10 minutes.
"We have proven that when SGS shifted towards a WAYAKIT solution, they not only increased their cleaning efficiency but also saved operational costs and decreased the exposure of crew and passengers to toxic chemicals," said Javier.
The partnership with SGS is just one of the product additions of the company and is indicative of how KAUST talent are strengthening the Saudi economy. In 2021, Wayakit opened a pilot production facility in the KAUST campus and has since expanded its manufacturing production to Jeddah. Wayakit also has an international presence, with other ground handling agreements in foreign countries. Currently, it plans to expand its markets by delivering hygiene solutions for other environments in which large groups of people gather, such as hospitals, hotels, buses, trains and schools.