KAUST has a number of major research projects that are designed to assist Saudi Arabia in reaching its greater goals, such as Vision 2030 and the priorities set by the Research, Development and Innovation Authority. Among two of the biggest are coral reef restoration and carbon neutrality. The Coral Research & Development Accelerator Platform ( CORDAP) is a major project at KAUST that fuses these two initiatives. Founded in 2020 by the G20, but with Saudi Arabia at the lead, two events this past summer demonstrated the importance of CORDAP for coral reef restoration.
CORDAP's purpose is to develop and accelerate solutions that save the world's corals. CORDAP is headquartered at KAUST, reiterating Saudi Arabia's leadership in this global challenge and the central position KAUST scientists have in finding solutions to protecting our marine rain forests, half of which have disappeared in the past 50 years due to rising temperatures.
The first event was this past August, when many dignitaries and organizations assembled at Digital City in Riyadh to officially launch the CORDAP Global Platform Foundation, a non-profit organization that will serve as the financial arm of CORDAP. Among the prestigious guests were HRH Princess Reema bint Bandar Al Saud, Saudi Arabian Ambassador to the United States, and H.E. Dr. Fahad bin Abdullah Toonsi, Secretary-General of the Saudi Secretariat for the G20 and member of the KAUST Board of Trustees.
"The Royal Court's approval of the Global Platform Foundation marks a major milestone toward implementing this distinguished global initiative,'" said the Foundation's chair, Dr. Osama Faqeeha. "The non-profit organization will facilitate the receipt of financial contributions to CORDAP from G20 and non-G20 countries, the private sector, and other contributors according to CORDAP's charter endorsed by G20 environmental ministers."
The launch included CORDAP signing a number of memoranda of understanding with Saudi entities, including ones with the AEON Collective, Environment Fund, National Center for Wildlife and NEOM.
The other event was at the 18th International Architecture Biennale in Venice, where the Saudi pavilion displayed a carbon-negative solution for coral restoration.
This solution came from a collaboration between KAUST and PARTANNA, a company that is developing a manufacturing process for concrete that removes carbon from the atmosphere rather than emits it. Concrete production represents 8% of total carbon emissions. PARTANNA's product was inspired by coral science and incorporated into Maritechture, which describes a suite of tools designed by KAUST to transport corals from the lab to the ocean for restoration projects.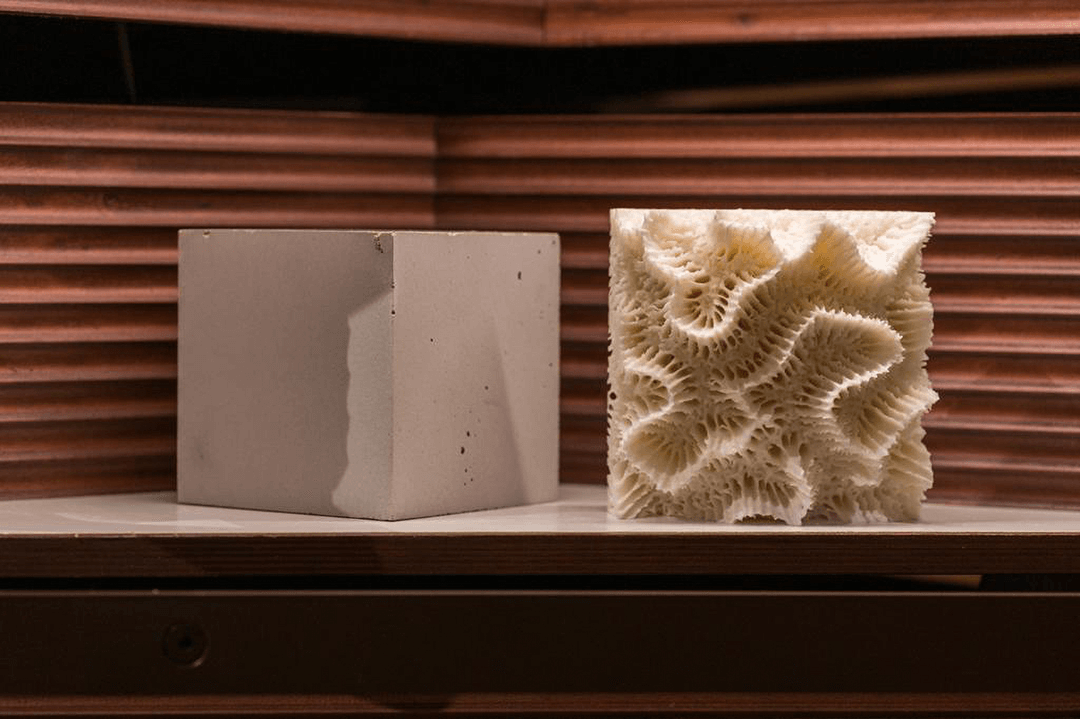 The Saudi exhibit of KAUST and PARTANNA products
"Corals face alarming degradation due to human impacts and climate change. We are developing solutions to help protect coral reefs from the changing climate, including alternatives that are less damaging to the environment," said CORDAP Executive Director and KAUST Professor Carlos Duarte.