At the 2022 UN Oceans Conference, Lisbon, Portugal, members of the governing bodies of CORDAP met to advance the program of the platform. KAUST serves as CORDAP's central node, supporting CORDAP operations. KAUST representatives in attendance include President Tony Chan (front center) and Distinguished Professor of Marine Science Carlos Duarte, CORDAP's Executive Director (two to the left from Chan). Photo: KAUST
​King Abdullah University of Science and Technology (KAUST) is playing a central role in supporting a major international G20 Initiative, the Coral Research and Development Accelerator Platform (CORDAP), which aims to protect and restore corals around the globe. This comes at a critical time for corals, which are facing widespread destruction due to the impacts of human-induced climate change along with direct human pressures. The Government of Saudi Arabia and KAUST are deploying, along with the G20 partners, their resources and capacity to help corals, both tropical and deep water, survive and thrive in an increasingly warming world.

As part of these efforts, on August 28 and 29, 2022, CORDAP co-organized a G20 workshop withthe United Nations Global Fund for Coral Reefs (GFCR)in partnership with the Indonesia Coral Reef Garden (ICRG), hosted by the Indonesian government as part of Ocean20, an event tract of the G20 Presidency of Indonesiasummit that will take place November 15-16, 2022 in Bali — the seventeenth meeting of the Group of Twenty. The event will include, for the first time, an Oceans Day on 14 November, 2022. The G20 is a strategic multilateral platform connecting the world's major developed and emerging economies, and the protection of marine ecosystems and deployment of ocean-based climate solutions is part of its agenda.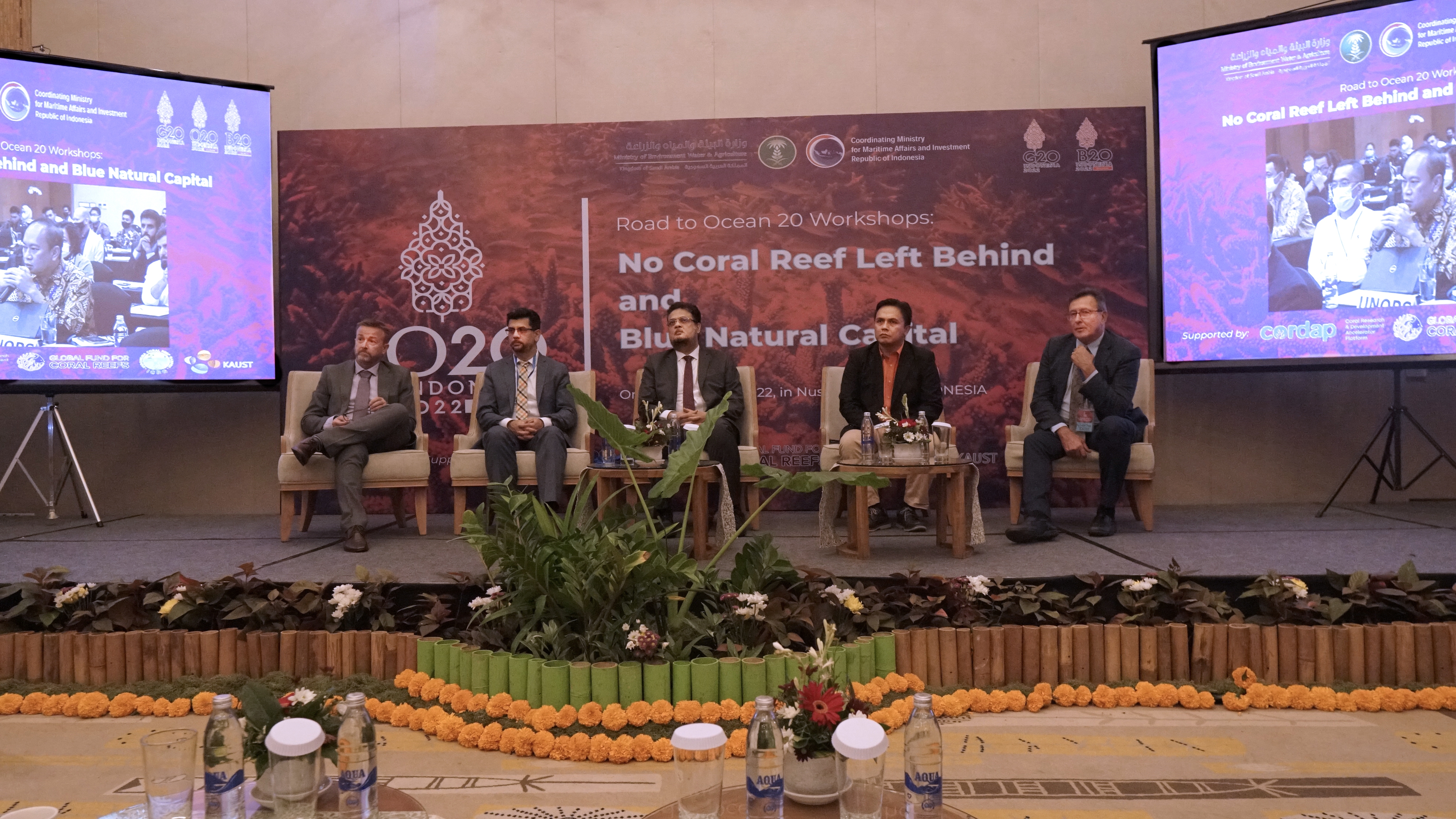 Panelists address conference attendees as part of the "No Coral Reef Left Behind" workshop at the 2022 Ocean20, an event tract of the G20 Presidency of Indonesia, Nusa Dua Bali, Indonesia. From left to right: Dr. David Mead, Chair of CORDAP's Scientific and Advisory Committee; Yabanex Batista, Deputy Head, UN Global Fund for Coral Reefs, Dr. Osama Faqeeha, Deputy Minister for Environment of KSA and Chair of CORDAP's Initiative Governance Committee; Andreas Hutahaen, Coordinator of Indonesias' Coral Reef Restoration Program and Blue Economy development; and KAUST Distinguished Professor of Marine Science Carlos Duarte, CORDAP Executive Director. Photo: KAUST

The two-day workshop, No Coral Reef Left Behind and Blue Natural Capital, held on August 28 and 29, 2022, served to deliver actionable policy recommendations on coral conservation cooperation toG20 Environment Deputy Ministers, and appraise leadership about CORDAP–GFCR activities to date. Scientific experts, practitioners and policymakers convened to raise awareness about coral community experiences in Indonesia and other G20 countries, and discuss affordable, scalable and transferable solutions for coral reefs worldwide. Yabanex Batista, Deputy Head of Fund Secretariat of the UN Global Fund for Coral Reefs, highlighted the partnership with CORDAP and described their efforts to conserve resilient reefs and restore damaged ones across the ocean.

The CORDAP-GFCR alliance stems from the signing of a Memorandum of Understanding (MoU) between the organizations in June 2022 at the UN Oceans Conferencein Lisbon, Portugal. The partnership seeks to advance and scale-up coral reef research, development and restoration across the world.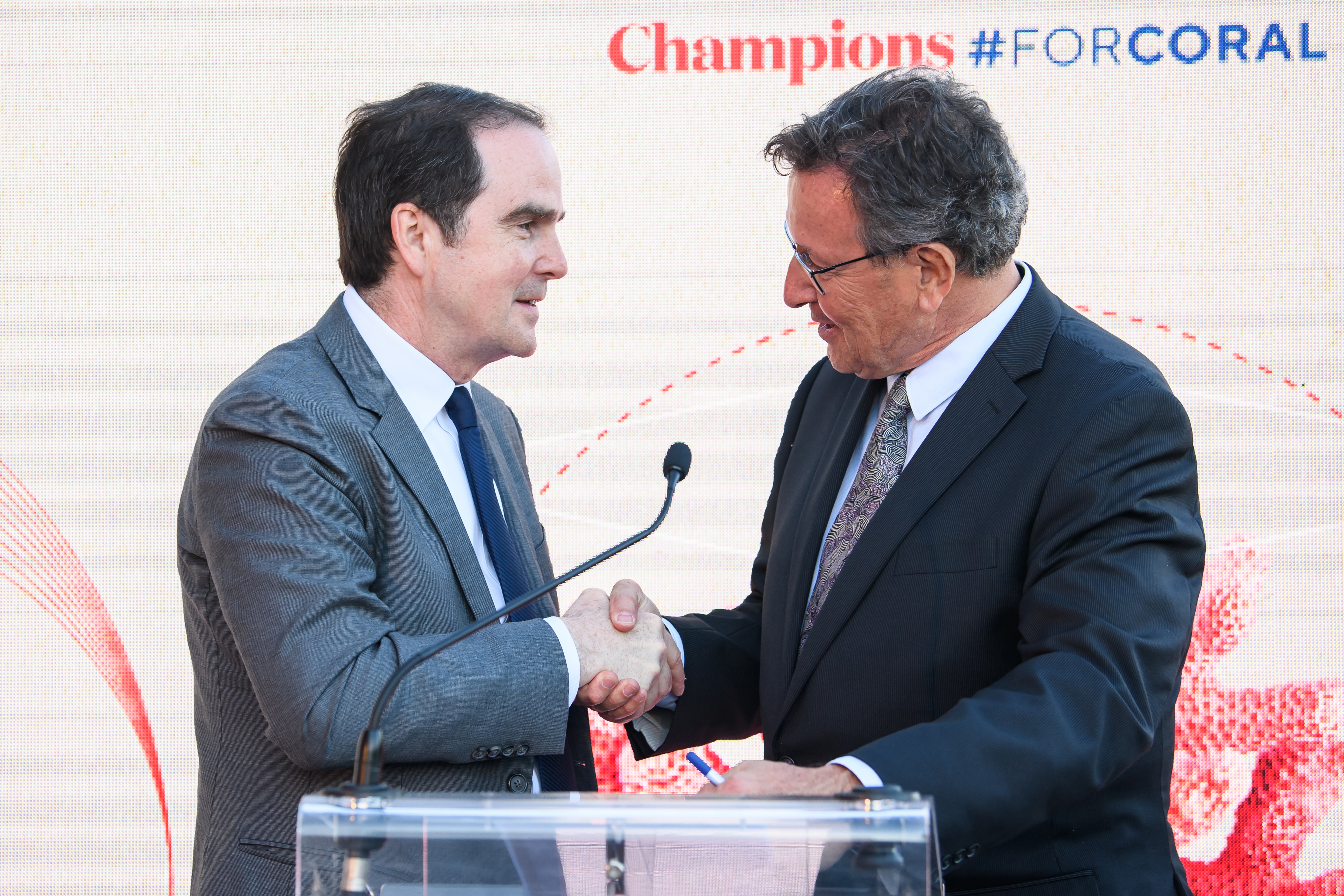 UN Global Fund for Coral Reefs Executive Board Chair Chuck Cooper (left) and CORDAP Executive Director Dr. Carlos Duarte (right) exchange congratulations after signing the Memorandum of Understanding (MoU) between CORDAP and the UN Global Fund for Coral Reefs at CORDAP's "Champions for Corals" event at the 2022 UN Oceans Conference, Lisbon, Portugal. Photo: KAUST

In his summary of the UN Oceans highlights at the closing session, Ambassador Peter Thomson, UN Secretary-General's Special Envoy for the Ocean, said he was inspired by the restoration solutions he heard at the event. He referenced a talk by CORDAP's Executive Director, KAUST Distinguished Professor of Marine Science Carlos M. Duarte, who coined the motto "No Coral Reef Left Behind," and called to raise the ambition for the future conservation of coral reefs by pushing the boundaries of the possible through research.

"It was said that coral reefs are the rainforests of the ocean, and just as we are planting trees to build up the forest's capability of sequestering carbon, we should be doing the same in the ocean by planting corals," Thomson said.

Guiding mission

CORDAP was born from Saudi Arabia's G20 Presidency of the G20 in 2020. The CORDAP mission is to support, complement and scale up existing and new initiatives focused on coral conservation, resilience, adaptation and restoration. Since launching its strategic plan in March 2022, which outlines potential projects to fund, proposal submissions, review processes and priority investment areas, CORDAP has emerged as a major organization in tropical coral reef and deep-water coral restoration.

Saudi Arabia's Deputy Minister of the Ministry of Environment, Water and Agriculture (MEWA), Dr. Osama Faqeeha, is elected chair of the CORDAP Initiative Governing Committee. Jennifer Koss, director of the US National Oceanographic and Atmospheric Adminstration (NOAA) Coral Reef Conservation Program, serves as vice chair of the Initiative Governing Committee. Professor Duarte and KAUST Associate Professor Raquel Peixoto are also on CORDAP's 19-member Scientific and Advisory Committee, which comprises renowned international coral scientists, managers and engineers.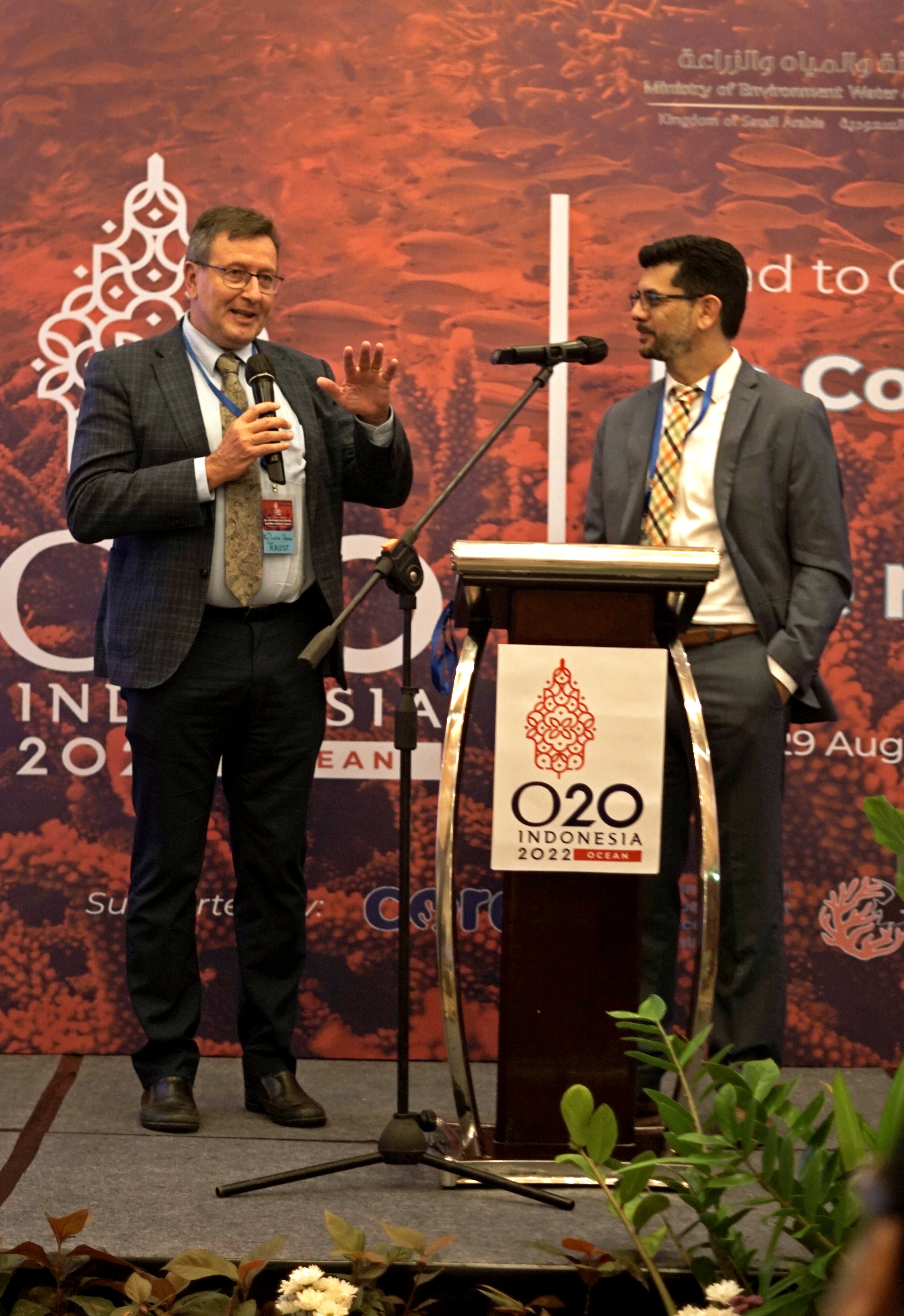 CORDAP Executive Director Carlos Duarte (left), shown here with Yabanex Batista, Deputy Head, UN Global Fund for Coral Reefs (right), discuss the importance of partnerships as part of the "No Coral Reef Left Behind" workshop at the 2022 Ocean20, an event tract of the G20 Presidency of Indonesia, Nusa Dua Bali, Indonesia. Photo: KAUST

CORDAP is working to fast-track research and development (R&D) solutions to save the world's corals, and invest in novel early-phase ideas through to final proof-of-concept development and testing. Its open-source model will allow anyone to advance and use the platform's technologies. KAUST serves as its central node, which supports all CORDAP operations. The university is covering the initiative's administrative costs as an in-kind contribution from Saudi Arabia. This means that every penny of international funding that CORDAP receives goes directly to R&D and other projects.

KAUST is a natural fit to serve as host. The university is a global hub of research for the conservation and restoration of coral reefs globally, with cutting-edge infrastructure and extensive expertise. KAUST also has significant experience in managing competitive funding processes, which will be a key feature of CORDAP. KAUST President Tony Chan addressed the joint plenary meeting of CORDAP's Initiative Governanceand Scientific and Advisory Committees, whose members thanked KAUST for his generous support of CORDAP.

"From the University's founding, research on Red Sea coral reefs has been one of KAUST's emphases and strengths. We are, therefore, motivated and inspired by this global effort, and have offered to do our part by serving as the platform's central node," Chan said.

Coral reefs are among the planet's most vulnerable ecosystems, impacted by rising ocean temperatures that trigger coral bleaching and mass mortality, acidification, sea level rise, and changing patterns of currents and precipitation. More than two-thirds of the world's coral reefs have been lost due to human activity, and 70-90% of the remaining coral reefs may disappear in the next 10-15 years according to the IPCC.

Indonesia — at the epicenter of global marine biodiversity with around 18,000 islands — has lost approximately one third of its coral reefs, along with a significant fraction of their mangroves and seagrass meadows. The country is committed to conserve and restore coral reefs globally, and was a supporting country when the Kingdom of Saudi Arabia first decided to create CORDAP.

"The window to save corals is closing," Duarte said. "For the first time, the functionality of an entire ecosystem that supports millions of species and people may be lost at the hands of humans. CORDAP is a time sensitive resource for innovative technical solutions and large-scale interventions needed to save corals and reefs."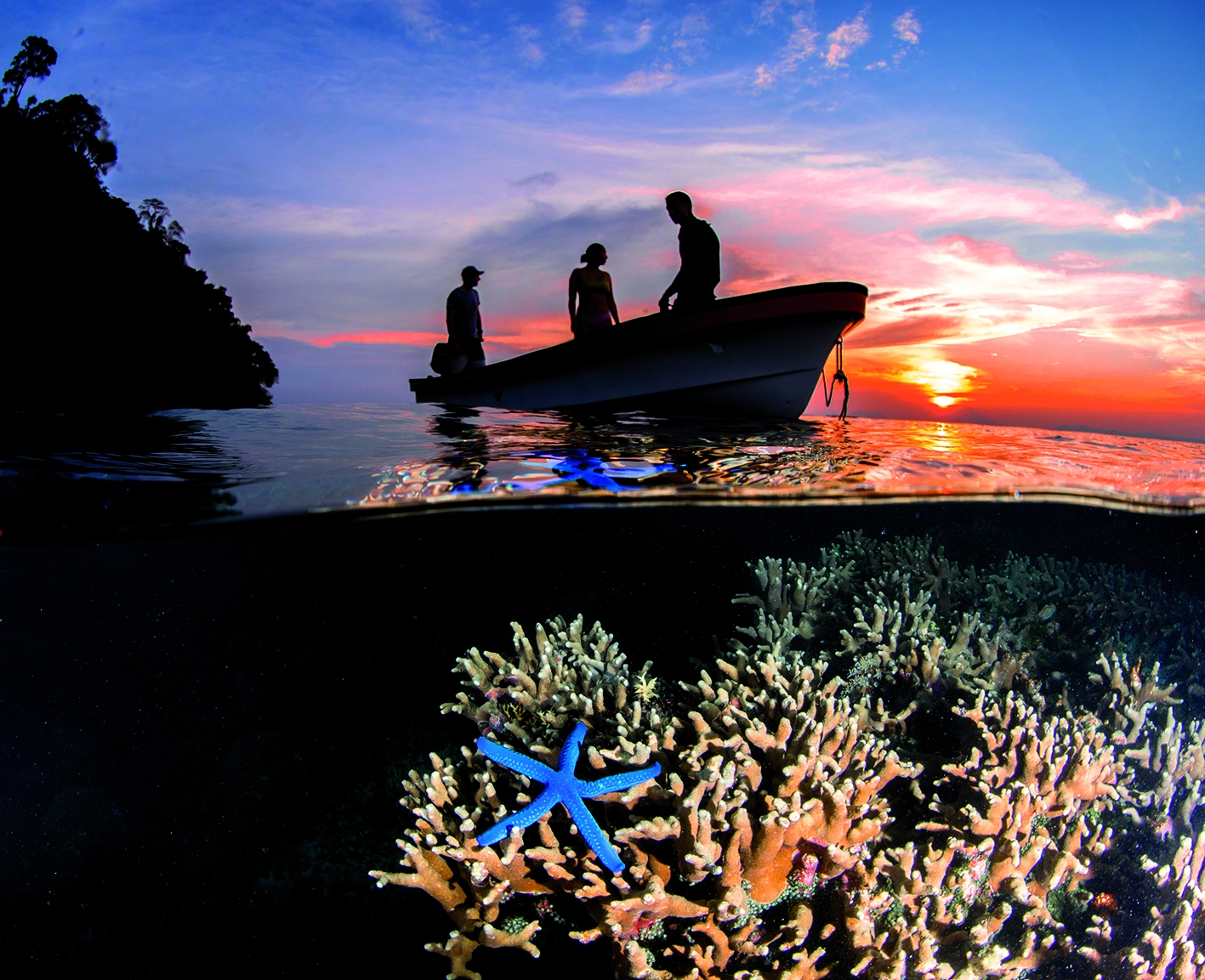 Composite photo shows dual surface and underwater views of the sea at sunset and coral habitat. Photo: Morgan Bennett-Smith / KAUST

To deliver its mission, Duarte said that CORDAP aims to raise and invest $30 million per year. In 2020, Saudi Arabia pledged $10 million per year for the next 10 years toward the initiative. The pledge signifies Saudi Arabia's intention to take an active and leading role in global coral protection efforts. Marine conservation is of particular importance for the Kingdom as it develops major new sustainability-focused tourism initiatives, including the highly anticipated Red Sea Project.

There's good reason to invest. Corals bring a range of benefits. They directly support the livelihoods of people around the world, and are a big draw for tourism. They reduce expected storm damage and lower the impacts of flooding. Corals cover only 0.2% of the ocean floor, yet support an estimated 32% of all named marine species. In economic terms, it is estimated that corals bring a total benefit of $12.7 trillion per year – equivalent to more than 15% of global GDP.

A number of R&D efforts already in place could provide a springboard for CORDAP to build, connect and learn from. One example is the Shushah Island Coral Reefscape Project, which will establish a 100-hectare site for coral reefs in the northern Red Sea using advanced restoration techniques through a partnership between KAUST and NEOM.

Deputy Minister of MEWA Dr. Osama Faqeeha said, "Saudi Arabia is custodian of some of the healthiest coral reefs in the Red Sea and is committed to their conservation and restoration. We welcome CORDAP as a much-needed international collaborative effort to secure a future for coral reefs."

In September CORDAP will launch the Coral Accelerator Program (CAP) 2022. CAP will award funds to multinational collaborative teams with impactful ideas that lead to significant discoveries, innovations, and improvements in coral conservation and restoration.

Related links