KAUST receives Gates Foundation grant for parasitic weed research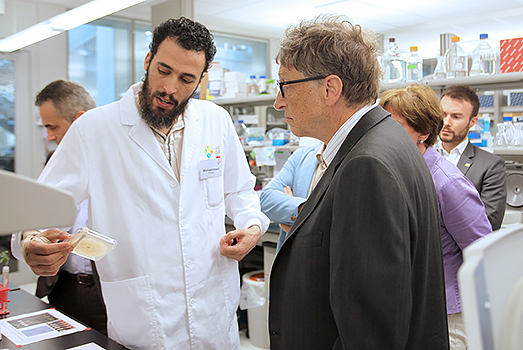 Postdoctoral Fellow Mohamed Ewis (left) discusses his research with Bill Gates.
The Bill & Melinda Gates Foundation has approved funding of $1.5 million for King Abdullah University of Science and Technology (KAUST) to conduct scientific research towards eradicating a destructive parasitic weed in croplands throughout sub-Saharan African countries.
Commonly known as "witchweed," the Striga hermonthica weed destroys millions of hectares of crops in sub-Saharan Africa every year by siphoning off valuable water and nutrients. Considered one of the hardest parasitic plants to control, Striga infestation devastates much-needed cereal yields, depriving rural families across the region of much of their livelihood. Solutions for eradicating and combating Striga are greatly needed, particularly for pearl millet.
Dr. Salim Al-Babili, who is leading this effort at KAUST, explained: "Pearl millet is the staple food crop for millions of rural families in semi-arid regions of Africa, Asia and the Middle East. Striga can destroy an entire year's cereal yield, causing billions of dollars in losses every year. Additionally, Striga is becoming more severe due to climate change conditions. This project aims to provide lifesaving Striga control methods to enhance food security in the region and potentially in other parts of the world."
Building on his expertise gained from his work on golden rice, Al-Babili is teaming up with universities in Burkina Faso, Japan, and the Netherlands, to shed light on the biological compounds in pearl millet involved in the infestation and to identify low-cost methods for reducing and eventually eliminating Striga seed banks in infested soils.
Prof. Salim Al-Babili explains his work in plant hormones from KAUST Video on Vimeo.
Hassan Al-Damluji, Head of Middle East Relations at the Bill & Melinda Gates Foundation, commented: "Our generation faces an unprecedented global challenge of feeding 9 billion by 2050 and we see Africa's farmers as one of the key solutions to this problem. But when seven out of ten people living in sub-Saharan Africa are farmers, it's clear that they will require more support to address issues like Striga infestations in order to not only increase productivity, but grow more nutritious food for their families and communities. Investing in Africa's farmers requires strong global partnerships, and this is why we are very pleased to collaborate with KAUST, an institution ranking among the world's leading universities in the fields of agricultural and biological science. Through this partnership, we look forward to supporting Striga-prone areas of sub-Saharan Africa and enabling Africa to be able to feed itself – and help feed the world – within a generation."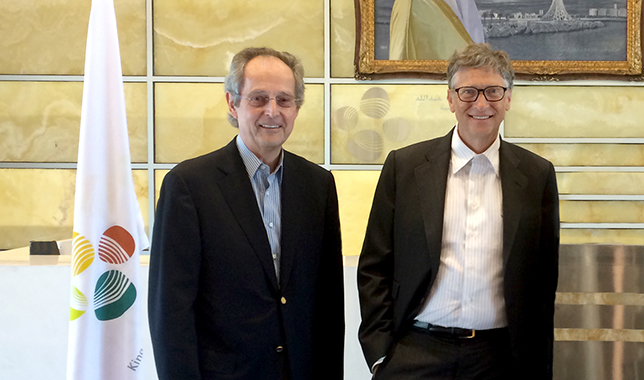 KAUST President Jean-Lou Chameau and Bill Gates during a 2014 tour of KAUST laboratories and research centers.​