KAUST Assistant Professor of Biosecience Sahika Inal was drawn to the University because of its caliber of scientists, facilities and collaborators. She is pictured here in her office on campus. File photo.
By David Murphy, KAUST News
Sahika Inal is an assistant professor of bioscience in the KAUST Biological and Environmental Science and Engineering (BESE) division. Her primary area of research at the University is bioelectronics, and she focuses on organic electronic materials and devices that can address clinical health monitoring and therapy needs.
"As a polymer scientist, my role is to hunt for functional polymers and their combinations with other high-performance materials," she explained. "I work on understanding the properties of these materials and tuning them on demand. I then design electronic platforms using these polymers and apply them at the interface with living systems. At KAUST, my focus has been on engineering materials and platforms that can seamlessly connect biological systems with electronics."
KAUST as a natural next step
Inal began her career in engineering before entering the world of bioscience. In 2007, she completed her bachelor of science degree in textile engineering at the Istanbul Technical University before moving to Potsdam, Germany. In Potsdam, she completed her master's degree in polymer science in 2009 and her Ph.D. in experimental physics in 2013 from the University of Potsdam.
She then moved to France for a postdoctoral fellowship at the École Nationale Supérieure des Mines de Saint-Étienne (EMSE). There, she designed micron-scale polymer-based electronic devices. After three years in France, she began searching for the next step in her career—a step leading her to KAUST.
"I was aware of the world-class scientists at KAUST. Moreover, I was convinced that the facilities and collaborators here and the research environment available in BESE would provide the necessary ingredients for a young scientist like me to grow," Insal said. "KAUST was the natural next step for me."
As Inal began building up her Organic Bioelectronics Laboratory at KAUST towards the end of 2016, she formulated a clear idea of what she wanted her team to achieve in the long run and the projects to pursue. Inal also sought to create a working environment where team members could look beyond the core aims of any project and focus on the bond of interdisciplinary teamwork.

"I was very excited to be here at KAUST when I first arrived—and I still am...Now, [three years later,] I can see...this interdisciplinary effort paying off, as my team members have contributed immensely to my research ideas," she said. "In turn, they are growing in their careers as my lab becomes more mature."
"In the beginning, it felt like—as a team—we had only a few ways of achieving my research goals," she continued. "However, in those three years, we...discovered and explored so many ideas along the way. Nowadays, I am excited to dig down whatever particular research 'rabbit hole' we delve [into]."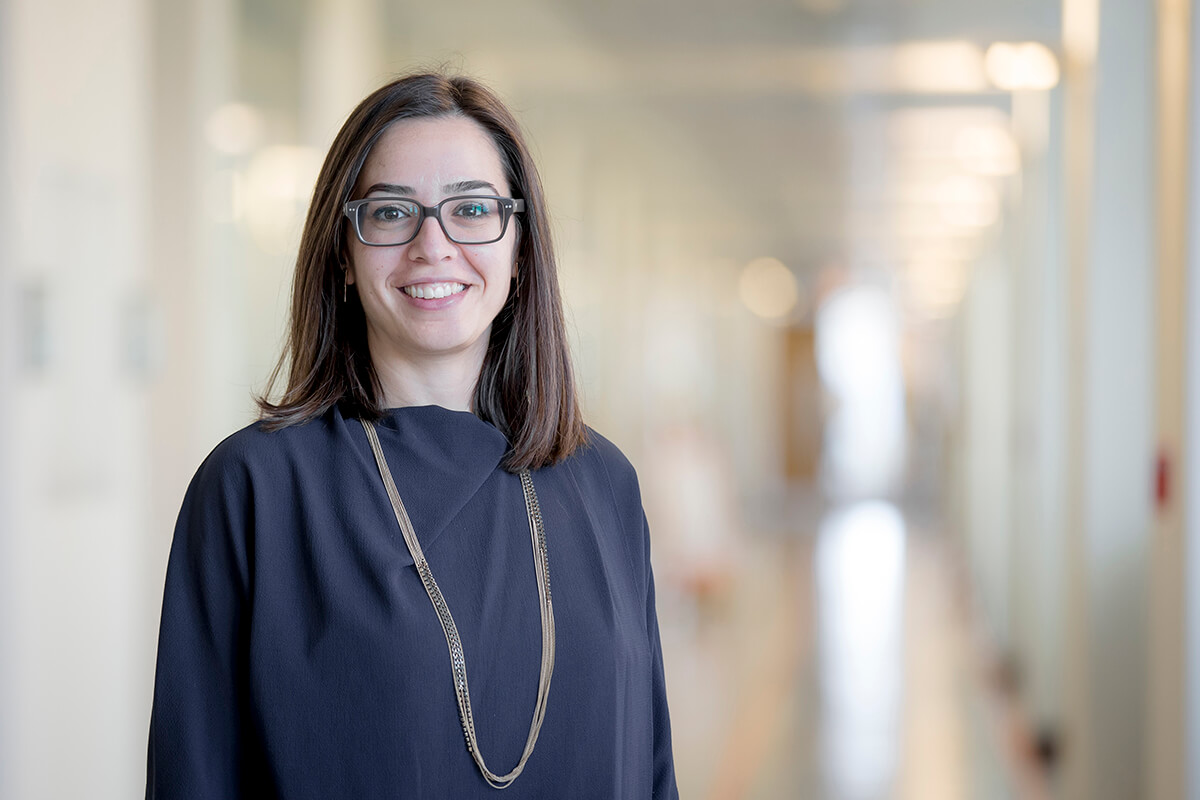 Sahika Inal, KAUST assistant professor of bioscience, credits her 'excitement about discovery and curiosity about the unknown' for her career path. Photo by Khulud Muath.
Exploring organic electronic materials
Inal is also particularly interested in ionic-electronic conduction in organic electronic materials and explores the potential of these materials for recording small biological signals and modulating biological events.
On a daily basis, she works in collaboration with the University's chemists and biologists to design electronic platforms that utilize polymers and then to apply them at the interface with living systems.
"These systems should be able to electrically communicate with living cells to understand, for instance, what is wrong with them or which drugs can cure them," Inal explained. "Such platforms can be in various forms: implanted in the body, attached to the skin or used in a biology lab with cell culture. These summarize my long-term goals: developing high-performance organic electronic systems for use as sensors or actuators of biological events."
"Being at BESE with biologists is truly advantageous for an engineer like [me]," she noted. "As bioelectronics is interdisciplinary, we should work with the medical community to develop devices that can actually have an impact [on] people's lives. This interdisciplinary field excites me a lot, as I get to learn new aspects of biology through these collaborations. The support that I get from senior colleagues at KAUST and the people that I started collaborating [with] here [has] positively affected my research journey."
An exciting future
Inal feels her field is full of potential developments with an exciting future ahead. She is particularly excited about the advances in microfabrication technology, which is creating a more seamless body-machine interface, resulting in more efficient devices that can boost or replace parts of the body.
"Some fascinating examples are already in the human trials stage, such as implanted devices that can control the function of certain nerves, thereby affecting the state of proteins, cells, tissues and organs," she said. "In my opinion, 3D printing is also going to revolutionize healthcare, as body parts would be created on-demand in short periods of time by machines customized according to the needs of the patient."
Discovering the unknown

Inal traces her enjoyment for discovery back to her time as an engineering undergraduate in her native Turkey, when she worked in a polymer chemistry lab for the first time. Because of this experience, she realized the lab provided her with an unparalleled sense of personal fulfillment. This love of discovery stayed with her and continues to act as a catalyst for her innovative research.
"[In the lab,] it was as if I found something I knew...I could never get bored of. I have always been curious about how things work, but [I] was otherwise [not] thinking about academia. This experience made me explore beyond what I thought I should do in my life. My career path was not carefully planned, but whatever I did paved the way to where I am today, and I owe [this] to my excitement about discovery and curiosity about the unknown," she concluded.

Related stories: