Representatives from King Abdullah University of Science and Technology (KAUST) convened in Sharm El Sheikh, Egypt from Nov 6 – 18 at COP27, the 27th Conference of the Parties and largest annual gathering on climate action in the world. The United Nations event took place in three designated areas across the city center — the Blue, Green and Climate Action Innovation Zones. Each space offered different opportunities to network and share sustainable perspectives with people from different sectors of society around the world committed to climate action — from heads of state and industry and indigenous leaders to climate activists and academic peers.
As a graduate university dedicated to sustainability-focused research, KAUST faculty, students, staff and leaders engaged in panels, presentations, exhibits and related activities across the three zones and also the Saudi Green Initiative Forum to promote the university and its projects, leverage expertise and explore new points of collaboration in areas such as carbon capture and storage, food security and desert agriculture, water conservation, blue carbon solutions and coral reef restoration.
KAUST subject experts present included Michael Berumen (Red Sea Research Center), Carlos Duarte (Red Sea Research Center; CORDAP), Hussein Hoteit (Al-Naimi Petroleum Engineering Research Center), Rory Jordan (CORDAP), Raquel Peixoto (Red Sea Research Center), Matthew McCabe (Water Desalination and Reuse), Himanshu Mishra (Water Desalination and Reuse), William Roberts (Clean Combustion Research Center), Alexandre Rosado (Bioscience), Mark Tester (Center for Desert Agriculture) and Rod Wing (Center for Desert Agriculture).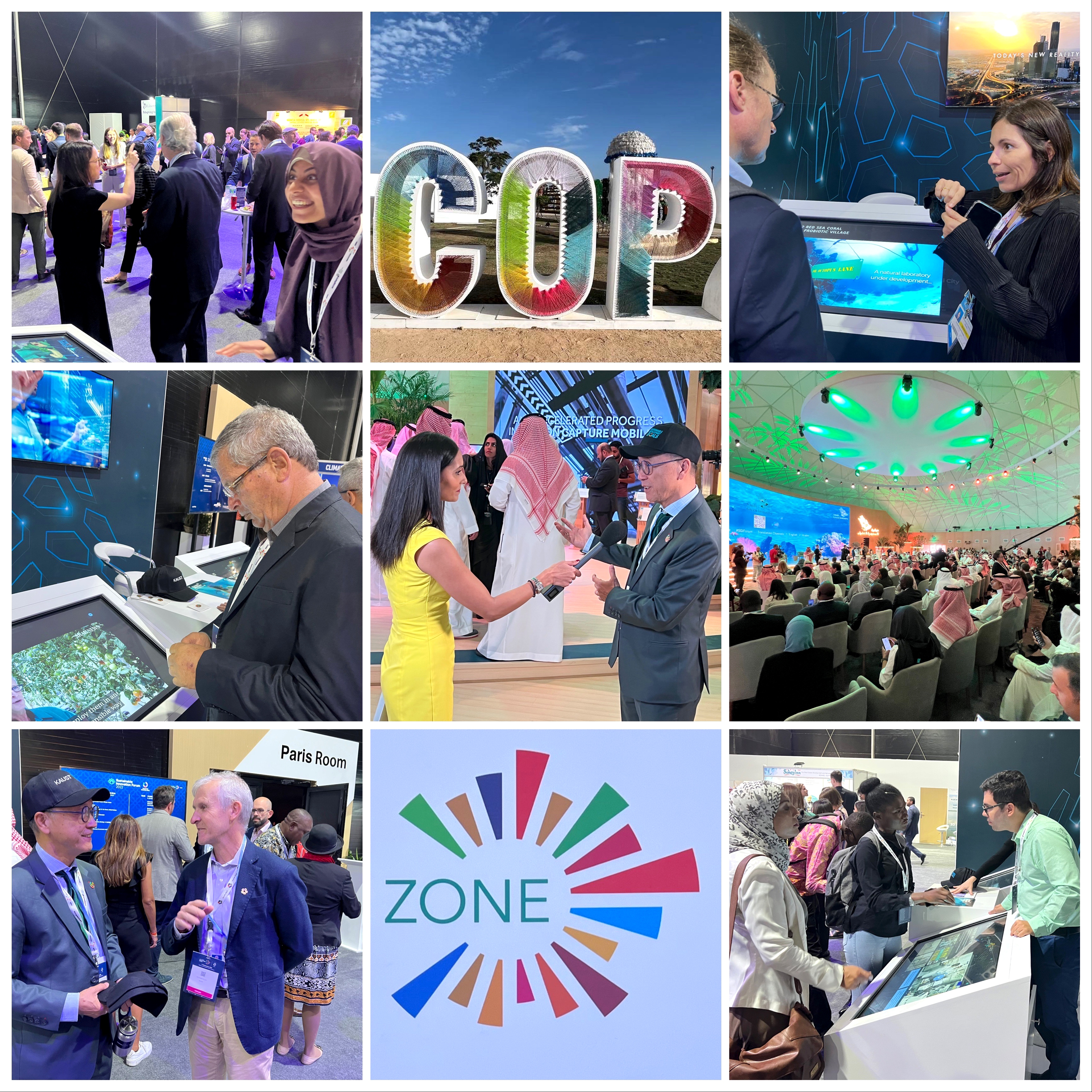 KAUST engaged with people around the world at COP27 through interviews, panels, presentations, meetings and exhibits. Photo composite: JWest/KAUST

More than a forum of lofty rhetoric, COP27 was billed as the "implementation COP." With Earth's natural systems facing radical harm and disruption because of human activities, world leaders urged that the stakes are high and the need great for private and public sectors to work together to solve these pressing global problems, and that everyone must be engaged in the effort to bring new technologies to scale. The voices and dialogue were richly varied. Attendees discussed challenges such as setting the "loss and damage fund," particularly for vulnerable countries, and the goal to limit global warming to less than 1.5 degrees — a target set forth by the Paris Agreement of 2015 — to avoid planetary-scale, catastrophic consequences.
In an impassioned plea to audiences as part of the panel, Bold Leadership: Embracing Collaboration and Competition, which took place in the Innovation Zone on November 10, KAUST President Tony Chan echoed this call.
"With a global challenge like climate change, we cannot be siloed; we must partner with people," Chan said. "It's not about competition — it's about cooperation between countries, between universities and other sectors. We should learn some lessons from COVID, which is nothing compared to what climate change has in store in the long term. We need to find agreement in the end."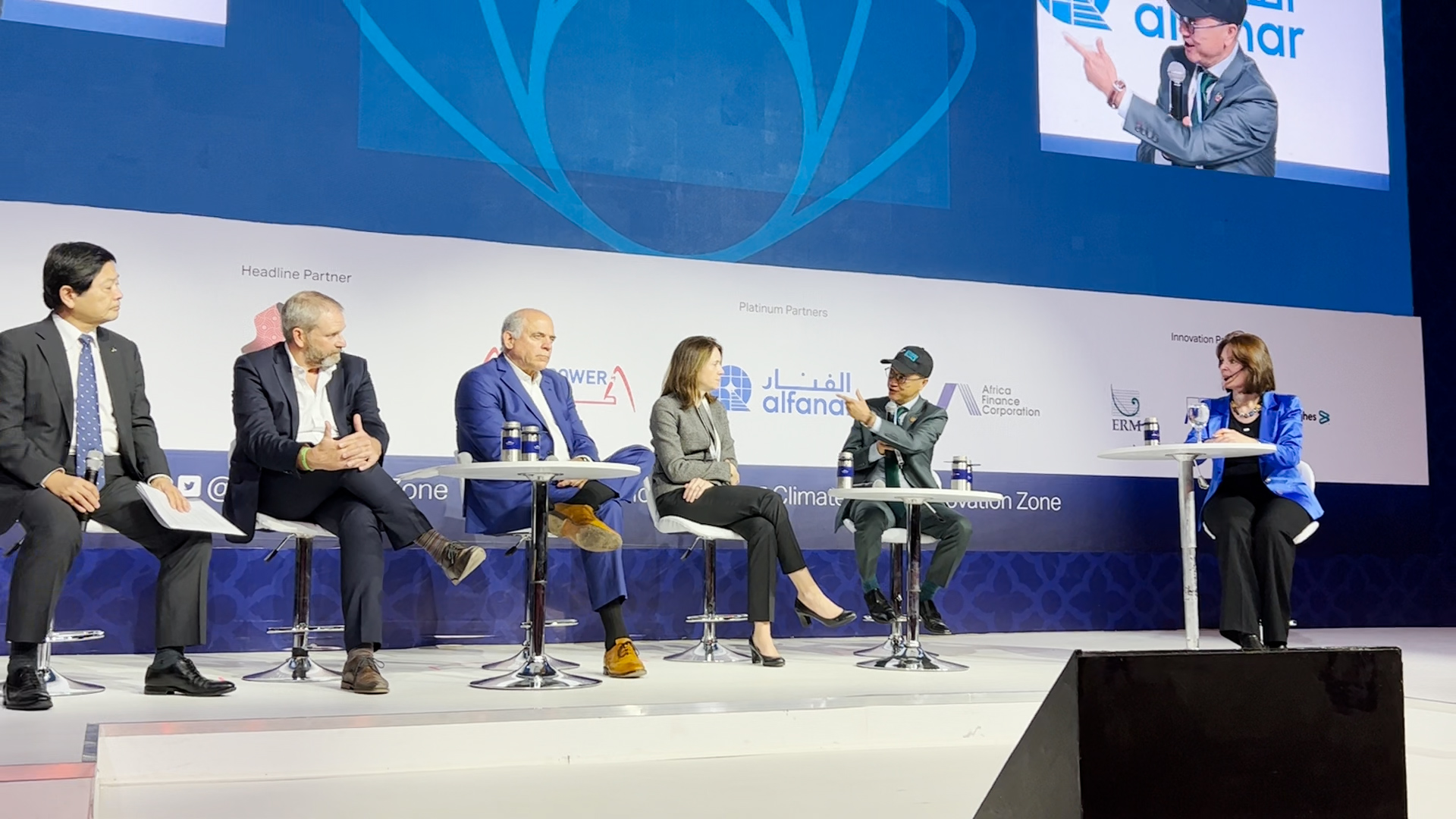 KAUST President Tony Chan participated in the panel, Bold Leadership: Embracing Collaboration and Competition, alongside industry, finance and government leaders in the Innovation Zone at COP27. Photo: JWest/KAUST

President Chan went on to say that "we must practice what we preach," citing examples of KAUST partnerships with local, regional, national and global governments aimed to implement technological solutions in support of UN Sustainable Development Goals (SDGs) in key areas such as the environment; energy; food and health; water; and the digital domain. The key, according to President Chan, is to start implementing solutions at scale, which traditional universities have not been prepared to do.
Action across the zones
Multiple educational booths offered by KAUST throughout the event additionally served to keep the public apprised of university-initiated, sustainable developments and engage KAUST with stakeholders.
The Blue Zone
The official hub and plenary space of the conference, the Blue Zone is where University subject experts met with press, world leaders and peers in one-on-one meetings, panels and presentations.
Raquel Peixoto, a professor of marine science in the Red Sea Research Center at KAUST, uses probiotics to boost the health of corals and prevent mortality from coral bleaching. She attended the climate summit in the additional capacity as a Fellow with the International Coral Reef Society (ICRS). She said it was an exciting time to be at COP because this was the first year the event featured a dedicated ocean pavilion, organized by Scripps Research Institute and Woods Hole Oceanographic Institution.
"Being here with KAUST and as a delegate with ICRS means that we were able to connect with other organizations that are also trying to protect corals so that, together, we can actually make a difference," Peixoto said. "Bringing the scientific perspective to stakeholders such as policy makers is crucial to help them understand the urgency and severity of the problems that coral reefs and other ecosystems are facing."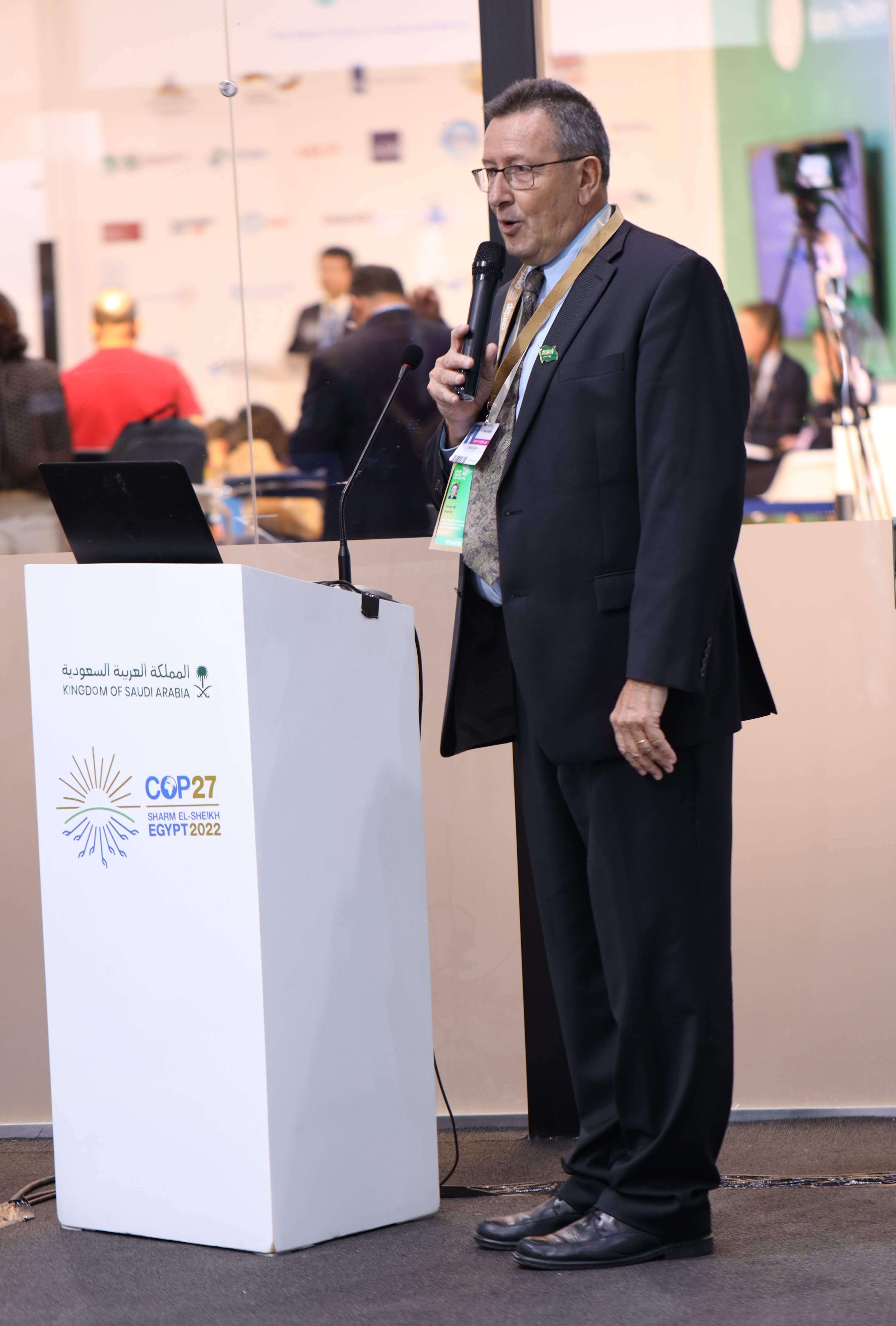 Distinguished Professor of Marine Science Carlos Duarte, CORDAP executive director, delivers a presentation in the Saudi Pavilion of the Blue Zone of COP27. Photo: KAUST

Held in the Blue Zone as part of the Saudi Pavilion, CORDAP (Coral Research and Development Accelerator Program) co-hosted the event, Nature-Based Solutions and the Role of Coral Reefs: Opportunities for Ambitious Action in the MENA and Beyond, organized in partnership with Saudi Arabia's Ministry of Energy and King Abdullah Petroleum Studies and Research Centre (KAPSARC). CORDAP, headquartered at KAUST, aims to protect and restore corals around the globe. Distinguished Professor of Marine Science Carlos Duarte, CORDAP executive director, led CORDAP's ardently attended panels and discussions.
KAUST featured three research installations in the Saudi pavilion, which attracted large crowds throughout the event; each display highlighted novel technologies and approaches being used to advance clean energy solutions, and served to support greater Saudi climate action initiatives:
The use of ammonia as a carrier for hydrogen (Jorge Gascon) — The process combines the catalytic decomposition of ammonia and separation of hydrogen, with unprecedented energy efficiency and significant cost reduction. "Every ton of CO2 we do not emit over the next years will buy us the time to complete the transition (to a low carbon future)," Gascon said.

KAUST exhibits in the Blue Zone at COP27 featured research by Professors Jorge Gascon, Mohamed Eddaoudi and Hussein Hoteit. Photo: A. Alsobahi/KAUST

3D metal-organic frameworks to capture and store carbon dioxide (Mohamed Eddaoudi) — The work uses a highly selective adsorbent material developed by KAUST researchers, porous 3D structures called metal-organic frameworks, to cheaply and efficiently extract carbon dioxide from the air.
Carbon sequestration using carbonation of basalts and ultramafic rocks (Hussein Hoteit) — Carbonation of basalts and ultramafic rocks is used for the safe entrapment of CO2, with potential implementations where basaltic rocks are abundant, such as the volcanic fields in the western and northern areas of Saudi Arabia.
KAUST doctoral students Feras Rowaihy, energy resources, and Abdulhadi Al-Hajji, chemical engineering, represented the University in the Saudi pavilion. Rowaihy also participated in a discussion panel about the future of energy.
The Climate Action Innovation Zone
The KAUST booth in the Climate Action Innovation Zone featured a visually compelling, interactive touchscreen for visitors to learn about KAUST research across five primary areas: 1) Climate action; 2) Renewable and low-carbon energy, 3) Sustainable water management; 4) Enhancing ecosystems; and 5) Sustainable food and resource circularity. The booth was busy morning until night with curious guests from around the world — from students to CEOs — stopping by to engage with KAUST Office of Sustainability staff and explore the screens.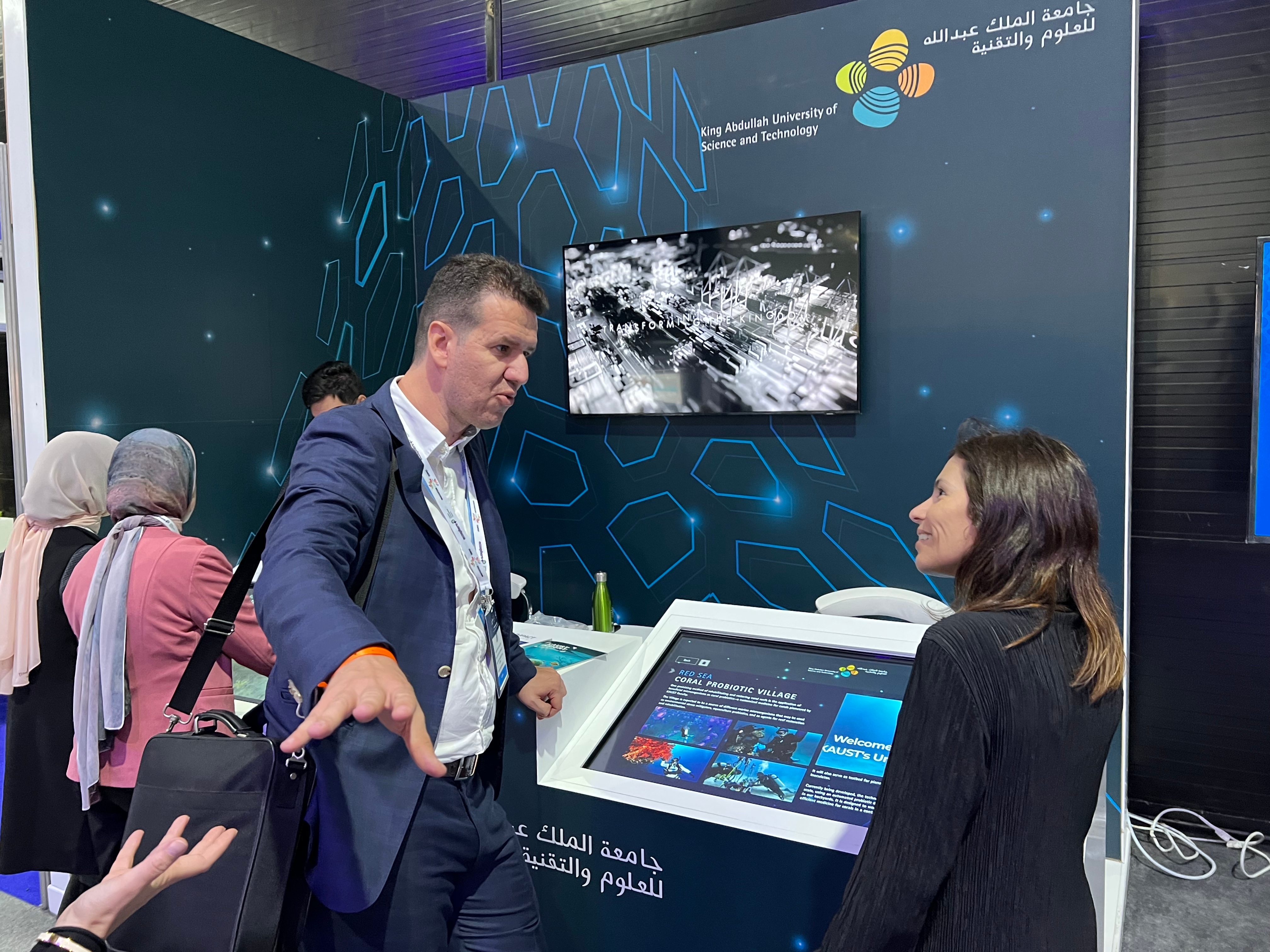 Director of Sustainability and Stewardship at New York University Abu Dhabi Antonios Vouloudis chats with KAUST Professor of Marine Science Raquel Peixoto at the KAUST booth in the Innovation Zone at COP27: Photo: JWest/KAUST

Director of Sustainability and Stewardship at New York University Abu Dhabi Antonios Vouloudis was among the visitors at the booth. He said that he was delighted to be at COP27 and make vital connections with so many at KAUST.
"New York University Abu Dhabi is part of the United Arab Emirates (UAE) ecosystem, which has set very ambitious sustainability targets to bolster climate actions. It's been wonderful to meet, greet and network with so many people here at COP27, especially universities such as KAUST, which has phenomenal research centers." he said. "Learning, aligning and working collaboratively toward the common target with KAUST and other regional universities is how we can solve local climate-related challenges."
Richard Bush, Chief Environment Officer of Neom, also stopped to chat about the work of NEOM and its relationship with KAUST. "One of the areas I'm responsible for is marine conservation, and I'm very excited by the collaborations with KAUST on the coral nursery, and all of the other related research on strengthening the resilience of our coral and assisting us to build and improve the marine environment," Bush said. "We're (also) working with KAUST on our climate modeling, particularly carbon tracking. And this is something that's going to be very important for our mission to decarbonize our development."
The Green Zone
Strategic National Advancement staff and KAUST students helped to run the booth in the Green Zone — a space for KAUST researchers to give short presentations about their work and engage with the public. The video documentary of KAUST from National Geographic's Chasing Answers series was projected on a large screen across the back of the booth.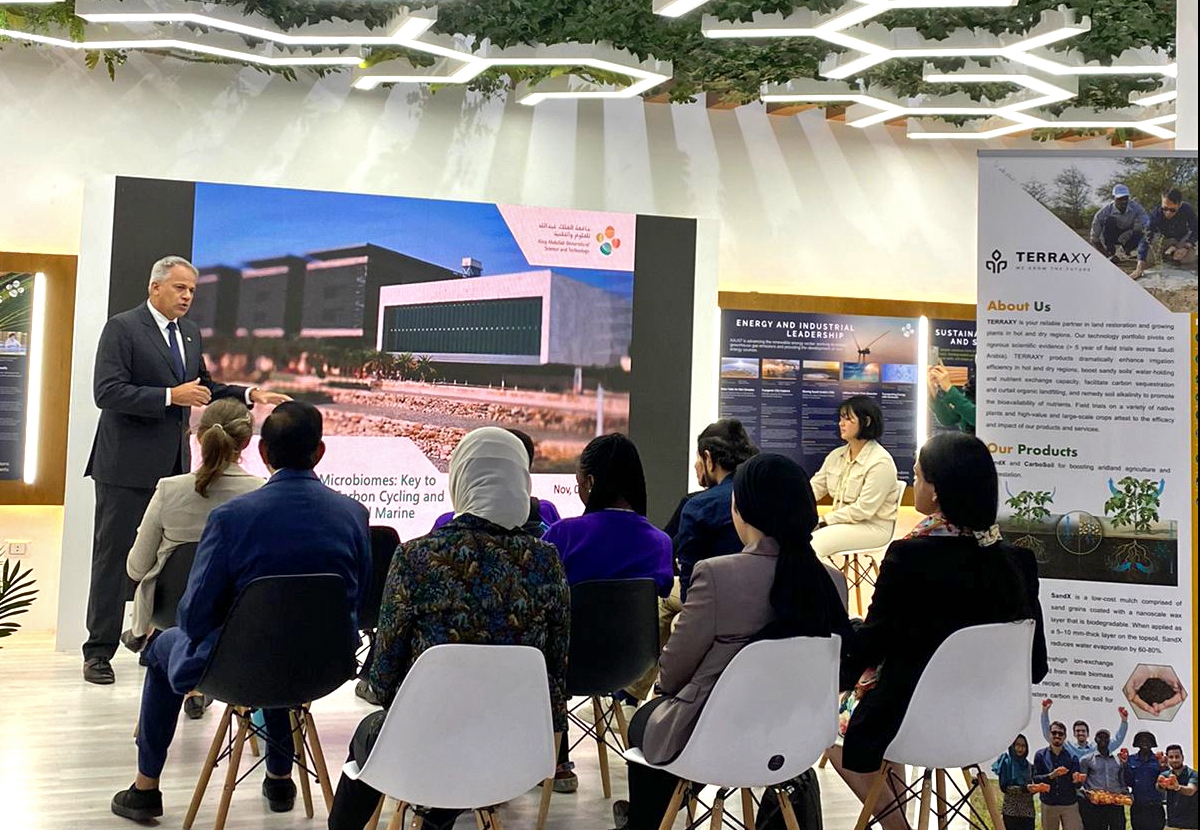 KAUST Professor of Bioscience Alexandre Rosado was among the faculty researchers who gave presentations in the Green Zone at COP27, show here discussing the role of microbiomes in mangrove environments as key to maintaining healthy ecosystem functioning. "My interest is in the carbon fixation cycle in microbes, and how we can leverage the power of the microbiome to improve plant health and help with different environmental issues, like mangrove restoration." Photo: KAUST

A production crew from World Youth Forum filming a COP27 documentary interviewed KAUST alumna Eman Alhajji and PhD student Natalia Odnoletkova about their reflections on KAUST sustainability and the conference experience. Both women played an active role in founding KAUST Students for Sustainability, a group involved in various environmental and sustainability campaigns on campus and within the Kingdom, and under the guidance of KAUST's Office of Sustainability.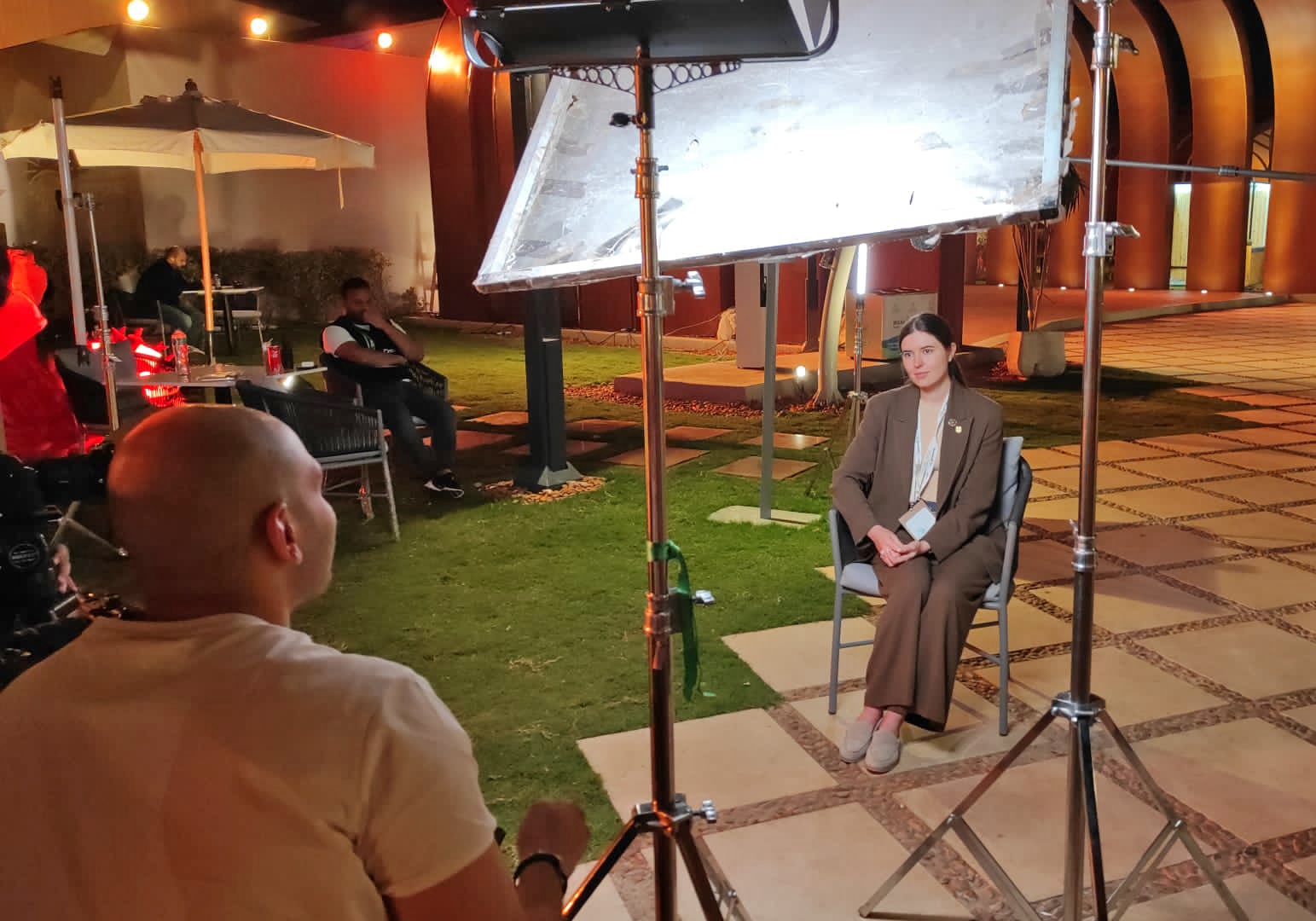 KAUST PhD student Natalia Odnoletkova, who studies earth science and engineering with Professor ​Tadeusz (Tad) Patzek, talks about what makes her passionate about climate action in an interview for a COP27 documentary. Photo: Eman Alhajji

In tandem with COP27 and the Saudi Green Initiative (SGI) Forum 2022, KAUST Students for Sustainability organized a webinar, Lessons from Quran on Climate Change, as part of the Saudi Youth for Sustainability (SYS) Special Talks. SYS, a national organization that evolved from KAUST Students for Sustainability, aims to empower young leaders to drive change towards a thriving and sustainable future.
SIG: From ambition to climate action in the Kingdom
The Saudi Green Initiative Forum 2022 ran concurrent to COP27 as a sideline event. The annual forum is a space for climate leaders to "discuss best practice, highlight innovation, evaluate progress and drive forward substantive action in the race against climate change." On the opening morning during a Q&A with journalists, His Royal Highness Minister of Energy Prince Abdulaziz Bin Salman Al Saud inspired the crowd with a summary of ways in which the Kingdom is applying "ambition to action" — the theme of the forum — through its climate action agenda — "You asked; we delivered." He issued a challenge that other nations keep pace with the Kingdom.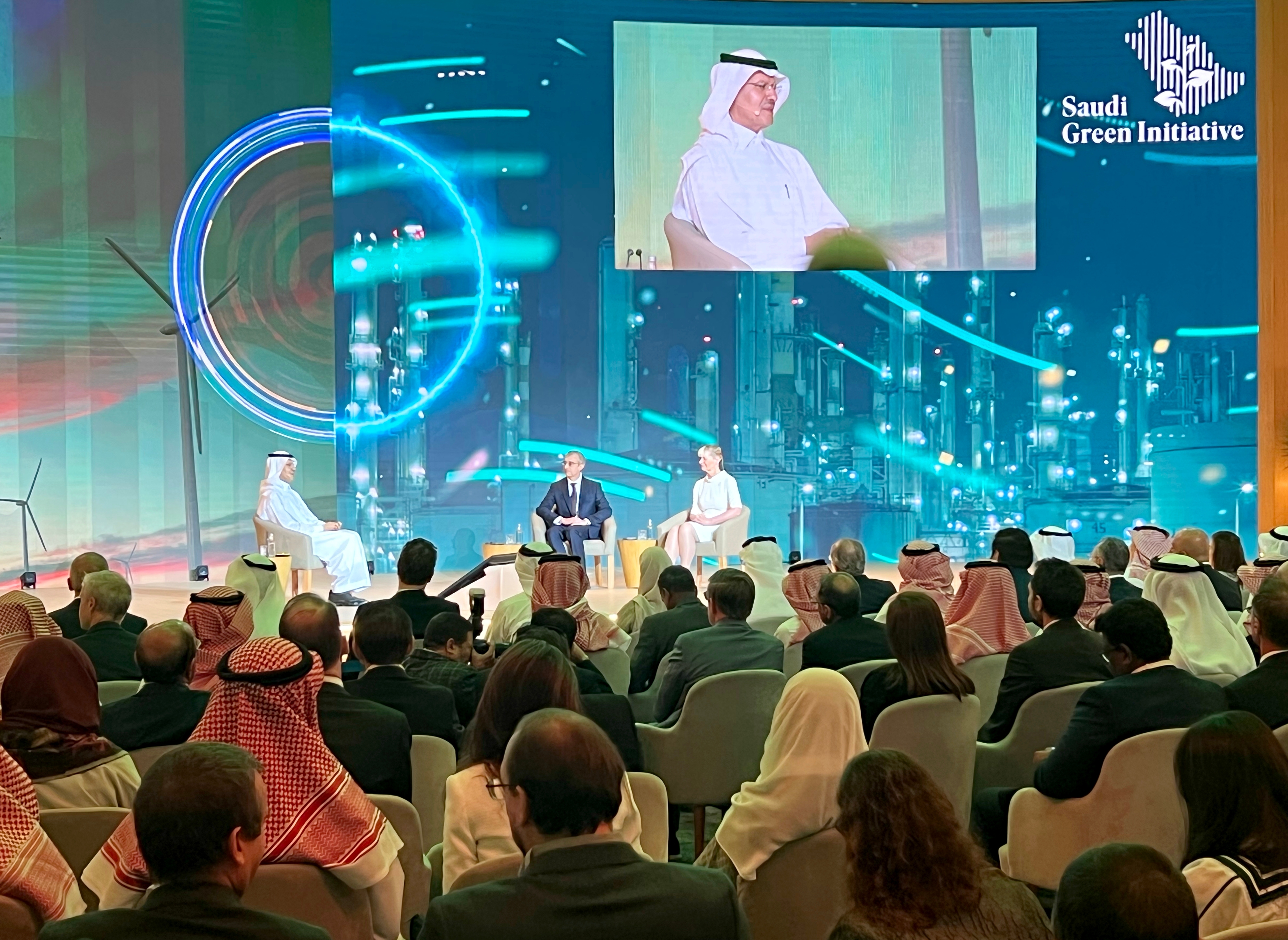 In an opening Q&A at the Saudi Green Initiative Forum 2022 at COP27, His Royal Highness Minister of Energy Prince Abdulaziz Bin Salman Al Saud iterated the many ways that the Kingdom is advancing climate action. Photo: JWest/KAUST

With HRH the Minister of Energy officiating, KAUST signed two important agreements at SGI with ENOWA-NEOM's Energy & Water company, and the Saudi Electricity Company (SEC) to advance decarbonization using cryogenic carbon capture technology, research pioneered by KAUST Professor of Mechanical Engineering William Roberts. In what will be one of the largest demonstrations of this technology in the world today, the pilot project is expected to capture 30 tonnes of carbon dioxide per day from SEC's Green Duba Integrated Solar Combined Cycle (ISCC) power plant at NEOM.

MoUs signed at SGI during Cop27 between ENOWA, KAUST and SEC will advance decarbonization efforts in KSA using cryogenic carbon capture technology. Photo left: KAUST President Tony Chan (L), HRH Minister of Energy (M), and NEOM CEO Peter Terium (R); Photo right: KAUST President Tony Chan (L), HRH Minister of Energy Prince Abdulaziz Bin Salman Al Saud (M); and SEC Executive Vice President, Distribution and Customer Service, Ibrahim M. Al-Khenizan (R). Photo: JWest/KAUST

President Tony Chan, faculty and students participated in numerous panels at SGI. In one discussion, How to Pave a Career Path in Protecting the Planet, the President outlined crucial career opportunities in the green energy sector and options available for green professionals in the Middle East region. Faculty and students also participated in various panels. Balqees AlShareef, a doctoral student at KAUST studying environmental science and engineering, participated in two panels, including, My Future, Our Responsibility: What Youth Want From Companies, alongside Her Royal Highness Princess Noura bint Faisal Al Saud, co-founder of the sustainability organization, Aeon Collective. Aeon is a partner to KAUST working to support the advancement of sustainability projects in the Kingdom of Saudi Arabia and internationally.
Engaging more voices in the dialogue
Having an African nation host the conference meant that nations from the eastern hemisphere and nearby developing nations in Africa could more easily participate in the dialogue and comment on sustainability from their perspectives.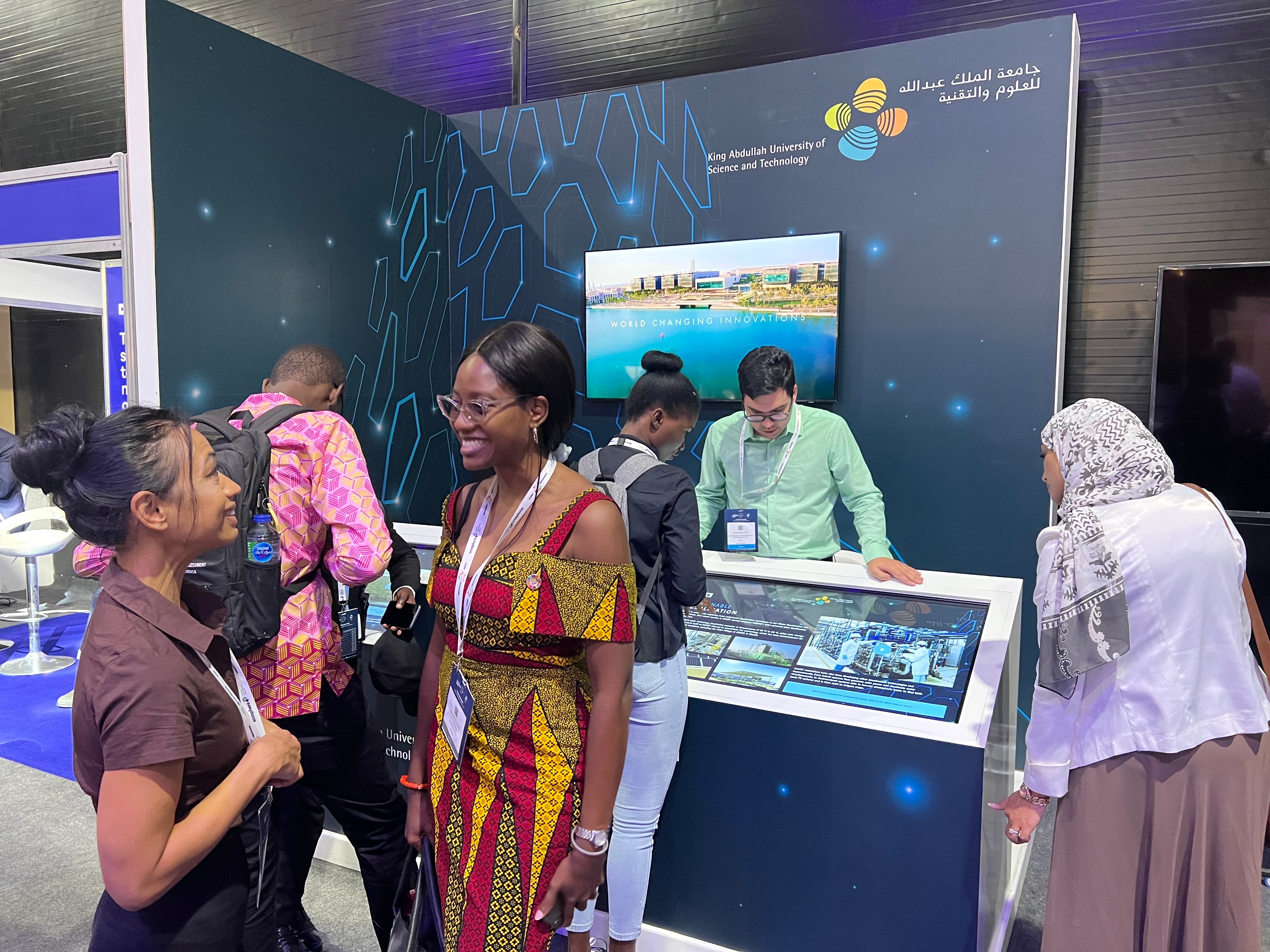 Visitors from Africa were among those who enjoyed conversation at the KAUST booth in the Climate Action Innovation Zone at COP27, Sharm El Sheikh, Egypt. Photo: JWest/KAUST

KAUST Distinguished Professor of Marine Science Carlos Duarte participated in more than twenty panels and presentations on behalf of both KAUST and CORDAP — the Coral Research and Development Accelerator Platform for whom he serves as executive director. He said it's important that the climate summit come to developing nations because "they are the sectors of global society that are struggling and suffering the most with climate change — a problem that was not caused by them but by developed nations."
Duarte said, "In venues like COP, we have an opportunity to engage with different audiences, with participants from Africa and the Middle East who bring an array of new perspectives that enrich the conversation and give us a more grounded voice to think about equity and justice and how we can help developing nations find their way in the climate predicament."
The collective effort of KAUST's involvement at the summit, overall, underscored its cooperation with local, regional, national and global governments to identify challenges, develop tools and strategies, build partnerships and put into practice the interventions needed to address critical climate matters pertaining to water and food security, clean energy technologies, the protection of Earth's systems, and improved quality of life for all.