KAUST alumnus Ronell Sicat completed both his master's degree ('10) and Ph.D. ('15) at the University. He was then a postdoctoral fellow at Harvard University before moving back to KAUST to work as a research scientist. File photo.
By Tanya Petersen, KAUST News

As the volume and complexity of data captured around the world continues to grow exponentially, new ways of exploring and visualizing this data are required. Today, society has moved beyond the traditional desktop computer with tools such as augmented and virtual reality (AR/VR) at the forefront of immersive data visualization and analysis.
KAUST alumnus Ronell Sicat is at the vanguard of this technological advance. Sicat received his master's degree at KAUST in electrical engineering ('10) and then went on to complete his Ph.D. in computer science ('15) at the University. During his KAUST studies, he developed novel representations and visualization techniques for very large scale 2D (images) and 3D (image stacks, volumetric data) data sets.
After completing his Ph.D., he moved to Harvard University as a postdoctoral researcher to explore new techniques and develop open source tools that leverage this new technology. In early 2019, Sicat returned to KAUST as a research scientist in the University's Visual Computing Center.

"Developing immersive visualizations is challenging because it requires expertise in several fields such as programming, data visualization, human-computer interaction and computer graphics, to name a few," Sicat noted.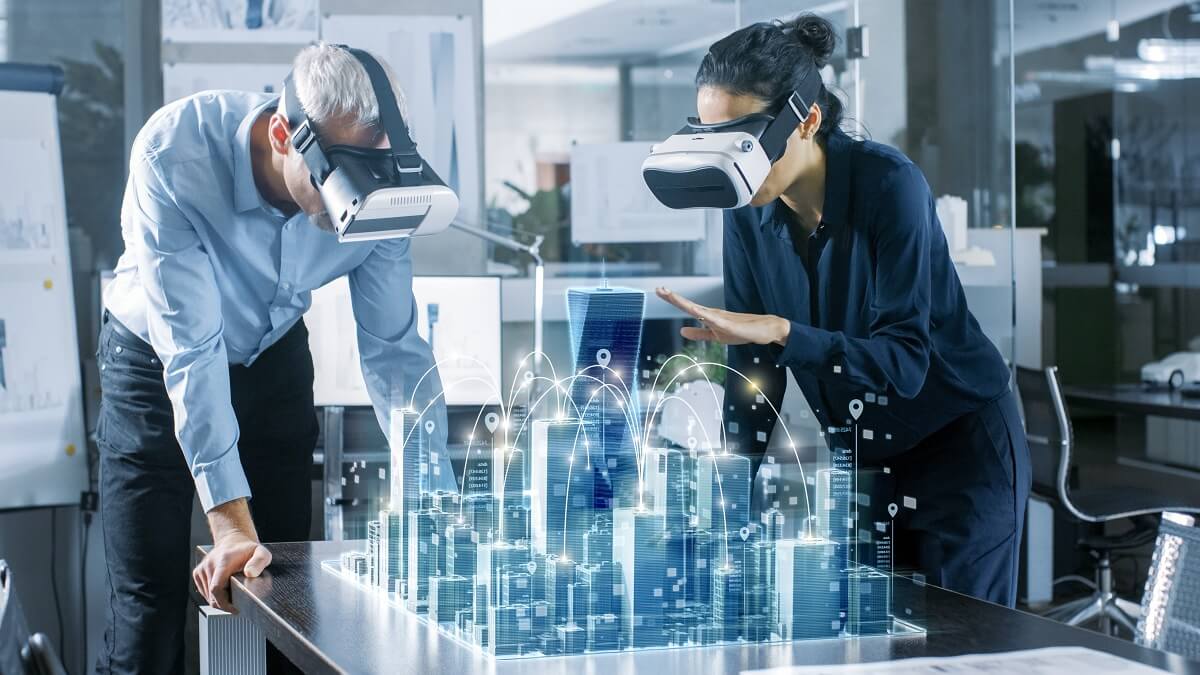 KAUST alumnus Ronell Sicat (M.S. '10, Ph.D. '15) currently works with cutting-edge technologies for augmented and virtual reality. Image courtesy of Shutterstock.

Sicat has been working with cutting-edge technologies for AR/VR, such as Microsoft's HoloLens and Mixed Reality devices, which are essentially head-mounted computers that can display purely 3D virtual content (VR) or overlay and mix this content with the real world (AR), which can change the way we currently interact with the world around us.
"Using AR, we can display a bar chart showing the number of books for a particular genre overlaid directly on a bookshelf; or display a price per weight comparison chart for similar products overlaid on a grocery shelf; or visualize 3D wind flow simulation data overlaid in a real-world space," explained Sicat.

Sicat recently developed a tool called DXR that makes it easy to create and quickly prototype immersive visualizations. The goal of DXR is to enable his fellow researchers to easily explore and study novel immersive visualizations and lower the barrier to entry for novice programmers in visualizing their data in AR/VR.
The skills Sicat learned to develop DXR started at KAUST, and these provided the stepping stones into AR/VR.
"Having the opportunity to work with some of the best minds in academia and the chance to connect and learn from other groups and labs at KAUST gave me the confidence to do research at a high-quality level that is comparable and competitive with the top universities in the world," he stated.

While he looks back fondly on his time as a student at KAUST, Sicat also looks forward to the future, where he sees big technological changes ahead for all of us.
"I believe that in the future, people will be wearing computers [on] their heads in very lightweight form factors—like eyeglasses, for instance," he said. "This will democratize access to augmented reality."
He believes the tools he is developing now can enable everyone—including non-expert programmers—to easily visualize everyday data in ways that can only be imagined.
Related stories: