KAUST researcher and FalconViz cofounder Neil Smith prepares the helicopter for a flight over Jeddah's Al Balad.
The United Nations Educational, Scientific and Cultural Organization (UNESCO) named "Historic Jeddah, the Gate to Makkah," a World Heritage Site on June 21, 2014. Jeddah is located in Saudi Arabia and it was a designation that took several decades to achieve, in part, because capturing and communicating the significance of Jeddah's unique historical landmarks proved a daunting task.
"In an area like Al Balad, some of the buildings may not be safe to enter for surveyors," said Neil Smith, a researcher at King Abdullah University of Science and Technology (KAUST). "And at the rate these buildings are decaying, traditional methods of survey are infeasible. A building was lost to fire only 2 weeks before we arrived. That's historical information that is simply gone."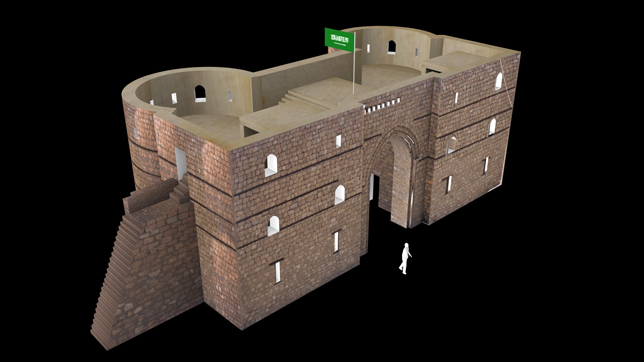 A 3D rendering of the iconic Jeddah Gate, which graces one of the entrances to Al Balad, Jeddah's old city.
MAPPING THE HISTORICAL AREA
Neil and his partner Luca Passone are part of a small team of researchers from KAUST's Visual Computer Center that helped make the argument for a UNESCO cultural heritage site in Jeddah. Their contribution was to map Al Balad, Jeddah's iconic, old city.
Using a remote control helicopter, the team rapidly surveyed large areas using a high-definition camera from about 50 meters above street level. Even in areas such as Al Balad, several passes over each city block was enough to create a rich, interactive model.
"We can create three-dimensional renderings of complicated urban environments accurate up to several centimeters. And we can create them quickly, which allows us to show planners how buildings are shifting, what improvements have been made, and where potential problems are developing," said Passone.
A team of surveyors on the ground can collect a few, highly accurate data points but it takes a long time. Lidar scanners can be used to generate a lot more data, but they do not work well in urban environments where they're constantly interrupted. "A helicopter gives us the ability to cover huge areas in a short time, generating a lot of useful data," said Passone. "We think this will be helpful to project managers whose only option is probably an outdated Google map"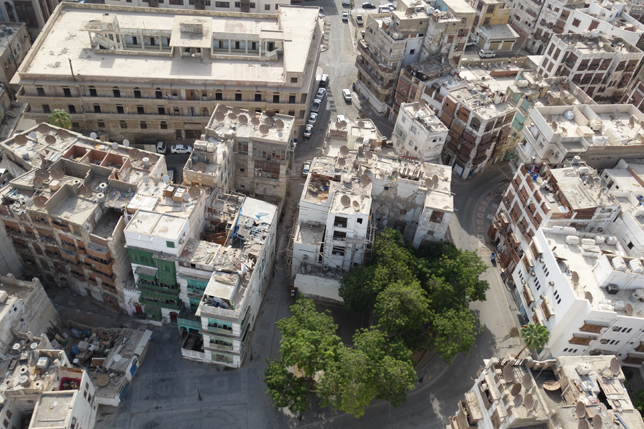 A view of Al Balad from the virtual cockpit of the FalconViz helicopter.
A PARTNERSHIP THAT WORKS
Passone pilots the helicopters using goggles that enable him to sit inside a virtual cockpit. It's a hobby that he cultivated as a diversion from the demands of academic life. He's currently finishing a Ph.D. in Earth Sciences focused on earthquake simulation. His background is in high-performance computing, which is what brought him to KAUST as a master's student.
"I've been able to move around and work on projects that I'm passionate about," said Passone. "I never envisioned myself flying model helicopters over important historical sites as a business enterprise, but here I am."
Neil Smith has a Ph.D. in Archeaology. His research focuses on the study and preservation of archaeological sites in the Gulf region such as Petra in Jordan, or Mada'in Saleh in Saudi Arabia.
The two make an unlikely duo. But in the few, short years they've worked together, they've designed and built a line of remote control helicopters, outfitted them with high-resolution cameras, written and debugged custom imaging software, and pitched their services to a range of high-profile clients.
With seed funding from KAUST, Neil and Luca run a small startup called FalconViz. It's an apt name choice. The FalconViz team can give architects and planners access to a birds-eye perspective they've never had before.
"Imagine the construction site of the future," said Neil. "Autonomous helicopters, similar to our prototypes, will buzz around capturing realtime data that can be used to check the accuracy of construction. That data will be overlayed with information from the original plans, data from surveyors and more. Everyone has a much more accurate look, much earlier in the process, to make sure things are being built they way they should."
In the case of areas like Al Balad, surveying the space using traditional methods is prohibitively expensive, hot and even dangerous work given the state of some of the structures. The FalconViz team offers the ability to capture an entire area in a day or two and prepare a range of printed plans, video flyovers, interactive three-dimensional models and more.
Related Links: