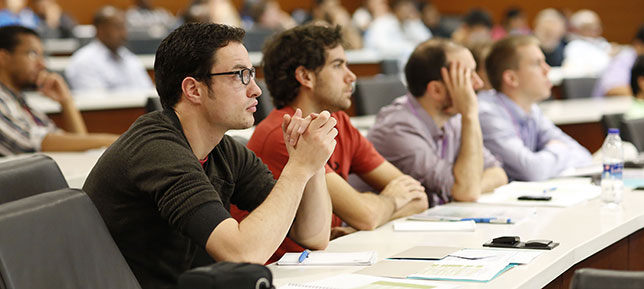 Admissions FAQs
Can anyone apply to KAUST?
Yes. KAUST encourages students seeking to earn graduate degrees from Saudi Arabia and around the world to apply. Admission to KAUST is merit based. The University currently hosts students from over 60 countries and has received applications from students attending more than 220 universities around the world.
What is the KAUST Fellowship?
The KAUST Fellowship is the general scholarship program of the King Abdullah University of Science and Technology (KAUST).
All admitted students receive the benefits of the KAUST Fellowship which supports students for the duration of their graduate studies. The benefits of the KAUST Fellowship include:
Full tuition support
Monthly living allowance (ranging between $20,000-30,000 annual, depending on qualifications and progression through degree programs)
Housing*
Medical and dental coverage*
Relocation support
* Charges may apply to dependent housing and medical and dental coverage.
Is there an application fee?
There is no application fee.
What are the application requirements?
There are six components to the KAUST Fellowship application, including:
Statement of purpose
Curriculum vitae (CV)
Copy of university transcripts
Three letters of recommendation
Official TOEFL or IELTS English language proficiency score (if English is not your native language)
Official GRE scores (GRE submission is encouraged and will enhance your application, but it is not a compulsory requirement for consideration.)
Is there a minimum GPA requirement?
There is no minimum GPA requirement but the average GPA of admitted students is 3.7 out of 4.0. The 3.7 average means some admitted students had a higher GPA and some admitted students had averages slightly lower than 3.7. The review committee bases their decision on your application as a whole.
KAUST receives applications from all over the world and therefore the Admissions staff is knowledgeable of different education systems and grading scales.
What is the minimum TOEFL, IELTS score required to apply to KAUST? Are applicants required to submit GRE scores?
All applicants must demonstrate proficiency in English, the language of instruction at KAUST. A score of 79 on the TOEFL IBT (Internet Based Test) or 6.0 on the IELTS is desired (TOEFL or IELTS score is not required if applicant is a native speaker of English or received a degree from a university in the United States, Canada, United Kingdom, Ireland, Australia, or New Zealand). Other English language test scores are not accepted, including TOEFL or IELTS scores for tests administered by an educational institution for admission to that particular institution.
Submission of a General GRE score is not a compulsory requirement of the KAUST application however; it is encouraged and may enhance your application. For further information on the GRE test please visit the ETS website for test locations, dates, and times. KAUST admissions code is 4139.
TOEFL and IELTS scores are valid for two years. GRE scores are valid for five years
What is the Statement of Purpose?
The Statement of Purpose is a personal statement of 750 words about your past academic work and preparation related to your intended field of study, your academic plans for graduate study at KAUST, and your subsequent career objectives.
What is the application deadline for M.S. and Ph.D. programs?
The deadline for enrollment in the semester beginning in January (Ph.D. Programs only) is October 9th, 2014 and it is January 15 for enrollment in the semester beginning in September (M.S. and Ph.D. programs). Only complete applications will be reviewed by faculty. Decisions will be released as early as March for successful candidates. The University will continue processing applications on a rolling basis as space in the program permits.
Programs may fill up quickly and you are advised to apply and complete your application by the deadline to ensure a proper faculty review of your application as well as facilitation of the visa application and relocation process.
May I send my supporting documentation in after my application?
It is advisable to provide as much supporting documentation as possible with your application. You are able to upload some of your documentation online, including:
CV
Statement of purpose
Transcripts
Evidence of English language ability in the form of a TOEFL or IELTS test. (Official scores are required, and should be requested from ETS using KAUST Admissions code 4107).
GRE score (Official scores are required should you choose to submit a GRE. Request from ETS that an official score be submitted direct to KAUST Admissions code 4139).
Recommendations are confidential and must be submitted online by your referees directly to KAUST.
Please mail your documents to:
Office of Admissions
Graduate Affairs,
Engineering Science Hall (Building 9), Suite 4328,
4700 King Abdullah University of Science and Technology,
Thuwal 23955-6900,
Kingdom of Saudi Arabia
May I apply before completing all my academic qualifications?
You may apply before completing all of your academic qualifications but you will need to complete the relevant section of the application form giving details of any outstanding marks and your expected date of completion. Please upload any interim transcripts that you have to support your application.
May I apply before receiving my official test scores (i.e. TOEFL/IELTS and GRE scores)?
Those applicants who are unable to produce an English language proficiency test score or the optional GRE score by the deadline may still apply. However, you must submit your scores to complete your application and enable it to move forward to the faculty review committee.
What is the deadline to submit Official Test Scores?
If you have submitted your application and supporting documents by January 15, you are required to submit official test scores by February 23. For all other applicants, the last date to submit results is March 30. You are required to submit your test scores by these dates so you may receive a timely offer.
What is the admissions process? How will I be notified of the decision?
A review committee will ensure your application is complete and is a fit for your selected program of application. Following a faculty academic assessment of your application you may be invited to interview. The interview is an integral part of the application process and must be considered as a competitive step where you demonstrate your motivation and good fit for the program and the University. A committee consisting of KAUST administrators and faculty will conduct the interview either via SKYPE video chat or in person depending on your location. The interviews are conducted from February through April and decision notifications are sent throughout March and April. All applicants will be notified of their decision by email.
How can I check my application status?
You can track the progress of your application by logging into your application to verify receipt of your documents and test scores. The transcript portion will show incomplete until we receive a final official transcript (required only if you are offered admission).
Please click here to access and view the latest status of your KAUST AY online application.
Do academic records and other supporting documentation need to be in English?
If your official transcripts or grade reports are not originally in English and the college or university you attended does not provide a translation of your transcript into English, you must provide an official translation (notarized with an appropriate seal or "chop") of your transcript into English. You may find and select a translation service of your choice. KAUST cannot provide referrals. It is preferable that your college or university provides an English translation of your official transcript.
Are current graduate students wishing to earn a second master's degree eligible for the KAUST Fellowship?
Students holding an MS degree may be evaluated for admission to a second MS on a case by case basis. Students are generally encouraged to apply for a Ph.D. program if they have an appropriate MS degree.
If a student already receives a scholarship from another source, is that student eligible for a KAUST Fellowship?
Students who have scholarships that provide supplementary support such as for travel to a conference or the purchase of a computer, are eligible for a KAUST Fellowship.
Students are not permitted to hold a full scholarship that provides a monthly stipend in addition to a KAUST Fellowship. Questions related to the receipt of scholarships from other sources should be addressed to: admissions@kaust.edu.sa
Who should I contact during the application process?
If you have any questions during the application process, you can contact the KAUST Admissions Office at admissions@kaust.edu.sa
Can I get credit for graduate courses taken at another institution?
Graduate credit hours transferred from other programs may be applied to meet any Master's requirement. Up to 9 credits worth of graduate courses taken from another university or program that are equivalent in level and content to designated courses in the degree program may be counted towards meeting the major track requirement if their equivalence is confirmed by the Graduate Chair.
How can I find out the research interests of academic staff?
KAUST's academic structure organizes interdisciplinary teams around research that applies science and technology to problems of human need, social advancement, and economic development. You can find out about our world-class faculty and individual staff interests and expertise on our staff profile page.
Can I be admitted to KAUST without the fellowship?
All Master's and PhD students admitted to KAUST will also be evaluated for financial support under the KAUST Fellowship. If awarded, the KAUST Fellowship supports students for the duration of their graduate studies. Students may be assessed academically for admission without the KAUST Fellowship.
Can I visit the university?
KAUST may accommodate groups of visitors when arranged by local universities. Inquiries for possible group arrangements may be made by contacting the Office of Admissions: admissions@kaust.edu.sa
The Admissions Office is not able to accommodate individual requests to visit the KAUST campus.
Do I need a faculty sponsor before applying?
MS degree students do not require faculty sponsorship. PhD students must be matched with a faculty sponsor prior to admission into the program. KAUST faculty will review applications and contact students to discuss their qualifications and suitability for the program and research support.
Can I apply to more than one program?
Currently students may not apply to more than one program.